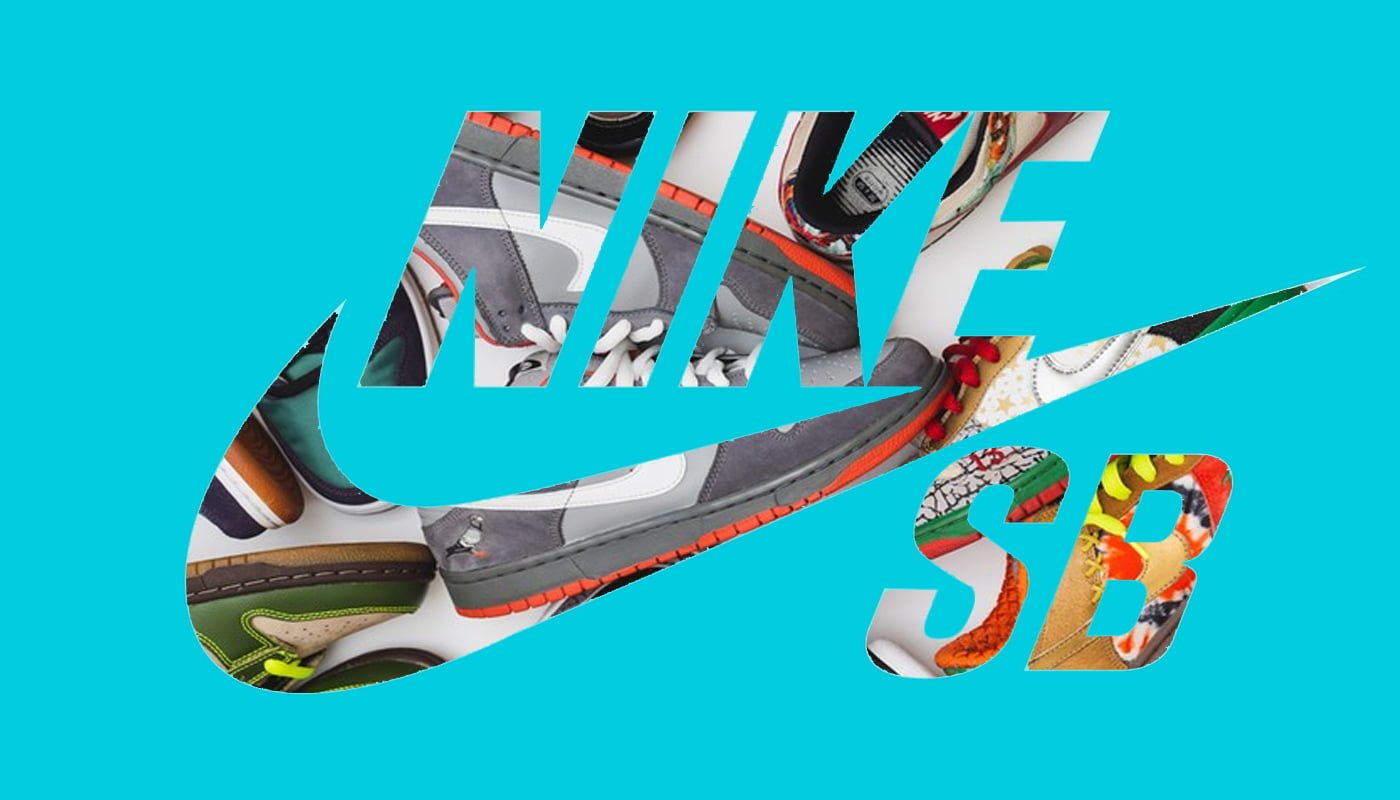 Can Nike SB Hype Actually Help Skateboarding Grow?
By Alex Wong
—
The dunk has been around the years, and thanks to Sandy Bodecker—who took over the reins of Nike's Skateboarding division in 2001 and put a focus on the classic sneaker that stood next to the Air Jordan 1 as one of the preferred footwear of choice for skaters worldwide—it became entrenched in both sneaker and skateboard culture in the early 2000s.
The dunk, through collaborations with Reese Forbes, Gino Ianucci, Richard Mulder and Danny Supa in 2002, introduced itself to a brand new audience. Almost two decades later, thanks to high-profile collaborations and athletes and celebrities like Kyrie Irving and Kylie Jenner promoting the sneaker to their millions of followers on their social media feeds, the Dunk is officially the most hyped sneaker on the market in 2020.
While much of the focus has been on the resell market and what happens when a sneaker gets pushed into the hype cycle, the renewed interest and popularity in the dunk also means a chance for skate shops to bring in another new wave of customers and for a new generation to not only learn about the history of the shoe, but also to discover a brand new subculture that they've never engaged with before.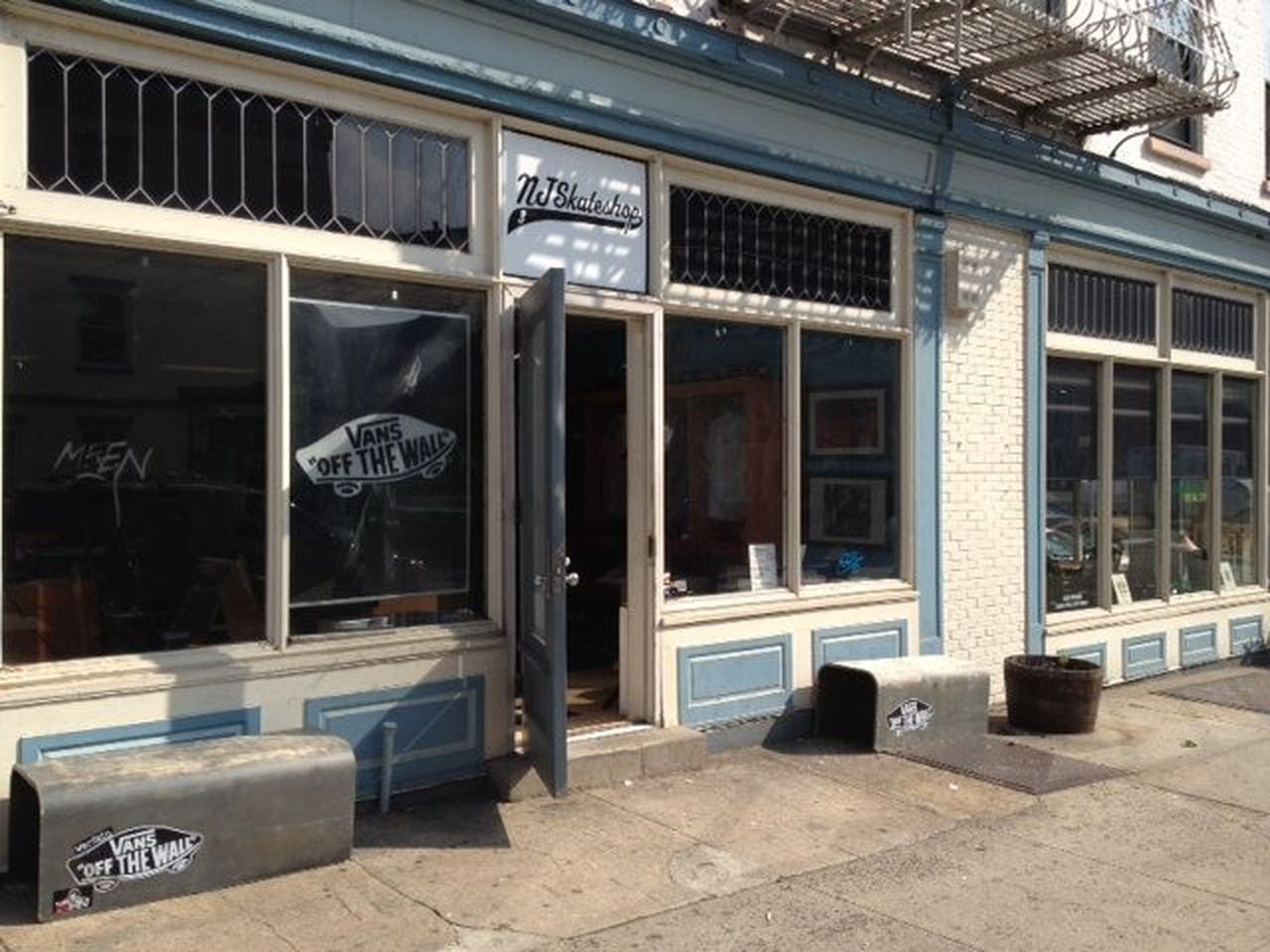 Steve Lenardo, 46, opened NJ Skateshop in 2003 and today runs two physical locations in Jersey City and Brunswick with his business partner Chris Enrico. A teacher for over 20 years, Lenardo wakes up at five in the morning each day and heads to the shop first thing in the morning, before arriving at his school by seven. Managing his full-time job, Lenardo will be at the shop several times a week and spends most of his weekends there as well.
Like many skate shop owners, Lenardo grew up idolizing the subculture of skateboarding. He lists Coco Santiago and Felix Arguelles as skateboarders he looked up to as a teenager. "They just had a knack to them," Lenardo tells SoleSavy. "You just looked at them as a kid and said, 'Damn, I want to be like those guys.'"
Lenardo started with BMX freestyle biking, but after his bike was stolen, the cheapest thing to get was a skateboard, and that started a lifetime itch. "I'm an old man now," Lenardo says. "But I still skateboard regularly."
Starting the skate shop was a dream, to have a communal hangout for like-minded individuals in Jersey City, but it came with challenges as well. Lenardo had $5,300 dollars in his savings account and put $5,000 of that into the shop. The $300 remaining savings was soon gone too, when the shop needed to incur other upfront expenses like shop keys, Lenardo was living cheque to cheque, and credits the support of his wife at the time for helping him through those early years.
One of the biggest challenges for any skate shop is getting accounts with brands. To be able to sell popular sneakers like the SB Dunk can be the difference between sustaining a business or shutting down entirely. NJ Skateshop was no different.
"We had a particularly hard game getting certain brands due to the fact we had no time in the game," Lenardo says. "No one is willing to extend you those terms without proving yourself."
Ironically, through different relationships he had built as a skateboarder growing up, Nike was one of the first brands to buy into Lenardo's vision. The shop soon got a Nike SB account. The craze over dunks was high in the early 2000's, and Lenardo witnessed it first hand.
Kids would show up at the shop on days when Lenardo didn't even know he was getting a new shipment of SB Dunks. "They had our tracking numbers when we didn't even have them," Lenardo says, laughing. Those lineups is where Lenardo made a lot of acquaintances, who decades later have become people he calls close friends.
"They wanted the shoe," Lenardo says. "But they also enjoyed being around the shop."
The trickle effect of having SB Dunks in the shop didn't stop there. Not only did people start finding out and hanging out at the shop, it also led to different collaborations and partnerships. NJ Skateshop would carry streetwear apparel, like t-shirts, which were made to match the releases of dunks at the time.
Today, the anonymous and strictly transactional nature of purchasing and reselling sneakers online has all but eliminated face to face interactions that helped make what sneaker culture once was. It is what Lenardo misses the most when he thinks back to his favorite SB Dunk releases.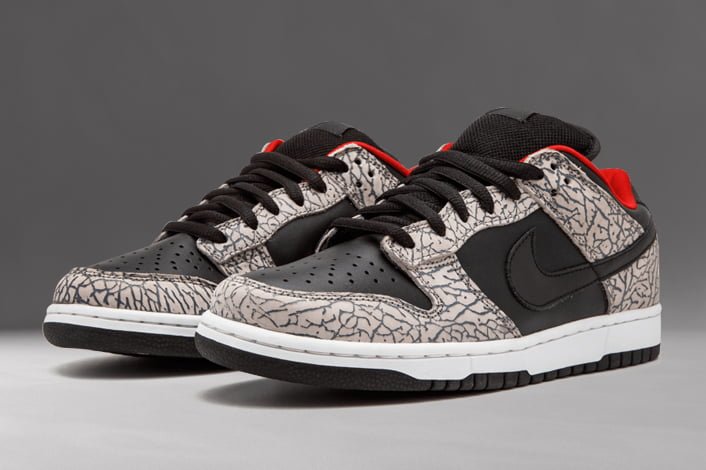 When Nike released the "Born in the USA" SB Dunk, it turned into an entire event on the fourth of July at the shop. Lenardo played Bruce Springsteen in the shop the entire day, and it brought out a different crowd, not just Dunk fans but also die-hard Springsteen fans. When the "Toxic Sea Robin" SB Dunk low was released, there was a long-line of comic book fans who arrived.
Aside from the face to face interaction, Lenardo also agrees that the SB Dunk is a great gateway for those who come into skate shops to find out about other brands in the subculture.
"A lot of other skateboard brands like Dime and Bronze, people are finding out about because they're coming in looking for a different shoe or a different brand," Lenardo says. "I feel like it helps everybody. It definitely helps smaller brands get recognition."
Russ Bengtson, the former SLAM Magazine editor-in-chief and Complex sneaker editor who is currently working on a book titled "The History of Basketball in 15 Sneakers," remembers being one of those people. Back when it was originally released in 2002, Bengtson went into the Supreme skate shop and purchasing the "Supreme Black Cement" SB low dunk, which he has since worn into the ground.
"Supreme was a New York clubhouse for people who knew," Bengston tells SoleSavy. "The Dunk brought people into the shop, and if even a tiny percentage of people went in looking for the dunks and eventually got into skateboarding, you have to imagine it helped grow the subculture a little bit. I feel like there's all these unmeasurable things in terms of influencing people and getting them into skateboarding."
Bengtson is not surprised about the Dunk's recent return to prominence.
"If you look at the retro cycle for sneakers, 20 years always seems to be the sweet spot for when things are popular again," Bengtson says. "You have something that kids found out about back in the day when they didn't have money to get into, and in the case of SBs, maybe they just didn't have a skate shop near them."
Edward Millard is a business partner at the Truth skate shop in Chilliwack, British Columbia, which opened in 2011. Millard and Joel Hersey, who run the shop together, as both SB Dunk enthusiasts from back in the day, and are thrilled to see the shoe being brought back to the mainstream.
"SB Dunk was the Yeezy before the Yeezy," Millard tells SoleSavy. "The pricing on SB products are also reasonable and fair. They made it affordable for skaters. The materials were always premium and every release had a story behind it. It was never just a random colorway."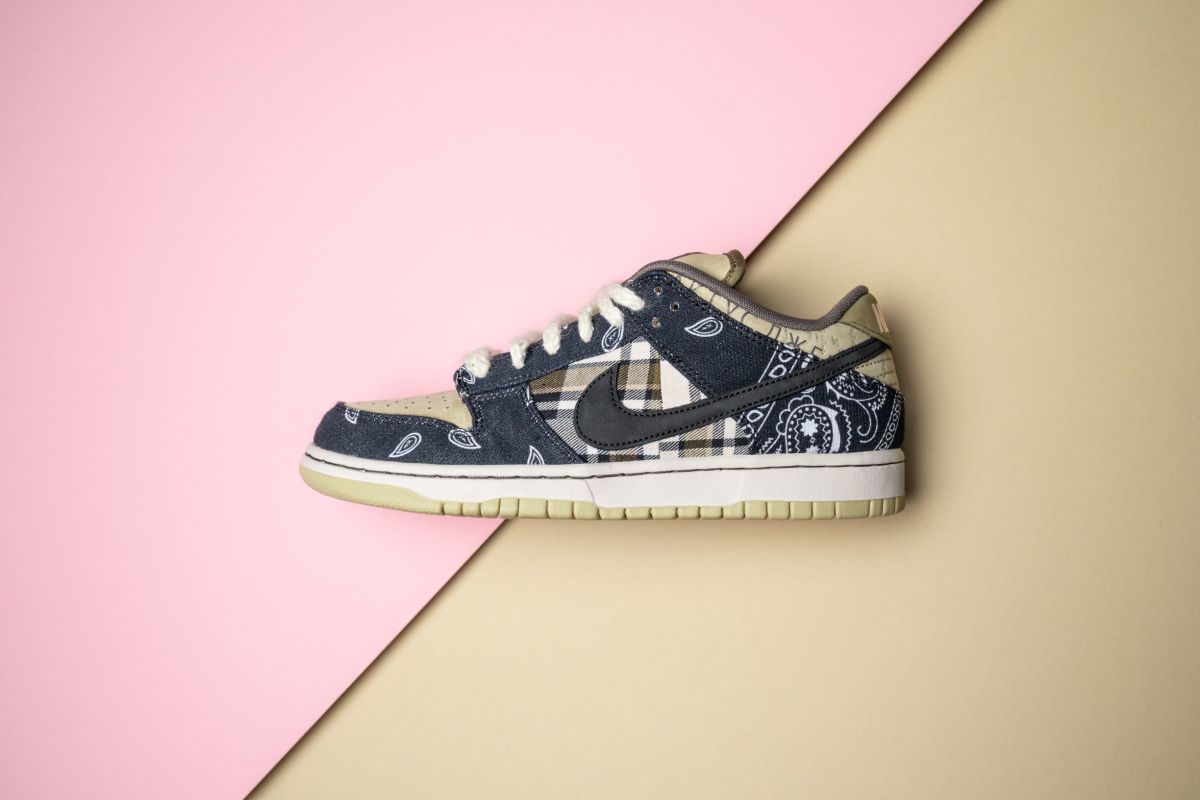 Lenardo has noticed a change in the people who want dunks nowadays. "They don't want the shoe," he says. "They just want to make money off the shoe." Recent dunk releases, including the "Travis Scott" and "Dr. Strangelove" Dunk low, have received a lot of hype, and a result, demand has overwhelmed supply at shops.
When Lenardo put up a raffle for an SB Dunk recently, the store's Instagram page was flooded with some verbal threats. People told him to make sure he had insurance because they were going to break into his shop. Thankfully, they turned out to be empty threats, but Lenardo does lament how the shoe isn't getting to people who actually want them for the purpose of skating in them.
"Right now, unfortunately, some of the kids who want to legitimately skate in them can't get them," Lenardo says.
Nike is releasing an assortment of SB Dunks so new skaters still have access to plenty of releases, and while the sneaker has fallen into the hype cycle, most would agree having the shoe return to the top of everyone's sneaker list is a positive.
"In a sense," Bengtson says. "It becoming big again is cool because it validates those feelings you had about the shoe when they were small."
Millard says it is also helping to shine a spotlight on skateboard culture.
"Skateboarding is an industry itself that doesn't get a lot of credit in the fashion industry as far as setting trends," he says. "A lot of the streetwear brands take inspiration from it. The skateboarding community has given a lot to other industries."
Lenardo says everything is a cycle, and the fact the Dunk has always been there. Having spent almost two decades running a skate shop, he would know. Lenardo says he thinks the dunk will remain a hyped product for at least another five years, and beyond.
"The silhouette is timeless," Lenardo says. "You can wear it anywhere. It's something that's going to last for awhile."Can Nike SB Hype Actually Help Skateboarding Grow?
Latest posts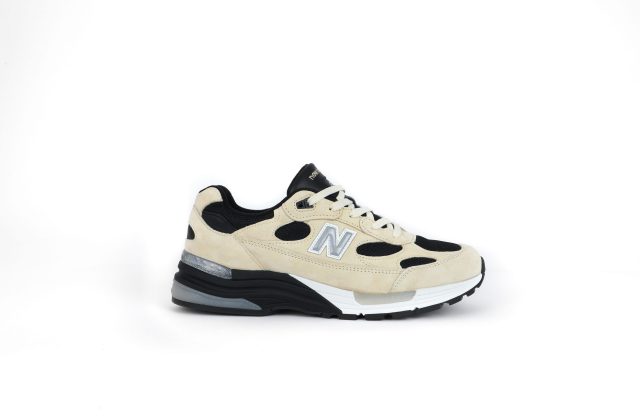 Studio FY7 x New Balance 992 Online Release Info
Air Force 1 Unlocked – Community's Best
SoleSavy membership
A SoleSavy membership provides you the tools and resources you need to successfully purchase the products you want for retail.
Exclusive release information and links
Instant links to purchase shoes in your size
Access to SoleSavy Courses and Lessons
and LOTS more perks!
learn more
Stay in the loop
Sign up to receive emails about feature articles, the latest release info, and exclusive access to SoleSavy memberships.