–
In 2021, Supreme and the Nike SB Dunk stand as two of the most powerful and influential players in the massive world of streetwear and sneaker culture. Over the course of their multi-decade histories, the NYC skate brand and the born-again Nike have amassed world-famous followings far removed from either's origin, blurring lifestyle lines while unhinging agency.
In an era of celebrated cross-pollination and also cringe-worthy clout leverage, the brand and the model both reign, well, supreme. While trends shift and various streetwear staples have had their moment in the sun, the puff-tongued skateboarding shoe, and standoff-ish store both carry more heritage and staying power than any of their peers. 
Because of this, anytime Supreme and the Nike SB Dunk meet with an 'x' in between them, the hype multiplies. Just the same, the ever-growing audience of day 1 shoppers, actual skaters, and newly coined collectors remains divided. 
Was it always that way? Were the titans of the modern marketplace forever the forefathers of reselling, long lines, and crashed servers? We dive deep into the history and context of each Supreme x Nike SB Dunk drop.
---
Supreme x Nike SB Dunk Low (2002)
Released:
September 1, 2002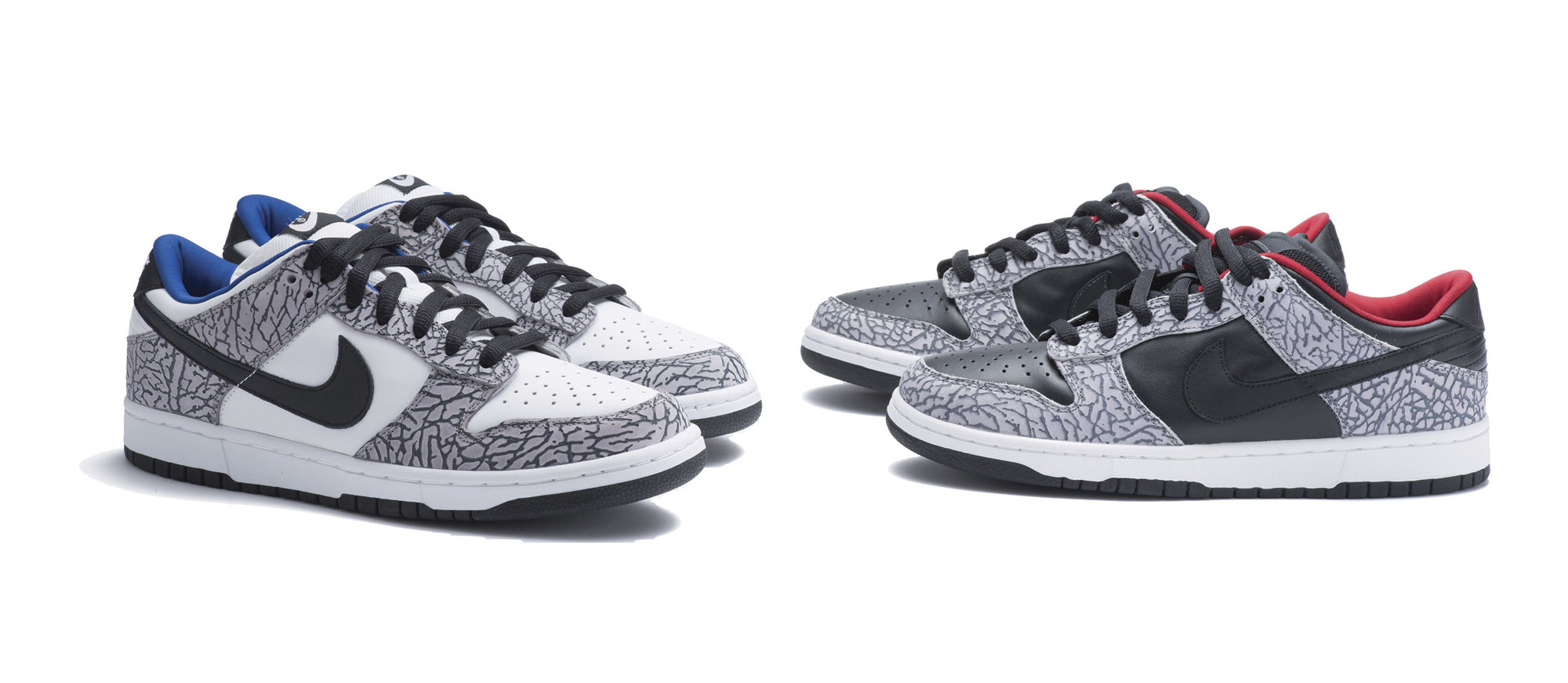 Adding energy through collaborative projects and unarchiving niche classics may be the modern calling card for Supreme, but it proved true all the way back in 2002. While the New York skate shop traces its origins to 1994, it was Nike's newly founded SB line that hand-picked Supreme to be the first-ever collaboration on their retooled take on the Dunk.
"The Supreme Dunks didn't come out until after the first round of Dunks dropped," recalled Russ Bengtson recently on the Sneaker History Podcast. "I definitely bought most of the first round of [SB] Dunks [at Supreme]. I bought Mulders there, Ginos there, the Chocolates there, the Hulks, and a bunch of the secondary colors there. I bought all of those and I bought most of them at [Supreme]. Even then, I think that started to bring in a new crowd. That probably marked the beginning of transformation of Supreme from a skate shop that sold t-shirts to a streetwear shop that also sold skateboard stuff to now a company that can sell for $2 Billion."
By stuffing the tongues and embedding Zoom Air in the insoles, the Nike Basketball shoe built for collegiate programs in the mid-80s swiftly embarked on a second life in skate. When considering the Dunk's hardwood roots, Supreme was smart by paying homage to another court classic you may have heard of: the Air Jordan 3.
Years before elephant print was a paint-by-numbers fixture in streetwear, Supreme proved ahead of the curve by adding it to their inaugural Dunks. Retailing for $65 and inspired by both the "Black/Cement" and "True Blue" takes on MJ's '88 favorite, the reference reimagined just how loud a Dunk could get and what exactly a skate shoe was. Just the same, it challenged the notion of a color block swap, repurposing the AJ3 in a manner only the OG Air Jordan 11 Low IE could relate to.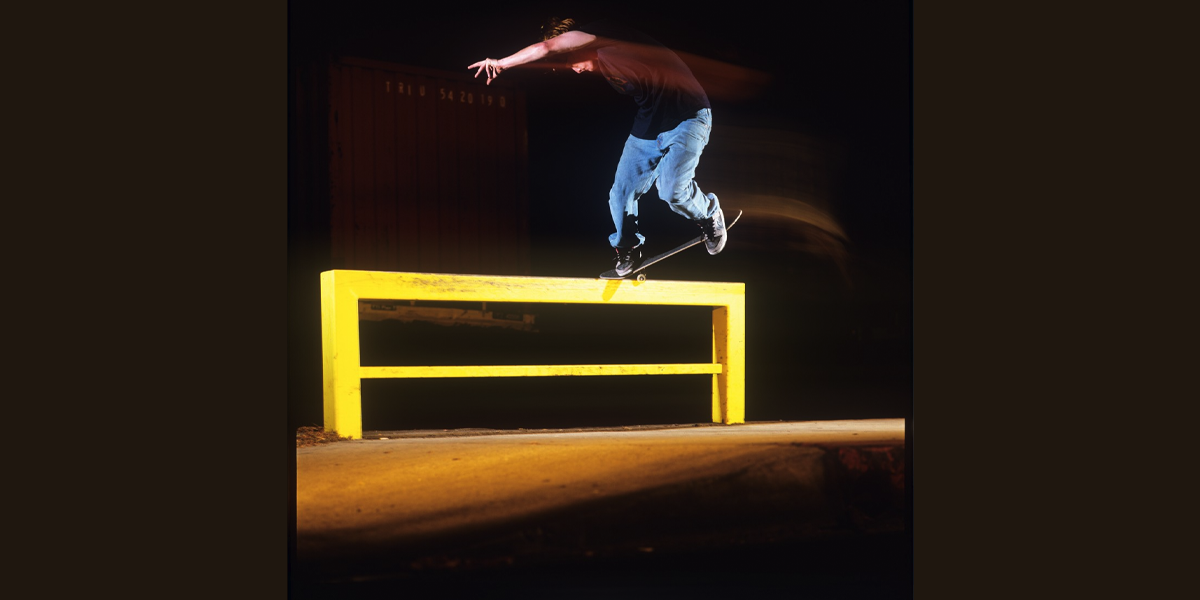 Donned by Dutch Nike SB rider Wieger Van Wageningen, the blurred lines approach didn't speak to everyone, nor was it meant to. Keep in mind, the Nike SB Dunk was a new concept in 2002 and certain members of the skate community weren't exactly stoked about a corporate machine entering their culture, parks and stores. Dressing a skate sneaker literally and figuratively like a basketball shoe was perhaps parody on the part of Supreme, often accused of toeing the line between trolling and trendsetting. 
In an even more dumbfounding turn of events, the same set of OG, $65 Supreme Dunks were listed for auction by Christies in 2020, selling for a whopping $8,125. Hitting on both hype and scarcity, the original run of "Cement" Supreme SBs were never intended to stay in their orange boxes and flipped for resale. They were meant to be destroyed through skating or real-life city wear. 
Because of that, few DS Dunks from the first Supreme batch are hard to come by.
Because of them, many Supreme Dunks have come to follow.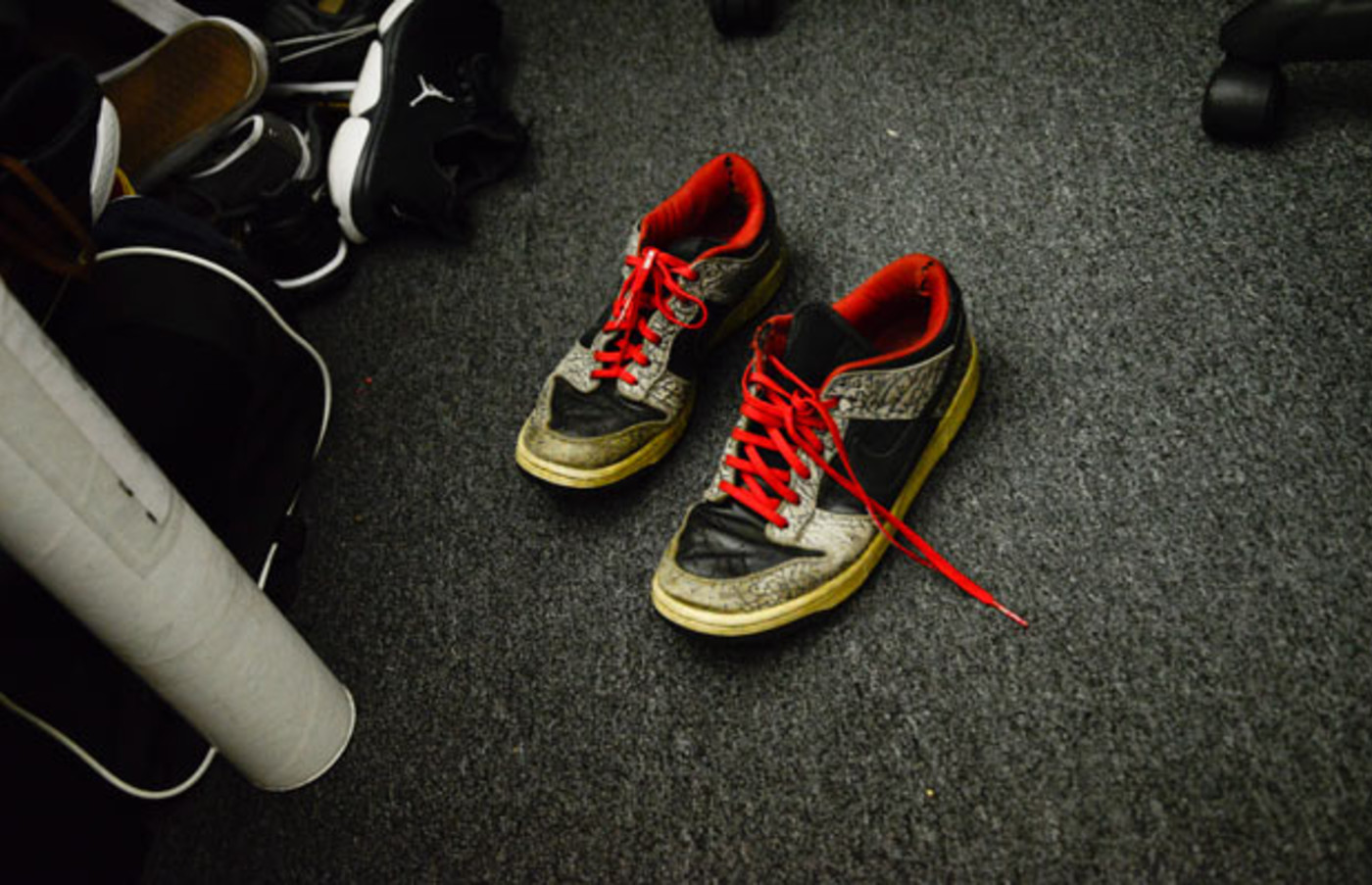 Like any piece of art that has appreciated in audience or value since its debut, the original Supreme Dunks represented an aesthetic that select few understood at the time.
"Back then, you had to go there. There was no online," noted Bengtson. "It's this little ass shop on Lafayette street that most people don't know about and most people aren't even going to."
Most people didn't know in 2002, but soon enough both Supreme and SB Dunks would gain the "World Famous" moniker they've since spoken into existence.
---
Supreme x Nike SB Dunk High
Released:
August 8, 2003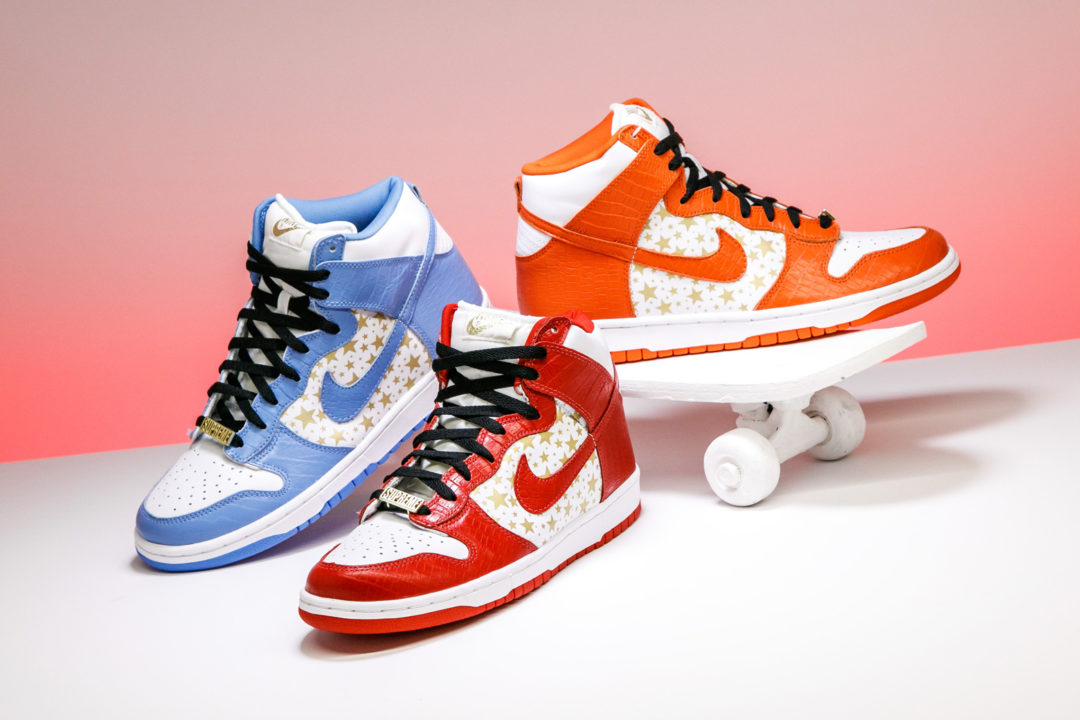 In 2002, the first run of SB Dunks was worn and inspired by riders like Danny Supa, Richard Mulder, Gino Iannucci, and Reese Forbes. By 2003, the scorned skate shoe was gaining its momentum through off-kilter inline colorways and collaborations with the likes of Zoo York, Chocolate Skateboards, Futura, and even eBay. Homages to Heineken, Iron Maiden and the city of Paris were turning heads, while new talent and future signature stars like Omar Salazar and Paul Rodriguez began popping up at parks and in-print wearing the SB Dunks of that era.
After only a year, Nike SB and Supreme were back at it with a trio of high-top Dunks. Once again, inspiration was hailed from the '80s and the Dunk's basketball roots.
Both "College Orange" and "Varsity Red" renditions played out like premium updates to collegiate classics worn by Syracuse and St. John's back in the model's '85-'86 "Be True to Your School" campaign. A "University Blue" pair shared the same sentiment, but no 1:1 OG colorway for comparison, most likely pulling from neighboring Columbia University for its hue.
Rumored to be limited to 1,000 pairs per colorway, the star-stamped Dunks were few in numbers but high in luxury. Crocodile embellished paneling was on par with the elephant accents seen one year prior while golden dubraes played to the golden era aesthetic of late '80s hip hop. 
In the early 2000s, SB Dunks were quickly gaining fanfare amidst sneakerheads while proving polarizing within the skateboarding industry itself.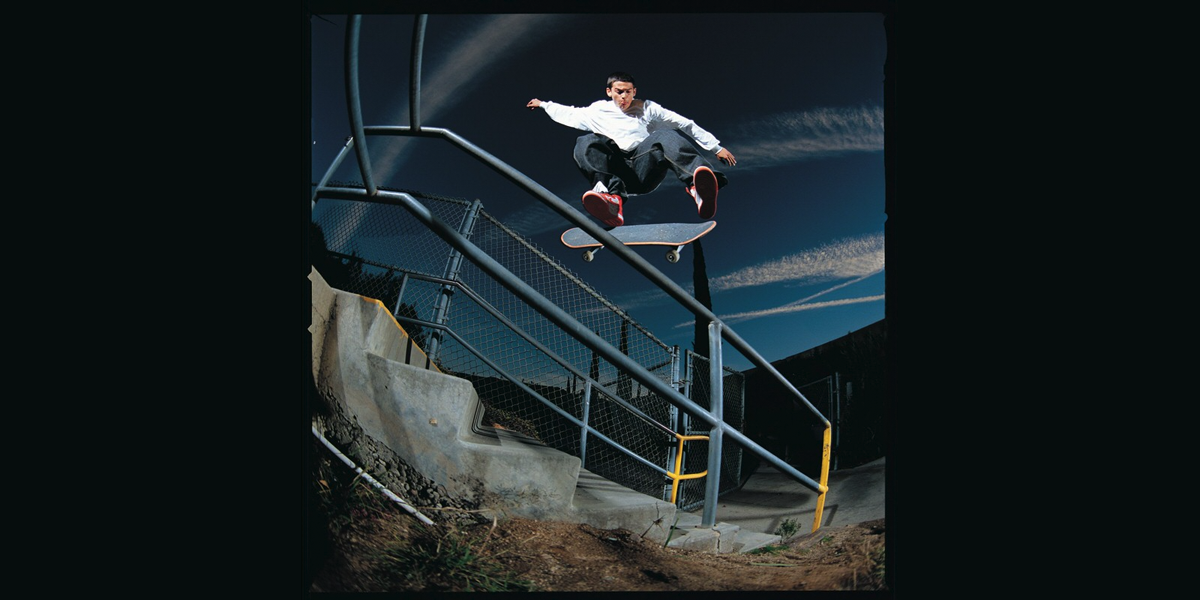 "At that time, it was frowned upon to want to go to a company like Nike within skateboarding," reflected Paul Rodriguez on the Complex Sneakers Podcast. "The first box [I received from Nike] was all Dunks. I had all three of the Supreme Dunks with the stars on them. In my first Nike ad ever, I'm wearing the orange ones. I remember my friend Nigel was a big sneakerhead and they'd get mad at me like, 'Why are you skating those? What are you doing?' I could've probably had a million-dollar sneaker collection by now."
In total, 2003 saw three styles of Supreme Dunks release. However, it was supposed to be twice that.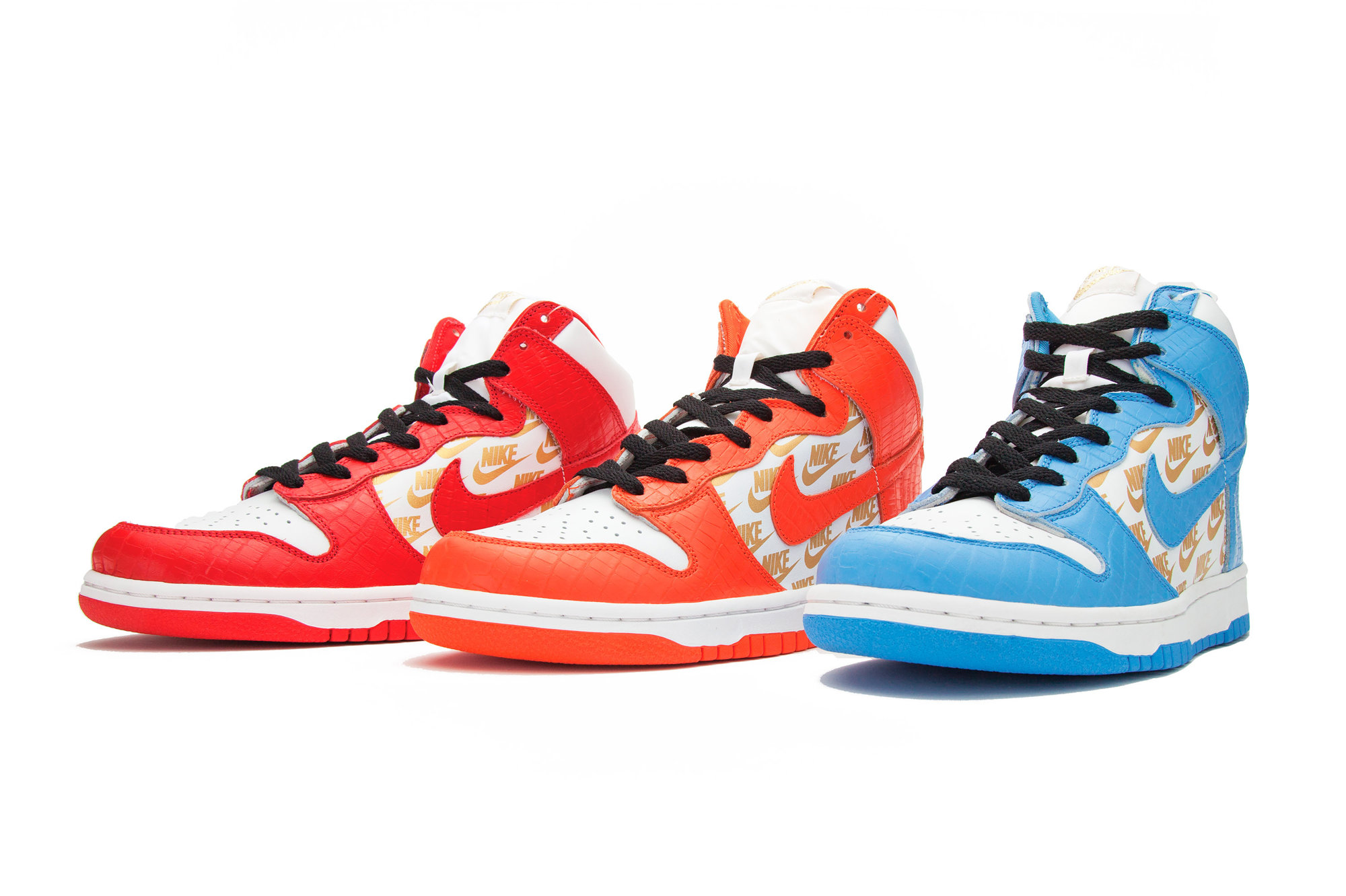 Famously, Supreme had a trio of low-top looks set to follow up the collegiate tributes, keeping the same energy via color blocking but replacing the stars with that of golden Nike logos. Infamously, Nike's legal team wasn't rolling with the overbrand – now painfully popular in 2021 – canceling the kicks dead in their tracks. Likely because of this and other market factors – namely making the SB Blazer and Bruin pop – fans would have to wait almost an entire decade for another Supreme SB Dunk drop.
---
Supreme x Nike SB Dunk Low (2012)
Released:
July 19, 2012
Over time, the star-stamped Supreme SB Dunks would pave the way for the popularity of Nike's skateboarding line within streetwear and eventually within the sport. Over the course of the mid to late 2000s, SB Dunks exploded through cutting-edge collaborations and irreverent themes. Riders would jump ship from the sport's foundational brands, later landing signature shoes with corporate mainstays like Nike and even adidas and Converse.
In that same decade, Supreme and Nike SB would work together on quilted Blazers favored by Kanye West and SB Trainers making fans wonder if Bo knew skate. By 2010, Supreme would be rewarded with their own signature Nike model, molded with Foamposite and showing shades of Dunk inspiration.
However, it wouldn't be until 2012 that Supreme would get another Dunk collaboration of their own. Looking back to the shoes that started it all, the 2012 Supreme x Nike SB Dunk Low paid homage to the 2002 elephant print pairs, opting for a red leather base in an even louder play on Air Jordan ancestry.
Once again, Supreme was onto something. Months after releasing their red elephant print Dunks, the fiery tone would define footwear by previews of the pivotal "Red October" Nike Air Yeezy 2s. For the years that followed, red shoes would be released by any and every brand as a way to add energy and impersonate Kanye. 
Did Supreme pave the way for Kanye's kicks that changed culture? No, but they did drop their red shoes first.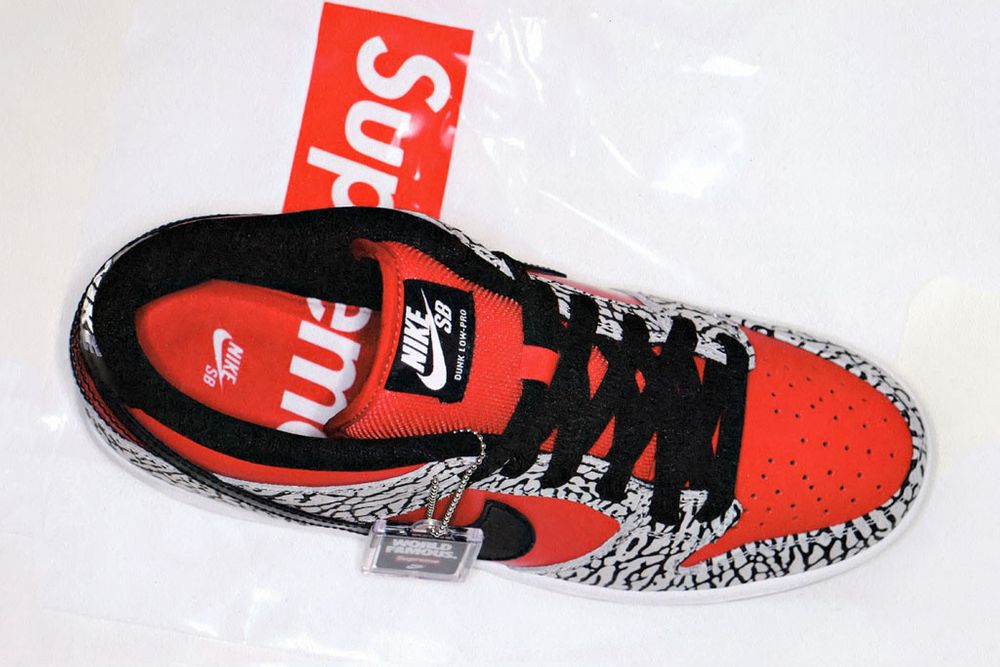 While this release didn't fall on deaf ears for dedicated Supreme heads, the market for SB Dunks in 2012 wasn't nearly as wide as it is again today. Slowly but surely though, Supreme itself was about to embark on a mainstream surge thanks to unofficial endorsements from rising talents like A$AP Rocky and Tyler, the Creator, two style-shifting artists that grew up in cities where Supreme possessed both a physical presence and a halo around streetwear.
Because of Rocky and Tyler, Supreme was reaching kids far from Fairfax and adults who never attempted a kickflip. This created a craze around Supreme's famous five-panel hats and box logo tees. However, from a mainstream standpoint, Dunks were essentially dead in the water by 2012 despite drops from Pushead, Premier, Levi's, CNCPTS. and Doernbecher all in that same year. Instead, Nike SB had now hit a new stride via its Stefan Janoski signatures while classic Vans silhouettes were gaining further mainstream momentum thanks to their time-tested function and ironic lack of clout.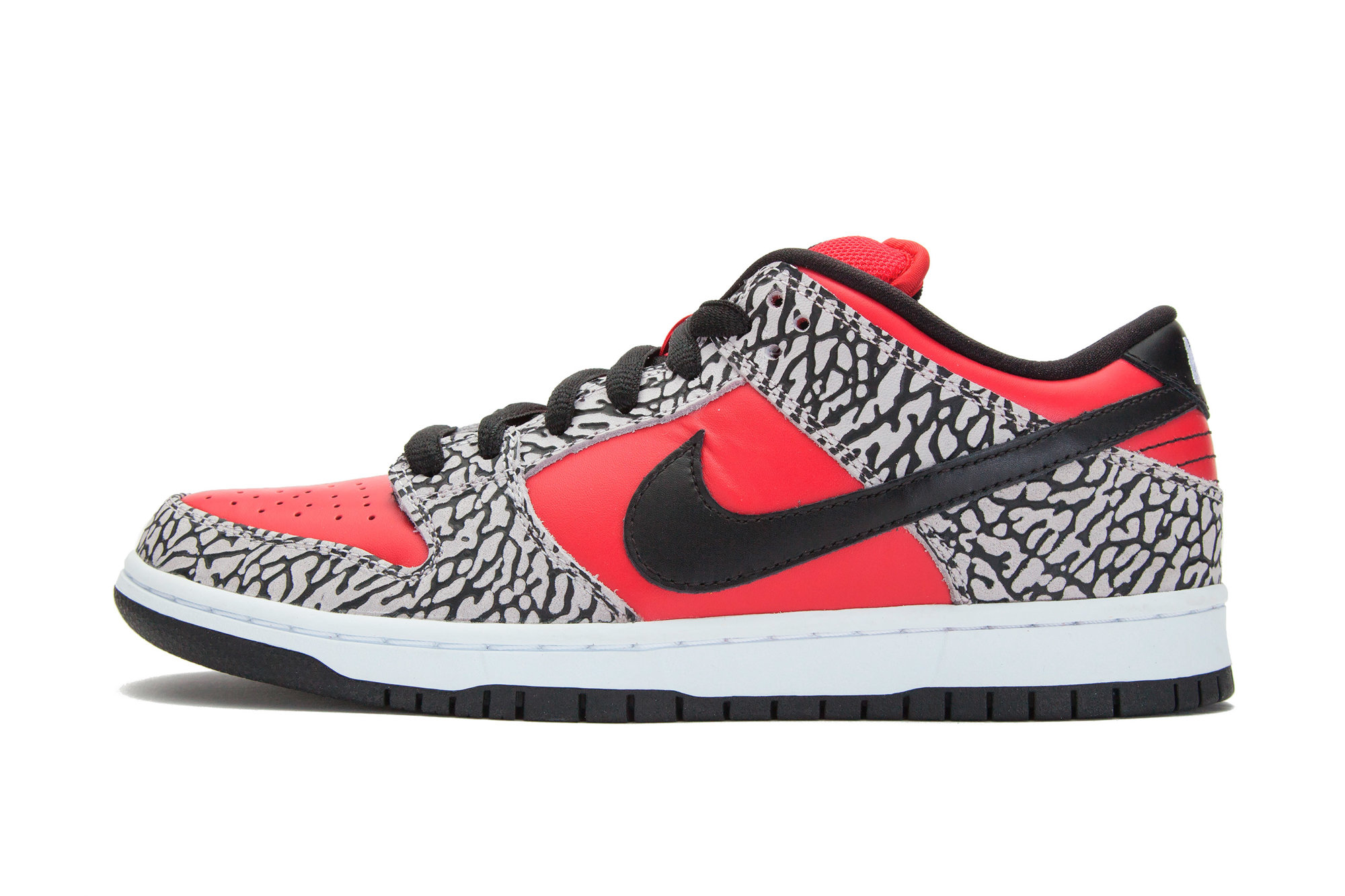 When it came to endorsements, the intersect of celebrity and sneakerheads standing by and standing out in this drop would be limited to likes of Wale and Bun B; non-skating but culturally-rooted artists with a reverence for the brand and its history. Over the course of the 2010s, the likes of Frank Ocean, Travis Scott, A$AP Rocky, Trinidad James, Playboi Carti, and members of the Flatbush Zombies would resurrect Supreme Dunks as a status symbol, digging in the crates to unearth '02 and '03 favorites though rarely wearing that of the 2012 take.
---
Supreme x Nike SB Dunk Low (2019)
Released:
September 14, 2019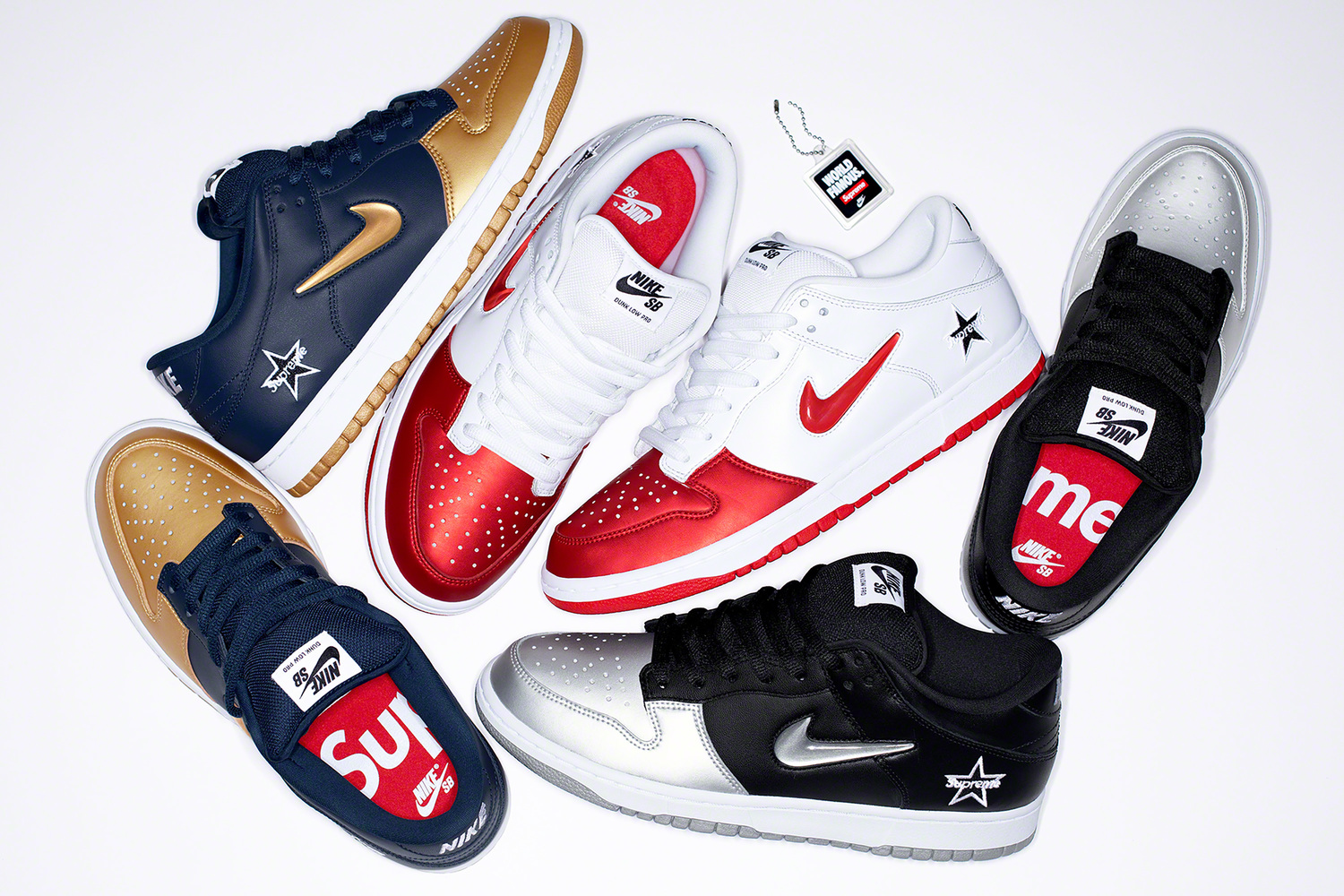 By 2019, everyone and their favorite reality star loved Supreme. SB Dunks were in the midst of a resurgence thanks to Instagram flexes from Travis Scott, Wale, Offset, and other influential rappers. While far removed from a halfpipe they helped add gas to the skate shoe's building buzz.
So, due to these converging forces, everyone must have loved Supreme's 2019 Nike SB Dunk Low, right?
Well, not quite. 
Sporting a shiny metallic toe box, nostalgic but done to death jewel Swoosh and sheriff badge branding, the 2019 take was panned as lazy upon leaks, compared to shiny suit outfits adorned by Ma$e in "Mo Money, Mo Problems."
With all the juice surrounding Supreme and SB Dunks for perhaps the first time at the same time, did the World Famous brand mail it in right when the world was all watching?
Maybe, but maybe not.
Always in on the joke and ahead of the curve, the jiggy jewel Swoosh Dunks debuted in a skate video shot by Johnny Wilson set to GZA's Liquid Swords deep cut "Labels." Juxtaposing the flashy shoes with sweaty skaters donned in Dickies, the gritty track told the importance of not being misled by big corporations. Get it?
The Milan mix featured revered riders such as Caleb Barnett, Kevin Bradley, Vincent Touzery, and Nik Stain, baring box logos, sharing spliffs, and hitting tricks in defiant fashion that recalled what both the brand and shoes actually represented.
Hitting right as Supreme and SB Dunks were peaking in popularity with the non-skating millennials, the Zoom Air assisted trio retailed at $110 and was sold at Supreme shops in NY, BK, LA, London, Paris, and Japan. These were also the first Supreme Dunks to drop on SNKRS, also seeing online availability at Supreme and Nike's webstores.
---
Supreme x Nike SB Dunk Low (2021)
Released:
March 4, 2021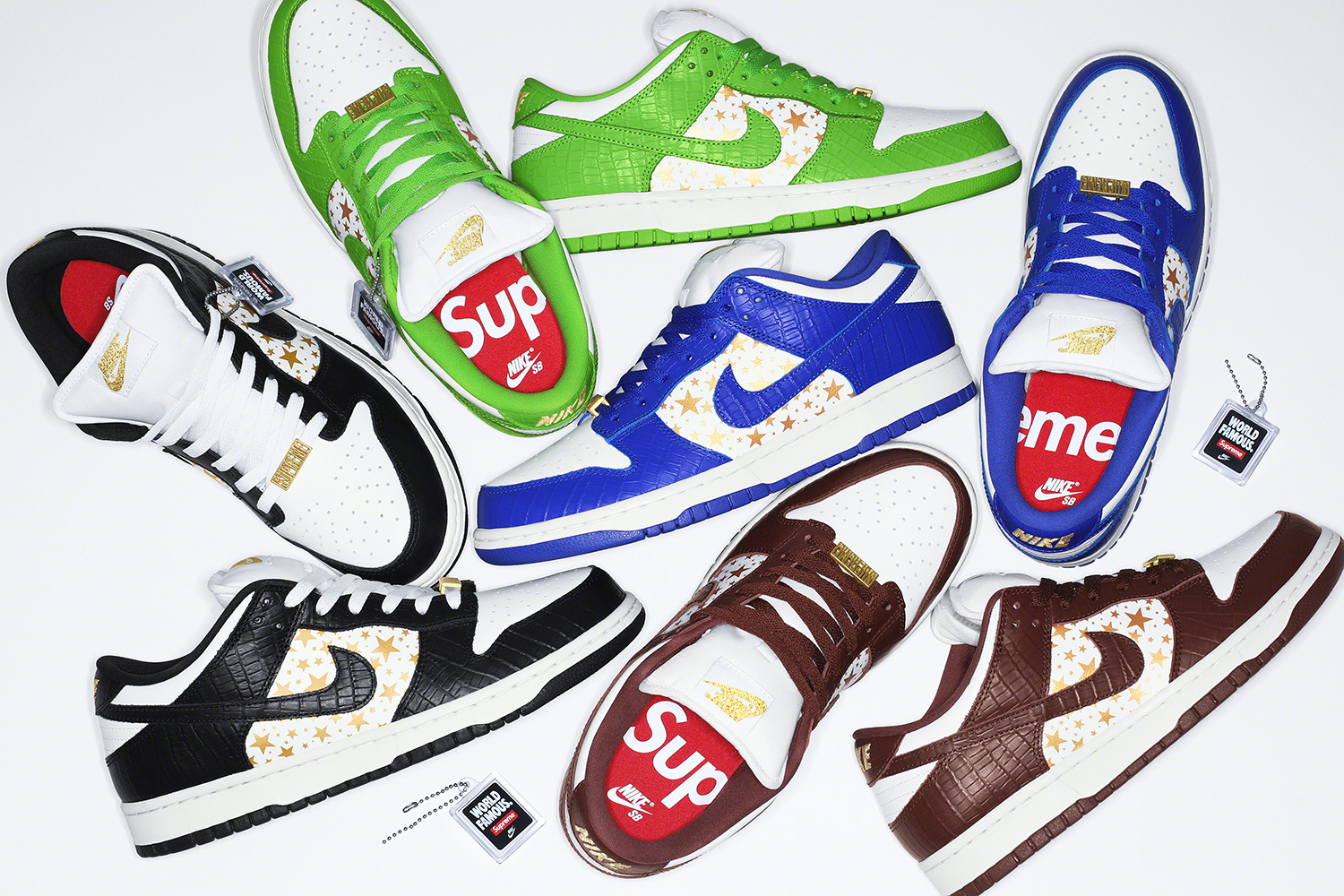 Another homage to the old, the latest Supreme x Nike SB Dunks pay tribute to the star-studded 2003 collection. Like the 2012 "Cement" flip, new shades provide a fresh take on an old theme. While the '03 pairs played heavily off "Be True to Your School" ethos, this crop is a bit more mysterious in inspiration with black, green, brown, and blue makeups surfacing without story.
As noted, this quartet of colorways is all launching in low-top form. This is a call straight out of Nike SB's 2010s playbook that took classic collabs like the "De La Soul" and "Diamond" Dunks and saw their cuts reimagined via their retro's. While low-top Dunks have been board favorites, an official skate video from Supreme does not exist at the time of publishing this article. Though a pandemic and winter weather prove worthy reasons for pause.
From a demand standpoint, Supreme, SB Dunks, and interest in archives are each at all-time highs. Because of this, supply will most certainly eclipse that of the 2003 take it is based on. Just the same, while some shoppers aren't keen on the colorways of the 2021 pack, public opinion on these seems to be much more positive than that of the 2019 release. Simply put, a lot of people will be after these.
So, how will they get them? Between the Coronavirus, new online buying methods, and Supreme itself being bought, buying the new Supreme x Nike SB Dunk Low will still take luck, knowledge, and timing just like it did in 2002. However, it won't happen on a lunch run to the shop and it probably won't happen for retail.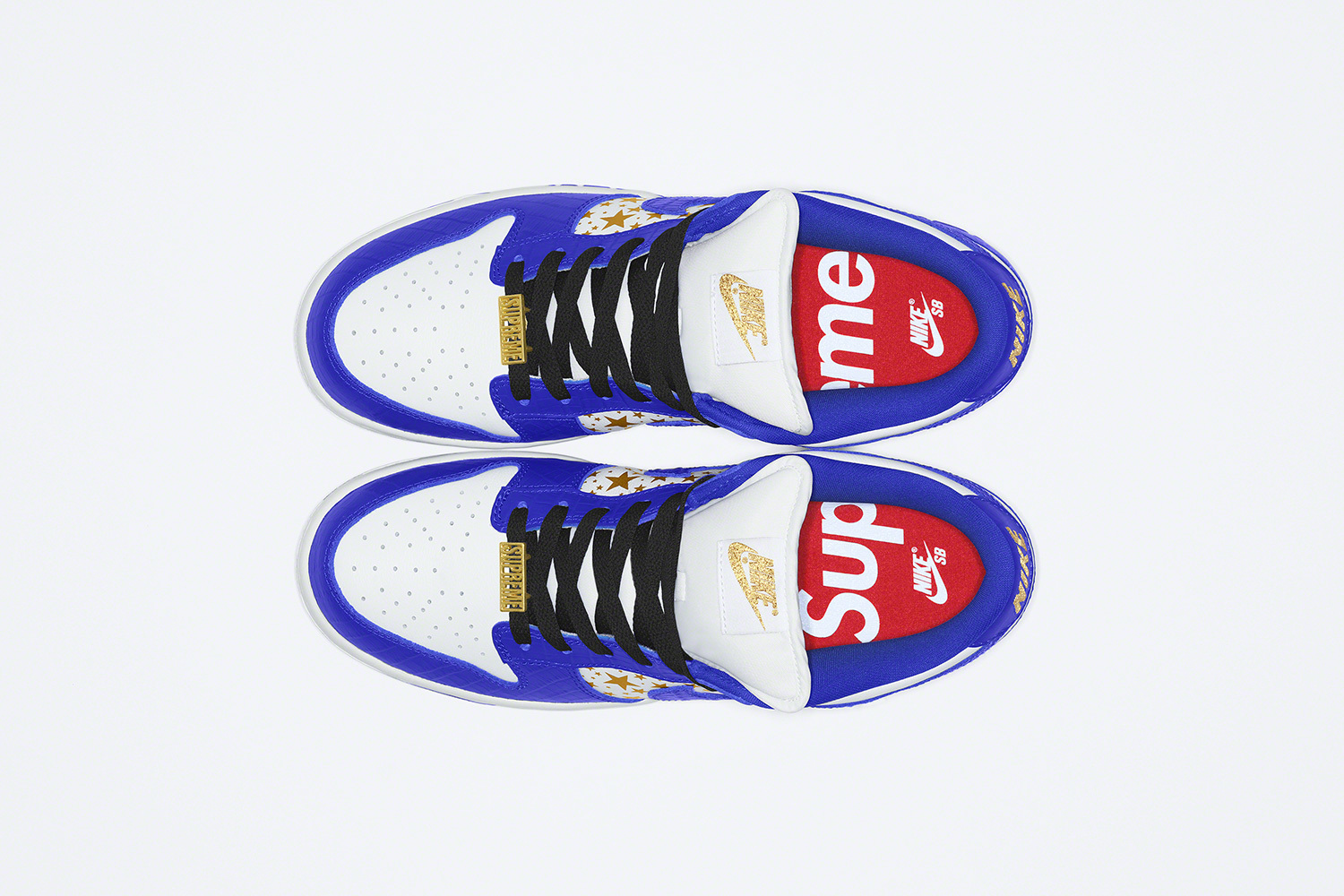 Like any underground current made mainstream — like blues, rock, jazz, and rap as Andre 3000 noted in "Hollywood Divorce" back in '06 — by the time something cool blows up it's quickly appropriated for the love of cash at the price of culture. Some would say this is true of Supreme SB Dunks, as the brand and the product are now worth tons of dough in 2021 but actual day 1 supporters would be hard-pressed to actually pick up a pair.
While early supporters may be left out on this drop, Supreme and SB Dunks are still very much here and by all estimates winning – well, at least financially. Not only did the two parties coming together make the brand and the SB Dunk hype what it is today, but they are also still at the forefront of it. As alluded to by Andre, that's usually untrue for the pioneers of the music we love as most originators of a trend end up broke and hung out to dry. Conversely, by the small skate shop taking a risk and working with the machine in 2002, Supreme and Nike SB eventually became the new machine. 
In the time since their 2002 pairing, both Supreme and the SB Dunk have seen highs and lows in popularity, pushing away posers who support them all while collaborating with massive corporations. Supreme's same standoffish attitude expressed decades ago remains today, it's just the amount of people interested in their product and able to find it online has exploded. Influencers and the internet have homogenized interest in the city skate brand, removing the rude interactions the brick and mortar was once famous for but often creating the same sentiment in its new crop of customers.
Hate it or love it, you can still find the beauty in Supreme's dedication to defiance, the history of the shop, the skaters who supported it, and the Dunks they've dropped through Nike SB. If one is really about that skate life, there are still plenty of pioneer brands ready to ride in and beat up. And for those outside of NYC that don't kickflip? Well, every time you rep Supreme the joke is now on the brand that wouldn't ever greet you when you came in to support their store.
World famous, indeed.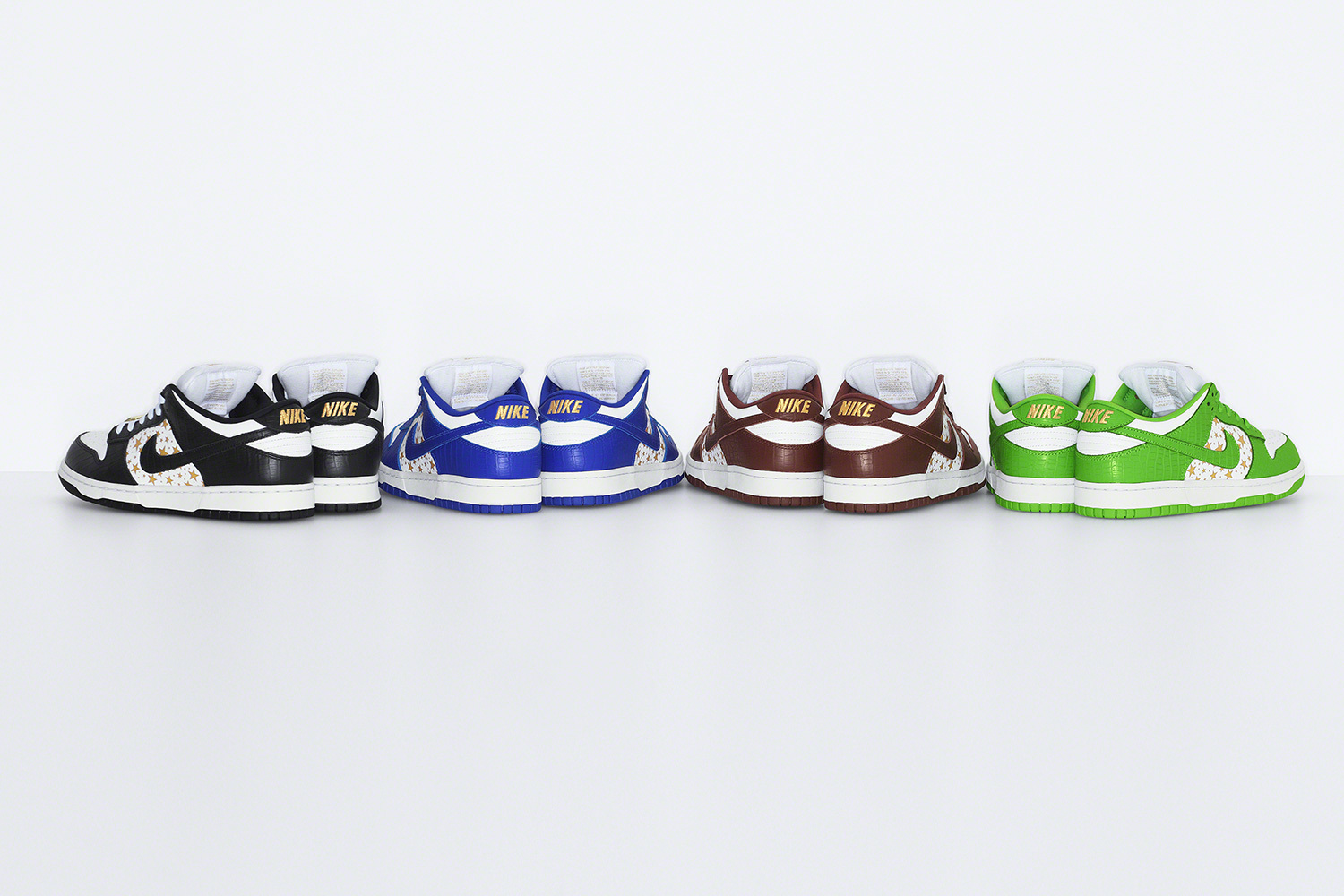 ---
Photos via Christies, Nice Kicks, Stadium Goods, Hypebeast & Supreme