The first episode of Bleacher Report's Sneak This – billed as the first-ever sketch comedy show about sneaker culture – starts with a riff about Air Jordan 1 Mids. From there, we transition to a trailer for a new season of an alternate-reality Narcos all about Joe Hebert, the 19-year-old reseller who made headlines earlier this year as it was revealed his mom Ann worked as a VP at Nike. The episode also tackles how Nike packages are delivered, FILA Disruptors, and Tik-Tokers making white-and-black Nike Blazers their go-to shoe.
While I was initially skeptical about a comedy sketch show about sneaker culture, I have to say the first episode of Sneak This was a pleasant surprise. 
So much of the sneaker industry is about relationship building. Publications have relationships with brands. Brands have relationships with influencers. The idea of actually leveling criticism or stepping out of the usual boundaries of how people talk about sneakers can feel foreign, even unacceptable. That's where I see the potential of a show like Sneak This, which can use their platform as a comedy show to point out the hypocrisy and general hilarity of the entire culture around sneakers. 
C.J. Toledano is the showrunner of Sneak This, and even he admits the whole AJ1 Mids thing is dumb. It's really not that serious if you like Mids, but within that and many other rules of sneaker culture, there's comedy to be mined. 
They really let us make a whole season of a sketch comedy show about sneakers.

And it's really coming out tomorrow.

Set your reminder here 🛎 https://t.co/sUvF1MmjEh pic.twitter.com/gQC5hGjOGu

— C.J. Toledano (@CJToledano) July 28, 2021

Toledano grew up in a town called Marshalltown in the state of Iowa. "I was the youngest of three siblings," he remembers. "My brother, my sister, and I would come home from school, and we would be like, 'We're the only Asian kids in town.' That's what we were known as. I was like, 'What can be my identity outside of that?'"
Toledano's identity became defined by his pop-culture interests, including Saturday Night Live, Fresh Prince, and watching Michael Jordan and the Chicago Bulls. And there was one more thing. "Sneakers seemed like the one thing that could validate you immediately," Toledano said. "I became obsessed with how you could express yourself and pay homage to the things that you love." 
Toledano has written for Jimmy Fallon, ran creative for the Detroit Pistons, worked as a creative director for House of Highlights and Bleacher Report, and opened for comedians Bo Burnham and Joel McHale. The long-time comedy writer and stand-up comedian came upon the idea of Sneak This with two other stand-up comedian friends, Rob Haze and Jamel Johnson, the on-camera stars of the show. They pitched a series of sketch ideas to B/R Kicks, got the green light, and wrapped up a five-episode first season of the show, which debuted on July 28th. 
Toledano understands the internet — and especially the sneaker space — can be a fickle bunch. In our interview below, we chat about the behind-the-scenes process of Sneak This, the creative inspirations he drew from other sketch comedy, why he thinks people should give the show a chance before passing judgment, and more.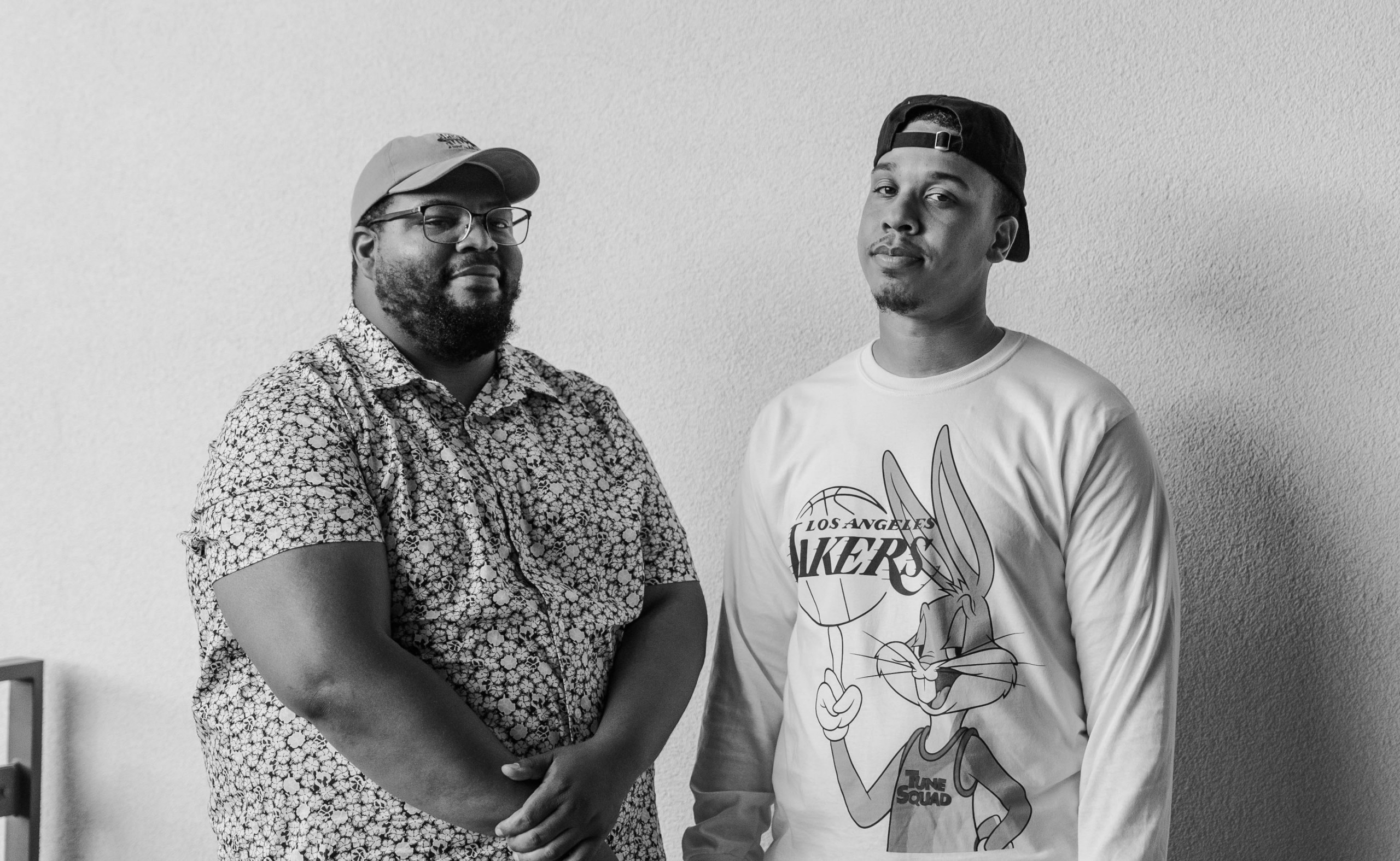 "Sneak This" co-stars Rob Haze and Jamel Johnson, image via Bleacher Report
What was the origin story for the show?
B/R Kicks was going back and forth with us on ideas, and we said: what if there was a Chappelle's Show for sneakers? The stuff they saw that really hit their accounts was relatable content, like comedic takes on trends in sneaker culture and not just people showing off expensive sneakers, but like real stuff like how their fanbase interacts with sneakers and the struggle to get them. And it was like, what if there was a whole show about that kind of like the television show How To Make It In America. I think a lot of us loved the show and really wished it was still going on, so we figured we could do something like that. We put together a deck, set up some meetings with them, and sold the show. 
You guys start the first episode with a cold open riffing on Air Jordan 1 Mids and then go right into making fun of the whole Joe Hebert-Nike controversy and even just mentioning them directly by name. Was that a conscious decision to say, let's establish this as a show that's willing to go to those places? 
Yeah. A lot of people have brought it up like, 'Oh, I can't believe you said their names.' I was like, 'We live in a day and age where everyone knows their names.' And like—
Sorry to cut you off, but I feel like people are surprised because nobody in this industry ever wants to upset people because it's such an influencer-driven industry, and relationships with brands are so important, you know?
Yeah. And honestly, we already went to the lengths of putting together this whole crew to make this biopic sketch, so I was like, let's just go all in. To me, it's going back to when I made sketches about the NBA. Everything always started as a meme, and it's always about making the highest level of content with those memes. I've always wanted to be a director on SNL, and it's just like, what is the ultimate movie version of this meme. As a teenager, we're making stuff on Photoshop. Now, I have the resources of a giant corporation, and it's like, 'Can I assemble a movie crew to make it like it's a film?' That's why we're really proud of making a Narcos parody of it. No one is actually going to make a television show about this but we want people to be like, 'Holy shit, I would totally watch a whole season of this.' So that's why we were like, we're not going to hold back on anything. That's the one thing I learned watching Late Night with Conan O'Brien, they would make dumb jokes, but they had full-time staff working on those jokes, and they would get celebrities to do it. We're trying to recreate that, to make these crazy productions about a joke that originated as a meme on the internet. 
Was there any pushback from B/R because I'm sure they've got relationships with these brands. 
They've always said, 'We want you to think about the best dream blue sky version of this thing, and we will come in and make sure we don't get sued, and you guys aren't going to get canceled.' We got away with a lot of stuff, to be honest. They have a platform that people spend millions of dollars on being sponsors of their content. But we're just being absolutely authentic and honest, and again, we're echoing the fan sentiment about a lot of these situations. 
What was the behind-the-scenes process like to come up with sketches? 
The main point of inspiration for us is just our gripes. We scroll through Twitter and YouTube to see what people are talking about. We make sure everything we're talking about is relatable and resonates with sneakerheads. There's just a lot of wacky shit in sneakers right now. You'll see a sketch later in the season about the Reebok Questions and how the collaborations are getting crazy. They don't make any sense. So the premise of the sketch is like a look at a Reebok meeting where these ideas are getting thrown out. With anything, it starts with a basic premise, and it's like, what's the craziest off-the-rails version of this? That's inspired by I Think You Should Leave, which is a current inspiration for us. 
The sneaker draft sketch in the first episode reminded me of Chappelle's racial draft. You mentioned I Think You Should Leave. In terms of sketch comedy shows, are those the inspirations? Perhaps Key and Peele as well. 
Yeah, and The Ben Stiller Show. The one thing I really want this show to do is for people to get to know Rob and Jamel. I want people to know they're real fans of sneakers. 
I imagine that's important to you, so it's not just two random stand-up comedians who know nothing about sneakers. 
Absolutely. Like the first time you see them when they're riffing about Jordan 1 Mids, that's just me pointing the camera at them. It was very natural. We were just trying out this place Deadstock Coffee that everyone was telling us about, and that's just how we talk. I love that we could open the show like that. 
Was getting John King from CNN to make a cameo in the first episode an easy pull?
So, as you probably know, B/R's parent company is Turner, so we would just take advantage of that and ask, 'Hey, who's available?' We got a list, and John King was on it. In a way, it was a challenge to our writers where we would go, 'how can we fit John King into a sketch.' So we've been able to use some Turner talent. 
There are a lot of exclusive sneakers and just a lot of sneakers in general on the show. I imagine it's not just your personal collections? 
A lot of it is from my and Rob's personal collections. We film a lot of our show in Ohio, and we ask around for sneaker hook-ups in terms of influencers and collectors in the area. So people were paid for us to use their collections. 
Why do you think stand-up comedians seem to love sneakers so much?
We want attention. 
So it's like a "hey, look at me" situation. 
Absolutely. You see comedians who geet successful, and by their fourth special they're like wearing weird and fancy clothes. I think sneakers are the first step in that evolution to dressing like a terrible rich person. It's like, these sneakers cost like a hundred and fifty bucks. 
It's like a gateway drug. 
Exactly. And it's like a wall-of-fame type thing. 
You mentioned the Reebok Questions sketch earlier. What else can people expect from the rest of the season? 
We've got Mid-Martha, who is our take on all the Karen stuff. We have a P.J. Tucker sketch. We have something on StockX and GOAT and why the authentication process takes so long. We've got something on sneaker YouTube culture and a lot of "man on the street" segments with Rob and Jamel. And sneaker proposals and how dudes take their shoes off to propose so they don't crease. If there's been a trend or a big viral moment, we tried to do our due diligence to make sure we had our comedic take on it. 
I'm sure you've received a lot of positive feedback to the first episode, but I'm always more interested in what people have to say to the folks who aren't a fan of their product. What do you say to people who are like: why do we need a show like this? 
It's like anything. You can't take it too seriously, or it's going to drive you crazy. Stop driving your blood pressure up. These are shoes. We can all get mad at SNKRS, but like we're lucky we even get to take this as seriously as we do. To those people, I would say, 'Hey, if it's not for you, it's not for you, but give it a look.' And it's not just for comedy. This is like the most analysis you'll get into the psyche of a sneakerhead. So, in all honesty, I welcome all feedback that ranges from positive to negative. In a way, this is like the most constructive way to fight back against these trends and the things we hate about the sneaker game.