As first-generation sneaker enthusiasts keep cruising through adulthood, many find themselves becoming an entirely new subset of the subculture: Sneaker Parents. 
Prior to the first generation of sneakerheads extending its passion into adulthood, sneakers were just another thing that faded with youth. Since sneaker culture is relatively young, there was no second chapter for kids that even had a passing interest in sneakers or streetwear. There were no retros, there were no collabs, there was no history and a lifetime of keeping up with the latest releases, standing in line for drops, FLIPPING shoes – there was no backstory to sneakerheads because sneakerheads didn't really have a history.
But now they do. No longer are sneaker fans giving up their favorite pastime just because they're doling out bed times. Instead, many are looking to pass on the love of sneakers to the next generation. This sounds easy enough. After all, if you're into sneakers, you've basically been preparing for this your entire life. But, there is much more to consider when raising the next generation of sneaker connoisseurs. If this is your first go 'round, or even if you use your Brannock device every six months, here are some things to keep in mind as a sneaker parent:
Don't get a Brannock Device, get a measuring device.
A Brannock device, the standard foot measuring device of the footwear industry, is legit for the pros. There are plenty of lower-priced options that will do the trick. But, having a measuring device in the early days is probably a good idea. Eventually, you'll be able to just jump a half size up or so every six months. 
Do buy the classics – they're classics for a reason.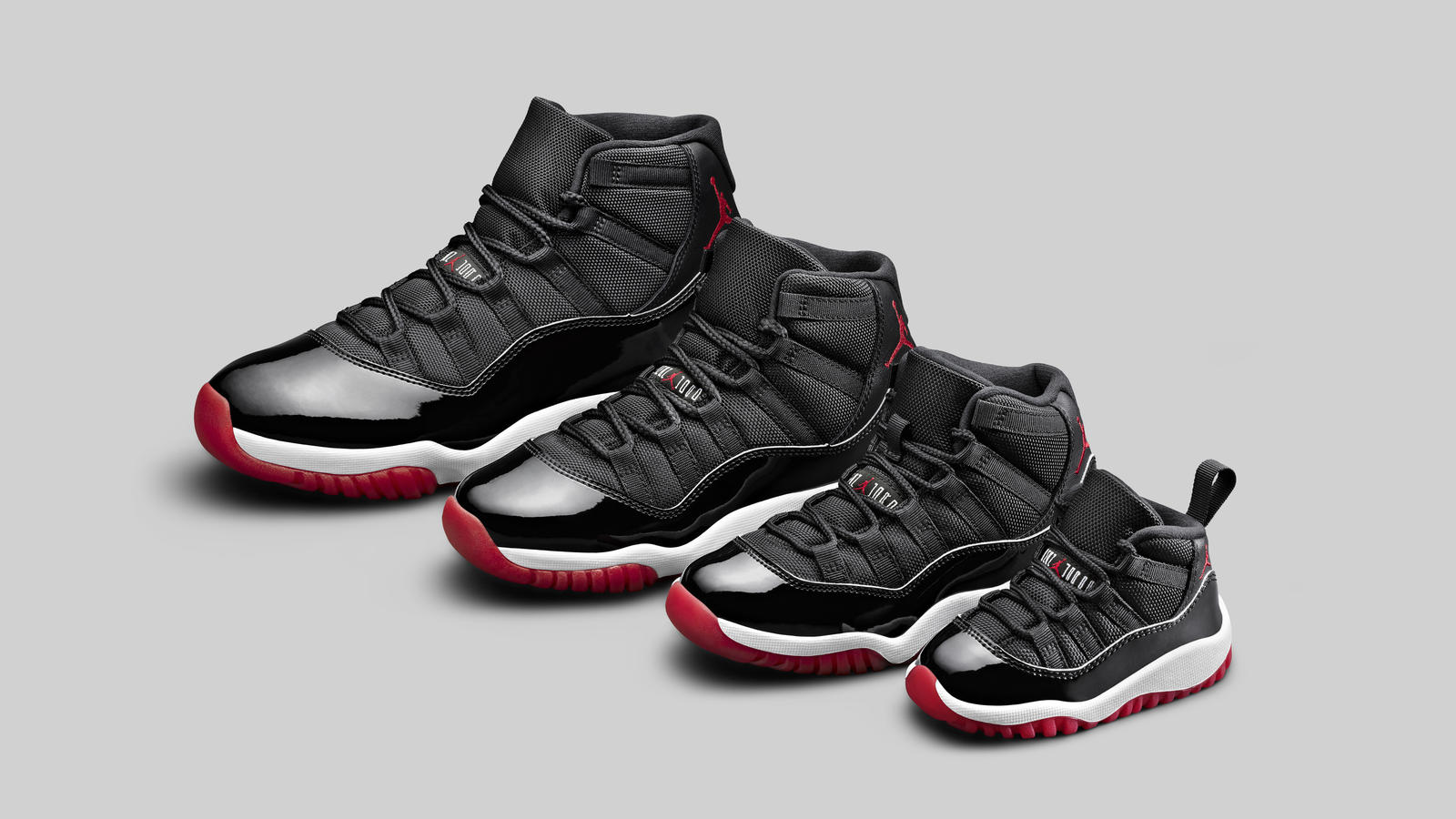 Every time the holidays roll around a Jordan 11 is dropping – grab one for the kid. Shoes have to be worn, and they might as well be shoes that are undeniable. At some point, they may appreciate your attention to detail and history, at least until they become teenagers and they don't appreciate anything. On the off chance they don't grow up to be a legitimately sick individual who spends good portions of their day reading sneaker blogs and putting bids in on shoes on whatever platform exists then, you will have the memories. You also will have pictures of the classic kicks you suited them with before they knew what hit them. Of course you'll cherish the memories as well, but the sneakers will make it that much better.
Do buy Velcro, and this one is big. I repeat: BUY SHOES WITH VELCRO.
I can't stress this enough. As someone who only saw Velcro as something to be worn ironically, or as a secondary securing mechanism, I was late to champion it as the affixer of choice. More times than not, putting the shoes on the feet will be the last thing separating you from getting out of the house. Which is the last thing separating you from actually getting to whatever place you need to be within an hour of when you were scheduled to have been there. Children have less sense of time than cats. They couldn't give a shit that your meeting starts at 9:00. The best part here is that a lot of classics make versions with Velcro – the Stan Smith, the Superstar, numerous Vans options like the Old School, and even a lot of Jordans include Velcro. When there is a Velcro option, take it and savor every extra second saved by not tying up those laces.
Don't buy every release, there are simply too many dropping too fast with not enough time to wear them all.
More and more releases are including full family size runs, which is sick. It's great to have these options but don't go overboard thinking you need to buy every one. Your kids will fall into "go-to shoes," and while it's definitely key to have more than one pair if you can, your child's foot is also growing. So, stocking and rocking isn't really an option. Now…could you buy a size up knowing they'll eventually grow into them? Great question – of course you could. But as the days go by that foot is growing, and before you know it you've forgotten all about the Black Cement 3 you bought at the top of the closet. By the time you remember it they only have a month or two of wear in them before it's time to size up again. So unless it's a SUPER limited release –I'm talking Wotherspoon Air Max type release – don't worry about securing a size up with the intention they'll wear them one day.
Do buy shoes on birthdays and holidays.
The holidays provide great opportunities for sales and typically full family sizing of shoes that are highly sought after. Time of year will dictate if birthdays come in to play there as well, but I like to get a pair for each birthday. If nothing else, it marks that year with a certain shoe which might be fun at some point but so far it just means that will be the latest one to get destroyed. And that brings us to another good point:don't worry about the condition of these shoes, they're going to get destroyed. They're going to get destroyed because that's what kids do…they destroy things, like shoes and sanity.
Do look for sales, because something is ALWAYS on sale.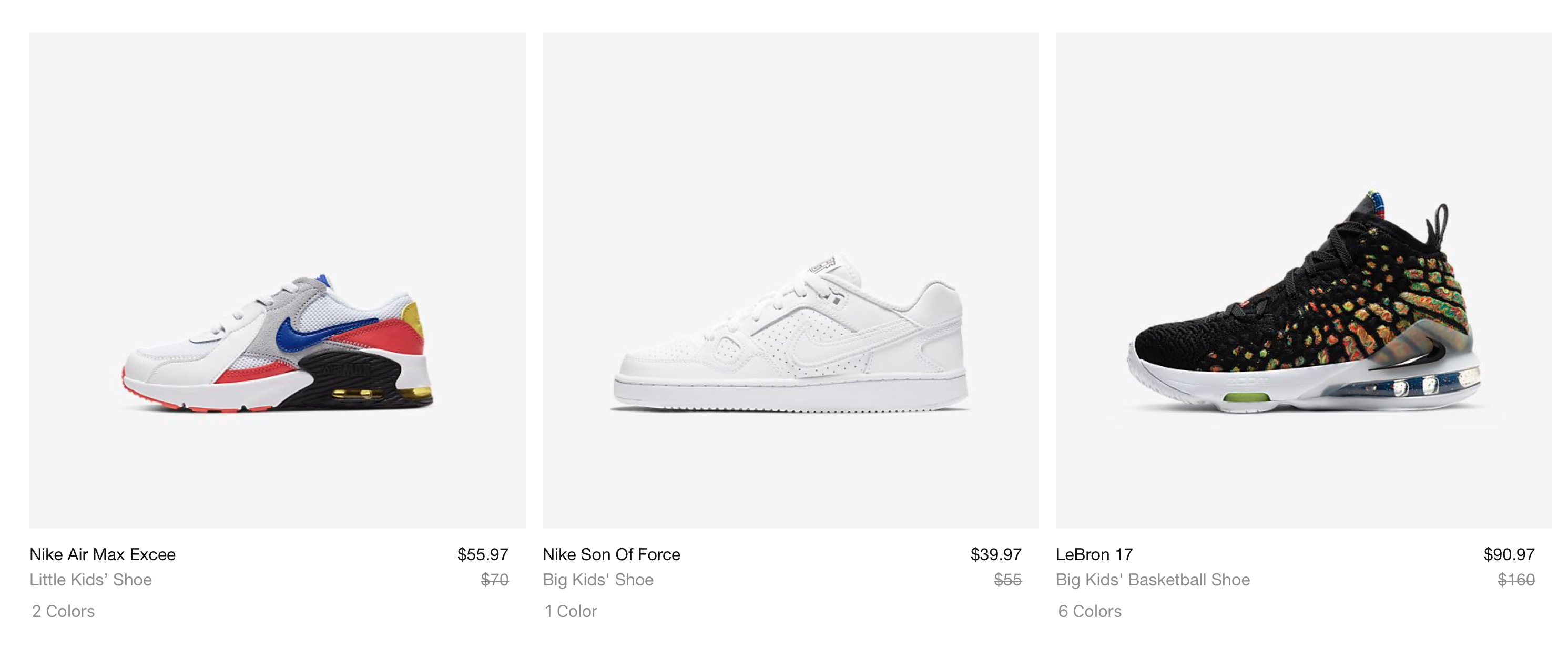 Shifting through the sale section of the kid's shoes can be much more fruitful than sale for adults. And, don't forget the smaller sites and your favorite boutiques in addition to the big box stores. Sometimes gems will slip through the cracks. There will be times when you missed out on a release but you'll be shocked to see them available for your child. Grabbing them for your son or daughter will let you live vicariously through them so you'll be used to that when they start playing sports.
Don't forget about the siblings.
Hand-me-downs are great and very important, but each child deserves to have their own shoe at some point. Passing on worn items of clothing is one thing but wearing someone else's stank shoes is entirely different. Be that as it may, you will do it at some point. Whether it is your child doing the handing-off or receiving, at some point you and your family will take part in this time-honored tradition. Trust, when a friend drops off stuff their child can no longer wear, and it's free and not covered in poo or chocolate, you will happily accept.
Do buy big, when in doubt.
Here's the thing about kids: they never stop making noise growing. If you're not sure if they've gone up a size or half, they have. They will grow into that size before you know it and  be able to wear those shoes soon enough. The worst case scenario is they'll be able to wear them in six months or so, unless you're REALLY off in which case step your game up. As long as they can get them on and wear them "comfortably" then they're good to go.
Don't make them like what you do.
This can be very tricky because you know your shit and one of the first things you want to buy is the very first pair that was special to you. By all means –  do that before they develop their own taste is great. Eventually, let them find their way. Let them go to the store or search the website for something that speaks to them. You want them to be able to think for themselves (every once in a while) and you don't want to force them into something you like. It's not worth it. They are going to like what they like. You can gently nudge them towards what you think is hot, but one sure fire way to guarantee they don't like those Jordans you grew up with is to force them. And speaking of stores….
Do take them to a store.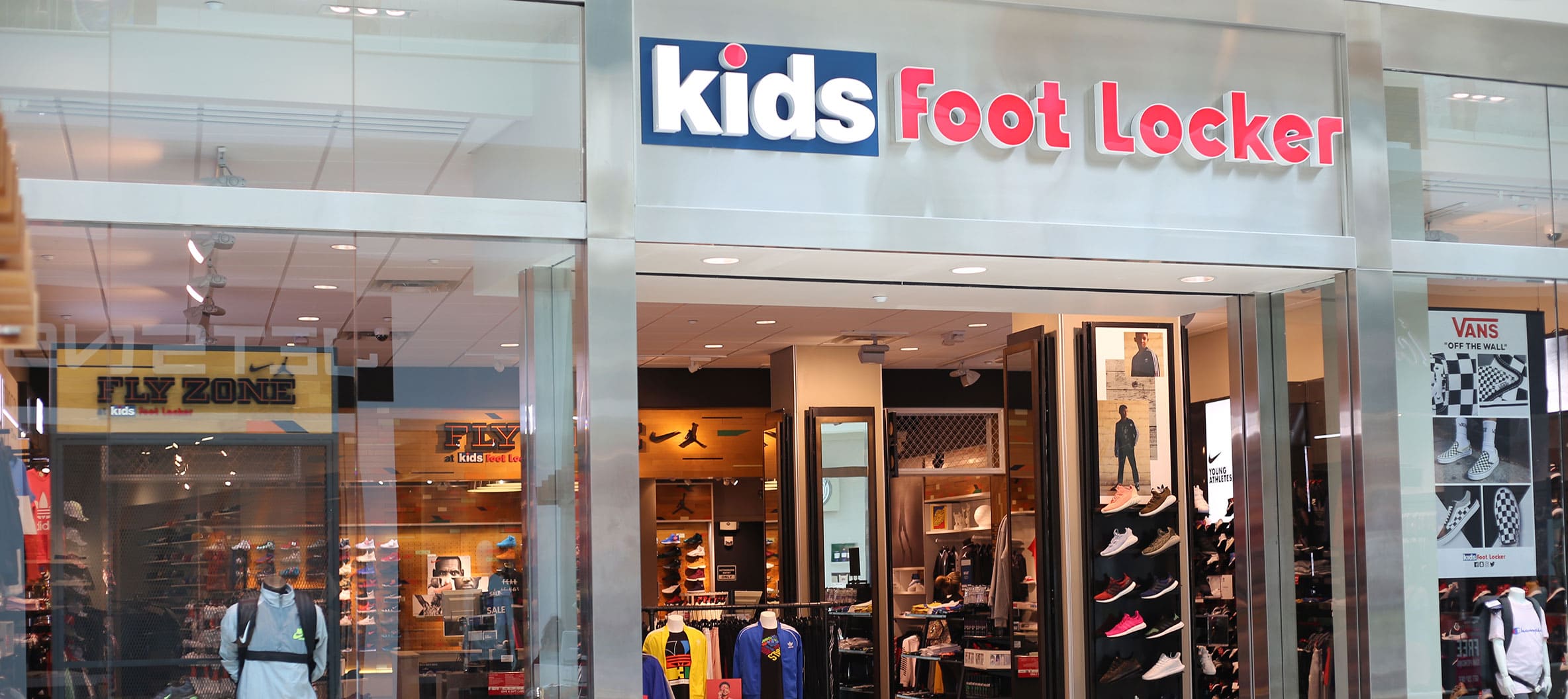 Assuming stores are still a thing, take them along when you hit your favorite spot. You can use this time to educate them on some retros or explain how much tech is in the new Lebron. You will be able to find some shoes you have, or had, and tell them the story of the shoe, its history, who wore them, what makes them special. They won't listen to it all but they will get some of it, even if they don't know it. It will be like that for a while. Then, one day, they'll walk into the store and decide for themselves, just based on pure feeling, what they like. And you'll get the pure feeling of joy to see that excitement in their eyes and to tell them "no we can't get that today." Inside you'll be smiling, and laughing at them, but still feeling happy that they've seen something all their own that spoke to them.
Do buy the SpongeBobs.
Let me explain. My oldest is locked in on the SpongeBob Pineapple House Kyrie 5s and we're still on the hunt. When they find what moves them, encourage them. We missed his size in the store by about a half size (welcome to sneaker shopping my son lol!) so I was reserved to secondary sites in search of a deal. Still looking. These SpongeBob Kyries are no joke! And you know what the real crazy part is? He doesn't even like SpongeBob. Or Kyrie! But he likes those shoes. He just likes them, and that's what this is all about. He brings them up every couple of weeks or so and I'll keep them on my watch list for a little while, moving up a half size every so often. Do I wish I'd just taken the plunge on a halfway decent bid on StockX? Yes of course, that's how StockX works.
And finally…
Do figure out what works best for you and do it.
Giving advice to people when they're getting married and/or about to have a baby is mostly futile because these life changing events hit everyone differently. But some of these pointers will be helpful for you as you get started being a Sneaker Parent. A lot of these pointers can be applied to those without kids too.
Most importantly: Don't sweat it.
Sneakers are your thing. Maybe they'll also be their thing. And at that point you will be able to tell them why these Jordan 3s are important, and why those Reebok Questions are significant, who Stan Smith is, who Tinker Hatfield is…who Peter Moore is! But just love them. Be there for them and let them know you are. If you're into sneakers chances are at some point they will be too.