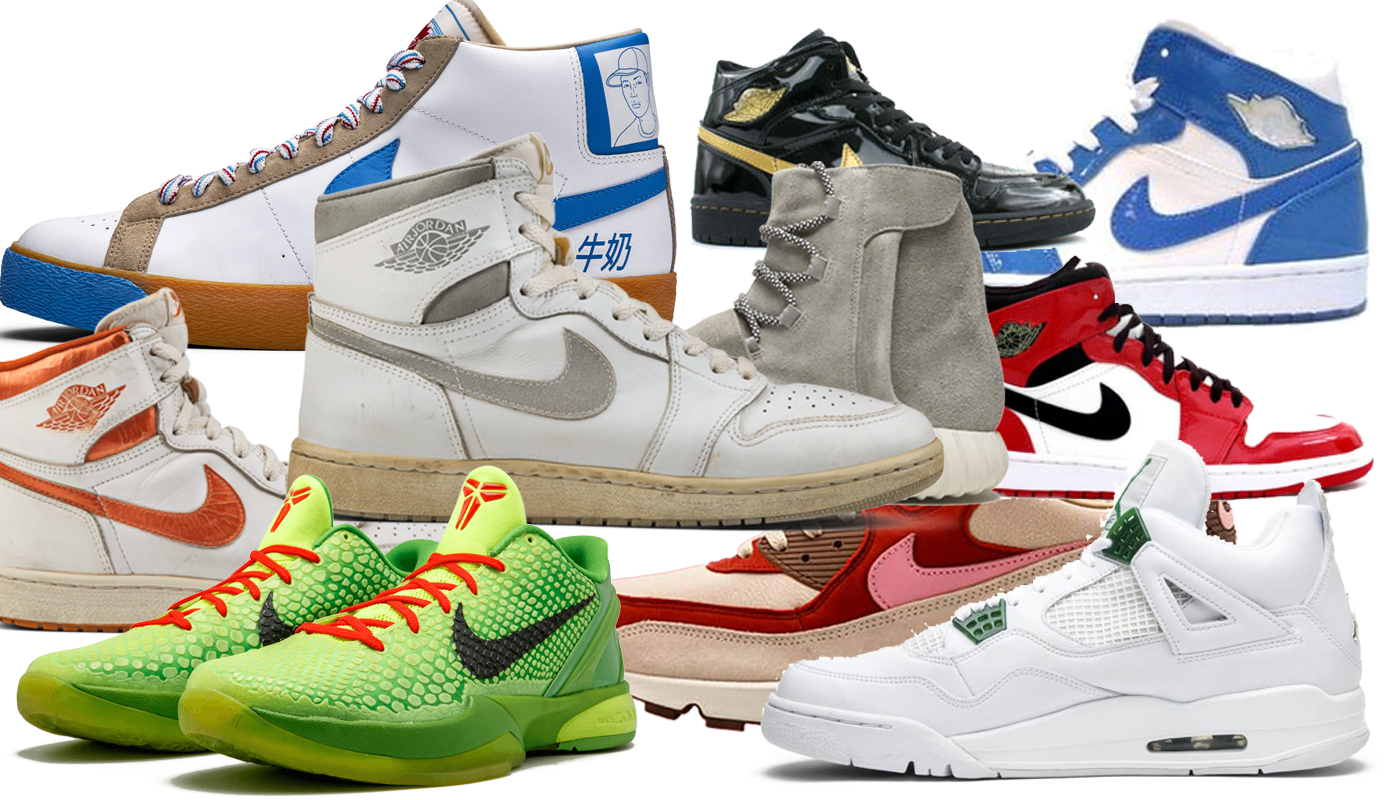 Sneakers That Deserve A Retro
by Eddie Vargas
—
As sneaker culture continues to expand and reach newer and younger audiences, the introduction of new models and the reinvention of classic silhouettes continues to grow alongside it. Instagram's beloved archive accounts and the influencer culture that comes along with it have brought many classic sneakers back to the forefront of our minds, taking a hold on the sneaker culture and the after-market in unprecedented ways, as detailed in our recent feature on the topic.
Below we have compiled a selection of our favorite classic kicks that have never been re-released since their initial drop. To qualify for our list the shoes have to have never had a re-release in any form, meaning recent drops like 2015's Yeezy 750s are fair game alongside 1985 Jordan colorway grails and more.
---
adidas Yeezy Boost 750 OG (2015)
When it comes to the most recent release on our list, the shockwaves this sneaker sent throughout the fashion industry as a whole are still being felt today. When Kanye West left Nike to join forces with adidas in 2013, the hip hop icon not only brought the world his titular YEEZY brand to the masses but nearly singlehandedly brought the German company to the forefront of the footwear and fashion world. Kanye debuted the shoes at the 2015 Grammys and the rest was history. For years afterward, anything adidas Boost was flying off the shelves, even competing neck and neck against Nike and Jordan Brand for some time. While adidas proper has lost much of that traction, their work with YEEZY continues to sell out on a regular basis. The 750s started it all and we would love to see these retro'd in any colorway. It's not like the Three Stripes has been shy about bringing back other hyped kicks from that era like the Triple White and OG Ultra Boost. For now, the QNTMs will have to do.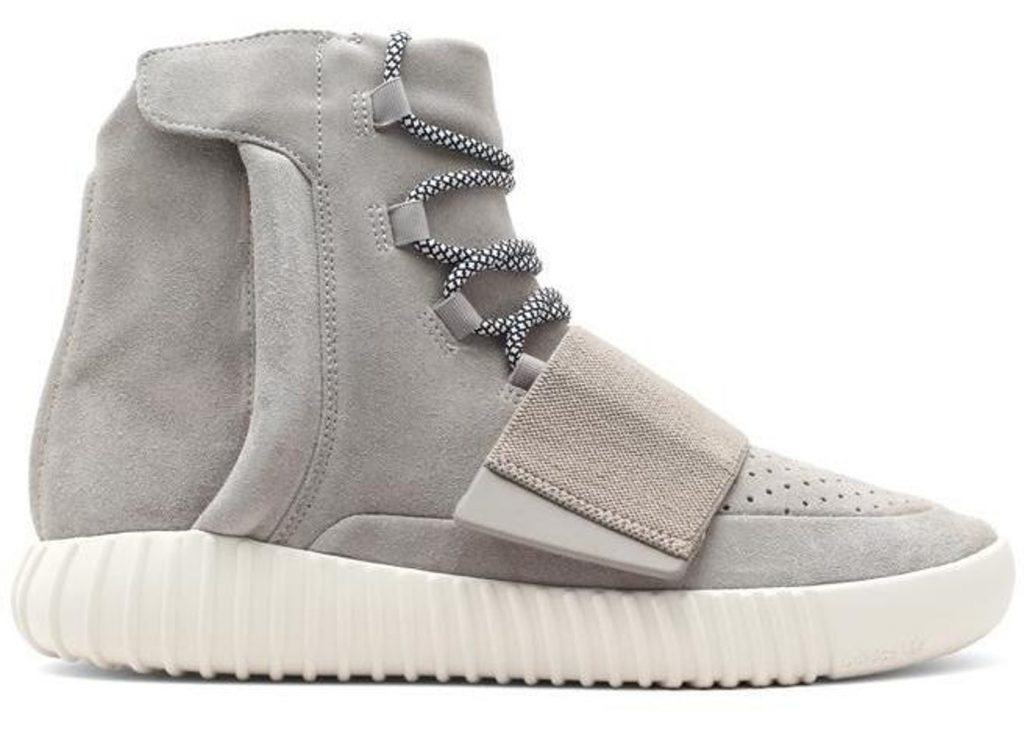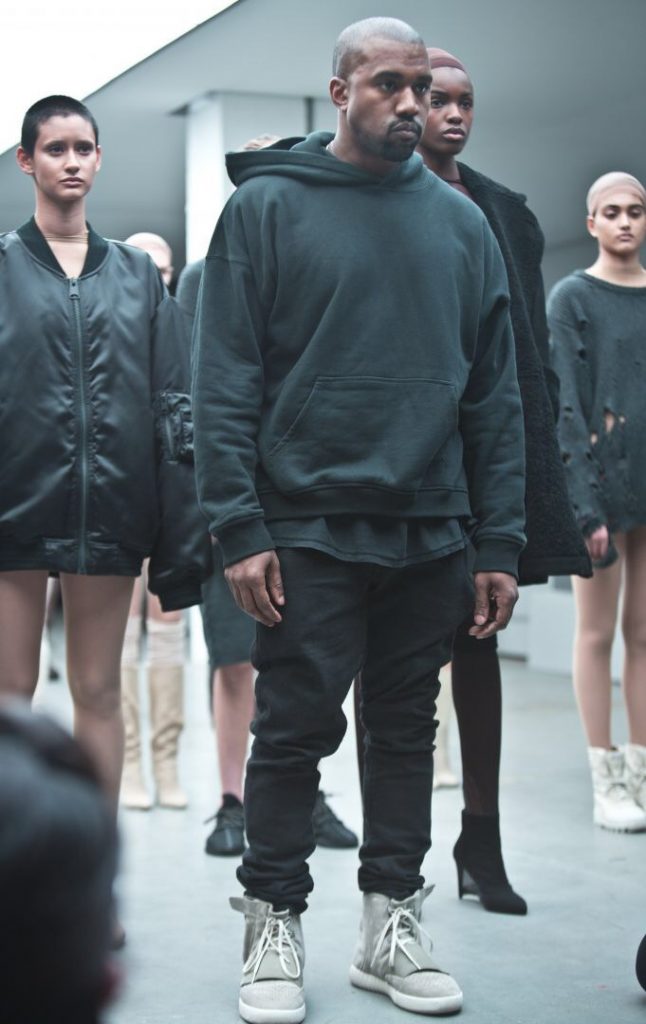 ---
Air Jordan 1 "Neutral Grey" (1985)
Currently fetching four-figure prices even in the worst of conditions, this is one of the few original Air Jordan 1 colorways that has never been re-released. Similar colorways of the AJ 1 and other Air Jordan releases have come and gone in recent years, most recently the $2400 USD Air Dior Highs. Despite this, the archive kicks still fetch well over that price on the aftermarket and continue to be a fan favorite among your favorite influencers and archive pages. The shoes are currently rumored for a potential 2021 Retro – here's hoping.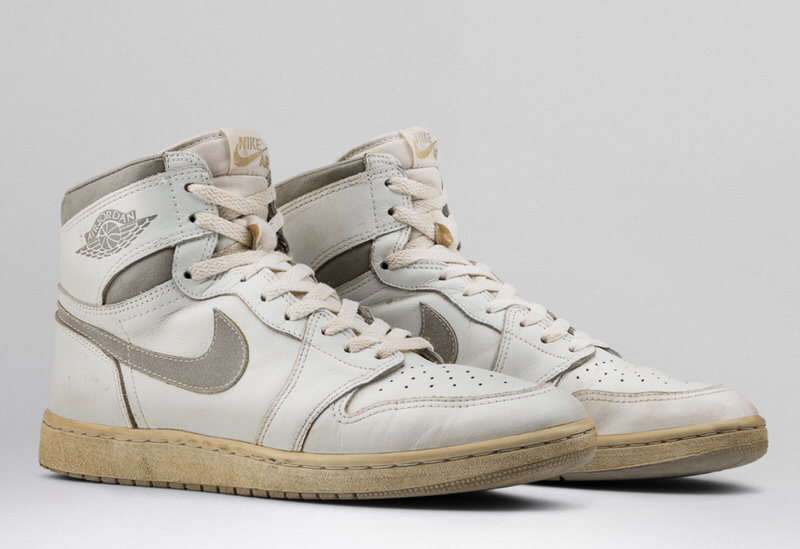 ---
Air Jordan 1 "Metallic Orange" (1985)
While the AJ 1 Metallic Pack has always been a fan favorite, not every pair from the collection has made it to Retro status. The AJ 1 "Metallic Orange" in particular is one we would love to see re-released as it is the only one from the original Metallic pack that has yet to be reissued in any form.. Most recently, the Red pair was retro'd in 2017 but nothing else has been seen from the pack since.  Although the brand took inspiration from this collection for their recently released AJ IV drop of the same name, nothing can really compare to the originals.
---
Air Jordan 1 Patent Leather Pack: "UNC", "Chicago", and "Metallic Black" (2003)
When the Chicagos were first retro'd in 1994, they didn't receive have the reception they would later on. While some sneakerheads still scoff at the idea of AJ 1 Mids, when Jordan Brand tried the retro treatment again in 2003 with a patent leather treatment they were more warmly received. It's worth mentioning that in 2003, the distinction between High and Mid wasn't as known are controversial as it is today. In fact, the patent leather drops didn't even say "mid" on the box. Since the airing of The Last Dance, virtually every OG colorway of the AJ 1s has skyrocketed in desirability and price. Even this lesser-known set has become coveted among sneakerheads and basketball fans alike. The UNCs dropped first in September of 2003,  followed by the Chicagos in November, and Metallic Black to in December. A similar release strategy in the 2020s would surely be a smart move.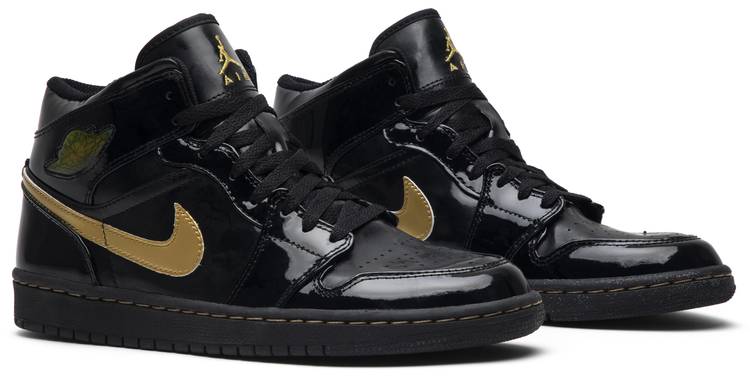 ---
Air Jordan 4 "Classic Green" (2004)
While not an OG colorway of the famed AJ 4, this is another sneaker that time forgot but has slowly and surely found a new place in the public's eye thanks to social media. Much like the AJ 1 Neutral Greys, the rise of mood boards and Instagram archive pages like @Hidden.NY have made this shoe all the more desirable regardless of condition. Being a predominantly white sneaker, most remaining pairs being resold today feature some yellowing, discoloration, or even cracks in the midsole – none of which decrease the shoe's desirability. In fact, the naturally worn-out vintage look these shoes have taken on over the years is precisely one of the reasons they've become such a hot ticket item again. A similar iteration of the "Classic Green" did come out in the previously mentioned AJ 4 "Metallic Pack", but that shoe lacked subtle details such as the off-white caging and sail accents on the midsole – it's almost too clean. Getting a chance to wear a crisp pair of "Classic Green" 4s fresh out the box and beat them up the good old fashioned way is many a tasteful sneaker enthusiast's dream.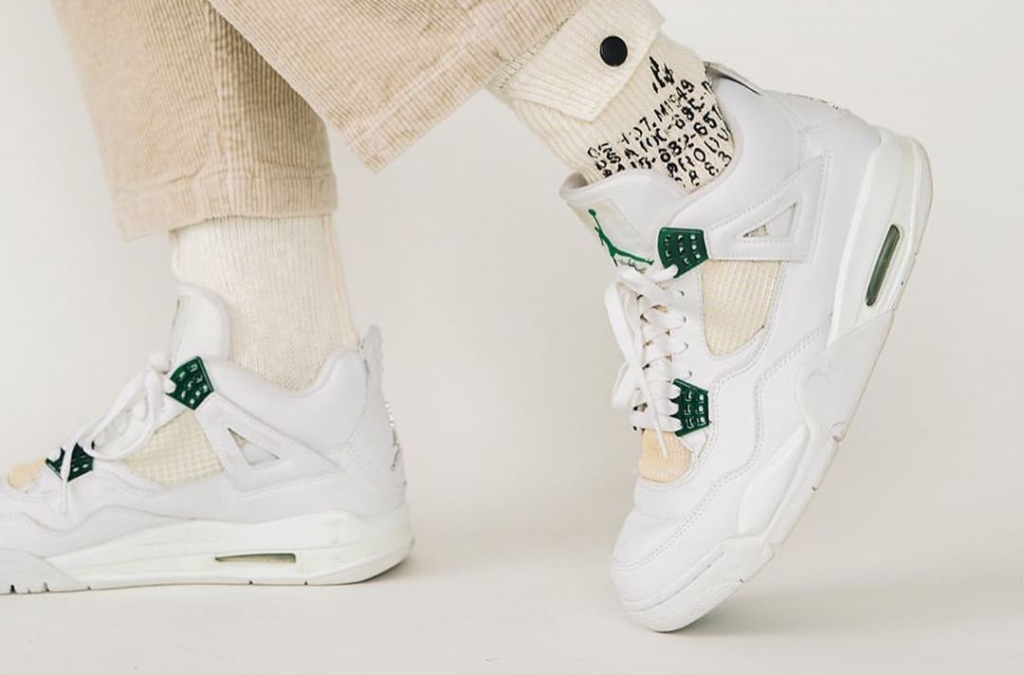 ---
Kobe 6 "Grinch" (2010)
The return of Nike's Kobe line is something that has yet to be fully-fledged out since the untimely passing of Kobe Bryant earlier this year. Rumors have arisen that the Kobe 6 in Lime Green/Varsity Red/Black (otherwise known as the "Grinch" colorway) from Nike's "Christmas 2010" collection is one of the big Kobe kicks to be retro'd sometime in 2020 or 2021. This shoe had its on-court debut in 2010 at the NBA's annual Christmas Day game, cementing this shoe in sneaker history as one of Kobe's many memorable sneaker moments.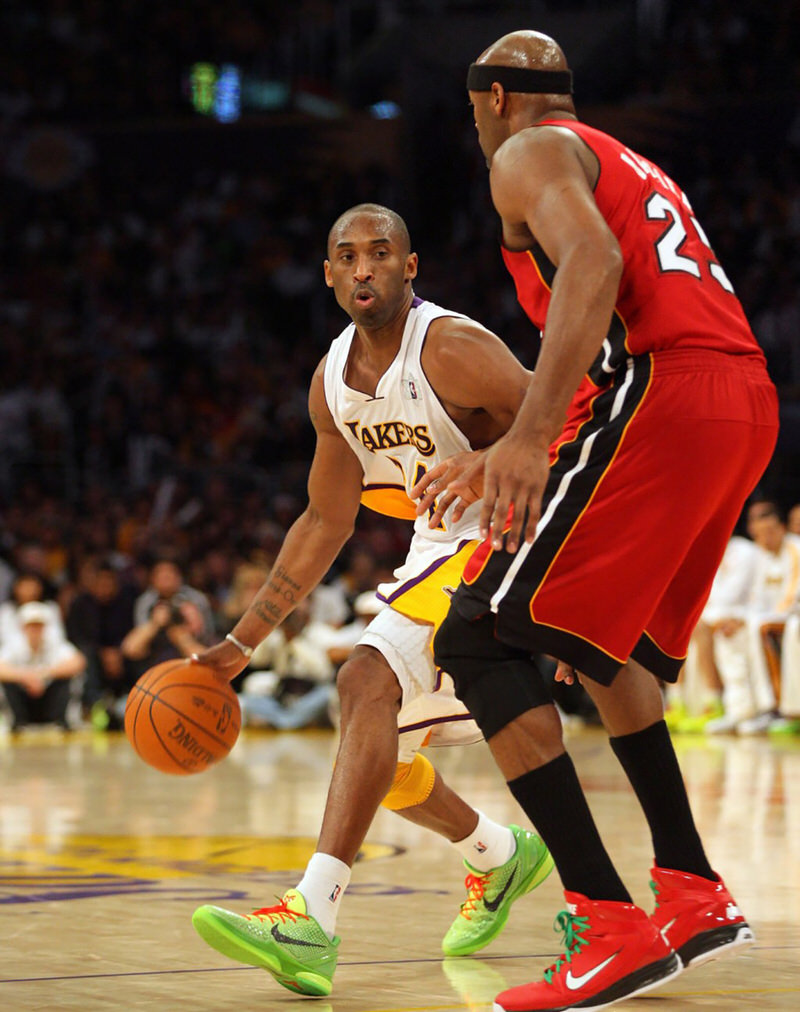 ---
Nike SB Blazer Mid "Milk Crate" (2007)
From the glory days of Nike SB comes the legendary Nike SB Blazer "Milk Crate". Released in May of 2007, this shoe collaboration with Shanghai's Fly skate shop and was inspired by Nike Sb's appreciation and respect for Chinese culture. The "Milk Crate" is based on Fly owner Jeff Han's origins in the skating industry. The story goes that in 1999 Han abandoned a job at a milk company to pursue a career in skating which eventually led to his opening Fly. The choice of colorway is inspired by the look of milk cartons from in 1999 China, while the missing person advert featured on the heel is actually a caricature of Han himself! Although Han never went pro, this collaborative project with Nike SB has remained a grail for many SB-heads worldwide. With Nike SB's regained popularity in the last few years, a reissue of this classic Blazer Mid would surely be a home run.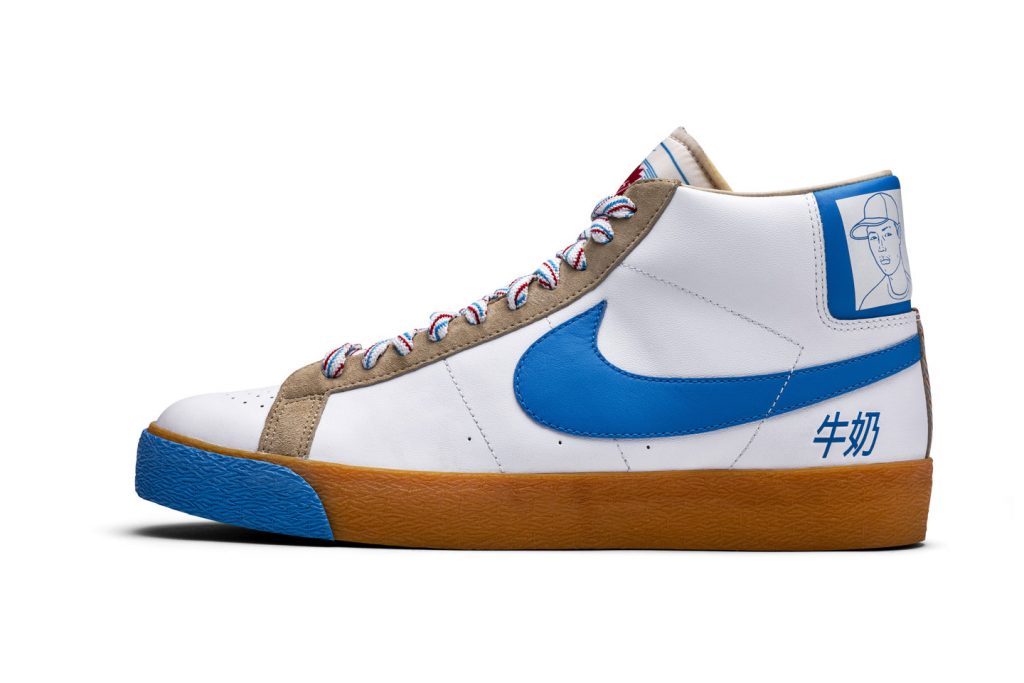 ---
Nike Air Max 90 DQM Bacon (2005)
A grail if there ever was one, the Nike Air Max 90 "DQM Bacon" is the perfect example of storytelling through sneakers. The most well-known offering from "Dave's Quality Meats", this sneaker embodies the charm and creative energy that comes from concept stores like DQM. Founded in 2004 by David Ortiz and Chris Keeffe, Dave's Quality Meats was a boutique shop that was designed to look like a family-owned butcher shop. The shop was replete with the hottest in sneakers and streetwear and displayed their items behind lit glass cabinets as if you were picking your favorite cut from the local butcher or supermarket. When tapped by Nike to make his own sneaker, Ortiz struggled until the very last minute to actually come up with a design. In the end, he was inspired by his breakfast and handed in the finished design to Nike shortly thereafter. The rest is history. Rumors have been popping up throughout the year talking about these being Retro'd back in March, but with COVID-19 delaying releases left and right its anyone's guess if, and when, we'll ever get another taste of this AM 90.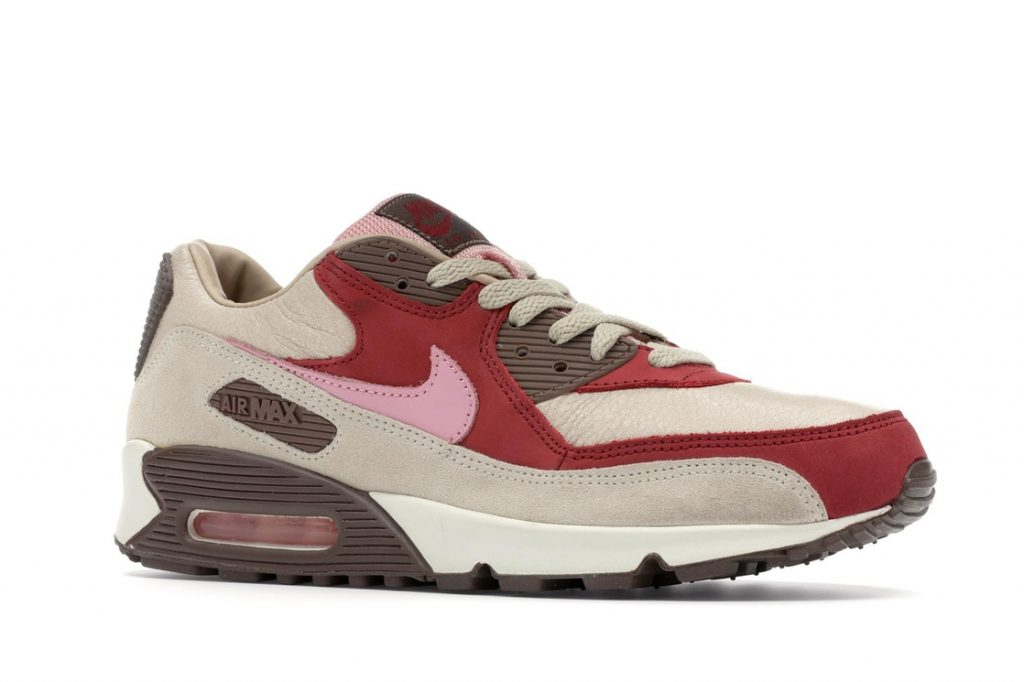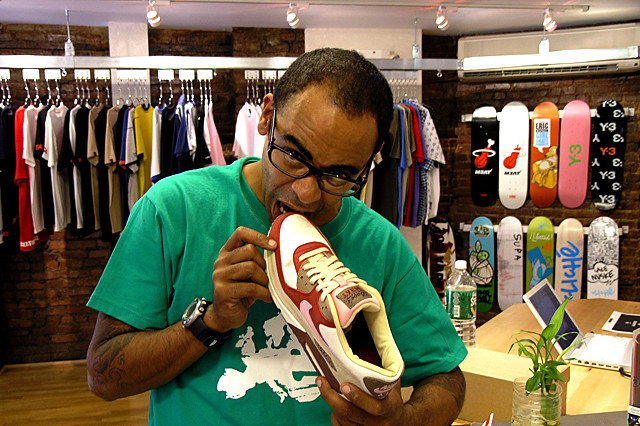 Pictured: DQM Founder Dave Ortiz with a pair of AM 90 "DQM Bacon"
Latest posts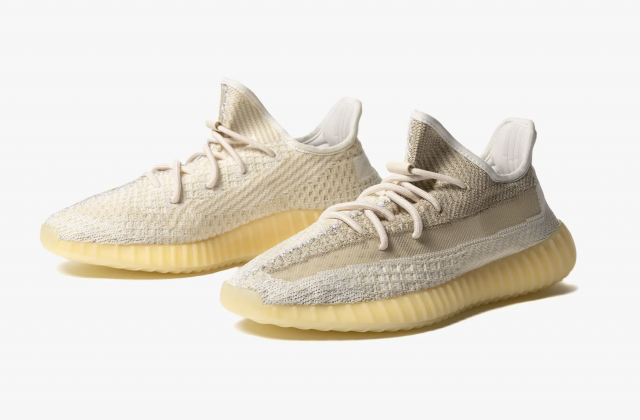 Adidas Yeezy 350 V2 'Natural' Online Drop List & Release Info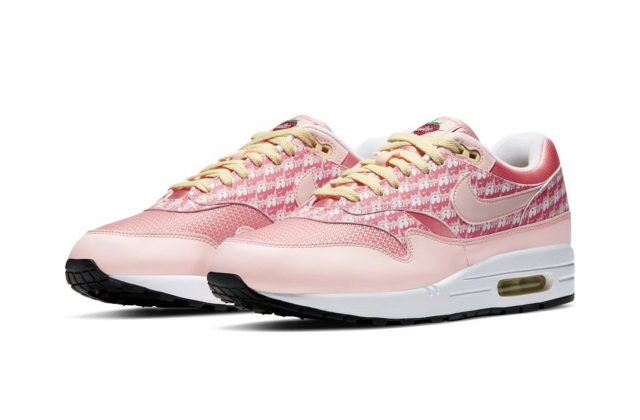 Nike's Air Max 1 "Strawberry Lemonade" Releases November 4th
SoleSavy membership
A SoleSavy membership provides you the tools and resources you need to successfully purchase the products you want for retail.
Exclusive release information and links
Instant links to purchase shoes in your size
Access to SoleSavy Courses and Lessons
and LOTS more perks!
learn more
Stay in the loop
Sign up to receive emails about feature articles, the latest release info, and exclusive access to SoleSavy memberships.