Written by Henry Yeh
---
Spring/Summer '22 is upon us and as the grass gets greener and the flowers begin to bloom, our snow boots can finally be retired with clearer skies ahead. 
This season, the fashion world pays tribute to Mother Nature by injecting shades of green and florals all over the runway. The sense of optimism from Fall/Winter '21 is sprung forward and expressed through embracing a resort state of mind. 
Tailoring is back with a vengeance and better than ever, Modern takes on Americana, and collegiate sportswear signals a new nostalgia. 
Spring/Summer '22 is a season filled with joyful expression as we reject the old rules of dressing and embrace the new ways of layering.

RESORT LIVING
Whether you are jet-setting to a tropical destination or staying put, the best approach to Spring/Summer '22 is embracing a "resort state of mind."
Across most runways, we are seeing new takes on warm-weather wardrobe staples.
Polo shirts worn by golfers, tennis players, dads, and businessmen are reimagined through relaxed silhouettes and elevated fabrics. French label (UNIFORME Paris) does a sensational job of updating the Polo Shirt with rib detailing and an open collar. (WOOYOUNGMI) introduces its iteration in an invigorating green colorway.
SoleSavy favorite (KITH) came out with an absolute banger of a collegiate Polo that sold out in minutes. After taking a hiatus, relaxed shirting is back and bolder than ever. Look for print and graphic inspiration from brands like (CASABLANCA) and (PAUL SMITH). Seek out tops made from breathable materials such as Lyocell and Linen.
You want to feel the air through the fabric. Explore new shirting silhouettes from brands like (LEMAIRE) and (UNIQLO U). In terms of bottoms, straight-fit is still your best bet! Look to inject utility into your bottoms through cargo pockets, workwear details, and self-belting features.
Don't shy away from color, either. Brands like (NOAH), (STÜSSY), (LEMAIRE), and (SONG FOR THE MUTE) are just so good with trousers.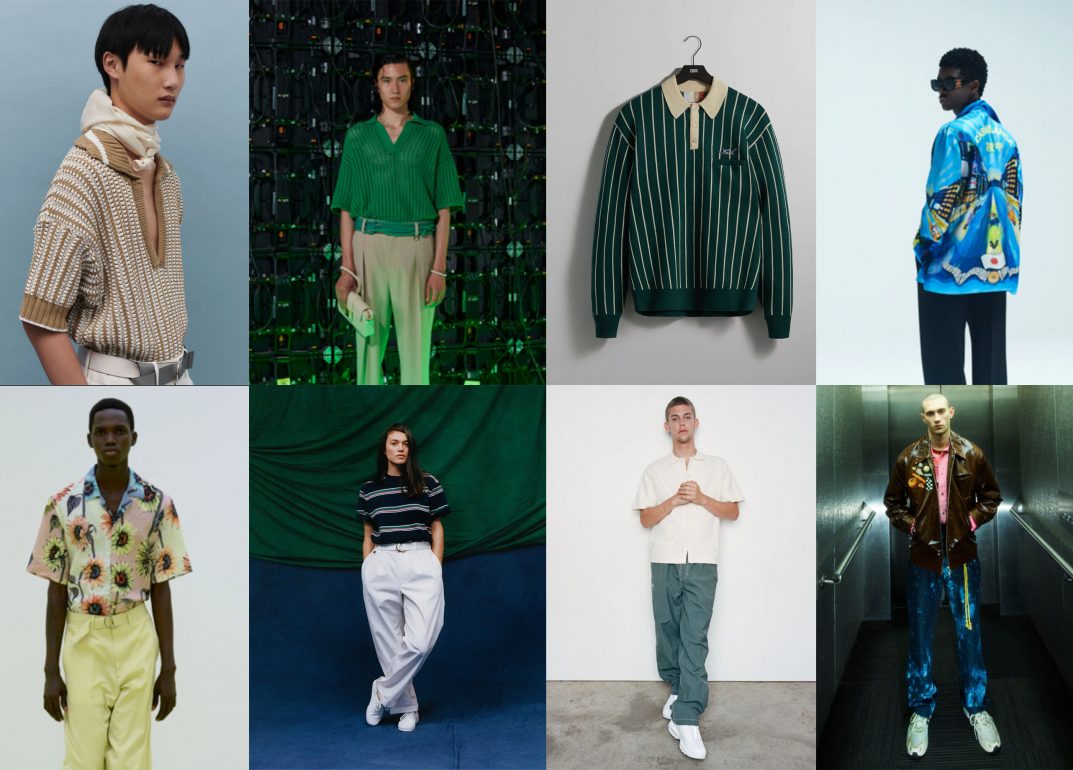 Key styling notes: The must-have "IT" item is the new polo shirt – look for knitted varieties, contrast collar details, oversized or boxy cuts, and pops of color. Enhance your outfit with utilitarian pants or easy-flowing silhouettes. The textures or colors of your outfit should make a statement. 
SUITING STRIKES BACK
After a year (or two) of postponed weddings and parties, suiting is officially back and better than ever. Suiting is redefined once again, as the line between formal and casual continues to blur.
Keep your eye out for relaxed silhouettes, soft textures, punchy patterns, and bold colors. Mix-and-match suiting is everywhere. For those new to suiting, don't be afraid to experiment as brands are pairing blazers with joggers and substituting dress shoes for sneakers, sandals, and more casual footwear. Suit pants can be worn casually with updated polo shirts or camp collar shirts.
One of the most historic labels in tailoring, (ZEGNA), is fully embracing this new wave of suiting by reimagining its suits through the use of mixed materials, casual lapels, new pocket details, and more relaxed fits. Even (JOHN ELLIOTT) introduced interesting suiting options using materials like crinkled nylon and featuring new button details.
The master of fabric, (LEMAIRE), packed a punch on the runway with sensational denim chambray-esque options. (UNIQLO U) also has a fantastic budget-friendly and beginner suiting option that is right on-trend. Even (SACAI), a brand that does not play into suiting often, understood the assignment. British suiting legend (PAUL SMITH) injects warmth into suiting and pairs it beautifully with sneakers. Linen is another staple for Spring/Summer, and one should look no further than (NOAH) for a rich chocolate brown must-have.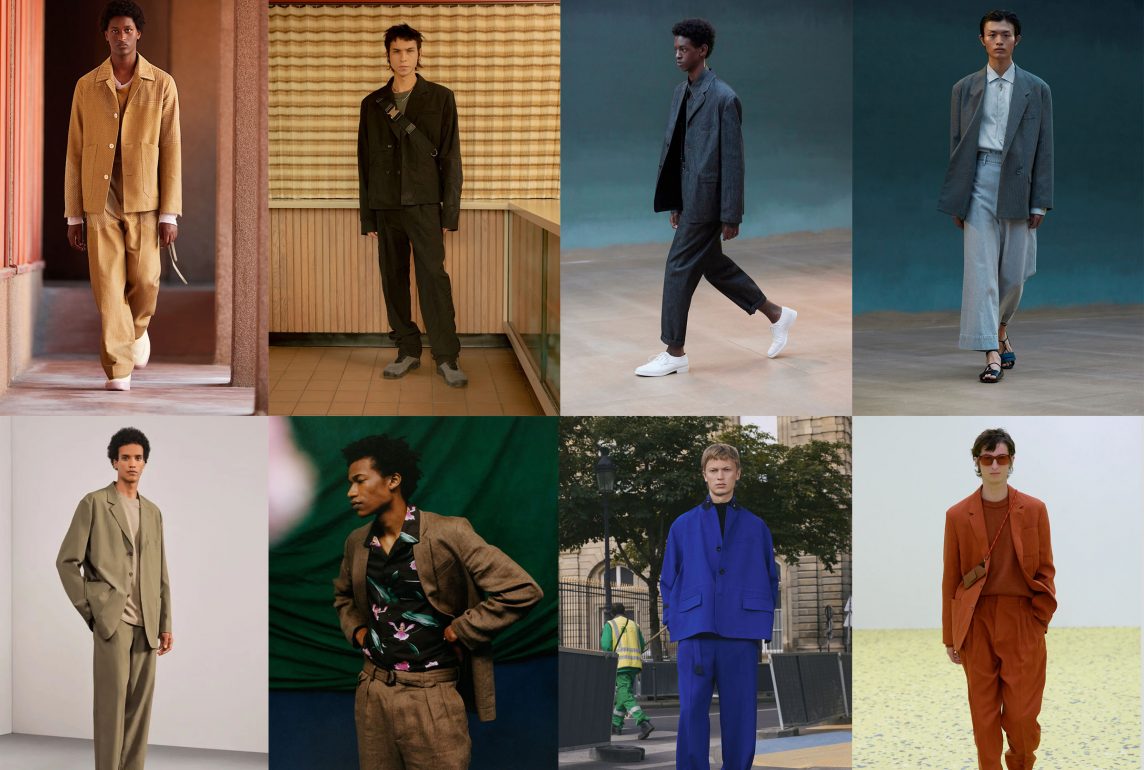 Key styling notes: Mixing in tailoring elements into your outfits this season is a must. Look for relaxed, boxier silhouettes in materials such as tropical wool and cotton or linen blends. Dress it down by pairing suits with sneakers, camp shirts, t-shirts, or sandals.
GREEN WITH ENVY
Green is the color of the season and it doesn't matter what shade it is — olive, sage, lime, moss, Bottega, you name it.
As we transition from Fall/Winter '21, where we experimented with bold colors, this Spring/Summer '22 should be focused on shades of green and floral elements. Ronnie Fieg and the team at (KITH) did a sensational job of highlighting greens and florals.
Look for floral embroidery or prints to add to your wardrobe. And for those less bold, look for shades of olive and khaki instead. (RHUDE) serves up a look that perfectly encapsulates Spring/Summer '22 with a lime-green shirt underneath a floral camp collar shirt. For the more sartorial gentleman, look to (ZEGNA) for green-themed inspiration.
South Korean streetwear brand (THISISNEVERTHAT) continues to shine in the international spotlight with clever workwear takes on everyday street fashion. (UNIQLO U) is right on trend with numerous sage and khaki offerings. (NOAH) playfully injects floral elements into overalls, a throwback to the 90s with a modern twist. Stone Island's lesser-known cousin (C.P. COMPANY) nails this color trend and delivers a phenomenal collection of quality techwear.
Luxury label (OAMC) has its fun take on green through the use of tie-dye. Last but not least, fan-favorite (AIMÉ LEON DORE) is ready for Spring with a stunning collection of elevated, everyday wardrobe staples in beautiful shades of green.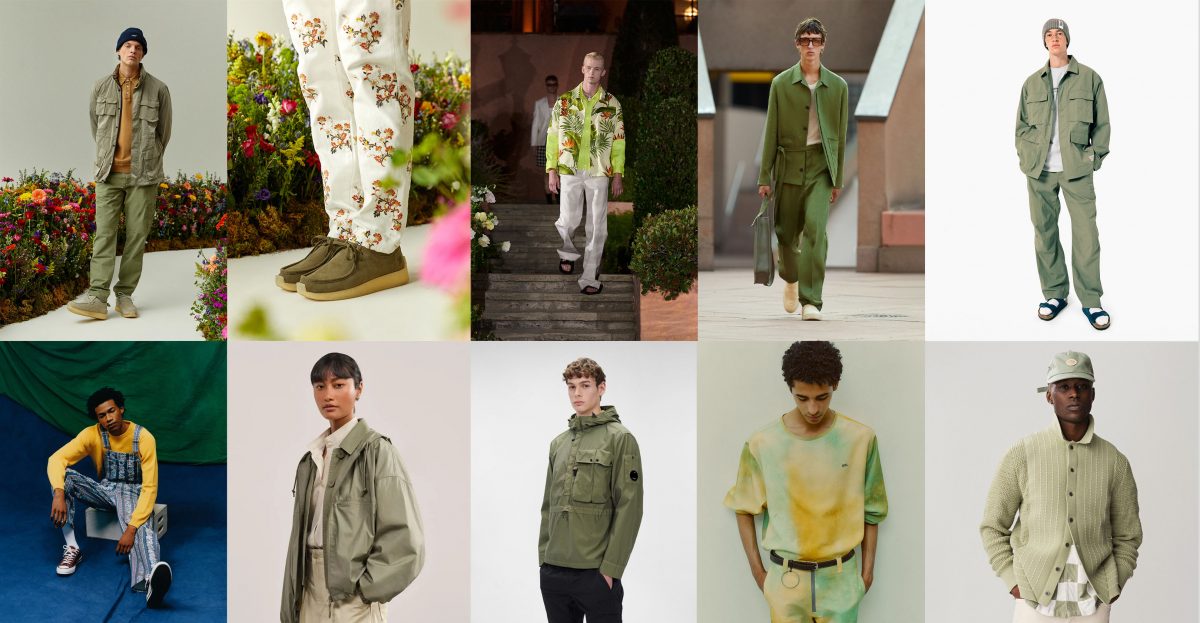 Key styling notes: With so many shades of green to choose from, you can get creative! Build an outfit from neutrals such as sage, olive, or khaki, or go for pops of color such as lime and kelly greens. Don't forget florals – seek out embroidery or prints!  
COLLEGIATE COOL
Nostalgia is at the core of every brand's collection this season as there is a sentimental longing to rekindle the past. Collegiate sportswear such as the iconic varsity jacket, the cardigan, the rugby polo, and sweater vests are polished to perfection.
Layering preppy pieces into your everyday wardrobe is the new cool as we mix the highbrow and lowbrow, rejecting the rules. If the updated Polo Shirt is the "IT" item of the season, the varsity jacket is the must-have statement piece of the season.
Virgil Abloh's legacy and impact on fashion are beyond words and his tenure at Louis Vuitton was a testament to his creative genius. Putting varsity jackets back on the map, (LOUIS VUITTON) delivers a striking yellow iteration for Spring/Summer '22 adorned with LV signatures and patches. (KITH) opted for more subdued iterations, with tonal patching for a minimalist look. Toronto-favorite (BETTER GIFT SHOP) collaborated with Roots to craft a beautifully co-branded jacket.
(TOMMY HILFIGER), the originator of Americana preppy fashion, sets out to redefine prep with a stellar collection of updated collegiate staples: soft tailoring, updated varsity jackets, exaggerated trousers, and attractive graphics. Up-and-coming brand (ERNEST W. BAKER) continues to impress, and this collection has it all: flared pants, sensual suiting, and a punky-prep spirit. Japanese brand (KOLOR) showcases chaotic genius as different fabrics and colors are fused together.
(AMI)'s traditional Parisian aesthetic takes on an Americana twist with bold rugby polos. (DRÔLE DE MONSIEUR), soon to be a heavy-hitter in the coveted "new menswear" space occupied by Aimé Leon Dore and Noah, oozes youthful energy through its preppy offering.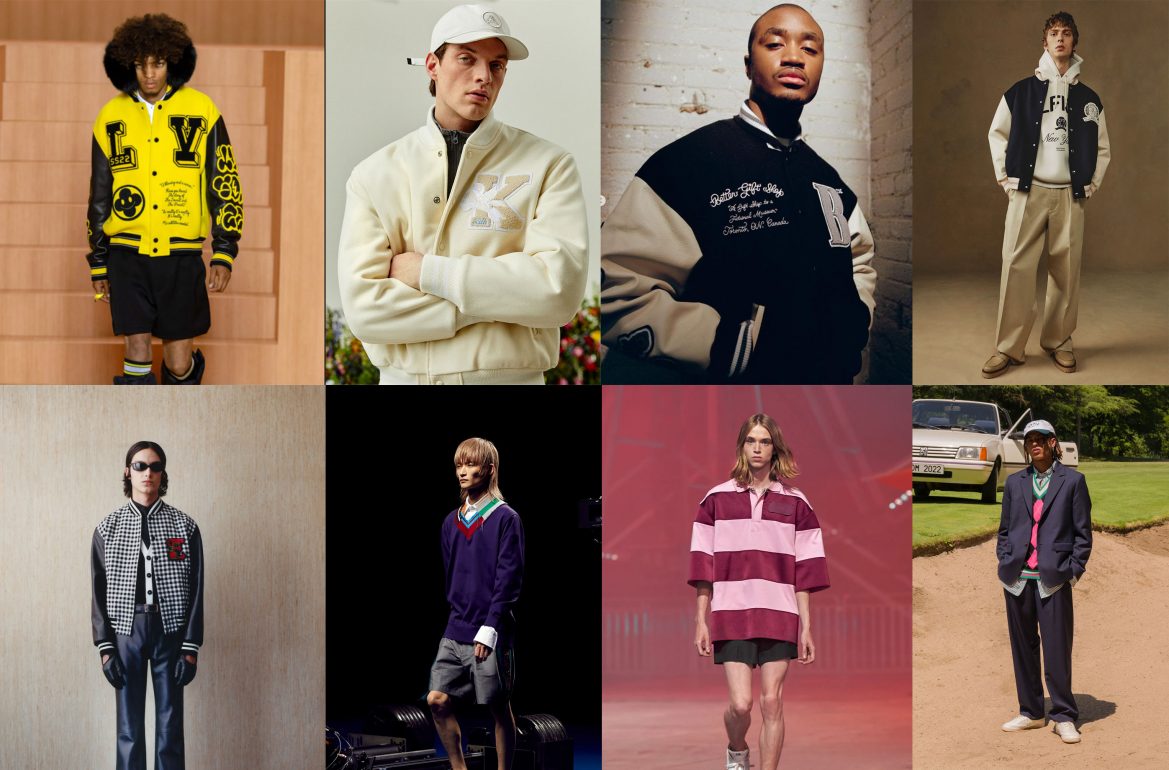 Key styling notes: Look for vintage-inspired varsity jackets with leather trims and patches. Cardigans and sweater vests are must-have layering options and are no longer worn exclusively by your grandfather. Look for rugby polos in bold stripes or colors. Ditch the skinny trousers and opt for more relaxed fits. 
Stay tuned to SoleSavy for more fashion & sneaker news. 
Join SoleSavy to buy the sneakers you want for retail. We'll help you grow your collection with our technology, such as Drop Alerts, Assist by SoleSavy, giveaways, exclusive releases, and more.