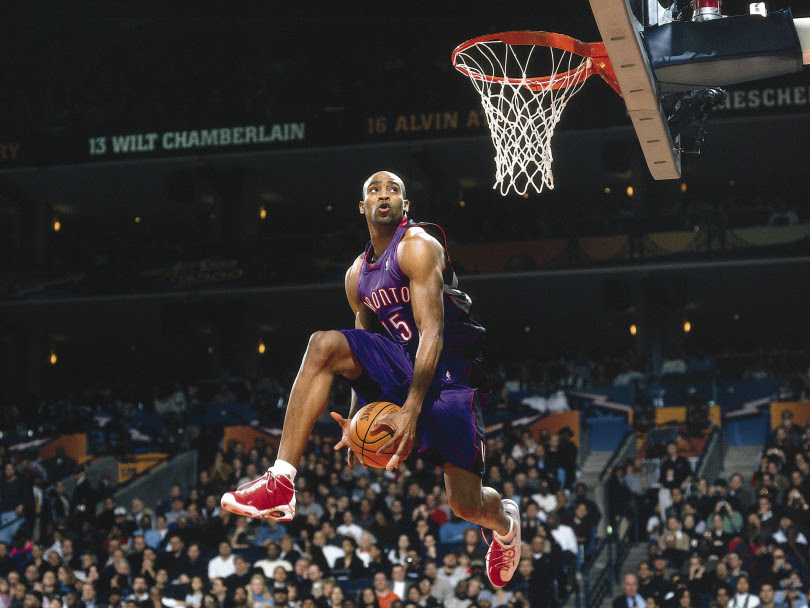 Vince Carter's Sneaker Legacy
By Alex Wong
—
Growing up in Toronto, Yang-Yi Goh obsessed over the Raptors and idolized Vince Carter, the team's best player and the most electrifying dunker in the league. Naturally, Goh—now a style commerce writer for GQ living in New York—sought after Carter's shoes. "Growing up in the GTA in the early aughts, no sneaker was more widely desirable," Goh says. "Kids were obsessed with Shox in general, because they looked like futuristic springs that would boost your vertical by nine feet."
In the summer of 2000, Carter had just finalized a deal with Nike, who enticed him by offering him his own signature sneaker line, with a shoe built around their Shox technology, an idea that dates back to 1984, when Eric Avar and the Nike design team first conceived of the idea of a shoe with a "bold, iconic expression to it." Inspired by his research of astronaut apparel and motivated to come up with a sneaker based on a space age concept, Avar built the Nike Shox BB4 sneaker to mimic a rocket-and-booster like appearance.
The arrangement of small hollow columns in the midsole supporting the shoe's heel was visually bold. The Shox technology was meant to absorb impact from heel strike and provide a spring back effect, or in Goh's words: boost your vertical by nine feet. Forget about all the technological jargon, though. The BB4 needed no explaining, or marketing for that matter, once Carter put on a pair of the sneakers at the 2000 Summer Olympics and soared over 7-foot-2 center Frederic Weis for what many consider to be the greatest in-game dunk of all-time.
A million hours brainstorming at the Nike office could not have come up with a better marketing campaign. The sneaker had found its signature moment. Carter was suddenly the most marketable player in the world.
Last week, Carter officially announced his retirement after 22 seasons in the NBA. In his two-plus decades in the league, the man nicknamed Half Man, Half Amazing played for eight different teams: Toronto, New Jersey, Orlando, Phoenix, Dallas, Memphis, Sacramento and Atlanta. His final NBA game happened abruptly in early March, on the evening when the league suspended their season after Utah Jazz center Rudy Gobert tested positive for Covid-19. As the announcement came down, the Hawks were wrapping up an overtime game against the New York Knicks. Carter was summoned from the bench for the final seconds and hit a three-pointer on the last possession of his career.
Carter walked off an NBA court for the final game wearing a pair of Nike Shox BB4, a sneaker Nike had retroed in recent years as a send-off tribute to Carter's brightest years in Toronto. But the BB4 wasn't the beginning of Carter's sneaker journey in the NBA.
After three years at North Carolina, Carter was taken fifth overall by the Golden State Warriors on draft night in 1998, and traded immediately to Toronto for his Tar Heels teammate Antawn Jamison. After turning pro, Carter surprised everyone by signing a 10-year, $50 million deal with Puma, who at the time was not representing any players in the league. In fact, it had been several years since an active player wore a pair of Pumas on court.
To many, it would have made sense for Carter to sign with Nike and Jordan Brand, given his North Carolina roots and the fact his on-court athleticism and jaw-dropping dunks drew comparisons to Michael Jordan himself. Much later on, the decision to sign with Puma would make sense, as Carter never felt comfortable with the Jordan comparisons during his career, and felt more at ease in carving out his own path, which was what he intended to do with Puma.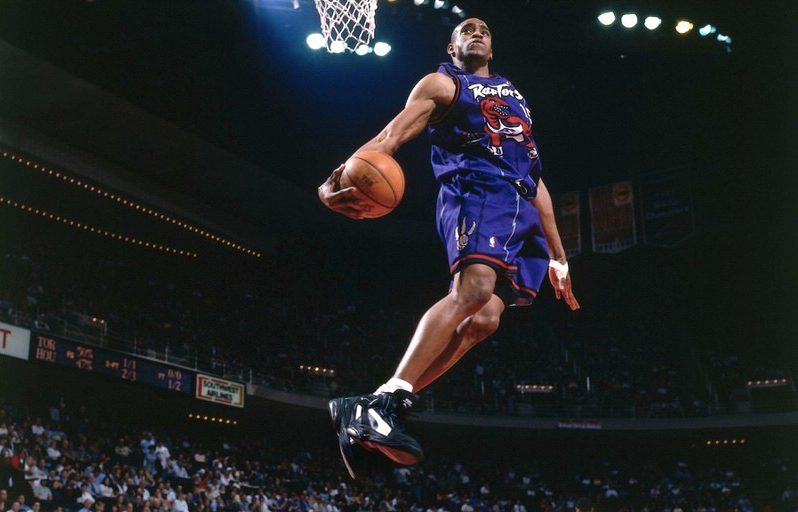 Or, Carter might not have cared much about his own sneaker legacy. As he told Sports Illustrated in a 2017 interview: "Growing up believe it or not, I wasn't really that big into sneakers. Of course I am older so the Converse, the Larry Bird's and the Magic Johnson's were huge wants because of the commercials you used to see all of the time and the battles. Also the Jordan's back then. I wasn't a big time sneaker guy as far as a sneaker collector."
After a lengthy NBA lockout, Carter finally made his debut in a Toronto Raptor uniform in January 1999 in the Puma Cell Origin Mid. The brand seemed intent on making a massive marketing push behind their newest signing, with ads geared towards Carter's Rookie of the Year campaign, and eventually a teaser for the Puma Vinsanity, the signature sneaker Carter coveted as a face of Puma basketball.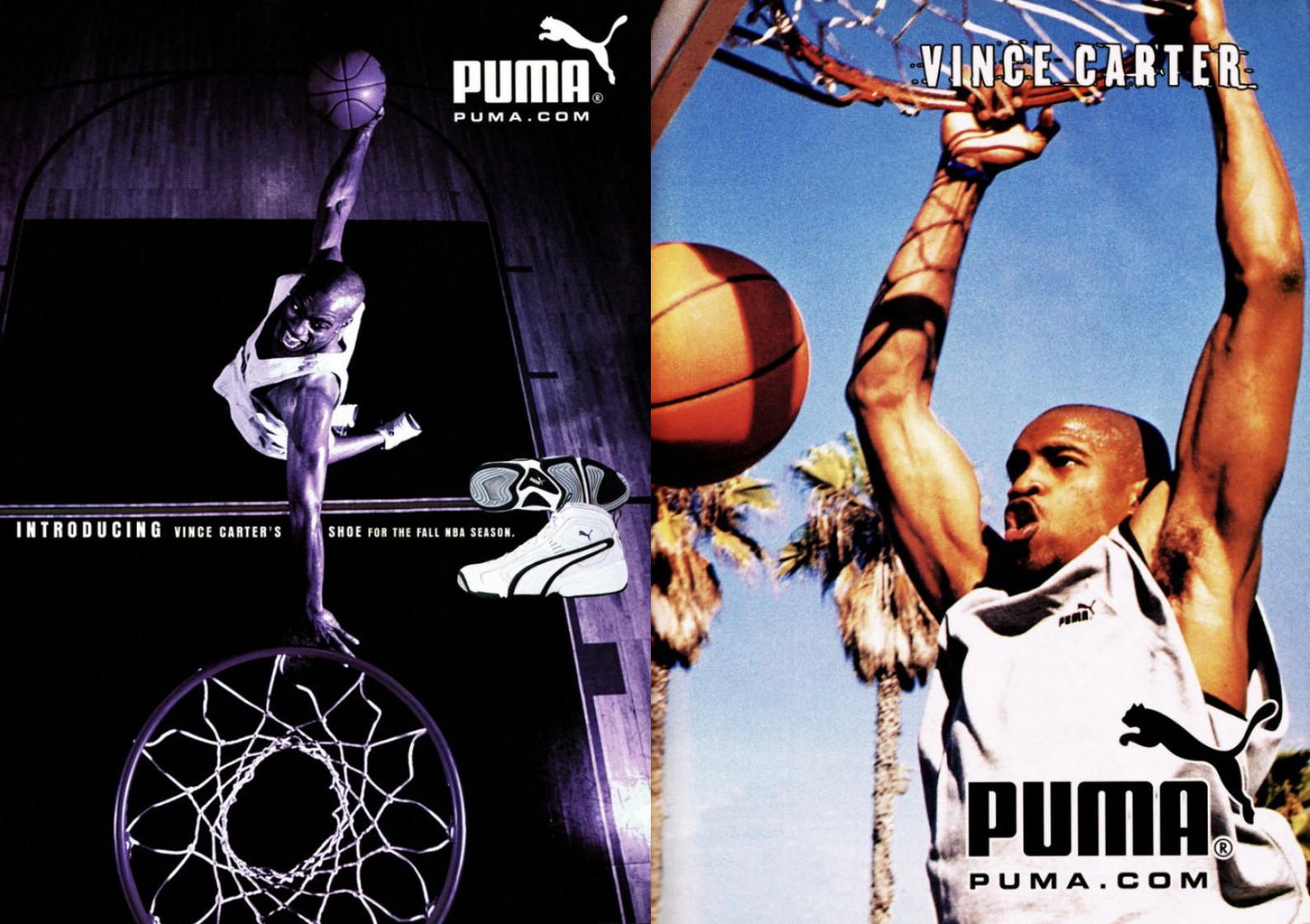 It seemed like the beginning of a long and fruitful partnership between Carter and Puma, but just as Carter entered his second season, on the verge of superstardom and becoming the most popular player in the league, the Raptors star surprised everyone by terminating his deal with Puma. After wearing his signature Puma Vinsanity for several games, Carter showed up to a November 1999 regular season game against the Atlanta Hawks wearing a pair of Nikes. The partnership with Puma was over.
While Carter has never publicly discussed the details of his Puma split, it is widely believed he cut ties with the brand over discomfort in wearing their sneakers and also from dissatisfaction of the brand's ability to properly promote and market his signature sneaker. In 2000, Carter lost an arbitration case to Puma as the company was awarded $13.5 million in damages.
Carter's second season with the Raptors would include some of his all-time career highlights. It was during his sophomore season in Toronto when he participated in the 2000 dunk contest at All-Star Weekend. A sneaker free agent at the time, Carter was wearing an assortment of sneakers, including the AND1 brand, which was what Carter wore on feet on the night he showed up to the arena in Oakland to shock the entire world with his jaw-dropping slam dunk contest performance.
To this day, certain fans, like Kai—a well-known jersey collector in Toronto and lifelong Raptor fan, still associates him most with what he wore on feet that evening. "If I had to choose the one sneaker that is forever linked to Vince, it has to be the red-and-white And1 Tai Chi he wore in what might be the best slam dunk contest of all time," Kai says. "That night, he officially put Canada on the map."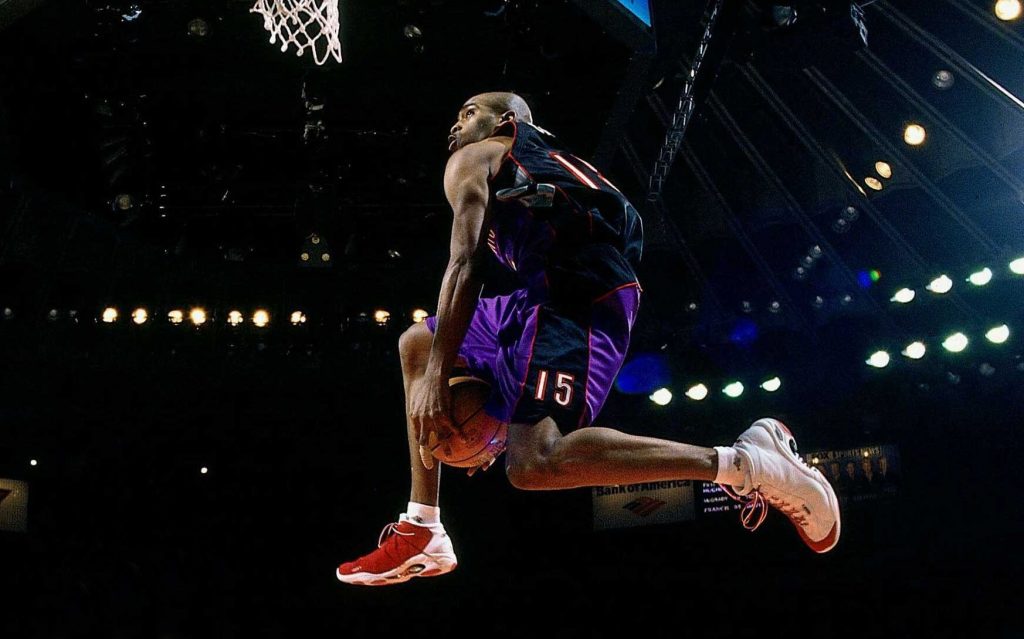 Carter would go on to lead the Raptors to their first ever playoff appearance, and by the summer, as he prepared to join Team USA in Sydney, Australia for the 2000 Olympics, he finalized a deal to join Nike.
As Carter told The Athletic's Chris Kirscher in 2019: "It was a match made in heaven. I don't recall there being an opportunity to have my own shoe at the time anywhere else. There might have been conversations where they said maybe they'll create one down the line. The Shox were done years before and they held them until the right time and then boom. That's how they took off."
The Nike Shox BB4 was just the beginning. Now, basketball enthusiasts and sneakerheads in Toronto waited for a true signature sneaker from Carter. Josh Roter is the co-owner of In Vintage We Trust, a vintage store in the Parkdale neighborhood of downtown Toronto. "Stuff was confusing for customers for the first few years of Vince's career," Roter says. "The slam dunk contest and his rookie campaign were great, the Tai Chi and Puma appearances were cool, but heads were waiting to see something signature to come out. A lot of the kids in the city were hoping for commercials and a merch line so we could kit up."
Nike would oblige with the Nike Shox VC 1, released on Christmas Day in 2001. "The original VC Shox were way ahead of their time," Goh says. "They borrowed the sleek zipped outer from Gary Payton's signature shoe, but flipped it in this crazy metallic material, and added a full-length Shox sole. It was definitely the flashiest of Vince's Nike sneakers."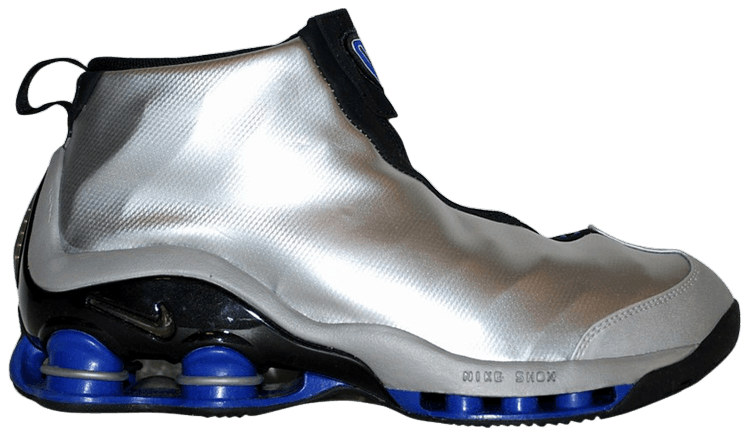 For Roter, it was the Nike Shox VC 2, released the following year in 2002, that really put Carter officially on the map. "I never really messed with the BB4 because it had a really wonky toe box that creased really bad," Roter says. "The leather on the VC 2 was super clean even after many wears. Also, the VC 2 blew up because of the Toronto-centric colorway. The limited purple-and-white colorway was Vince's way of saying, 'Hey Toronto, y'all can go off now. This is for you!'"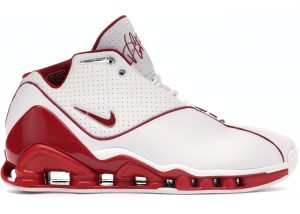 In the same way the 2000 Olympics helped the BB4 Shox spring to new heights, general interest in Carter's signature sneaker line waned as his buzz started to wear off in Toronto. After leading the Raptors to within a game-winning shot of the Eastern Conference Finals in 2001, Carter's remaining years in Toronto were defined by injuries, disagreements with the front office which ultimately led to his trade to the New Jersey Nets in December 2004.
By then, his third and fourth signature sneakers had released but the league and the attention of the sneaker market had moved on to Kobe Bryant's signature sneaker line and the kicks of a young phenom in Cleveland named LeBron James. The Nike Shox VC 5—released in 2005—was the last signature shoe in Carter's sneaker line. For the remainder of Carter's career, he wore a series of other Shox sneakers and also hooped in Nike's Hyperdunk line.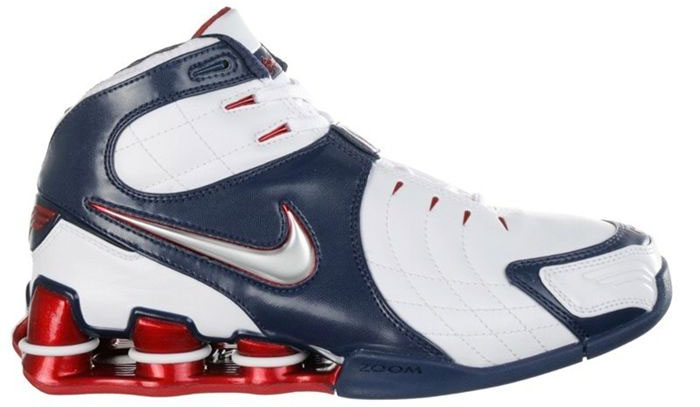 Carter's sneaker legacy not only includes a signature line, but also some of the best Nike ads of the modern day era. Who can forget Carter dunking over Gary Payton in the Nike Shox BB4, his Dr Funk rendition, his iconic Nike Shox VC 2 ad with Joe Budden (insert your own 'Vince Carter has played for so long he once collaborated with Joe Budden when he was an up-and-coming rapper at Def Jam' joke) and appearance in the Nike Freestyle Rhythm commercial. At the height of his powers and in his prime on the court, Nike and Carter came together to create some truly memorable ad campaigns.
In the past few years, especially given the Raptors' success and nostalgia for his early years in Toronto, Carter's sneakers—particularly the Nike Shox BB4—had made a comeback. In 2018, Carter wore a pair of his Nike Shox VC 4 from 2004 in a game against the Oklahoma City Thunder and watched as the sole separated on him on court. The following season, Nike announced the return of the Nike Shox BB4, which Carter wore in his final two seasons with the Atlanta Hawks.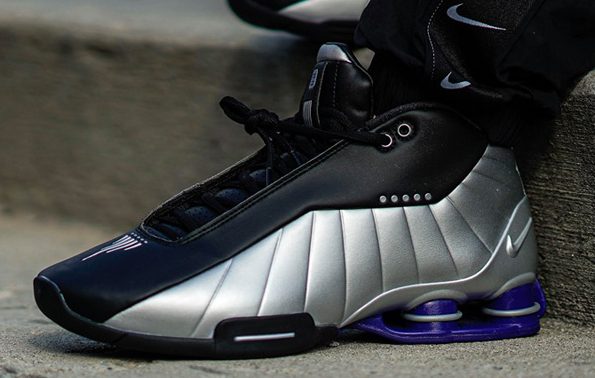 The retro line of the Nike Shox BB4 not only features the iconic "Olympic" colorway he wore at the 2000 Olympics, but also two "Raptors" colorways. One of them, the white-and-purple colorway, was debuted by Drake, who sported a pair while sitting courtside for Game 1 of the 2019 NBA Finals, fitting as it was the first time the Raptors had made the Finals.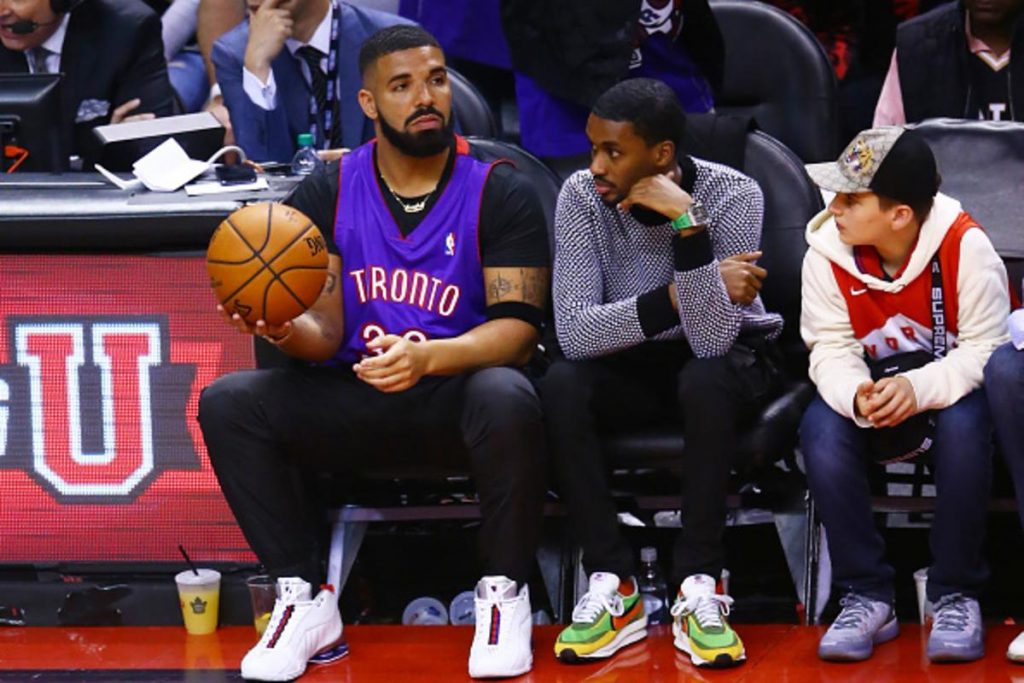 In recent years, Goh has been on a continuous hunt to track down Carter's signature models. After years of scouring eBay for an affordable pair of the Nike Shox VC 2, he wound up finding a deadstock pair in a random, old school sneaker store in Singapore.
"The store looked like it hadn't been reorganized or cleaned since 1978," Goh says. "They were just sitting there, on a shelf like any other shoe, and had been there since 2002 or whenever those originally dropped. When I asked for them, it took them ages to go into the backroom and find the other side in the original box. It was the very last pair they had, and it just so happened to be my size."
Goh is still hoping to track down the Nike Shox VC 1 in the North Carolina blue colorway in his size. The hunt for Vince's older sneaker models is made more difficult by the fact Nike has not re-released Carter's signature sneakers outside of the Nike Shox BB4. Goh points to players from Carter's era including Tracy McGrady and Allen Iverson, who have seen their sneaker models brought back into the market in recent years, and wonders why Carter hasn't been afforded the same respect.
Despite having been overlooked and forgotten, Carter's sneaker legacy should not be overlooked.
"I think his sneaker legacy is vastly underrated by contemporary sneakerheads," Goh says. "For a few years there, no one's star shined brighter. In those post-Jordan years before Kobe [Bryant] made the leap from Adidas to Nike, Vince was genuinely the face of Nike Basketball. He was the signature star of the Shox line, it's signature technology at the time. He was the most explosive player in basketball and he had the coolest sneakers to match. More people need to recognize that."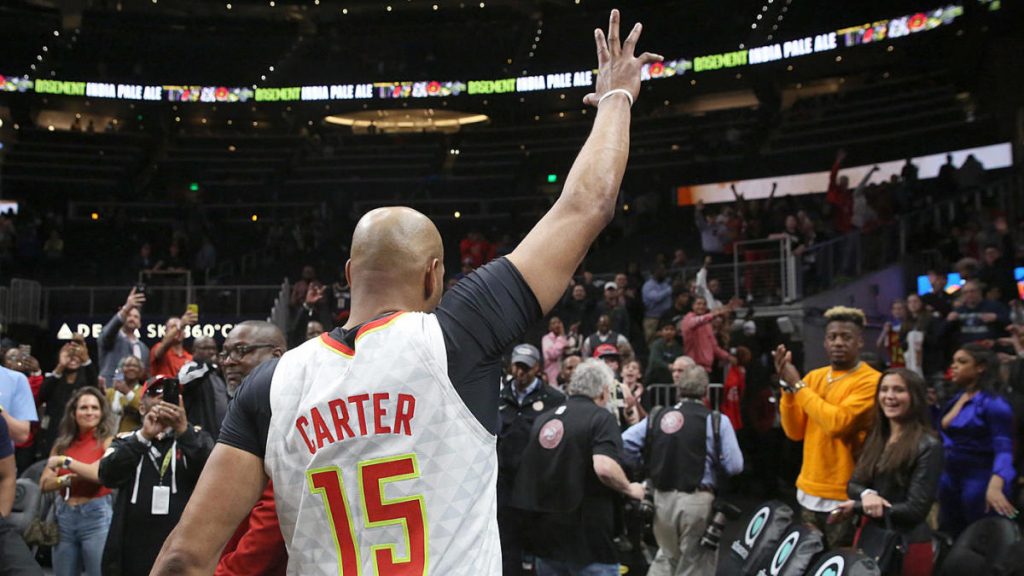 Latest posts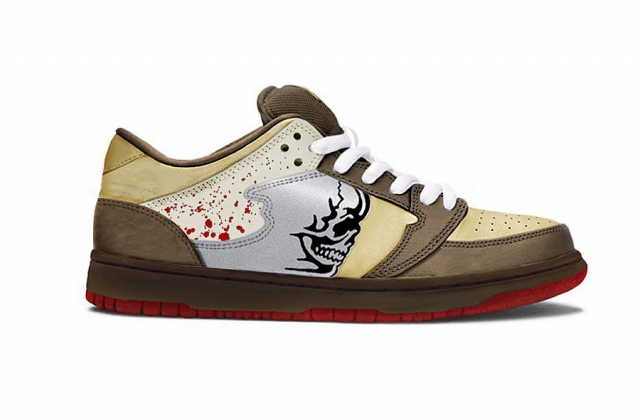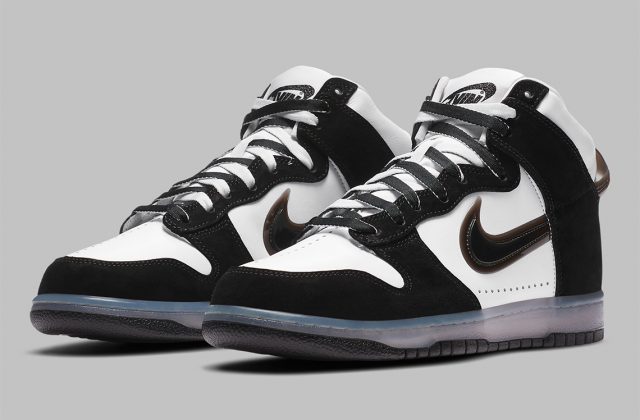 Nike x Slam Jam Dunk High 'Clear Black' Online Drop List & Release Info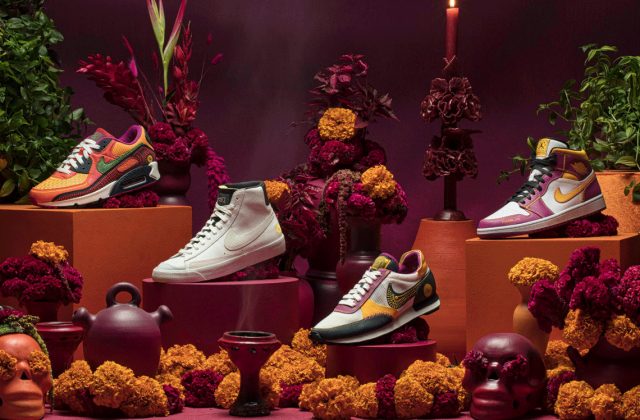 Nike 'Day of The Dead' Collection Release Info
SoleSavy membership
A SoleSavy membership provides you the tools and resources you need to successfully purchase the products you want for retail.
Exclusive release information and links
Instant links to purchase shoes in your size
Access to SoleSavy Courses and Lessons
and LOTS more perks!
learn more
Stay in the loop
Sign up to receive emails about feature articles, the latest release info, and exclusive access to SoleSavy memberships.