The SoleSavy community is comprised of people from all walks of life. On Veteran's Day / Remembrance Day, we want to spotlight and feature a group of incredible individuals from our community who have served or are currently serving their country in the Armed Forces.
Knowing how deep and important community is in the Armed Forces, we asked them what community means to them. Sneakerheading never stops, so we also asked them how sneakers played a role in their lives while they served, which pairs hold more value to them because of their line of work, which sneakers they brought with them on deployment, and what it was like keeping up with their passion for kicks while they were away.
Johnnie Thunder: U.S. Navy, 1994 – 1999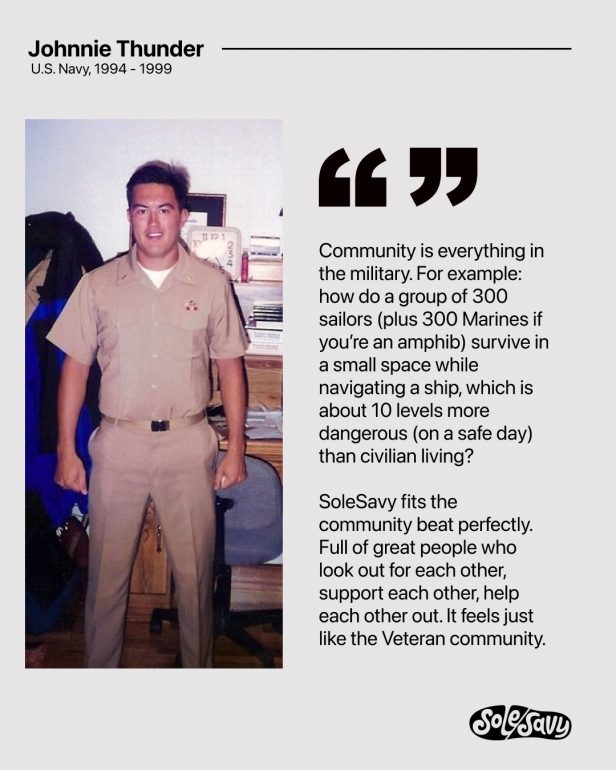 What does community mean to you?
"Gosh, where to start? On community, it's everything in the military. I mean, for example: how do a group of 300 sailors, plus 300 Marines if you're an amphib, survive in a small space while navigating a ship, which is about ten levels more dangerous (on a safe day) than civilian living? Respect, discipline, and community. The community bit really hits home for me.
Nowadays, I work for a nonprofit that helps Veterans find jobs. I'm also very active with the American Legion and the Veterans group from my University. SoleSavy fits the community beat perfectly. Full of great people who look out for each other, support each other and help each other out. It feels just like the Veteran community.
My sneaker game didn't really develop until after my service. But I will say we were based in San Diego, so sandals were everywhere. Birkenstocks were big back then. But as Veterans, we absolutely get the devotion to keeping your kicks clean and in top condition. All my leather boots are always shined. Leather shoes get clean asap (I use crepe wipes). "
Felix Cruz: U.S. Air Force, 1994 – 2018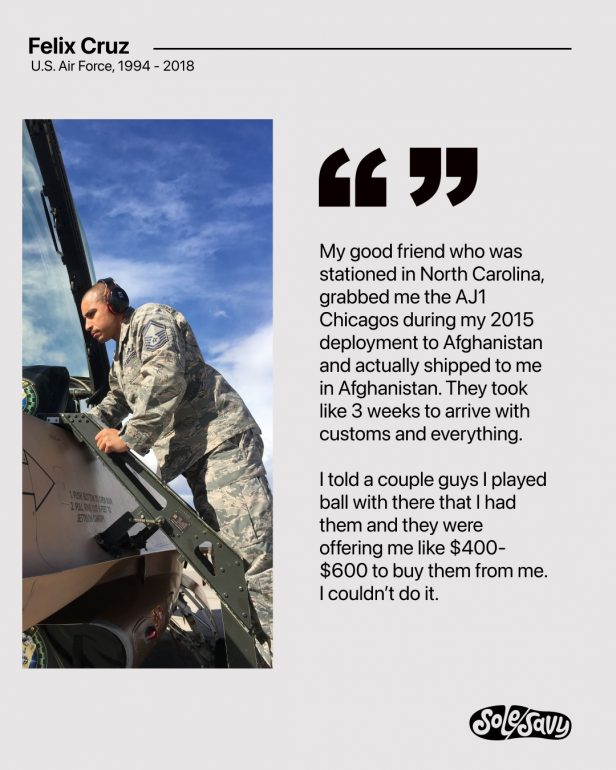 What does community mean to you?
 To me, it means to look after your neighbor. This couldn't be more evident than when serving in the Air Force. As you know, we are constantly deployed and on temporary assignment away from loved ones, so being there for another Airmen's family meant a lot. Whether it was babysitting their children or helping a spouse with car repairs, you just did what you had to do to support one another.
What role did sneakers play in your service? Did you bring specific pairs with you if/when you were deployed? Did sneaker act as an escape?
So sneakers, like most people, was a way to show off your style, and the military community, in general, is a melting pot. Me being from Philly, I wore a lot of Air Force 1s so did most East Coast folks, so there was that connection between us. On deployments, you kept your sneaker packing to the essentials: B-ball shoes and running shoes.
On my last deployment to Afghanistan in 2015, I actually grabbed the new adidas Ultra Boost. I ran in them, and I thought they were the most comfortable shoes ever. That was also the same summer I hit on the Yeezy 350 OG Pirate Blacks on a shaky internet signal on Finishline. I had my wife show me them on FaceTime when they arrived, and she kept them on ice for me until I returned home.
Are there any pairs that are meaningful to you because of your military background? Shoes inspired by / dedicated to the military, sneakers you were wearing during training/schooling, etc.?
I always loved the camo collabs like the Air Force 1s or the fatigue-type colors like the Undefeated AJ 4s. I have the Travis Scott Olive 6s, and those remind me so much of the military persona and the green/camo battle dress uniforms we used to wear. Those recent Military inspired Asics/Sneaker Politics were hot; I should've grabbed a pair. In basic training, we were issued Sauconys. I was a bit disappointed. They weren't the most comfortable to run in, but that was in 1994 (damn, I just showed my age).
Many of our deployed members (or previously deployed members) have told us the hoops they have to jump through in order to keep up with the sneaker game and continue their love and passion for sneaker collecting. Shipping pairs to military PO boxes, having family members foot the bill and cop for you, the list goes on.
Do you have any crazy stories about trying to buy sneakers while on deployment or being busy with work?
Lastly, before "SoleSavy assists," my good friend, who was stationed in North Carolina, grabbed me the AJ 1 Chicago's during my 2015 deployment to Afghanistan and actually shipped to me in Afghanistan. They took like three weeks to arrive with customs and everything. I stashed them in the locker in my room, which I locked up every day for four months, and granted, I had my own room, lol. I told a couple guys I played ball with that I had them, and they were offering me like $400-$600 at that time to buy them from me, I couldn't do it.
The hoops my buddy went through to grab them and ship them to me made them even more valuable. I didn't wear them until I returned home, but I probably looked at them at least once a week while I was there. So in that aspect, sneakers was an escape, just something else to ponder on when you're stuck in the middle of nowhere.
Joseph Choiniere: U.S. Army, 2006 – 2011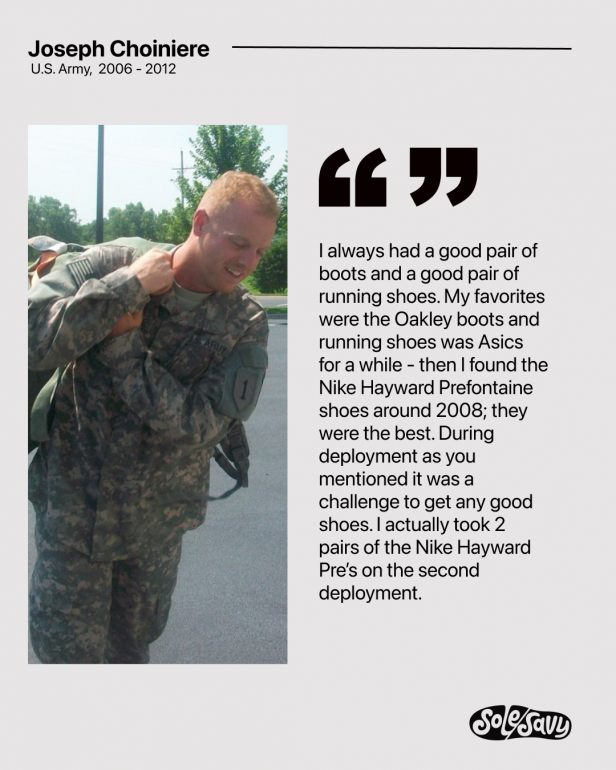 Community to me means being part of something bigger than just yourself, helping where you can, and being grateful. When I served, I was not as into sneakers as I am now, mainly because we did not make a lot of money. I always had a good pair of boots and a good pair of running shoes. My favorites were the Oakley boots, and running shoes was Asics for a while. Then I found the Nike Hayward Prefontaine shoes around 2008. They were the best.
There is not really many meaningful pairs based on service. However, now that I am a little older and have more money, I am able to get pairs that, when I was younger just was not able to get my hands on. Mainly Jordans, 1's, 3's 5's, and 11's. During deployment, as you mentioned, it was a challenge to get any good shoes. I actually took two pairs of the Nike Hayward pre's on the second deployment.
This article is dedicated to Yadir Reynoso, a U.S. Army Sergeant who was lost in battle in 2020.