We built an app to make collecting sneakers fairer and more fun. COLLECT is the first retail-or-less marketplace with the lowest fees in the industry.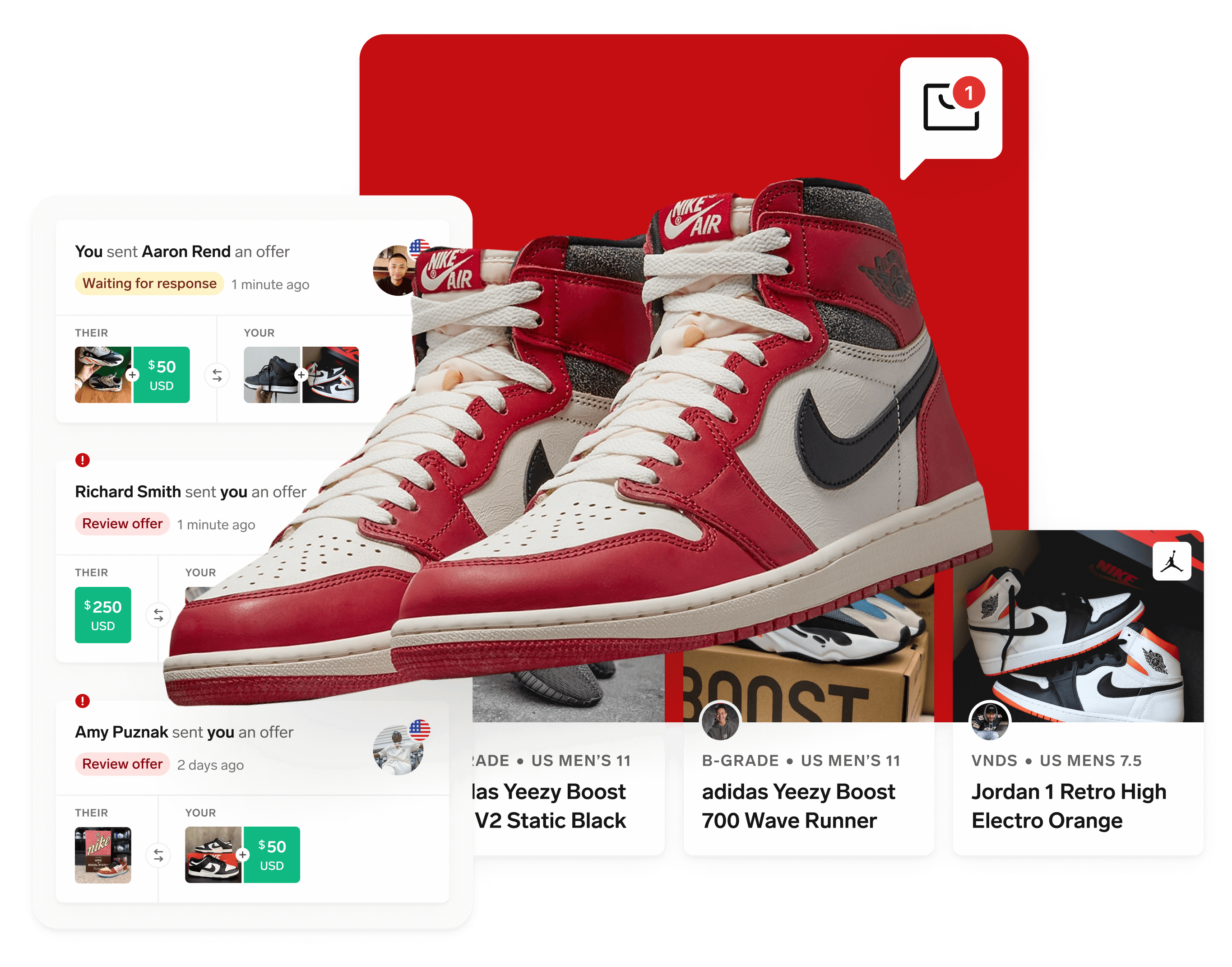 Dear Sneakerhead,
Our ambition has always been to make it more fun to be into sneakers. We've hit some big milestones along the way – selling over $2M worth of sneakers for retail, and hosting over $500k in prizes. Now we've reached an even bigger milestone, by opening COLLECT to the public.
What's the vision? To build an app that makes collecting sneakers better for sneakerheads. 
That began with building Trades as a core functionality. Finally you can buy, sell, and trade new and used sneakers, all in one app. We wanted to build with sneakerheads in mind, so we enforced a maximum listing price. And to make collecting accessible for everyone, we implemented the lowest fees in the industry. (Premium SoleSavy members will always have Zero fees.) 
I'm looking forward to building with you.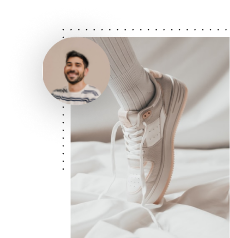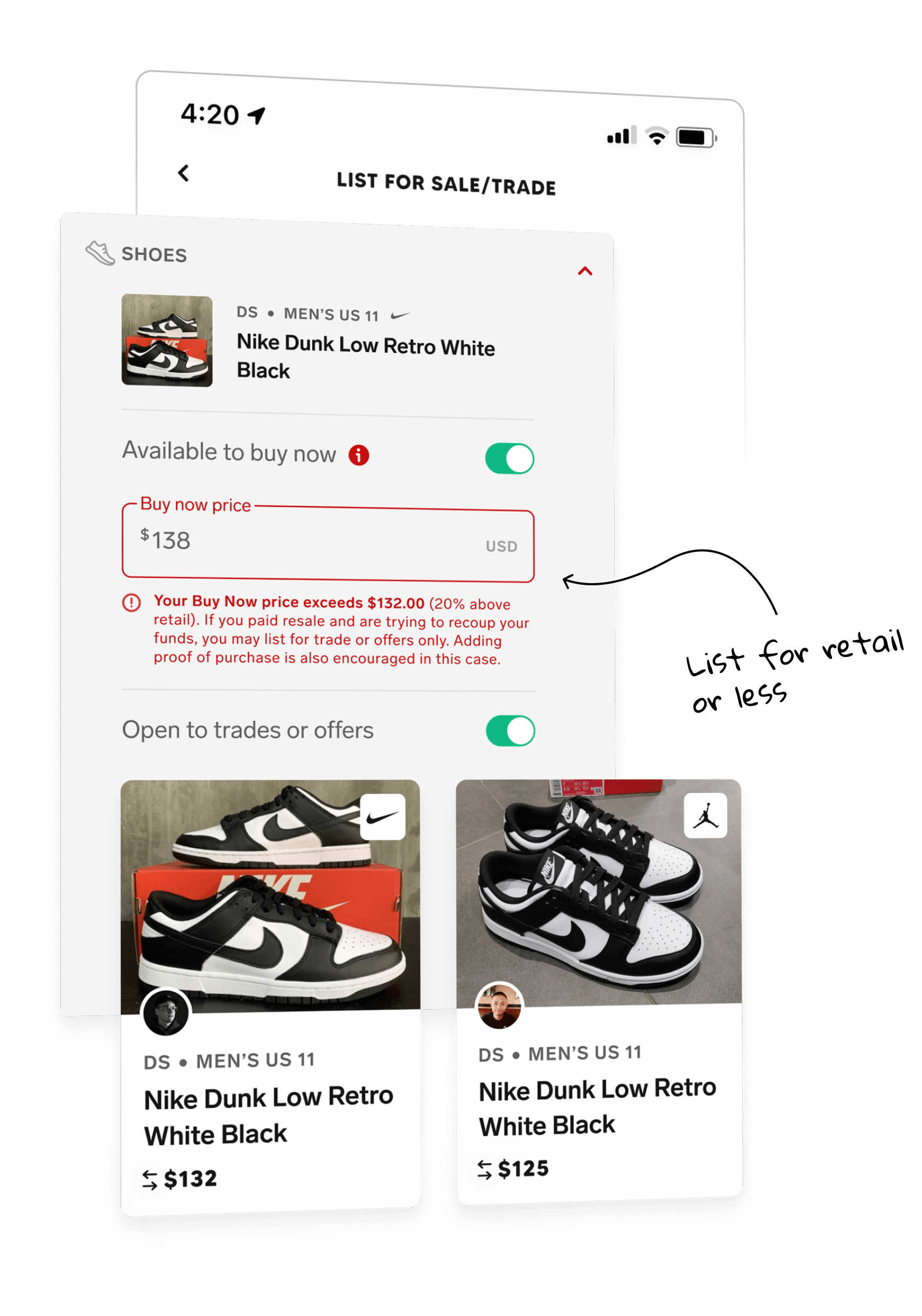 Retail-or-less-prices.
Listed prices will always be retail-or-below

Find deals on new and used sneakers

Negotiate fairly with other sneakerheads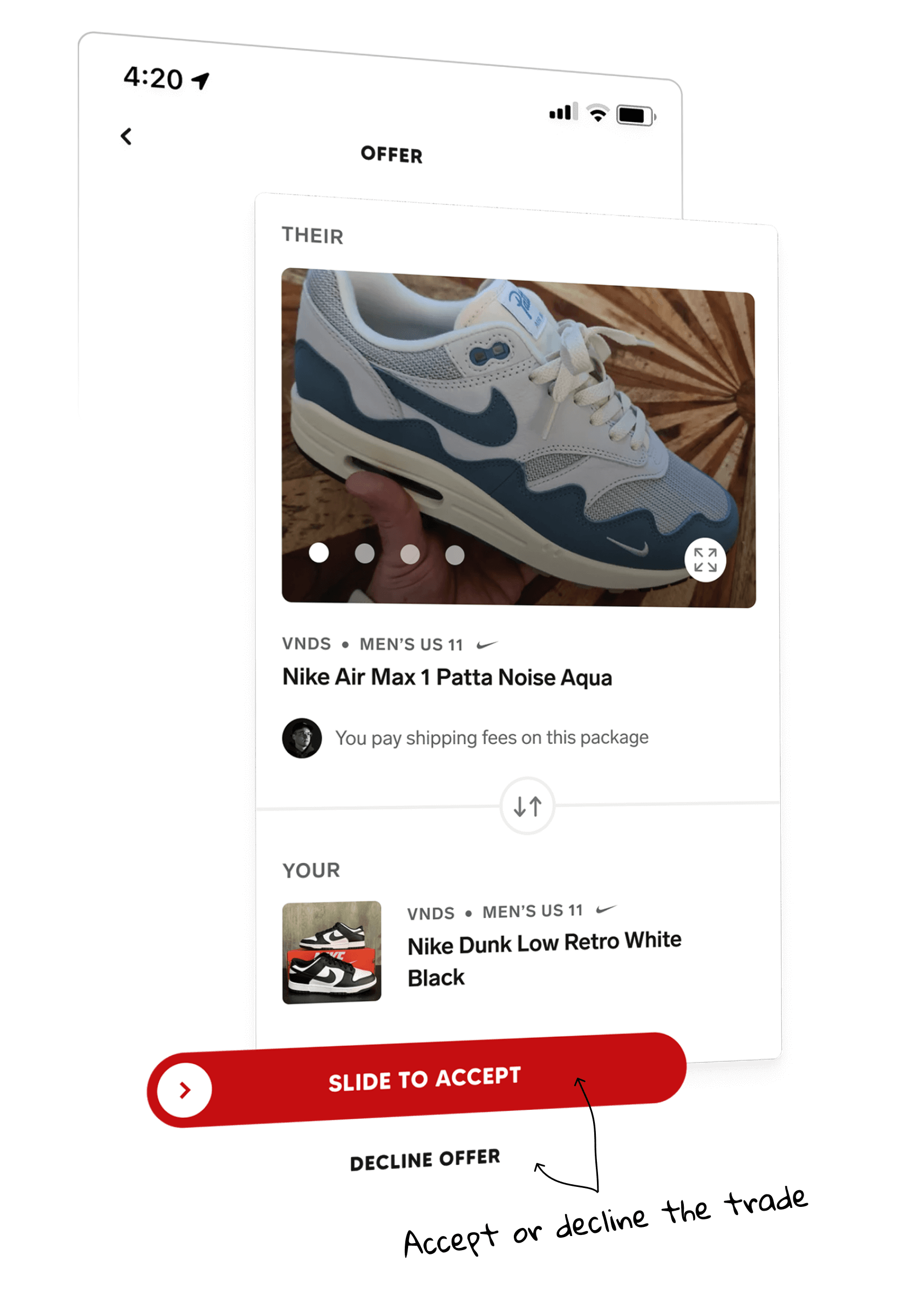 The best place to trade.
$8 flat fee for non-members, $5 for mobile+ members

Trades are FREE for Premium members

Use in-app messaging to reach the best deal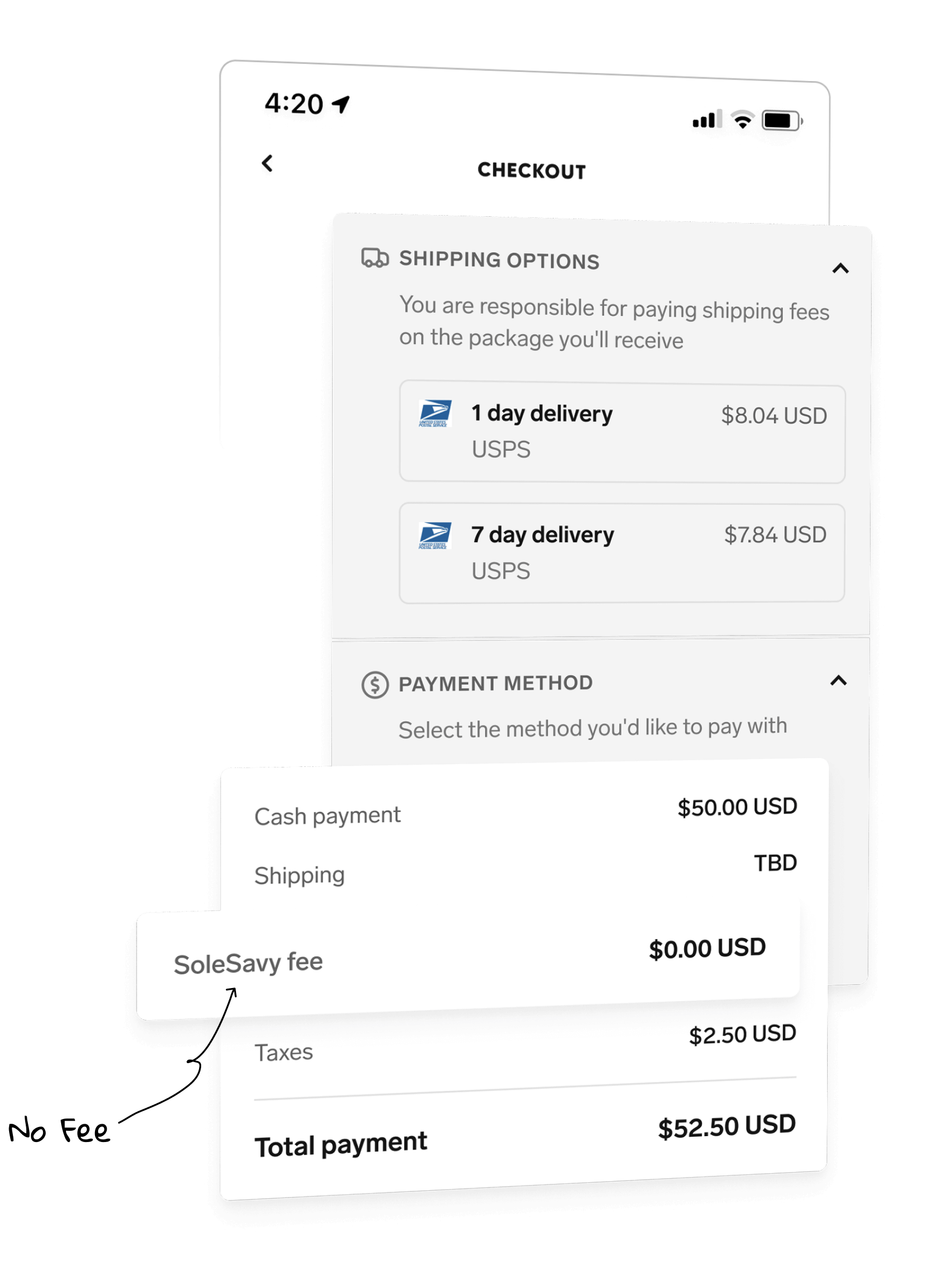 The lowest fees in the industry.
3% fees for non-members, 2% fees for Mobile+ members

Always ZERO fees for Premium members

More flexibility to shop how you want
* Please note this does not include legally required merchant fees or shipping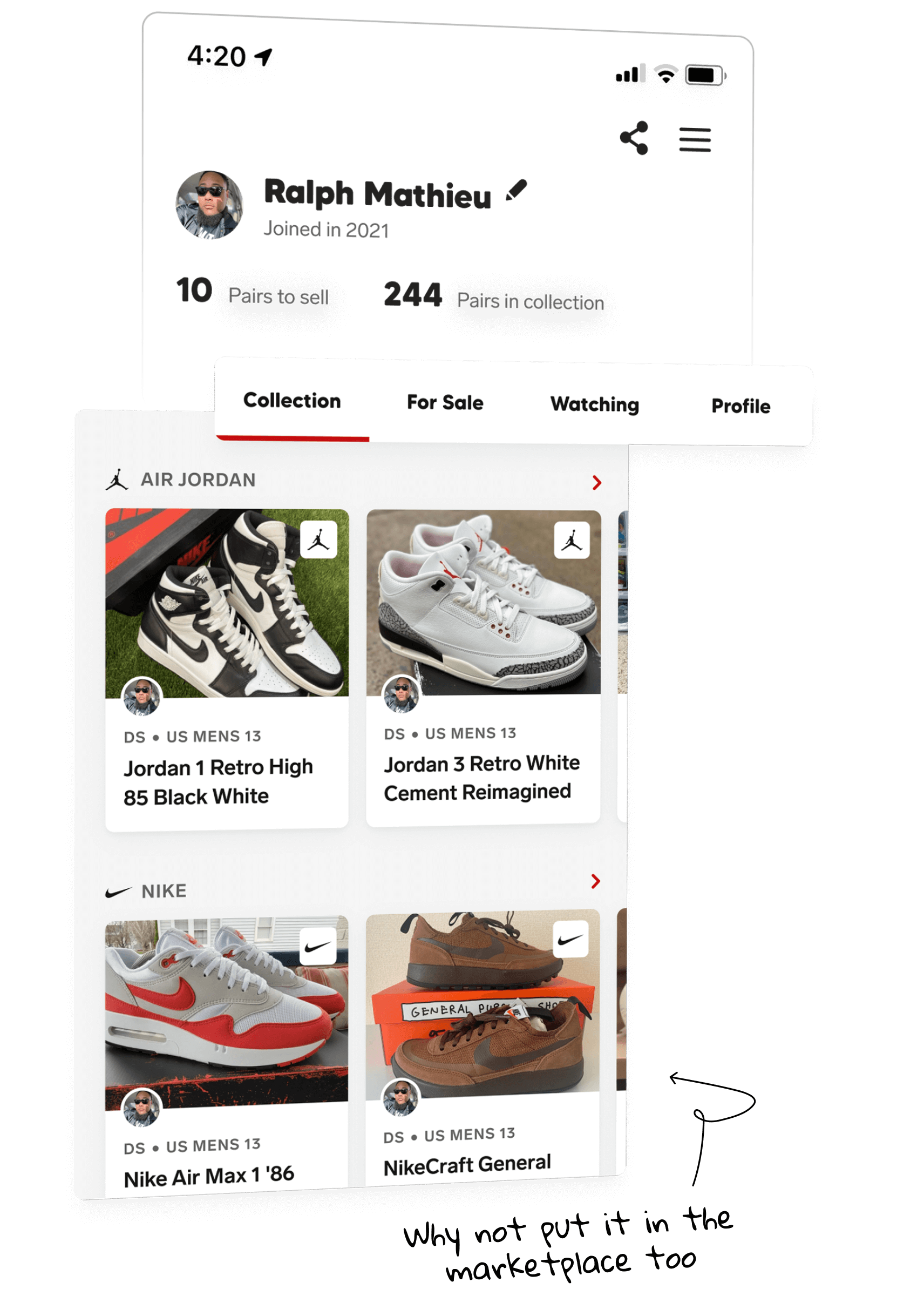 Trust who you transact with.
To prevent fraud, every buyer and seller has their identity verified

Better deals from people who want to wear sneakers, not profit from them
FAQs
COLLECT by SoleSavy is currently available for everyone to use. Download the app on iOS or Google Play.

COLLECT by SoleSavy is the first app where you can buy, sell, trade, and showcase your collection. We aim to empower real people who wear their sneakers, not resellers looking to maximize profit. This means all listings you'll see will be retail or less. We have the lowest fees in the industry to buy, sell, or trade – and premium members have zero fees on COLLECT.

At this time, COLLECT can only be used in the United States and Canada

To build the safest marketplace possible, we require all users to verify their identity before transacting on COLLECT. This ensures that all buyers and sellers are who they claim to be.

SoleSavy utilizes Stripe to conduct ID verification. Stripe builds payment technology and has been widely adopted by the sneaker industry from Kith to Undefeated. Stripe is also used by major companies around the world, like Amazon, Google, and Zoom.

SoleSavy does not store any of the identity information you share during the verification process, and your data never hits SoleSavy servers. Identity information is used strictly to verify users.

Learn More

As a direct peer-to-peer marketplace, we have seen that our retail-or-less model and identity verification requirements are highly effective at preventing inauthentic pairs from being sold on our platform.

In the event that a sneaker you purchase never arrives, your item is inauthentic, or if your item differs significantly from its listing, SoleSavy will refund your order.

However, if you're offering significantly above retail or trading a high-value pair, you can never be too safe. We've partnered with industry leader Legitmark to power authentication on COLLECT.

Learn More

Starting on Jan 1, 2022, marketplaces are required by the IRS to issue a Form 1099-K for all sellers who receive $600 or more in sales.

You only pay taxes on profits you make above $600. For example, if you bought a pair of sneakers and sold it for retail, or if you made a trade, these transactions would not be taxed. For example,
- If you buy a sneaker for $200 and sell it for $200, this would not require payment of taxes.
- If you trade a sneaker for another sneaker, this is also not a taxable event for 1099-K purposes.

SoleSavy will provide sellers who need a 1099-K for the 2022 tax season by January 2023.
Start growing your collection today