After qualifying for her fifth Olympics on Sunday, Allyson Felix is making history once more as she launches Saysh, a new lifestyle brand for women designed by women, TIME magazine reports.
Felix, who left Nike in 2019 to be a part of Gap's Athleta family with former Nike athlete Simeone Biles, was the Swoosh's most decorated and marketed Track and Field athlete on its roster. However, Nike's lack of protections for pregnant athletes led to Felix's departure from the brand, as she stated in her 2019 New York Times op-ed:
"I felt pressure to return to form as soon as possible after the birth of my daughter in November 2018, even though I ultimately had to undergo an emergency C-section at 32 weeks because of severe pre-eclampsia that threatened the lives of me and my baby, Felix wrote. "Meanwhile, negotiations were not going well. Despite all my victories, Nike wanted to pay me 70 percent less than before. If that's what they think I'm worth now, I accept that," she continued.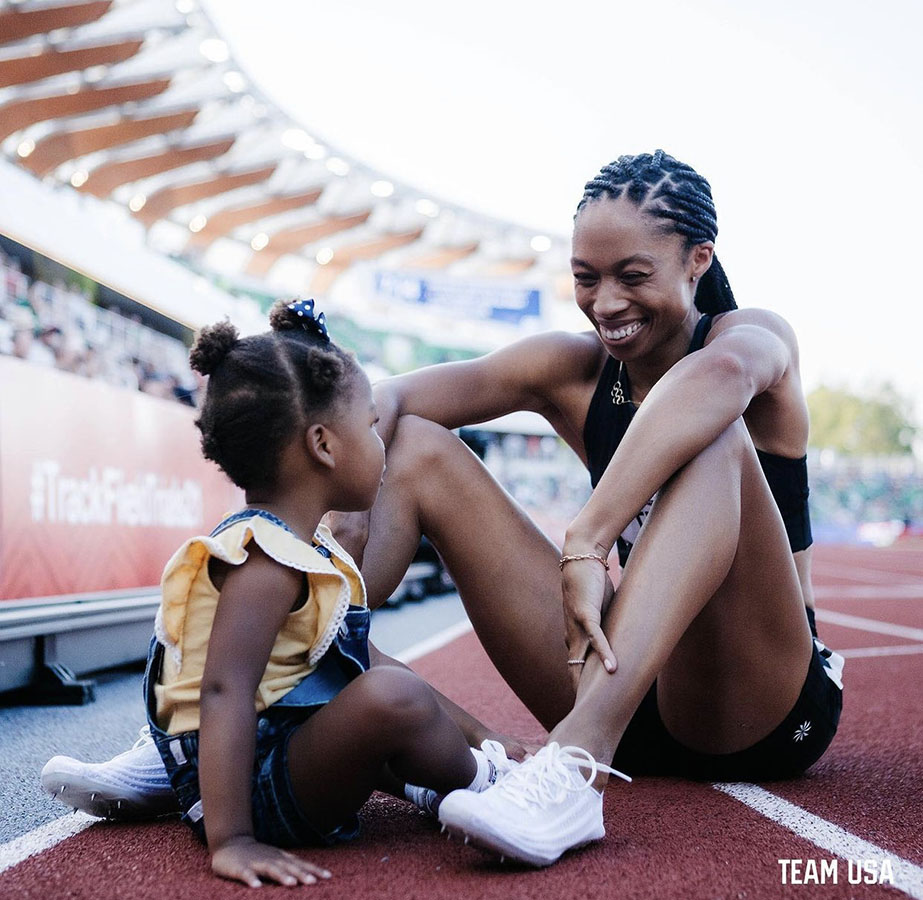 Allyson Felix in the Saysh track spike at the U.S. Olympic Trials
Now, with the Tokyo Olympics ahead of her, Felix has officially announced Saysh. During the Olympic Trials in the recently renovated Hayward Field, Felix clenched her spot on Team USA wearing a Saysh track spike. Although still a member of the Athleta team, Saysh has already made three colorways of the Saysh One available for pre-order on its website for $150 and will also offer a lifetime membership to the "Saysh Collective," a digital subscription with perks such as workout videos, networking opportunities with other Saysh members, and have conversations with Felix.
Saysh is already working on apparel and more sneakers with the help of sneaker product engineer legend Tiffany Beers, who will be the head of product for the new company. Beers left Nike in 2017.
Felix went on to say the importance of Saysh for female athletes and women in the industry as a whole.
"It's really about meeting women where they are," Felix told TIME. "It's for that woman who has been overlooked, or feels like their voice hasn't been heard. That was the biggest thing when I spoke out, was hearing from other women across industries. And having such a connection there, feeling like it's so much bigger. There's just that power in the collective," she said.
Following Felix's op-ed, Nike announced a new maternity policy. The new contract guarantees an athlete's pay and bonuses for 18 months around pregnancy. Three other athletic apparel companies added maternity protections for sponsored athletes as well, The New York Times reported.
The Saysh One's "lightweight construction pairs woven jacquard textiles and microsuede touches for a breathable, everyday sneaker. The design is sculpted to fit the shape and form of the female foot, with a single heel piece and a snug lacing system, producing an elegant, graceful silhouette that's both supporting and comforting," according to the company. The first three colorways available for pre-order now on Saysh and will be available at Athleta in the fall.
Keep it locked for more Saysh news, and be sure to sign up for a SoleSavy membership to learn more about the most genuine sneaker community out there and how to buy upcoming releases like this one.