When we say that SoleSavy is about community first, we mean that wholeheartedly. While we're all sneaker enthusiasts here, the positivity extends beyond shoes alone. Often you'll catch members helping each other purchase hyped kicks for retail (never resell) or friendships formed over another shared interest.
One particularly special moment within the community revolves around the non-profit organization, Pasos for Oak Cliff. Founded by SoleSavy member Jesse Acosta, the organization donates sneakers to students in need and also provides scholarships to multiple schools in the Oak Cliff, Texas area. However, when Acosta first began Pasos as a simple fundraiser, the onset of the pandemic hindered their goals. When Acosta reached out to the community, members quickly swept in and helped Pasos reach their initial fundraising goal in a matter of hours. 
Today, Pasos for Oak Cliff is a fully registered 501(c)(3) non-profit with its impact increasing more each day. Pasos have received national television coverage and, as of this publication, donated over 570 pairs of shoes and raised $5000+ for scholarships in the Oak Cliff area. We caught up with Acosta to discuss the organization's sneaker roots, the role SoleSavy played, and their plans for the future.
---
When did Pasos start? What made you decide on the footwear focus?
Jesse: Pasos for Oak Cliff started on August 2nd, 2020. It was launched as the name of a fundraiser, which eventually became a registered 501(c)(3) non-profit. The inspiration behind Pasos for Oak Cliff goes back to my first year as a teacher at Justin F. Kimball High School, my alma mater.
I'm a sneakerhead, so I'm always looking at what my students are rocking on their feet. During my first year as a teacher, one thing that I quickly noticed was that economically disadvantaged students with worn-out shoes were more likely to be shy, sit in the back of the class, not ask a lot of question or speak a lot, and seemed like they were trying to be invisible. I would hear students make fun of other students for wearing beaten-up shoes. One instance that stood out to me was when one of my student's shoes started to separate. Whenever they walked, the soles of their shoes would separate from the upper. 
I remember telling my partner, Alejandra Zendejas, about said student and how I wanted to give them a new pair of shoes. But I didn't know how to approach the situation. I did not want to offend them or their family by showing up to school with a new pair of shoes to give him. From there, I played with the idea of giving away shoes as prizes for the end of the semester, but I never figured out a system that would be fair for all students. The idea resurfaced when COVID-19 shut down Dallas in March 2020.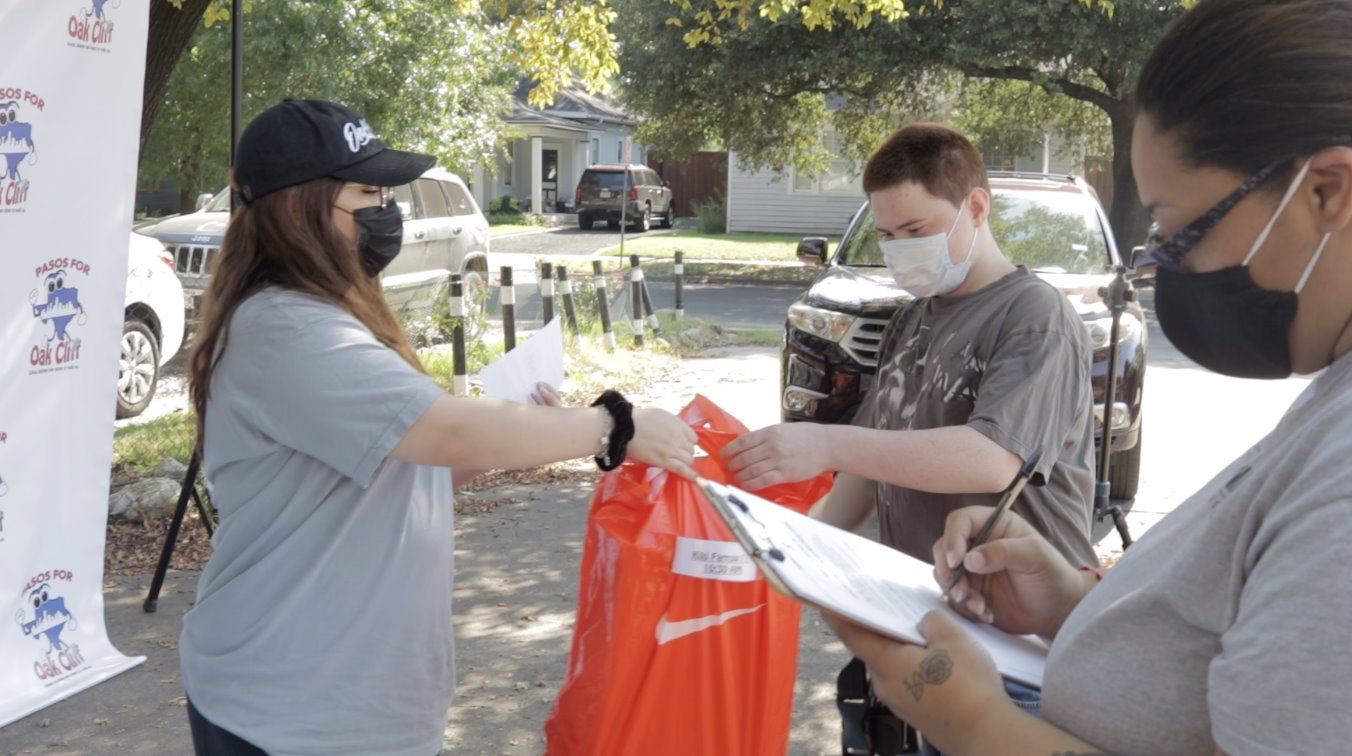 A lot of my students started to tell me their parents lost their jobs, they lost family members to COVID-19, and how their life was economically harder. My partner and I started to brainstorm ways to help out families in need around July of last year and our love for shoes guided us to Pasos for Oak Cliff. We knew families were struggling economically and when one struggles financially, unnecessary expenses are the first to be cut out. We expected shoes to be on that list of unnecessary expenses, especially as the new school year approached. So we set up our fundraiser on August 2nd, 2020, with a goal of $1,500 to help out 50 students in Oak Cliff. Our mission became more critical when my own family was impacted by COVID-19 with the death of my grandfather, Sabino Acosta, and later my grandmother, Angelica Zuñiga. Although my family struggled economically, we knew we still had it better than other families, so we had to do the little that we could to help others.
Thankfully the community was receptive and it turned into a rolling snowball effect. We managed to raise $4,500 and gave out 150 pairs of shoes by the end of August. Although our first shoe drive was a success, we ended up with a waitlist of about 400 students so we decided to set up another fundraiser in September. This second fundraiser is where Pasos for Oak Cliff really got bigger. Sneakerheads supported the idea, local leaders helped out, and the media started to cover it – eventually leading to a feature on The Drew Barrymore Show. What was intended to be a one-time thing soon turned into a permanent, registered 501(c)(3) non-profit.
What impact has SoleSavy had?
Jesse: Honestly, if it was not for SoleSavy, I don't think Pasos would still be around today. 
When we launched our first fundraiser I only posted it on my Facebook and personal Instagram page. We were on a tight deadline since students were returning to school, so we only had a week to fundraise. On the first day, donation trickled in but it wasn't what we hoped for. By the third day, that's when I decided to reach out to [SoleSavy CEO, co-founder] DP to ask if I could share the fundraiser with the group and he said yes. 
Then, a few hours later, we got a big surprise. In less than 24 hours, members from the SoleSavy community had donated about $2,000. When we announced on our social media that we had surpassed our initial goal of $1,500 in just three days, that's when non-sneakerheads and the like from the Oak Cliff community took notice and jumped on board. 
I think the support of SoleSavy validated our mission. Although Oak Cliff has always been a supportive community there's understandably some hesitation when it comes to involves and charity, especially when it's from someone you've never heard about. And I get it, I'm like that too. Solesavy was like our legit check. Ultimately, I think members donated close to $2,600. Outside of monetary donations, members around the country also donated shoes! They donated everything from Air Forces to Air Jordan 1s – which are shoes kids always love! 

How did you find out about SoleSavy? How's your experience been?

Jesse: I found out of SoleSavy around late 2019. I think I saw it on a Twitter post or maybe Instagram. I don't remember. But what I do remember is reading the mission of SoleSavy. I resonated with it and SoleSavy's goal. I jumped on the waitlist immediately. 
Since joining in late 2019, I have not had one negative experience. I'm blessed to be part of such an amazing movement. The members are always super helpful when it comes to releases and information about certain shoes. People in this group are selfless and caring.  And I'm not saying that because of my experience with Pasos in the group, but even outside of activism, members are always open to help with whatever might arise. 
Was Pasos your first venture into philanthropy?
Jesse: Before Pasos, I had done some philanthropy work, but mostly through other organizations such as Peers Assistance and Leadership (PAL) and the League of United Latin American Citizens (LULAC). However, my role in those organizations was small – nothing compared to what I am doing with Pasos. Everything we have done so far, from fundraising to filing the proper paperwork with the state of Texas or IRS has been a self-taught experience. 

Does Pasos also extend into other charity work?
Jesse: Beyond the shoes, we want to use this opportunity we've been given to help in other ways. We are currently fundraising to give out $4,000 in scholarships to four different schools in Oak Cliff. To help us raise funds, we have been hosting cycling events with free food and beer. These scholarships won't be given out just based on merit or grades, but also to those students who may have had a rough high school career and are looking to get themselves back on track. Our organization's name is "Pasos", which is Spanish for "steps", and we want to provide that next step to students of all backgrounds. 
What are the short-term and long-term goals for the non-profit?
Jesse: Currently, our short-term goal is to distribute 1000+ pairs of shoes to students in need. Thanks to a recent $20,000 donation from Amazon, it looks like we're on track to accomplish that. Of course, Amazon's only catch was that we also distribute in San Antonio, Austin, Lowesville, and Mesquite. So our second goal is to at least distribute 100 shoes in each town. 

We also hope to launch a summer education program. The goal would be to take a small group of local students and improve their math, reading, professional, and civic skills. They will be on an accelerated math and reading program to fill in gaps due to the pandemic disrupting the education system. Outside the classroom, students will be given the opportunity to apply their knowledge to real-world situations through internships with other local non-profits. 
Our scholars would have multiple opportunities to meet with local leaders and politicians to explore solutions to issues in their communities. By the end of the program, students will have mastered 10 or more essential skills in math and reading while collaborating with non-profits on community projects. This idea is still in the works and we're hoping to launch by 2022. 
Our long-term goal is to acquire an official building. We would love to have our own place one day where our students, parents, and other community members can come together. This is a goal that will take a lot of work, but we know it's possible. 
---
*This interview has been edited and condensed for clarity.
Images via Pasos for Oak Cliff