Any time a Nike collab or women's only Jordan release approaches, we're guaranteed to see influencers and content creators – the cool girls of the timeline – unboxing the most coveted footwear first.
How do they get free sneakers? What do they actually do?
"I think a lot of people think I just take pictures of product, right? Get free shoes from Nike and I just go outside and take a picture and I'm done," Chicago-based sneaker reporter and content creator Ticara Devone said.
Influencers or content creators are individuals who create engaging or influential content typically over a digital platform or medium targeting a specific audience's interests. While the sneaker space is still largely dominated by male content creators, brands are continually making more space – and providing more budget – to work with and hire women. 
A 2018 study from Lego polled thousands of kids in the U.S., China and the United Kingdom found that a third of children ages 8 to 12 wanted to be a vlogger or a YouTuber. Naturally, young people exposed to the curated timelines of a content creator would want what appears to be living a wonderful, albeit highly produced, life of an influencer as their career. 
The sneaker industry, and subsequently those working as content creators within the space, has been predominantly men, but we are slowly seeing more women sneaker influencers. "I feel like now there's more quantitative data for [brands] to see women love sneakers," Devone says. "There is a lot more information out there to back brands not only creating more products for women, but leveraging women content creators to reach female consumers."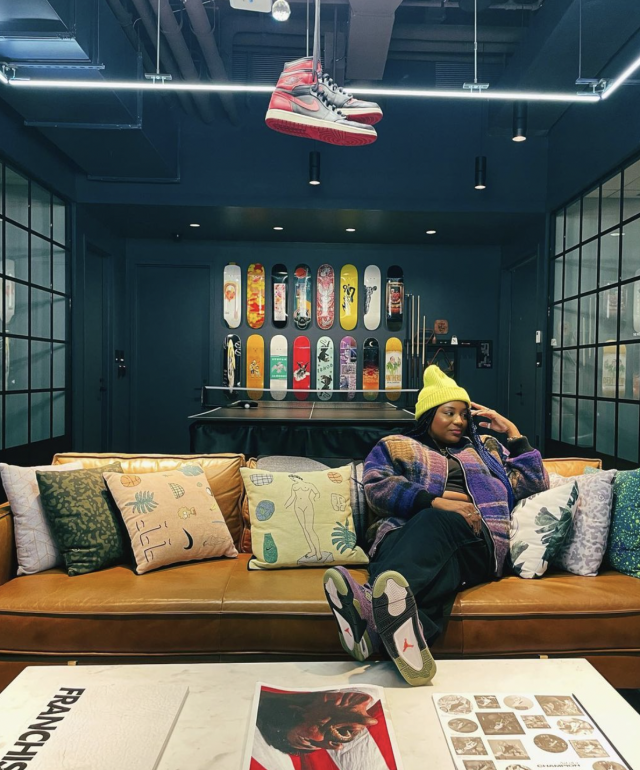 Photo: @ticaradevone 
Devone graduated with a degree in music business management but her work led her to writing. With the rise in popularity of Instagram, she eventually started to consider the visual side of content creation. Her full-time and part-time work throughout her career really helped her expand the work she does with her own platforms – she freelances for a public relations agency working on the TikTok of a fortune 500 account.
Admittedly not super familiar with the video-based platform at the time, she was afforded the opportunity to learn more about it through this gig. "With the jobs that I chose, I always try to make sure they kind of match and go hand in hand with what I'm doing outside of that work," she said.
Not only have her corporate or past full time jobs in advertising and PR helped her learn about marketing best practices and how to create a pitch deck or how to use different social media platforms in ways she could translate to her own work, they also offered the potential to establish relationships to grow with as she moved on and grew in the sneaker space. 
She's worked with brands like Nike and Puma with a variety of deliverables. The most lucrative of these projects have been those that require her to physically be present for the brand. Having worked with some of the largestbrands in the space, she's learned that she can diversify how she earnings as a sneaker content creator.
"It's not necessarily Instagram Reel or photos that they can use for six months or whatever time frame," she said. "It's [also] projects that require me to be on site and hands on with people like hosting during the workshop or sitting on a panel."
Meanwhile, content creator and host Kayce Kirihara shared some advice for longevity in this space. Kirihara has been building her audience since the start of Instagram – over ten years – and has worked with brands like Foot Locker, NBA, WNBA and more. "It's important to stay updated with trends," she said. "More importantly, figuring out how trends make sense with your audience and how it can still work with your content. You have to keep up with the times but make sure to do it in a way that still makes sense with your brand." She joked about the Tumblr era of photos, "you know the ones: one sneaker and one high heel – but that doesn't really work today."
Photo: @infamouskayce 
Knowing your audience is a major key, Kirihara added. "As soon as you can understand your audience and what kind of content they like from you, that's when you can really get going. I know that iPhone photos do better for me than professional photos. I know they like my street style photos versus when I'm dressed up. I listen, I pay attention to what they comment on the most and then I'll continue to make that kind of content."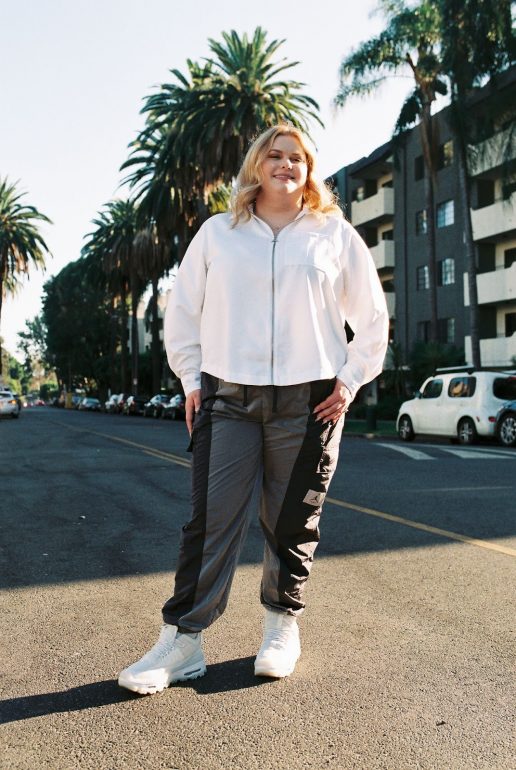 On the other side of that, Callahan Zacks, a SoleSavy member and brand ambassador is still finding her footing as a content creator but shared similar sentiments of authenticity. "The biggest thing I've learned is that being your authentic self will always get you into the spaces you are meant to be in with the people you are meant to connect with."
Last year, Zacks' content and enthusiasm as a member of the SoleSavy Women's Community led her to be featured in a campaign with Jordan Brand last year alongside other members. She found a community that not only shared her interests, but also empowered her to step out of her comfort zone. "Letting go of any fear of judgment you have will 100% make you a stronger creator and person, because the people who find you through your content will bring your audience and even friends.
From a brand perspective, there are things to keep in mind. Jamiersen Green, Influencer Marketing Manager at Foot Locker shared some insight on how he finds influencers to partner with. "I've been hiring women to host in-person events," he says. In addition to hosting, this includes being on panels, or being responsible for the invite list to events. 
The social content he's leveraging content creators are what you'd expect – Instagram Reels, TikToks, etc. However, there are some specifics he's looking for when sourcing talent. "It's about finding women who can create engaging content – not just look cool or be in front of the camera and have the shoes or all of the clothes and everything that people love. I'm looking for women who are leading the charge personally or who have their own entity, own business or foundations – women who are really doing grassroots things within their local communities."
He points to Jourdan Ash, the founder of the sneaker platform created to center Black and brown women, True To Us. He's leveraged her for partnerships with Foot Locker for Timberland and for Women's History Month. 
When looking for women to hire, he says the main things he's looking for is relatability and vulnerability. "I feel like people have connections with people who are actually speaking and writing things on their Instagram channels that matter," he said. "Whether it's about mental health, advocating for women's rights or what they're working on with their own foundation or projects, I really try to find people who have something more to say than just an Instagram post to look cool in front of people."
While Green says he typically heavily researches people before reaching out to them, it's helpful for content creators to know their engagement rates and the demographics of their followers. "These things really matter because campaigns have different targets," he said. "Sometimes we may be targeting 18 to 24 year olds or 24 to 30 or Latinx consumers. So, it's about whose demographics reach that [audience]."
Content Creator Manager, Alissa Nevita says she thinks having a deck is great for pitching a specific project, but ultimately, there are a few things she likes her clients to have in place. 
"I think the biggest thing is having a clear understanding of what their brand is and what they're trying to achieve or what they want to be known for," she says. From there, having a succinct bio to illustrate that is a necessity.
Nevita recommends to content creators she works with to also have a website. "A website is one place to be able to provide a client or a brand with insight into who you are, brands you've worked with, highlight your most impactful work with the space to discuss what it meant to you and full contact information." 
The reality is, some brand partnership content only lives on social platforms for a limited amount of time, but that shouldn't negate the work a content creator puts into it nor should it be unavailable for potential partners or press opportunities. 
Of course, not every content creator has or needs a manager but there are times when an agent or a manager is worthwhile. Agents are responsible for bringing in opportunities, while managers may bring in opportunities but their main functions are to handle communications with the brands' or clients' point of content, tracking deliverables, act as a creative sounding board for alignment of the creators' brand and negotiate on their behalf.
"Everything is negotiable," Green said. More specifically, Nevita points to deliverables, timelines usage and exclusivity clauses. "For instance, with a brand asking for two infeed posts and three story frames linked, you can negotiate that down," she offers as an example.
And, as a manager that's what she takes on. "If that creator comes to me and says, 'I'm a little uncomfortable because they want me to do ABCD,' it's my job as your manager to be that spokesperson for you and work with the brand on what makes the most sense."
Content creation and influencer marketing is just barely a decade into its existence, and the women's sneaker space still has the potential for many firsts and plenty of growth. Sharing information about the business of it among all parties involved can only make for better campaigns, better content and bigger payoffs for all involved.

Come for the sneakers, stay for the community.
Join SoleSavy to enjoy full membership benefits. Buy sneakers for retail with our tools and tech, shop the COLLECT marketplace app with zero fees, and join an exclusive community of sneakerheads.
Try SoleSavy's Mobile Plus Plan to unlock our mobile-only benefits like release guides, raffle lists, and Drop Alerts. Mobile Plus is a great alternative if you have less time to chase but still want to cop on the go.