Time and time again, the story of Kobe Bryant and adidas is told as tragedy rather than triumph.
Often focused on the ending, sneaker and sports media remember Kobe exiting his adidas contract early and pursuing an amazingly exciting footwear free agency. This is true. It's also true that the adidas exit is marred with mis-marketing, family financial drama and the daringly different design of the adidas The Kobe II. 
The added truth that his adidas exit was followed by changing the cut of contemporary basketball shoes in partnership with Nike served as salt on the wound.
Still, hindsight Stripes shaming fails to recognize the improbable and seismic start of Kobe's deal with adidas and how it paved his path as a pro and game-changer in footwear.
Signing with the Stripes as only a high schooler, 1996 was a time when teenagers weren't inking life-changing sneaker deals nor writing their own narrative.
Before Bryant, generational talent would jump from the high school ranks straight to that of pro basketball in very rare instances. It all began in 1974, when the Utah Stars of the ABA drafted prep phenom Moses Malone straight out of high school, signing him to a five-year $1 million contract with his first start coming at the tender age of 19. One year later, the NBA's Philadelphia 76ers would draft Darryl Dawkins as an adolescent with high school stars such as Shawn Kemp and Kevin Garnett later leaping from prep to pro in the late '80s and mid '90s.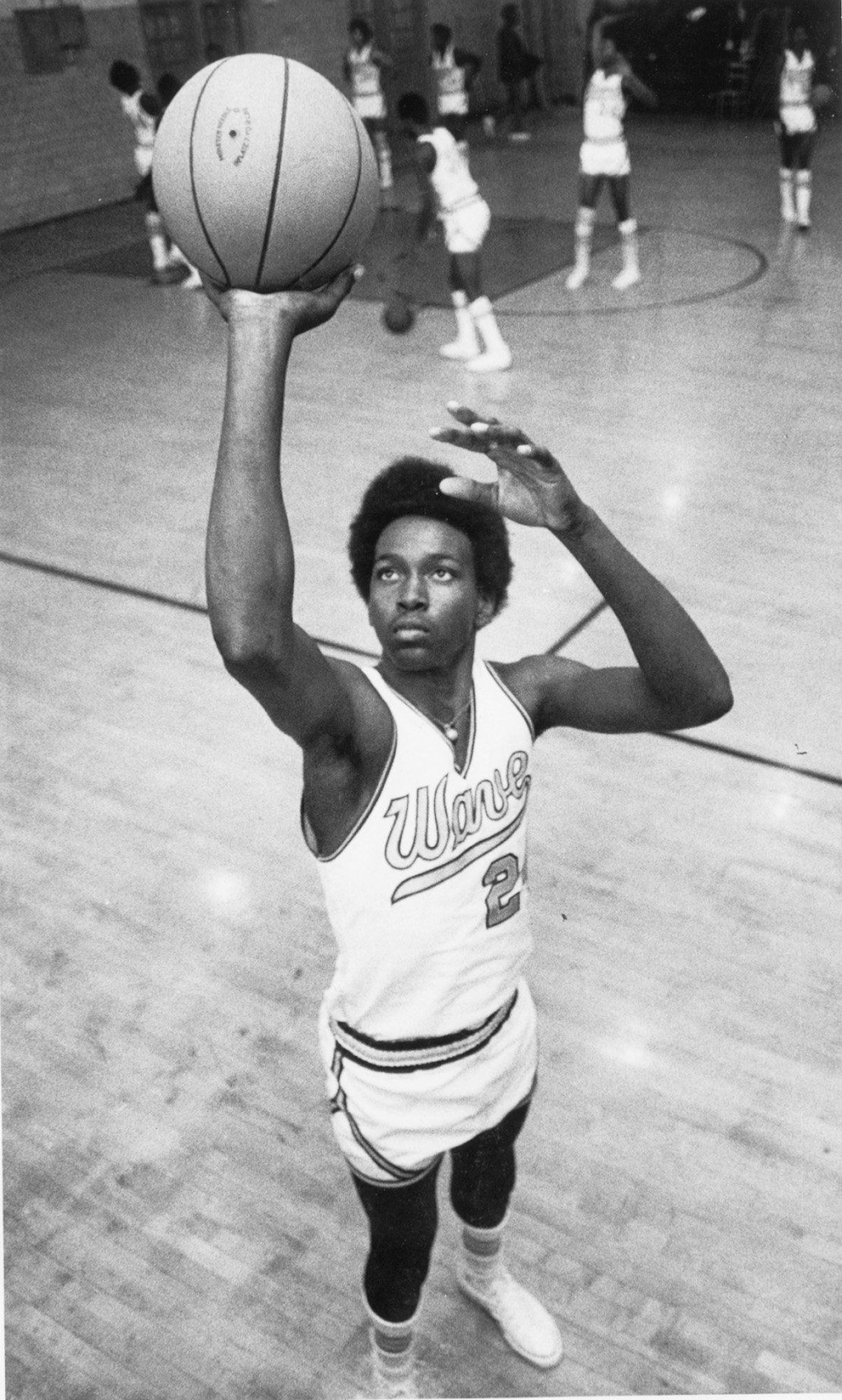 Photo via Richmond Times-Dispatch
While Malone, Dawkins, Kemp and Garnett all had a ton of talent and a lack of college seasoning in common, they all also shared another characteristic: they were all 6'10 or taller. 
Playing in the paint made each prep turned pro prospect a more malleable investment for NBA teams in earlier eras. Each of those four prep to pro players would earn their keep after early adversity to varying degrees, all ultimately achieving starter status and subsequent shoe deals. The latter, sneaker endorsements, were considered a cherry on top of their NBA salaries and earned esteem. 
Soon after KG but almost out of nowhere, the shoe deal would not be an added incentive for starting on an NBA roster but an actual incentive for quickly going pro.
In fact, it was right around the time Kevin Garnett was feasting at Farragut that an Italian raised introvert in Philadelphia was sonning scholars half his skill set.

Photo by LA Times
That kid? Kobe Bryant, the son of local legend and former Sixer Joe "Jelly Bean" Bryant.
Playing the star role at the super suburban Lower Merion High School since he was a lanky freshman with bad knees and no shot conscious, Kobe's come up was the result of an otherworldly work ethic and maniacal mission to crush every level of competition. 
First it was Sonny Hill hoop runs in the summer, next it was Philly's Gauntlet prep and park scene and soon enough it was Sixers practice sessions.
As only a sophomore in high school, however, nobody knew Kobe Bryant was going to be a basketball legend other than Kobe Bryant. The closest person on believing and cultivating his potential was his proud pops Joe Bryant who knew how important it was to possess alpha dog confidence after playing alongside Julius "Dr. J" Erving as a member of the Sixers. 
Because of this, a young Kobe would star on relatively weak high school and AAU teams as an underclassmen, shrinking the exposure on who he was and what he could become.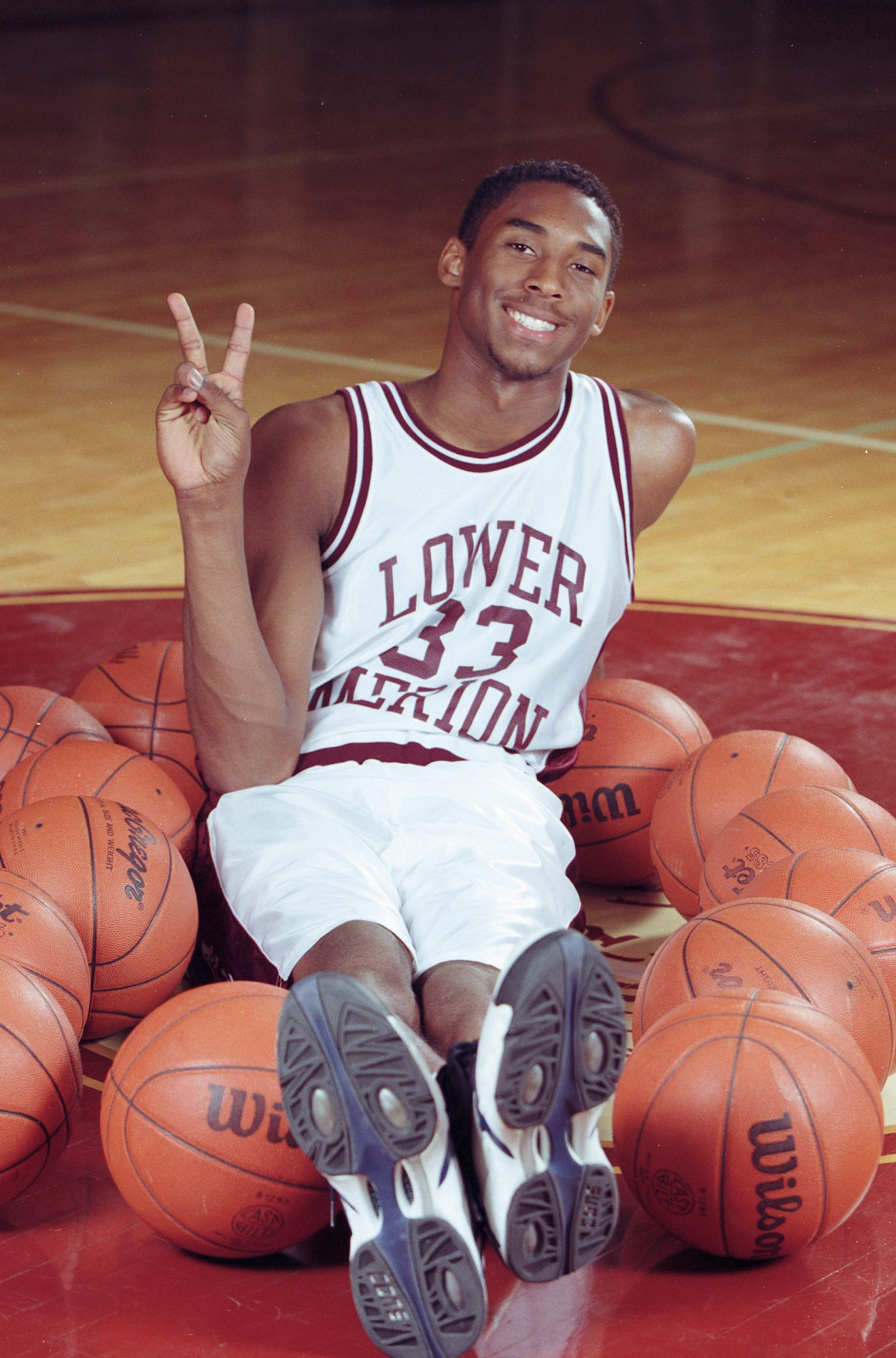 Photo by EILEEN BLASS-USA TODAY
In order to get noticed, Kobe had to play somewhere that saw the top talent congregate and college coaches in attendance. That place was the adidas ABCD Camp, run by footwear legend Sonny Vaccaro.
Vaccaro, often considered the godfather of apparel marketing in basketball, was instrumental in Nike becoming a powerhouse in the college game over the course of the '80s. Not long into his stint with the Swoosh, Vacarro would venture into owning the pro game by assisting Nike in the signing and marketing of Michael Jordan. After an ugly exit from Nike in 1991, Vacarro joined former colleagues Peter Moore and Rob Strasser at adidas, bringing his famed ABCD Camp with him.
To Joe Bryant, it was clear that Sonny's adidas ABCD Camp was where Kobe needed to be to be noticed. At that time, Sonny didn't know Kobe but he knew the importance of his camp.
"The ABCD Camp was acknowledged as the top camp," Sonny Vaccaro told Peter Verry of Footwear News earlier this year when reflecting on Kobe's life. "Joe comes to the camp and says, 'Can you let my son come to camp?' I hadn't seen Joe since 1972." 
The last time Sonny saw Joe? Well, that was in 1972 when the elder Bryant was only a teen and won MVP of the Dapper Dan Classic — an event also put on by Vaccaro.
"I didn't know anything about Kobe Bryant," Sonny continued to FN. "Nor did the world because he was playing in Italy and was just going into his junior year at Lower Merion High School when I met him. We had eight future NBA All-Stars that year. Kobe comes in as this unknown player and he makes the junior all-star team.'"
What Kobe did at the camp was impressive. What he said to Sonny after was even more telling.
"'Mr. Vaccaro, I'm going to come back and be the MVP of this camp,'" Sonny said to quote a young Kobe on The PM Team w/Poni & Mueller. "I knew this kid was brilliant. I just knew he was the guy we were going to make the bet on."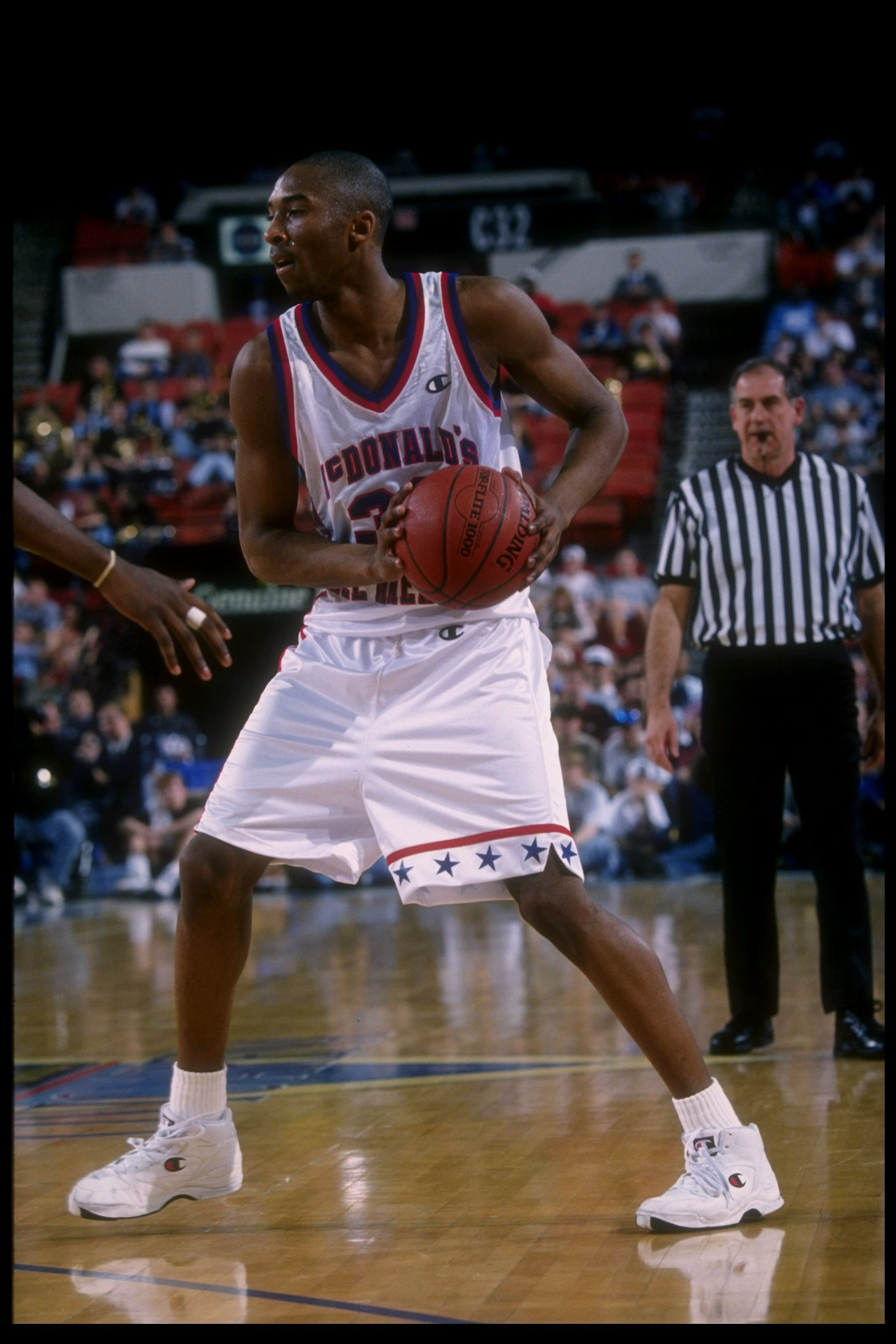 Photo by Doug Pensinger /Allsport
Rising in the ranks as a junior and senior, the camps and AAU circuits were starting to feel the wrath of who Kobe Bryant was but only those close truly knew who he could become. Seeing into the future, Sonny and Joe plotted a path for Kobe behind the scenes that would make him the first guard to jump from high school straight to the pros. 
The vision was that of Vaccaro. The money was that of adidas.
For Sonny to get adidas to back a teenage guard, he had to convince Steve Wynne, adidas America president and chief executive officer in the mid-90s.
"[Sonny] told us when Kobe was in one of our camps at the age of 15 or 16, 'This kid is going to be one of the best players ever,'" Steve Wynne recently recalled to WWD. 
Lucky for Wynne, Sonny was right. Still, adidas had to act fast and be bold to be all in on their big bet.
So, if the ascent from cocky prep at a private school with little clout to basketball brand savior at adidas America sounds quick, it's because it was. From Kobe's ABCD arrival in 1994 to his senior season in 1996, the wheels were set in motion as Kobe began to make his way on the court and adidas planted the roots for an epic rise.
After a standout senior season at Lower Merion, adidas officially inked Kobe during his spring semester of high school in 1996. It was at that moment that Steve Wynne got to know the young prodigy Sonny had been pumping up since he was 15.
"When I finally met Kobe, you realized the basketball talent was there," Wynne recalled to WWD. "This was a really smart, very thoughtful and very dedicated individual. He had a presence unlike any 18-year-old that I had ever met. You just felt the drive and the determination and the willingness to do what he had to do to succeed."
Suddenly, Steve and Sonny had their guy in Kobe even before he played in an NBA game.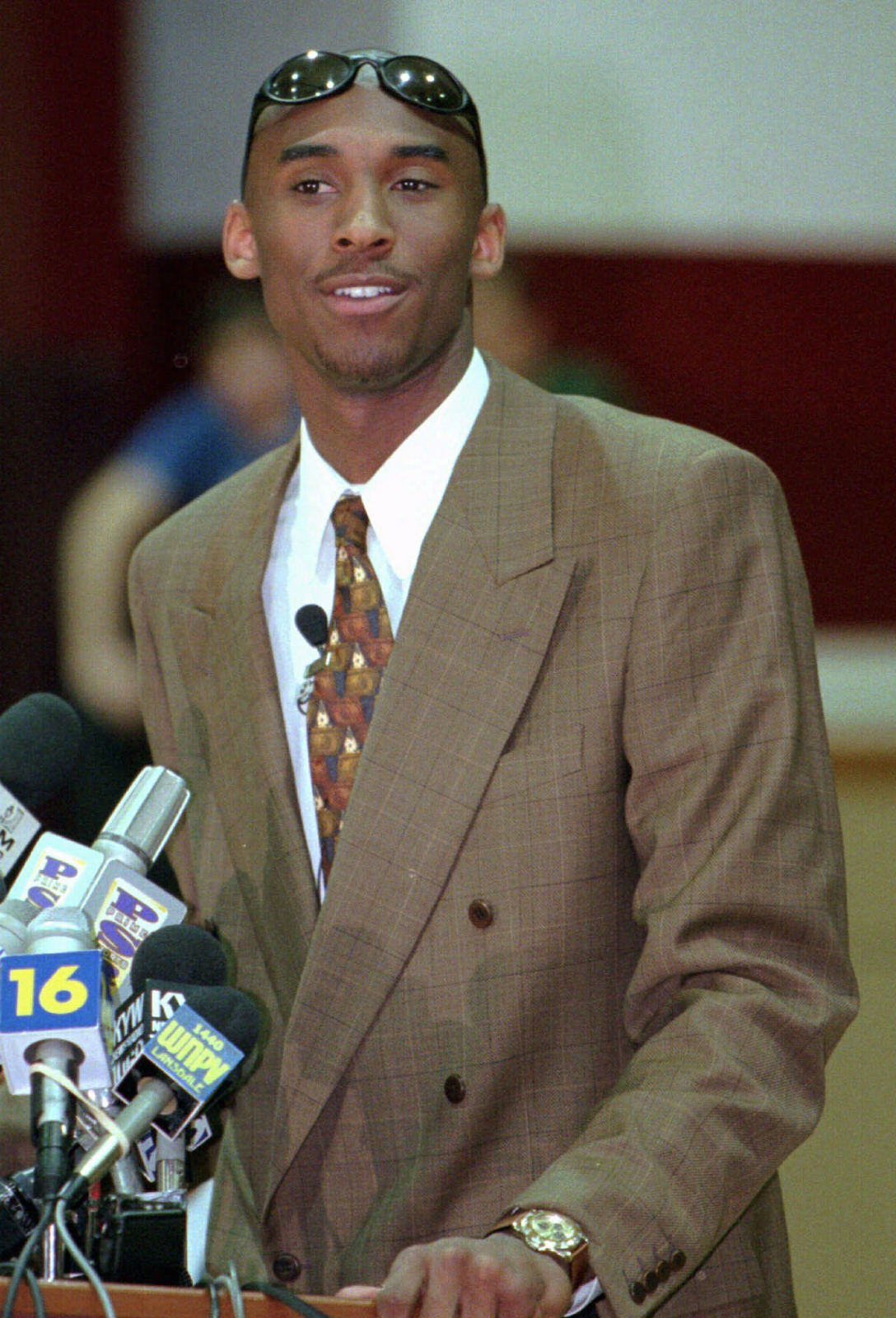 Photo by Rusty Kennedy/AP
Hosting a press conference in his high school gym in a suit and Oakley sunglasses, a teenage Bryant would declare his intentions to enter the NBA Draft and forgo college.
The push, the pedestal and the forecasting was very much that of adidas.
"We had some athletes, but Adidas wanted what Nike had started with Jordan," Sonny said to FN. "Kobe was, to me, our Michael Jordan at Adidas."
Comparing a teenager to Michael Jordan after the Bulls just went 72-10 was considered outrageous at the time. Even more outrageous? Giving a million dollars to a teenager who'd never played an NBA game.
"We took a beating from the New York sports media about him being so young and why were we spending so much money on somebody that way," Wynne later told WWD. 
Not only was the media skeptical, the competition was scratching their heads, too.
"Nike and all the pretenders did not want to mess with a high school guy," Vaccaro said in the ESPN 30 for 30 documentary Sole Man. "There weren't million dollar contracts given out in the 1990s, and there certainly weren't ones given out to a high school kid."
Due to the track record of Vacarro and charisma of Kobe, adidas was able to pull the prep prodigy out of the clutches of Coach K and Dean Smith. The fact that teenagers weren't getting million dollar shoe contracts and guards weren't jumping straight to the pros made Kobe all the more polarizing and thus all the more intriguing. 
The brazen baller and gutsy brand began to build a buzz around Kobe's stock, which says a lot considering the talent rich 1996 NBA Draft Class.
At that point in time, the hometown Sixers had the inside track on Bryant before he even declared to go pro. For years, Kobe had been popping up at practice with the Sixers and was even said to have been beating Jerry Stackhouse so badly in a game of one-on-one that the coaches had to break up the game. 
Still, the Philly front office did not have the gumption to take a teenager #1 overall.

Photo by Tom Landers/The Boston Globe via Getty Images
Over the course of his draft prep, the rebuilding Boston Celtics worked out Kobe and the new look New Jersey Nets were also high on the high schooler with John Calapari coaching the club. 
As it often does, history would repeat itself in the ascent of Kobe Bryant. Just as Joe Bryant's connections got Kobe into ABCD Camp as an unknown in '94, the same fate would come back around in '96 when Sonny would get agent Arn Tellem to get Kobe into a workout with the Lakers before the draft.
Playing in front of famous eyes, Kobe would workout for Laker great Jerry West. As legend has it, West was so impressed by Bryant that he called an early end to the session as he was absolutely certain he had his man. Throwing potential teams off the Kobe trail, he quickly started to position the Lakers as to how they could move up to get the prep prodigy. 
With Kobe's camp starting Italy rumors to scare off the Nets and the Lakers initiating a draft day trade with Charlotte, it all coincided with the storybook setup for Kobe to land in LA.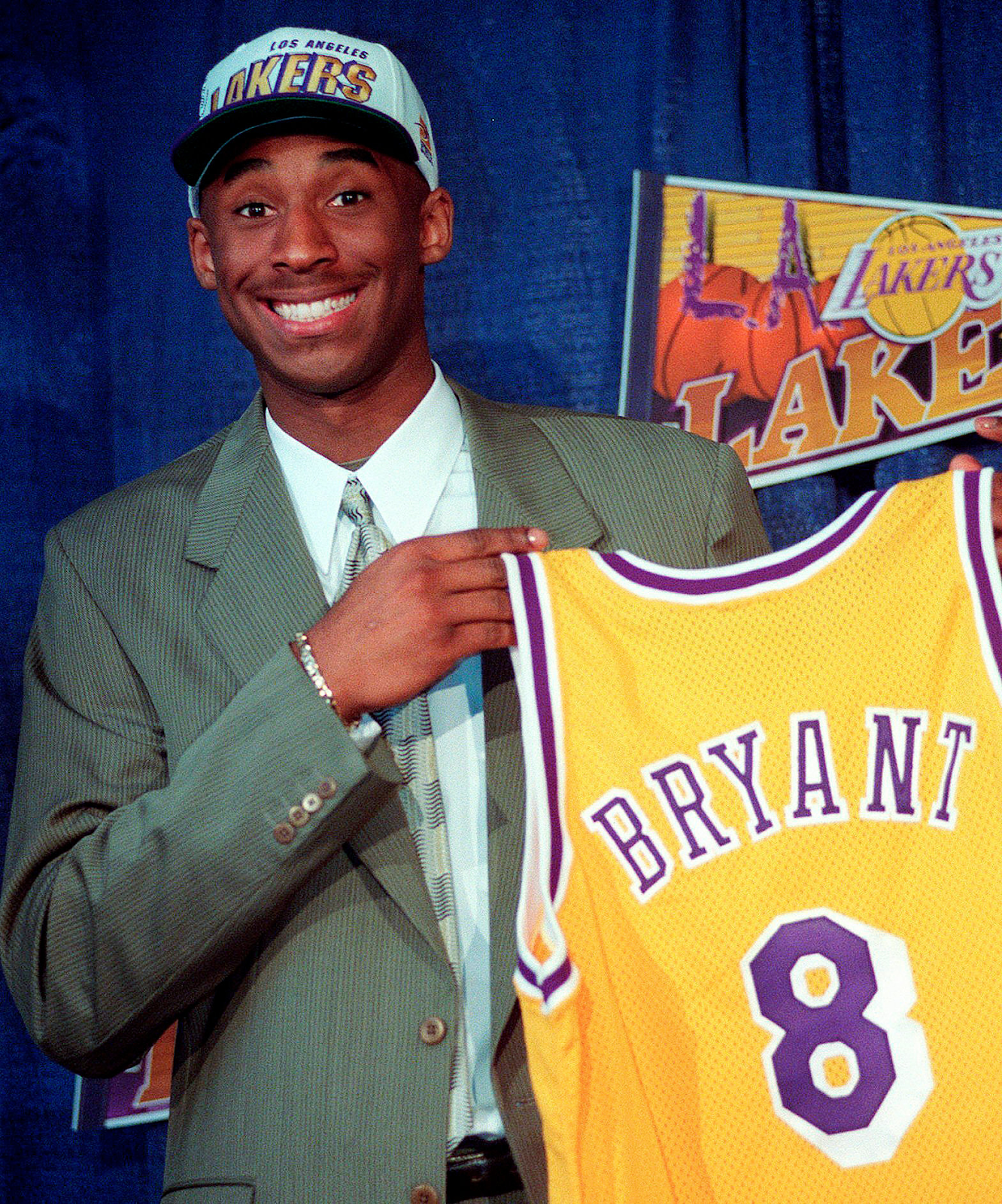 Photo by AP Photo/Susan Sterner
As everyone wanted it, Kobe Bryant was a pro and even better, he was a Laker.
While adidas, Jerry West and Sonny Vaccaro were all sure they had a star on their hands, Lakers head coach Del Harris was more measured. Joining a loaded Lakers roster that had just added Shaquille O'Neal to a nucleus of Nick Van Exel and Eddie Jones, the pressure to win was high and the patience for Kobe was low.
This meant growing pains for Kobe much like the prep to pro players before him.
What was different, though? His investment from adidas.
Over the course of his rookie season, adidas marketed Kobe as the future of their basketball brand before he had the stats to back it. As a rookie, Kobe would play a measly 15 minutes a game and only start in six contests. Nevertheless, adidas had Kobe highlighted in TV commercials and print ads that played across the country. The buzz around Bryant made kids love Kobe across the country even if he was getting bench splinters in LA.
Midway into his first season, Kobe's showing at the 1997 NBA All-Star Weekend in the Slam Dunk Contest and Rookie Challenge would foreshadow Kobe's bravado for the big stage that the brand would leverage coming into his second season.
In year two, Bryant would have a signature shoe in the adidas KB8 before he had a starting role in LA. A fan favorite, he'd have a starting role with the Western Conference All-Star Game ahead of the actual starters on the Lakers.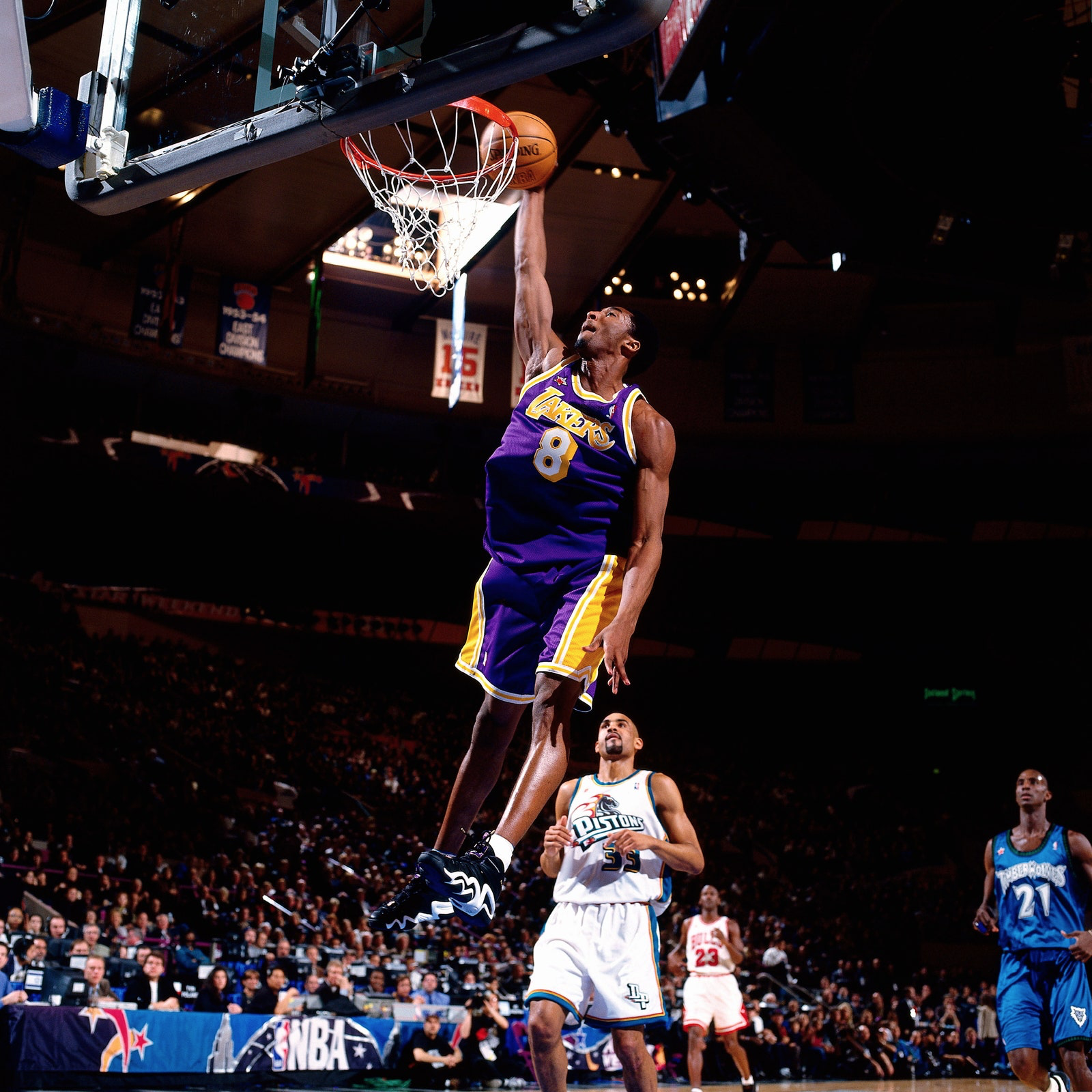 Photo by Andrew D. Bernstein/NBAE via Getty Images
Even before the Lakers were ready, adidas was ready. 
Kobe's All-Star ascent and larger than life marketing campaign would pave the way for adidas to lure more preps to pro with more brand leverage and similar returns.
"Kobe Bryant made adidas in America viable," Vaccarro told The PM Team w/Poni & Mueller Radio Show. "Next year we had Tracy McGrady."
Once again, prep to pro happened that quick. Shortly after Kobe's adidas arrival, Tracy McGrady would take the same path from obscurity to ABCD Camp MVP as adidas signed the teenage T-Mac to a six-year, $12 Million deal.
Like Kobe, McGrady would leap into the draft straight out of high school and become a lottery pick. Also like Kobe, he'd have growing pains early on but soon become a perennial All-Star and lead his own shoe line.
Kobe would pave the way for adidas to sign prep to pro prodigies before they were household names like Jermaine O'Neal, Tracy McGrady, Josh Smith, Sebastian Telfair and Dwight Howard.
They'd also pave the way for Nike to do the same after Kobe — even if it only happened in a major way once.
"Kobe allowed LeBron to exist because Kobe is the one LeBron identified with, much more than Michael," Sonny told FN on Kobe's impact. "Kobe was more logical to be the idol for LeBron. We had Kobe help us recruit LeBron. Kobe spoke at ABCD Camp when LeBron was a player there."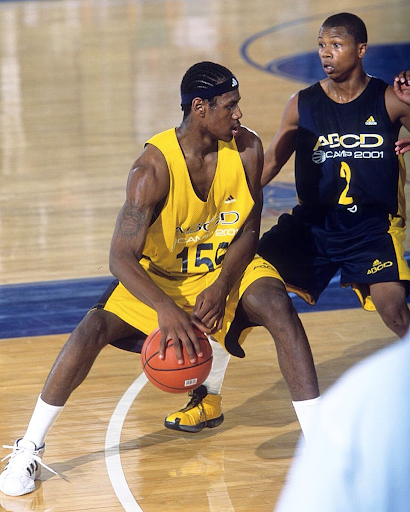 Photo by Damian Strohmeyer /Sports Illustrated via Getty Images
As famously known, LeBron would not sign with adidas but rather Nike. So upset by botching the deal, Vaccaro would leave adidas because of this even if he was the one who helped pave the path for it all to happen.
Because of Kobe, adidas, and Vacarro, LeBron James' ultimate earnings from Nike as a high schooler would be a seven-year, $87 Million deal with a $10 Million signing bonus. 
Sadly for the Stripes, the summer of 2003 would see LeBron land at Nike and Kobe eventually join the Beaverton brand as well. In 2005, the NBA would institute an age minimum rule that would halt the prep to pro jump and play a part in the one-and-done landscape we live in today. 
Still, it would be Kobe's original adidas deal that created the landscape for the NBA's youth explosion and sneaker signings across the board to come.
"Signing Kobe Bryant not only established adidas amongst the young players, but it obviously was a shot across the bow at Nike," noted Yahoo!'s Dan Wetzel in Sole Man. "There was a new way of doing business and it all focused on how you could establish relationships with high school basketball players."
A story seldom told, the vision of Vacarro and backing of adidas totally changed the landscape of the NBA through Kobe Bryant. As the world remembers Kobe and the NCAA and G-League contest the earning power of a prep, it was Kobe and adidas that created the upfront footwear money for every prodigy to follow.

Photo by LA Times