Since day 1, SoleSavy's mission has always been the same: Help our members get the sneakers that they want for retail. Over the years, we've grown our product offering to now include the DROPS app and COLLECT to go on top of the best sneaker community in the space. If you're a member, you know how valuable the community, information, tools, and resources that we provide are when it comes to release day.
One of the more underrated benefits of having a SoleSavy membership is how much money you actually save in the long run. Hear me out: you can save money while buying sneakers that you really want 🤯. That's every sneakerhead's dream. 
How exactly do we do this? Read below to view four different scenarios in which SoleSavy helps you save money on sneakers.
1.) Get General Release Sneakers for Retail on-the-Go
If you're buying, on average, anywhere from 4-6 sneakers a year from secondary marketplaces (this number probably seems a bit low for sneakerheads), you're leaving money on the table. With our guided release strategy and DROPS app that sends notifications directly to your phone, all of these sneakers were very attainable by our members on release day.
Check out the graphic below: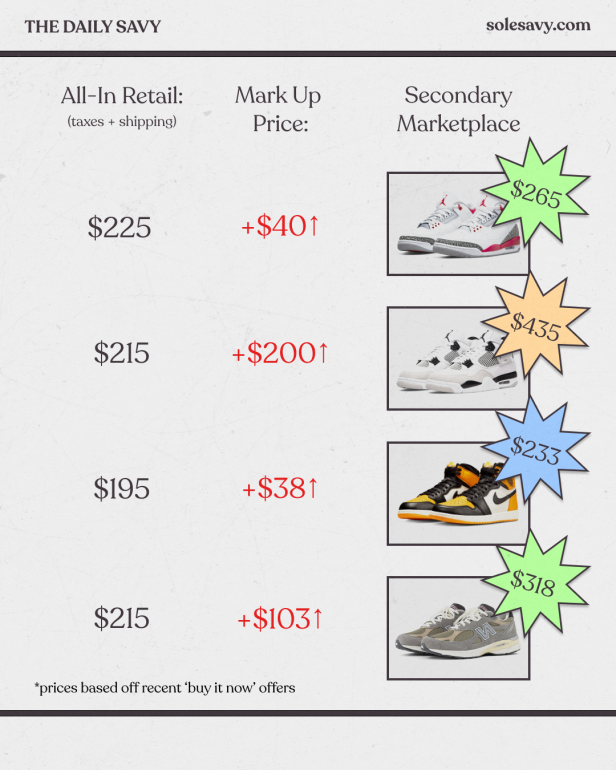 2.) Limited Collaboration Sneakers: Don't Pay Resell Prices
A Ma Maneire x Air Jordan 4. Union LA x Nike Dunk. JJJJound x New Balance 990v3. What do all these sneakers have in common? 
Besides being on everyone's end-of-year Top 10 list, these special collab releases are where our Premium membership tools and resources shine. With 1:1 guided support, live release lounges, and ASSIST by SoleSavy, you won't feel more confident going into a secret site release than with us.
Take a look at this: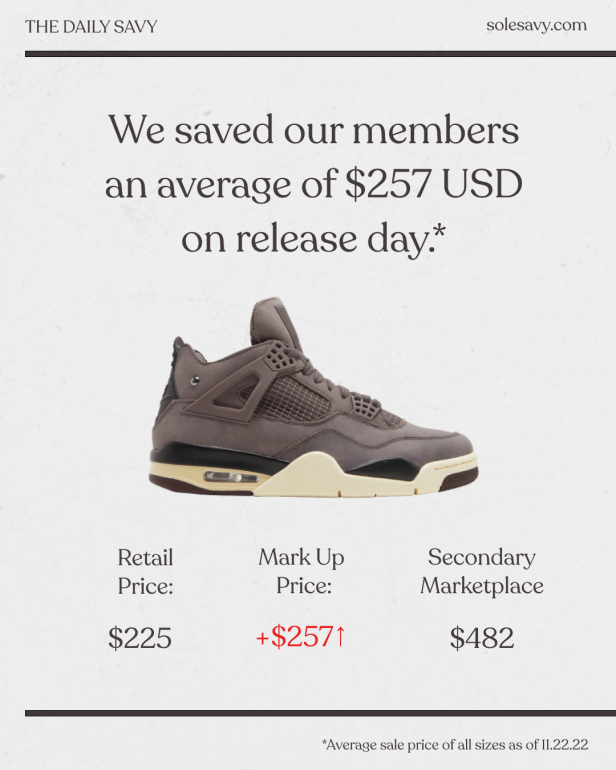 On average, we saved members $257 on release day. (that's over the price of a yearly membership !!!)
3.) Get Early Access & Special Discounts
There's no denying everyone loves a good deal. Between deals with exclusive retail partners and our own store discounts, there are plenty of savings to be had.
What's even better than a great deal? Getting early access to a sneaker you know will sell out. It's hard to put a dollar value on that, but we all know the feeling of knowing a pair you've wanted is coming your way.
Check out some examples of sneakers we've gotten members early access to & provided some discounts on launch day: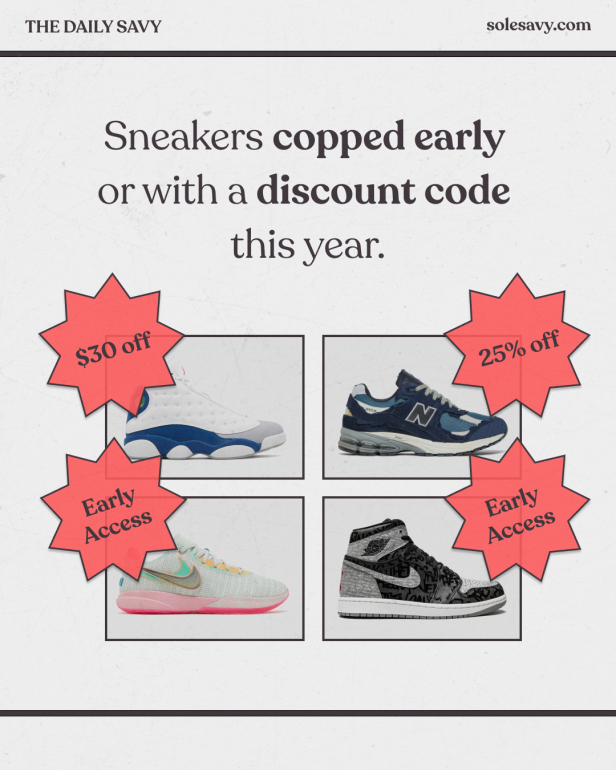 We're always on the hunt for the best deals and retail partners for our members to provide additional value outside of sneakers for retail.
4.) Save Money on Fees When Buying, Selling, & Trading
A premium membership grants you access to COLLECT by SoleSavy, the marketplace built by sneakerheads for sneakerheads. We're the only marketplace where sneakers are priced for retail or less, AND we have the lowest fees in the industry. 
Check out the average price paid on COLLECT vs. other marketplaces for a pair of Air Jordan 1 'Taxis':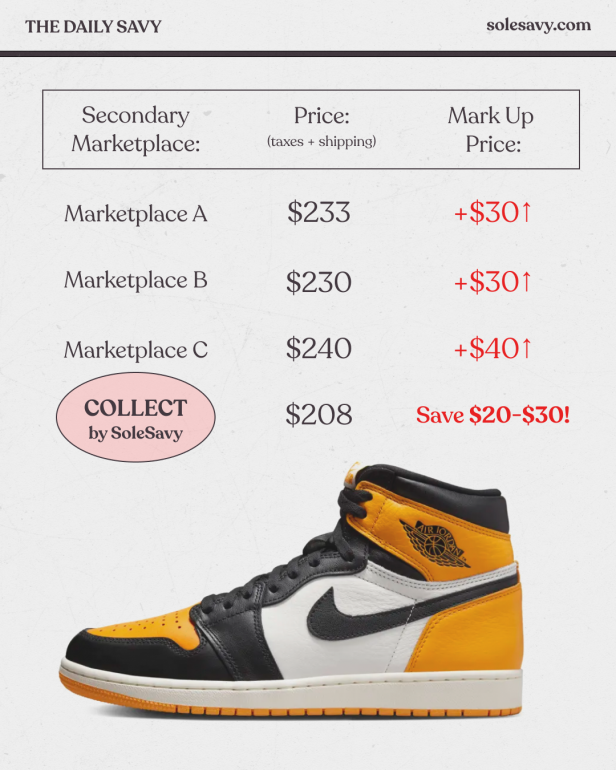 Buy, sell, and trade as many times as you want, and ensure you're getting the best deal or the most cash to upgrade your rotation with COLLECT.
To conclude, SoleSavy not only gets you the sneakers you want for retail but also provides you with savings you weren't expecting or thinking of when you first started. If you add up all the potential savings above, the membership pays for itself time and time again.
Come for the sneakers, stay for the community.
Join SoleSavy to enjoy full membership benefits. Buy sneakers for retail with our tools and tech, shop the COLLECT marketplace app with zero fees, and join an exclusive community of sneakerheads.
Try SoleSavy's Mobile Plus Plan to unlock our mobile-only benefits like release guides, raffle lists, and Drop Alerts. Mobile Plus is a great alternative if you have less time to chase but still want to cop on the go.