Well, another day, another successful release. Right?
The Air Jordan 3 x J Balvin has been circled as one of the top releases of the year ever since sneakerheads got an early look at them months ago.
We expected there to be an early drop ahead of the official launch date of September 23rd, as J Balvin's merch page had been teasing a drop for a couple of days, prompting people to enter their email for updates.
Many people came into drop day thinking they'd have a good chance at W as there has been a blueprint for successful launches recently across multiple release methods.
While we did get an 'early drop' by definition, the launch wasn't exactly executed as smoothly as we had all anticipated.
Here's a full breakdown of what happened:
Sunset Drop Cancelled
Initially, J Balvin planned to shock drop at sunset in Medellin on Thursday at 6:59 PM CST. We had been monitoring the site for any changes, and shortly before the expected release time, payment methods were loaded to the store, and bot protection was turned on.
The release was delayed due to technical issues, and an email was sent shortly after communicating a Friday Noon EST launch time.
What's the Password?
The J Balvin Merch store was password protected ahead of launch with the expectation they would share the password with everyone via email or on their Instagram story.
Instead, the password, 'dient3$' was only sent out to select email list subscribers around 12:07PM EST  – leaving everyone else in the dark while some were able to begin the checkout process.
The password was then communicated to members in our live Zoom, allowing them to enter the store to purchase a few minutes after "early access" went out via email.
Password Removed
At 12:13 PM EST, the password page was taken down, and dient3$ was no longer required to enter the store to purchase.
At this time, the "early access" email for users who signed up for the newsletters was sent out telling them it was time to "shop now," but at this point, the release was almost sold out, as multiple people were already checking out, or waiting in the queue to check out.
Getting In To Queue
Those who entered the site with a password were met with short queue times, while the "real fans" who couldn't get in until the password page went down were faced with a 6+ minute wait in the queue.
Getting in to the queue after completing bot protection is the most important step to a successful release.
The Benefit of Launching with EQL
This release was listed as a "pre-order", with pairs shipping on October 5th. The site was stocked with fewer than 5,000 pairs – which is very limited, especially for a FCFS online launch.
For a release like this, where demand is high and inventory is low, we recommend EQL; which helps real fans get their hands on products in the fairest way possible.
An EQL launch:
Would have saved fans time and allowed ALL of them to participate during the launch window.
Prevented bots from capitalizing on the leaked password.
Would make it fair and ensure real fans get their hands on the product.

To learn more about EQL, visit EQL.com or listen to our podcast featuring the CEO, Andrew Lipp.
Social Reactions
Obviously, a lot of consumers were caught off guard by the time the shoes were actually selling through. Many expected to be notified via email, social, or another platform, but by the time that happened, most of the stock was gone.
Because of our live Zoom and expertise, some members were still able to cop because of the real-time assistance + the leaked password….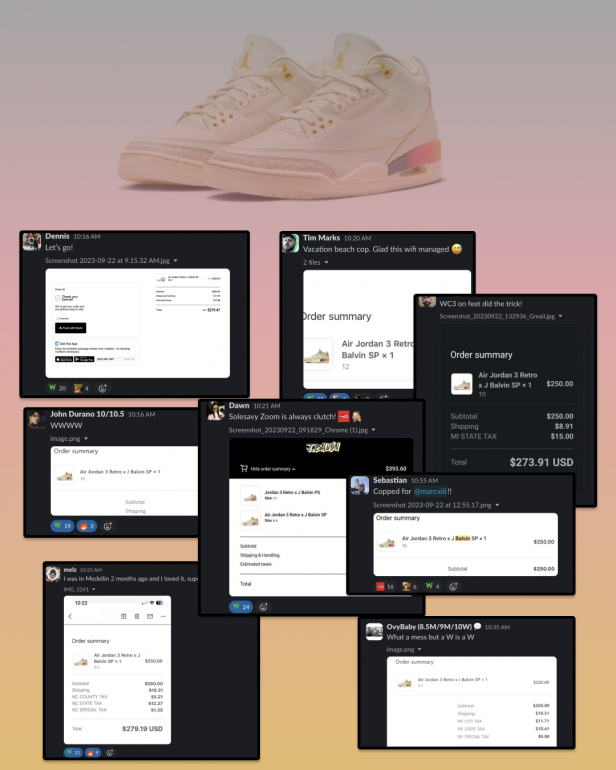 Others weren't so lucky, and it led to a lot of chaos on social: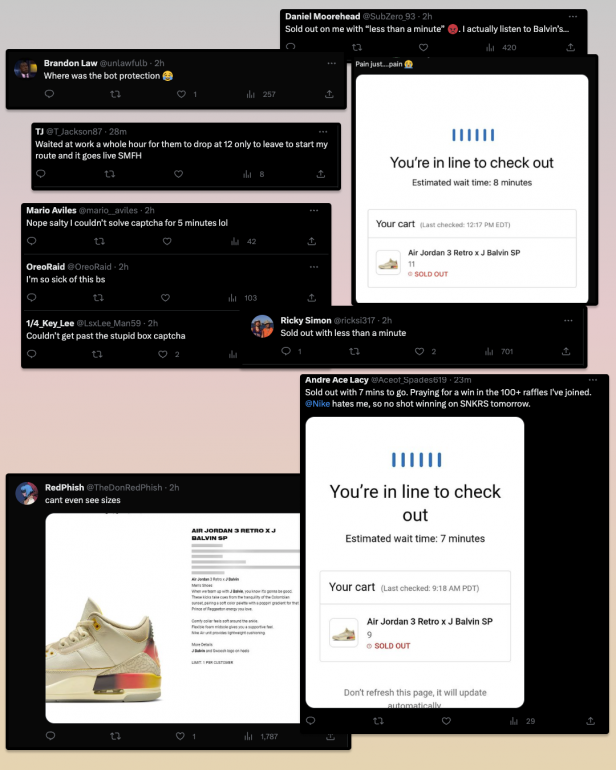 Overall Thoughts
A follow up from earlier: Obviously it is pretty much impossible to make everyone happy when it comes to a high heat release and for me it comes down to did the store try and was it fair? Today's J Balvin release can be split up into two categories.
Communication: This is where they struggled the most. A series of IG story updates, pop ups and various marketing tactics all directed potential customers of any interest levels to submit their email for access. The communication around "Early Access" ahead of launch was always concerning for me because it did not seem exclusive in nature (like when SNKRS does EA) and instead seemed like a generic email blast. Everyone got the email about "early access" on Thursday after the release did not occur as planned. This set expectations poorly, everyone thought going into the launch they would have the same access and chance at the shoes but that was not the reality. What actually happened was a pre-determined set of customers got an email WITH the password in it before others did. So around 12:07PM EST that password went out as "early access" to select customers and then by 12:11PM EST it had leaked everywhere and it was a free for all. A few minutes later at 12:13 PM EST the password was taken down and emails to everyone began to arrive. The way this was communicated and then rolled out ultimately is a failure in my books. Especially when you consider that stock was limited for them, lets average up, to 5K or less pairs. This should not have been a FCFS release and should have been a raffle.
Execution: Execution was shaky, from the get go email is not a good method of instant distribution of information. There is always a lag which is why it was great to see Crenshaw Skate Club and Corporate communicate their passwords via IG story. From there the release was doomed for anyone who didnt get into the queue before 12:12PM EST. The store product page theme itself also struggled mightily to load sizes which of course slows down real customers. While Shopify bot protection did it's part for the release, the actually process of making the product available set up many customers for failure from the jump which is the opposite of what you want. Give everyone the same start, and if you don't win, that's unfortunate but at least you had the same chance as everyone else.
While I am happy to see a lot of members win, it is still unfortunate that an exciting release like this went so poorly. The Balvin team on this release did try and seemed to care but IMO were not technically sound enough and informed enough to properly execute this release if they really wanted to do "early access". From my point of view, this release looks to have been run by Universal Music and email acquisition for future singles, album releases and ticket sales was probably goal #1.