Kanye West has never been afraid to ask tough questions.
"How I'm supposed to stand out when everybody gets dressed up?" enquired Kanye on Graduation. 
Posing the question in 2007 to everyone seemingly but himself, it had long been clear that Kanye had no trouble being an aesthetic outliner in any arena. 
Just years prior, the hyper-confident kid from Chicago cut through the throwback jersey dress code at Baseline Studios by popping up in pink Polos akin to Zach Morris and Carlton Banks. Shortly after his second album, he was going ultra Travolta at the Grammy Awards, rocking an on-the-nose homage to Tony Montana.
Having pushed the limits of prep when presenting beats to State Property and turning music red carpets into an Al Pacino-themed Met Gala, Kanye West was comfortable crossing all lines of decorum by the time his records topped the charts. This same hubris proved true anywhere and everywhere, not surprisingly amplified at Fashion Week in Paris, France.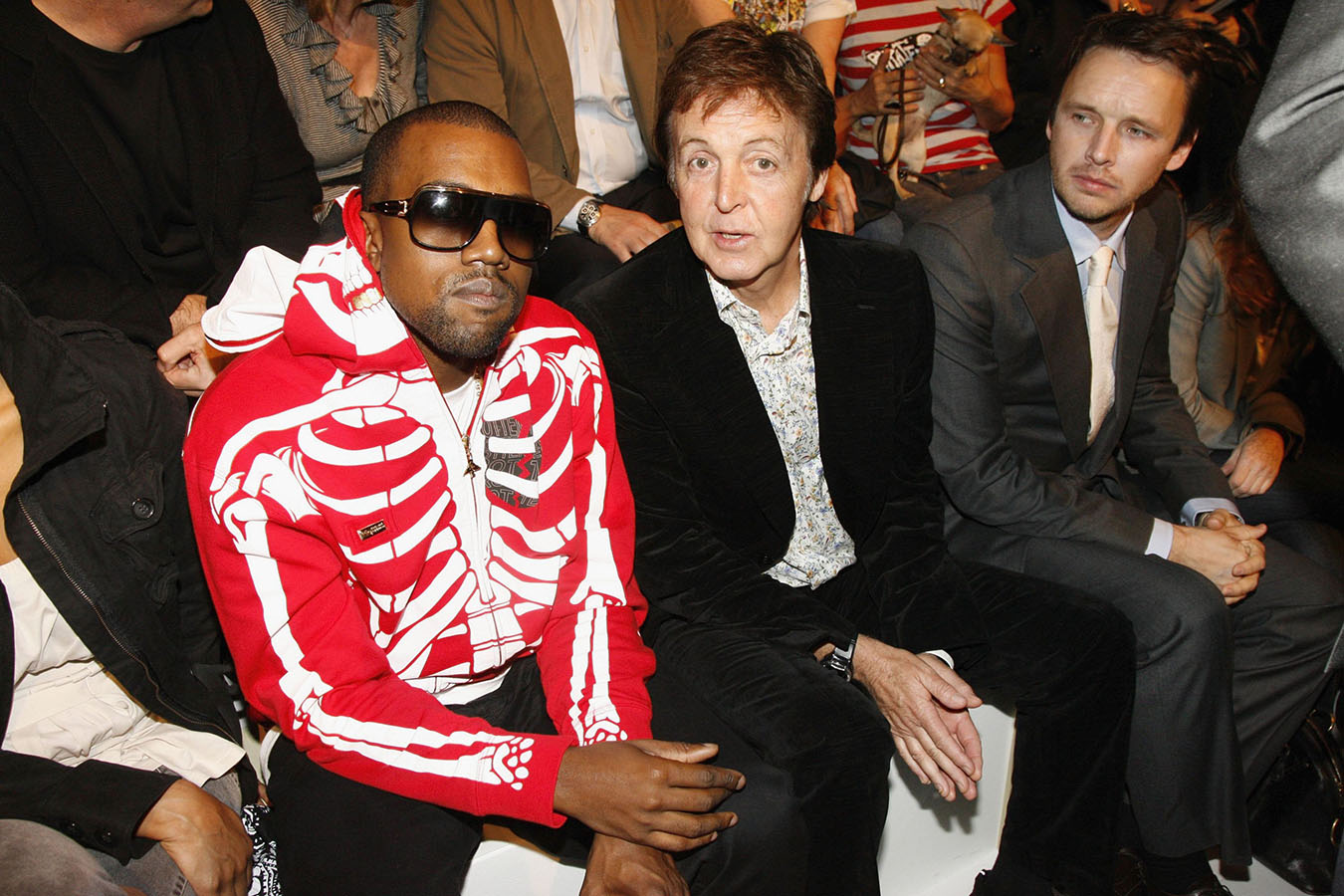 (Image via TIME)
Seated between then-fiance Alexis Phifer and Beatles legend Paul McCartney, Kanye West quite literally stole the show at Stella McCartney's S/S 2007 Paris presentation by wearing a bright red hooded sweatshirt in the front row. 
Standing out while sitting down, Kanye commanded attention by rocking what most would consider errand attire at Paris Fashion Week. The bold hue popped in a sea of black and beige blazers, muted only to West himself who was of course wearing sunglasses indoors. 
The always confident Kanye had completely flipped the script by going casual, but the bravado didn't stop there.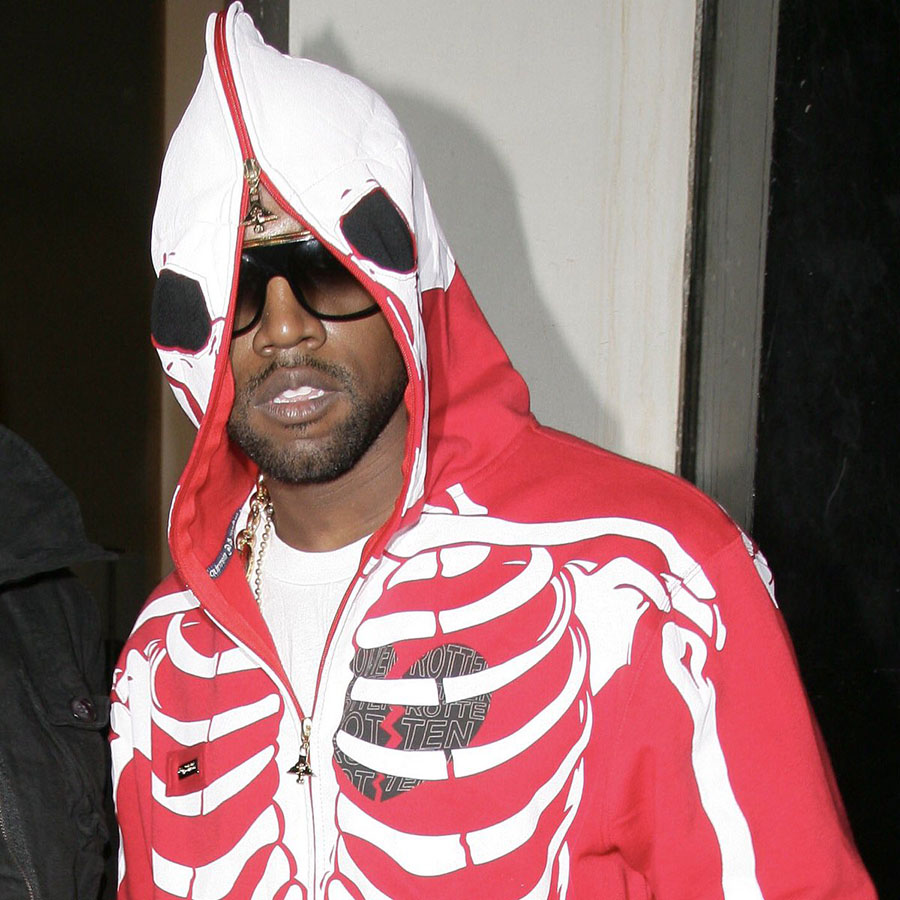 (Image via Sole Collector)
Made more obnoxious – and thus iconic – through skeleton styling, golden hardware and full-zip capabilities, Kanye's red hoodie in the front row had to appear like a children's Halloween costume to Parisian peers. As soon as pictures were posted, it ignited a forum frenzy for certified Stans of the rebellious rapper. 
After photos started circulating sites like NikeTalk, fans found out exactly what Kanye had popped up in at the fashion show: the upcoming Dead Serious Hoodie from Lifted Research Group, better known as LRG.
Born in Irvine, CA back in 1999, LRG was the brainchild of SoCal DJs Jonas Bevacqua and Robert Wright. Often modeled by rappers ranging from an on-the-rise Kanye West to just-bubbling Wale, the streetwear upstart was meant to be a 'bridge between skateboarding and hip-hop.'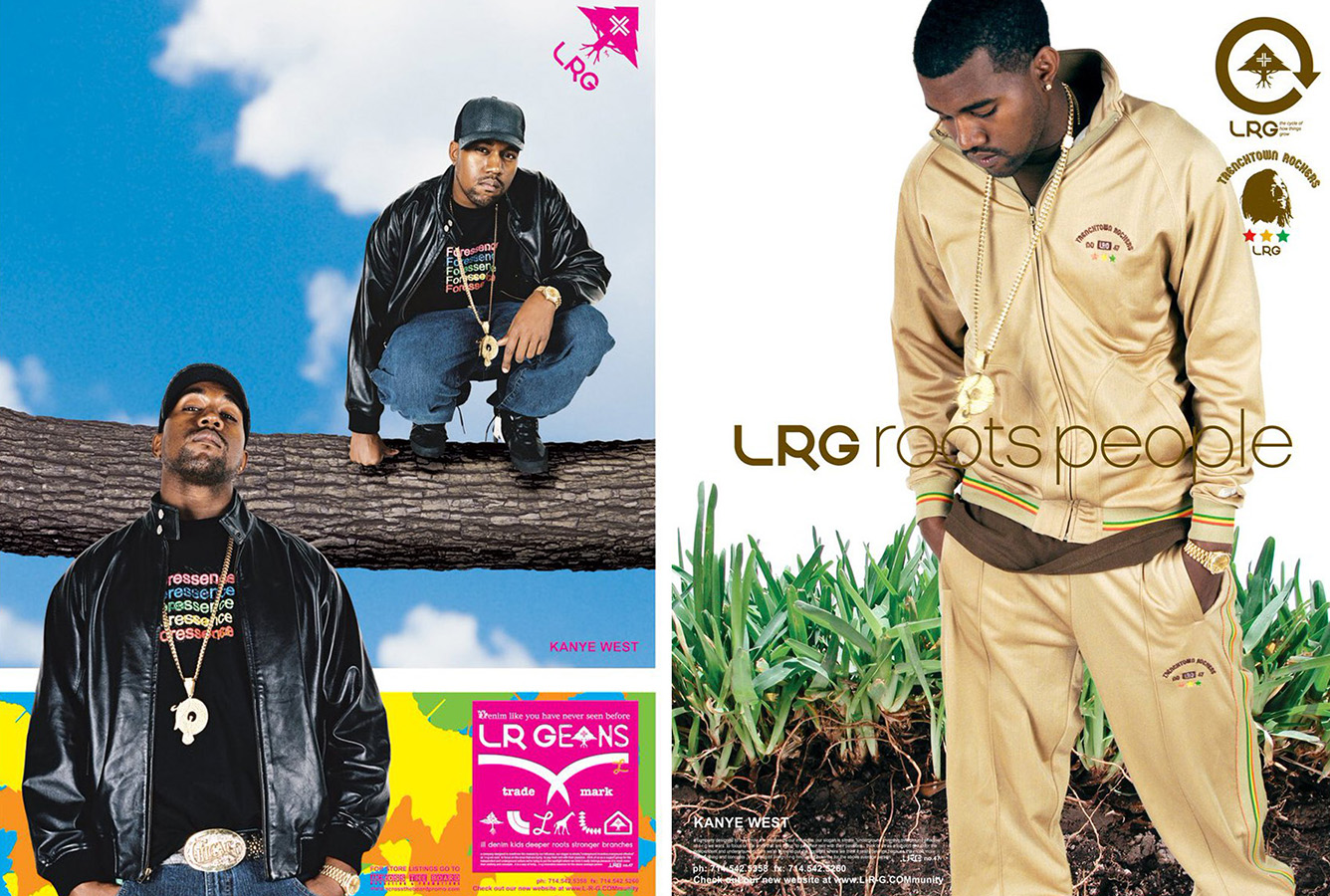 (Images via Modern-Notoriety)
Over the course of LRG's growth, their designs, advertisements, and retailers reflected exactly that bridge. 
By 2006, the year the Dead Serious Hoodie was worn by West and released at retail, skateboard fashion and hip-hop were more merged than ever. Outside of Kanye's keen co-opting, many artists were really out there with Pharrell, Lupe Fiasco, and Lil Wayne dressing the part. Just the same, skaters like Terry Kennedy and Jimmy Gorecki were bringing hip-hop flavor to the sport. 
Even outside of SB accounts and rap concerts, the world was catching up to the convergence of skate, hip hop, and fashion. Heck, even the Stella McCartney show that Kanye was at played "Vans" by The Pack on the runway.
Simply put, the timing couldn't have been better for LRG and the Dead Serious Hoodie. In 2006, LRG did a whopping $150 Million in sales and even released a collaborative Sidekick phone with T-Mobile.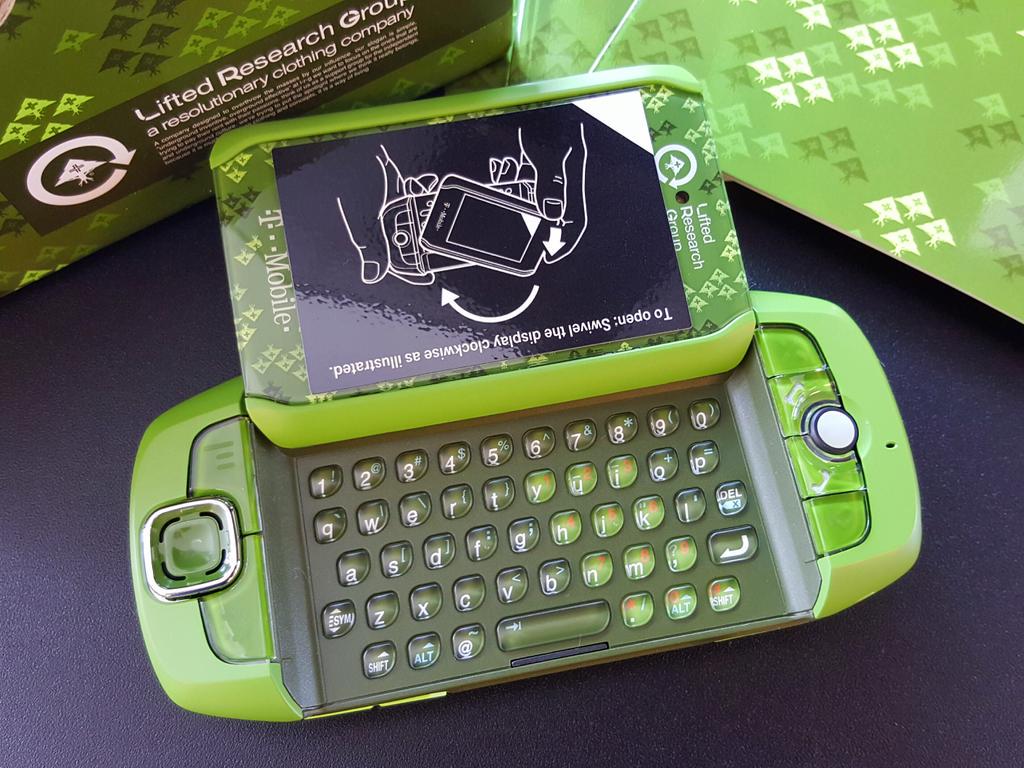 (LRG x T-Mobile Sidekick via @askdes/Twitter)
That year, the game was ripe for LRG to release their statement product. No one was more brazen than Kanye to wear the hoodie – not just when he wore it but where he wore it. Detailed with mesh eye holes and glow-in-the-dark bones, the Dead Serious Hoodie was fresh and arguably functional. It was high on novelty and endorsed organically by the flyest in the game. 
Rumored to be limited to 8,000 units, allocations were similar to an LS Air Jordan but the hype was way bigger. Like coveted SB Dunks from that era, shops had the power to play with the pricing, with some starting the hoodie at $175 and others pushing it for over $200. Even the early age of resellers were asking for $300 a pop. 
This was major considering the growing hoodie market at that time. 
In 2006, a plain Nike SB hoodie could easily be copped from a skate shop for south of a hundo. Conversely, buying a coveted BAPE Shark Hoodie meant not only having major bread but also having a big homie in either SoHo or Harajuku.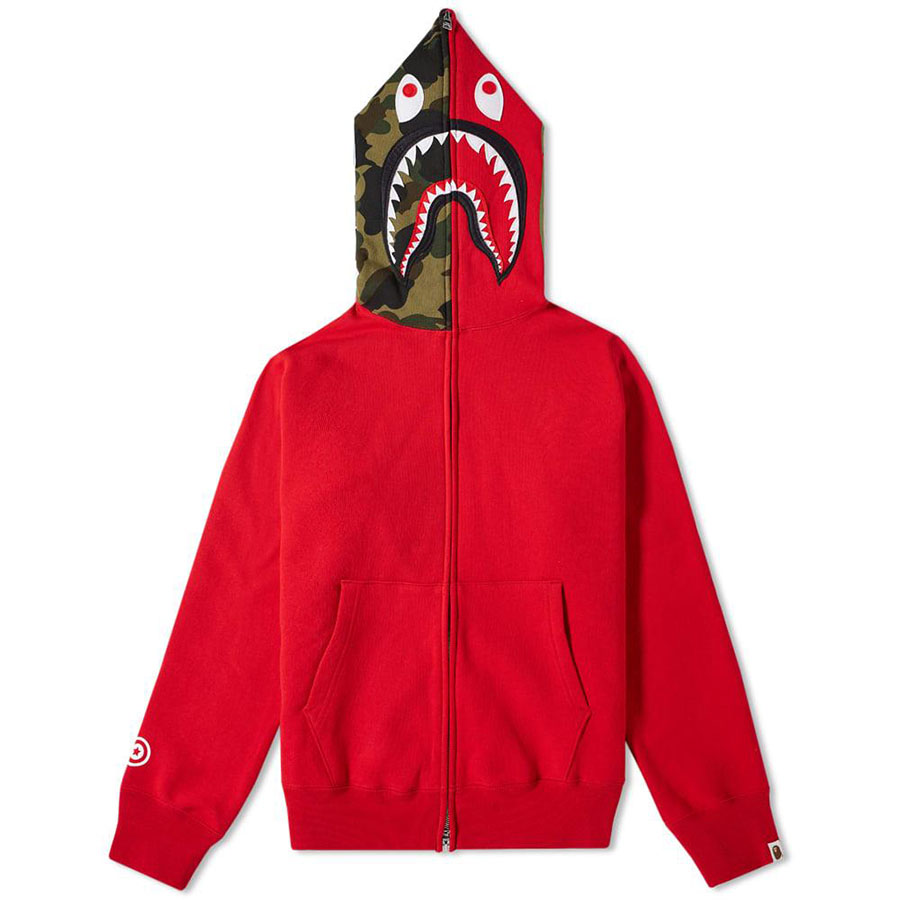 (BAPE Shark Hoodie via ModeSens)
Simply put, everyday fly folks had a real chance to get the Dead Serious Hoodie. 
However, it was still a quest to acquire and often expensive. 
For context, the LRG Dead Serious Hoodie could be compared to the first Yeezy launches from Nike and adidas or even a Travis Scott x Jordan release today. That's how hyped the Dead Serious Hoodie was in 2006 when adjusting for the inflated space we live in today.
Even so, there were more loopholes when compared to copping any of today's heat. In 2006, boutiques were built on word-of-mouth marketing and the Internet was much less interconnected. While modern-day resale platforms certainly come with a sense of greed, they also provide a different insurance than sending a money order to a stranger from a forum.

(Images by Ben Baller)
By 2007, the sequel to the Dead Serious Hoodie came by way of LRG's Jason Hoodie. First seen on Ben Baller through posts on NikeTalk, the $110 ode to Friday the 13th made waves but not like its skeletal predecessor. Soon enough, the full-zip wave the BAPE started, and LRG amplified had hit the masses through Pac-Sun spin-offs and even a brutally bad Jordan Brand design.
Like Shutter Shades and Box Logo tees, the Dead Serious hoodie became victim to mall-stand bootlegs and less than lively flips on the original, effectively killing the skeleton sweater for those that were first on the pulse. In fact, a viral photo even showed Jonas of LRG burning boxes of Dead Serious Hoodies as a polarizing statement on the tiredness of the hype.
Even for those that did have it, it was the definitive "one wear" item or "every other month stunt" because it was so obnoxious and instantly recognizable. 
Despite its short life span, the Dead Serious Hoodie had an ultra-bright moment in the sun and is an essential piece in the story of streetwear and hype culture. Debuted by Kanye West, worn by Swizz Beatz, chased by a legion of NikeTalkers, and eventually ending up as a reference in Grand Theft Auto, the hype was real and unparalleled for a piece of that nature.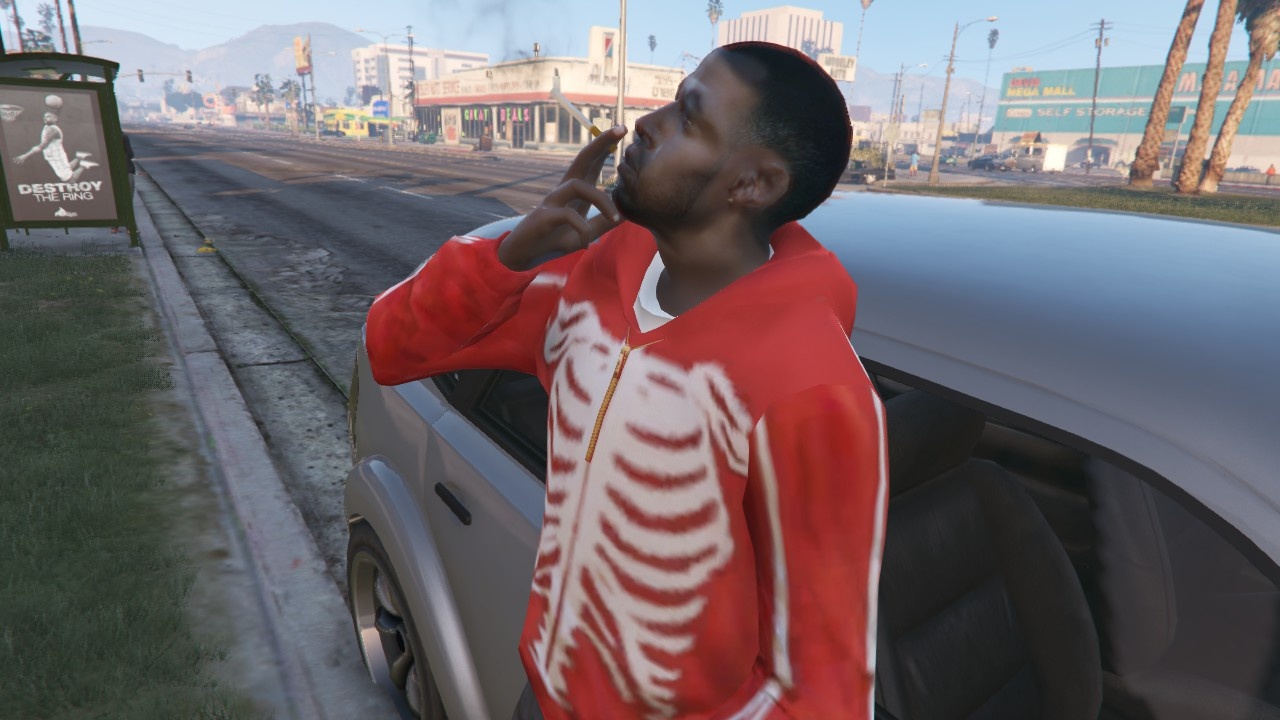 (Image via 9-Mods.net)
While peers existed in the hoodie space, none had quite the same impact. In 2006 when Internet culture was still in its infancy, you had to cross timezones to cop BAPE or frequent Fairfax to have a chance at Supreme. LRG not only bridged the worlds of hip-hop and skate, it filled a void in American streetwear that was both elevated and available. 
In many ways, the Dead Serious Hoodie was the streetwear equivalent of the Air Jordan Defining Moments Package – a pinnacle release from an accessible brand that required coin, connections, and chase to acquire. If you had this sweatshirt in the mid-2000s there was no doubt you were both in it and of it when it came to collectible culture. 
In a year that's seen the return of the "Lightning" Air Jordan 4s and "South Beach" Nike LeBron 8s, the LRG Dead Serious Hoodie is cut from the same cloth of culture and arguably more iconic to collectors of a certain age. As Peter Yeh put in on The Hundreds Blog, "If you were looking for a time when streetwear was no longer the little stepbrother of sneaker culture, then this was it."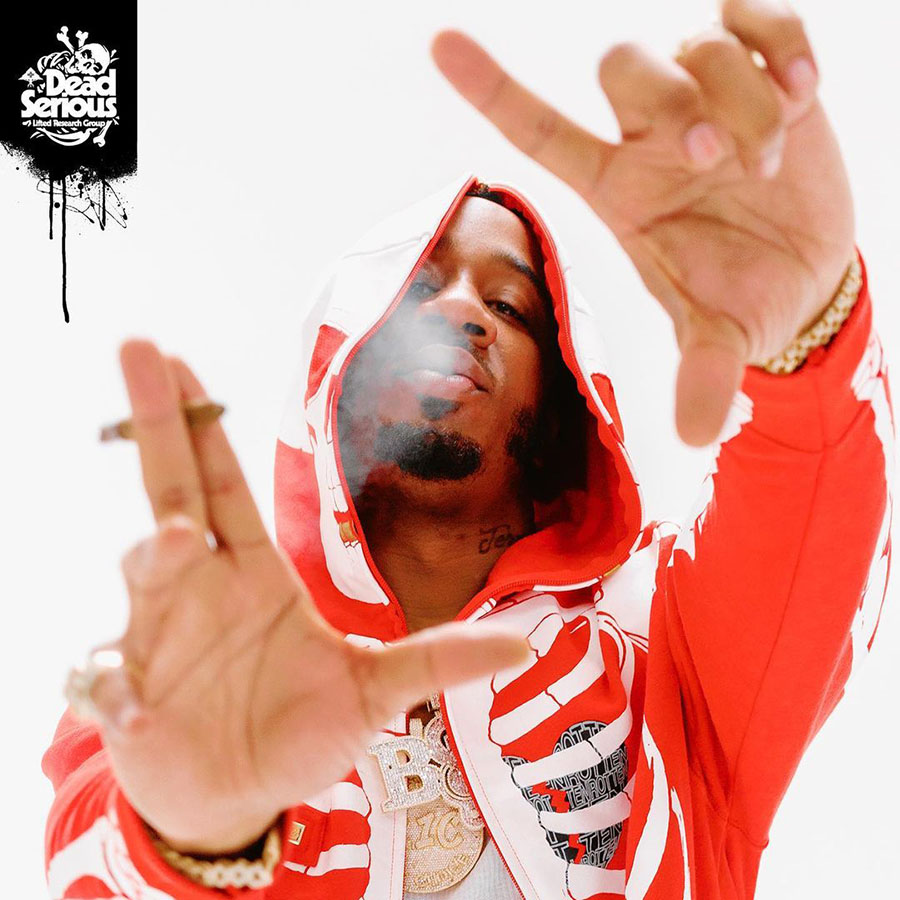 (Image via LRG)
In 2021, the Dead Serious Hoodie is back. 
Modeled by Benny the Butcher and brought back for its 15th anniversary, LRG's Dead Serious Hoodie returns in both black and red original colorways. The choice to have Benny unveil the retro version is in line with LRG's early ethos, placing their product on an artist that represents where hip-hop is going while keenly understanding where it's been.
Evolving from a standout piece on Kanye to a cultural callout for those that came up in the 2000s, the LRG Dead Serious Hoodie lives on.