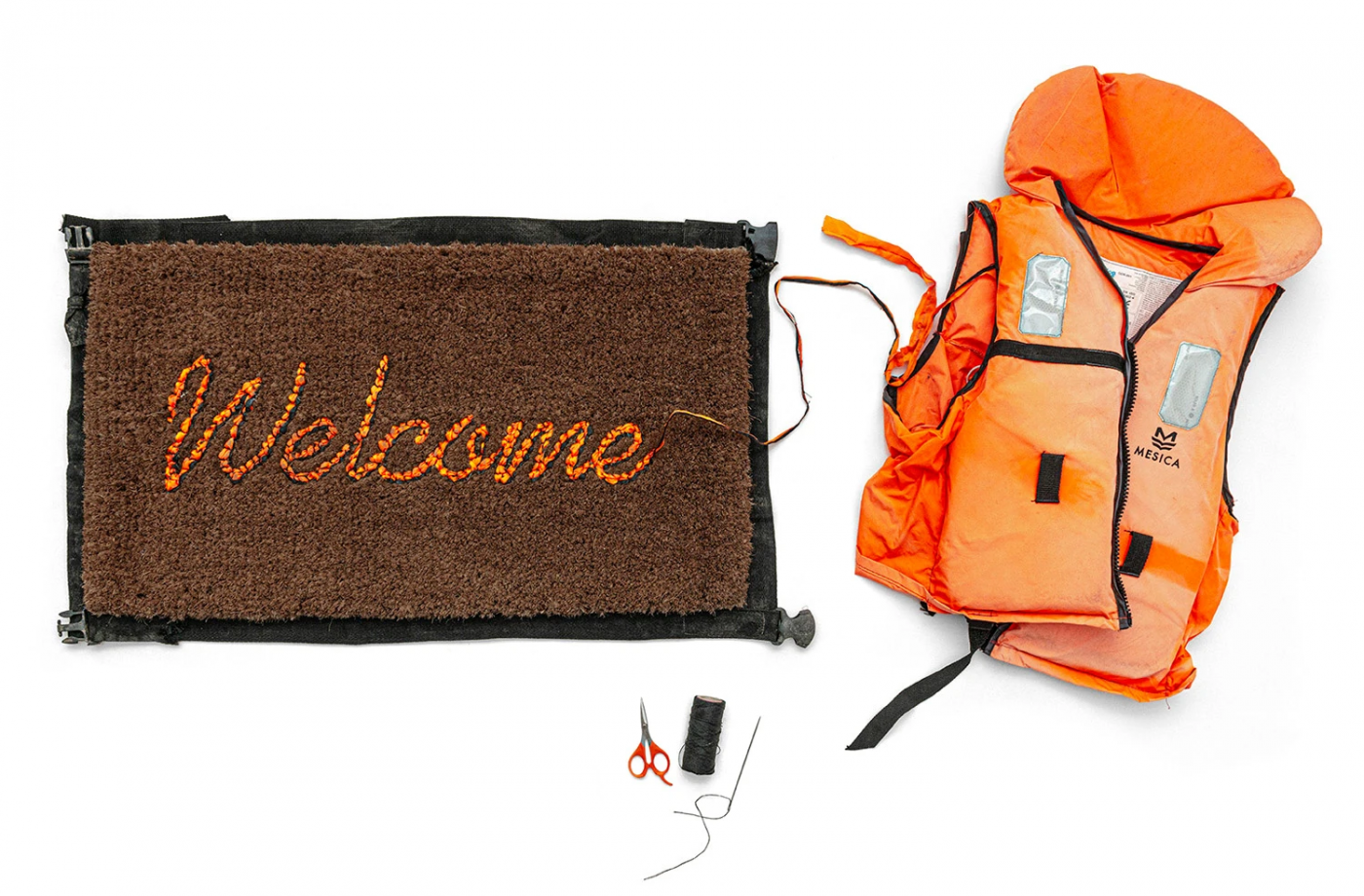 Not Just a Banksy: The Geopolitics of a Welcome Mat
By Jesse Carr
—
Many of us collect other items besides pieces of footwear. Some may be after their 5th Kaws figure or a Murakami flower pillow or a BAPE Bearbrick. But reflecting on our buying and collecting habits and examining why we overpay for items that essentially become shelf ornaments leads us to learn more about ourselves and sometimes about the journey the items take to reach us.
In early July, I got my first Banksy piece–a welcome mat made from discarded, faulty life jackets worn by refugee women who landed in Greece. The story of how I was able to procure a Bansky and the subsequent tale of having the piece made and shipped during a pandemic at a refugee camp ravaged by the virus reveals the thoughtful way that a Banksy piece becomes much more than a brown doormat.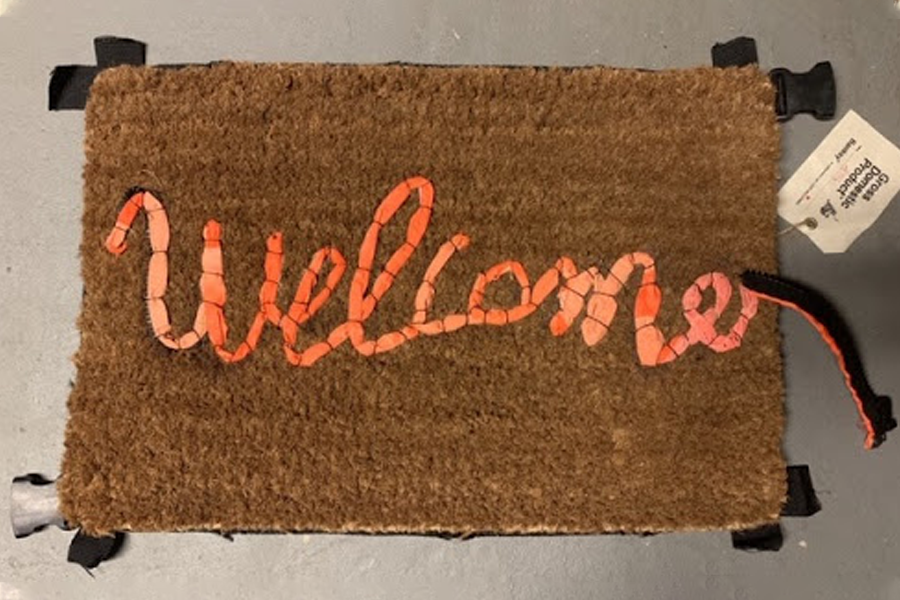 When Banksy put up an Instagram post on October 16, 2019 about a shop where he would sell extremely limited releases of his work, Banksy fans–quite understandably–lost their minds. I was among them. I had tried, unsuccessfully, for years to acquire a piece of the iconoclastic artist's work. 
Back in 2003, a site called Pictures on Walls released its first print, a Bansky piece called "Have a Nice Day" with a line of soldiers and a tank driver with yellow smiley faces under their raised helmet shields. For many years, that site was the best chance any collector would have at acquiring a work from the mysterious artist. I struck out time after time, never able to have my email chosen as a winner. Some of those pieces cost about $500 and now sell for over $10,000. 
In the subsequent years, Banksy's profile and mythology brought him to the status of one of the world's most talked-about artists, as he continues to do large-scale projects, ranging from a hotel to a theme park he called Dismaland. And the prices for his original paintings exploded, far surpassing the $10,000 price tags of the prints from Pictures on Walls. His self-shredding "Girl With a Balloon" painting sold for over $1 million.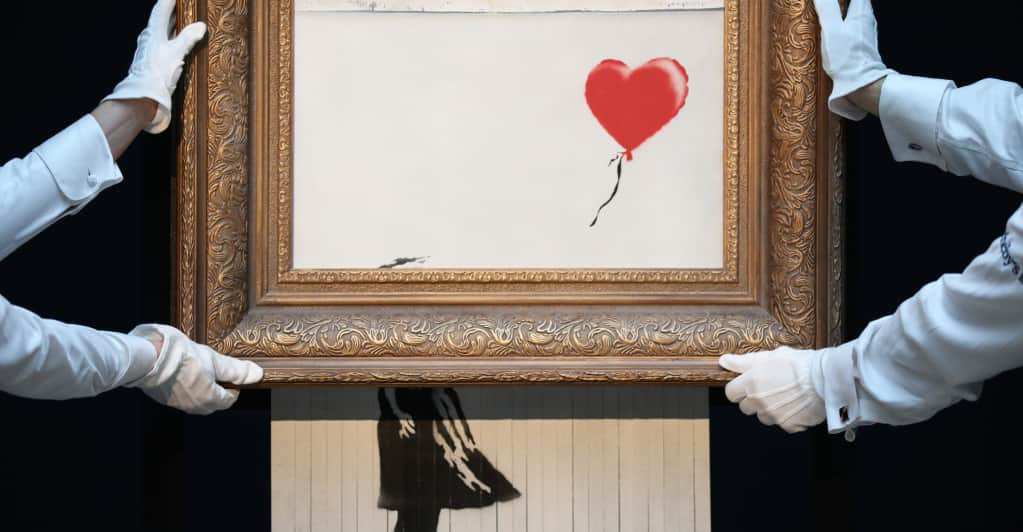 So back to last October when Banksy announced a rare opportunity to purchase his work through a store called Gross Domestic Product. He put up 21 items available in a range of editions, and even some one-offs. Because it was a Bansky project, the process to purchase an item was completely unique, as it required the buyer to choose only a single item only and compose an essay based on this prompt: "Why does art matter?"
I went for a Thrower print, and composed what I thought was a pretty clever essay. There were a limited number of those pieces, and I didn't mind spending an absurd amount on this triptych of the iconic flower thrower image. But, just like my many attempts in the past, I never got an email.
As I clicked around on other items, I noticed that the Welcome Mat was a different kind of purchase than the other items, as it had a link to a site called Love Welcomes, an organization producing the mats for Bansky. Once I arrived at the site, I immediately entered my information to register to purchase the mats, limited to 500. I got an email in late October 2019 saying that I was not selected–no surprise there. 
Things took an unexpected turn months later, as I got an email on February 25th (I had registered in October!) saying that 500 mats were to be put on sale at the Love Welcomes site the next day. I expected that to be a total disaster, as tens of thousands of people would try to get the elusive Bansky item. Sure enough, the site immediately shut down with 403 errors because of capacity issues. The team at Love Welcomes sent an email later in the day saying that instead of selling online, they would randomly select 500 email entries, and the next day I got an email saying I had been among them. Finally, I would have a chance to own a piece from an artist I had been following since 2004 when I saw an elaborate painting of his on the side of a building in Bristol, England. I got a checkout email with a unique link, and a day later, a confirmation. 
So, up to this point, I had been frantically checking the Bansky and Love Welcomes IG accounts for updates, never taking the time to properly investigate the construction of the mats or the reason Bansky partnered with the organization. He never really officially links up with anyone. Why this organization? Why the use of life vests?
The description of the Mats is still up on the Gross Domestic Product site, and here is the image of what it says: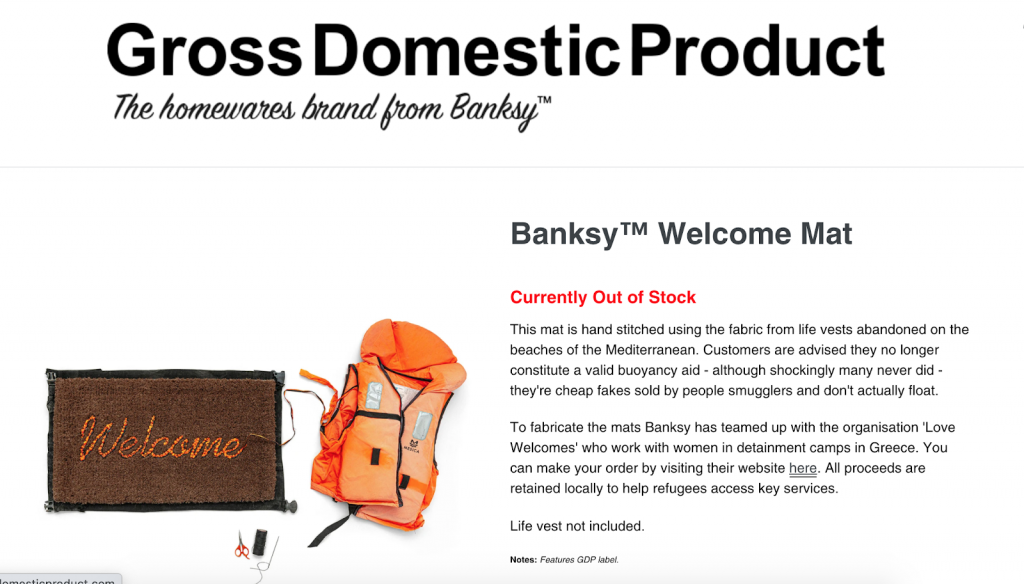 I then dug around on their site to learn more about the refugee women in Greece. Banksy had, in effect, pulled a Banksy on me. I was so eager to purchase his work that I neglected to investigate the meaning of the work itself or the platform through which they were released. I did exactly what he mocks people for doing all the time: I rushed to buy something I didn't know much about because of the name. 
So I vowed to get educated. I read up on these refugee women who were routinely duped by smugglers with faulty life vests that had the right color but lacked the ability to do what they advertised–preserve life. Each mat is unique, with faded and dirty strands form the vests that wash up to shore in droves. The strands spell out "Welcome" in script–a glaring ironic statement concerning the women who seek a life of freedom but are often anything but welcomed in their new surroundings. The outline of the mat includes black nylon straps with buckles that dangle off the corners, again driving home the symbolism of faulty equipment that secures nothing. My version comes with one zippered edge dangling off of the last letter e–an unfinished cut representative of the disjointed ongoing struggle these women face.
Next, an email told me to wait for the next batch. I knew it would be a long time before it arrived, but after hearing more about the conditions the women endured, I realized I had really nothing to complain about. Maybe my own recognition of the life I lived free from crumbling walls and, in the case of these Syrian refugees, free from a government that had been accused of gassing its own people, helped me to see more about the power of art. Banksy's work not only is, itself, a statement on a geopolitical struggle, from its materials to its execution, but it also helped me to take a moment to reflect on my position as a buyer of a $650 doormat. 
As I waited, the world changed in mid-March with the proliferation of COVID-19. The women's encampment was pummelled, as I learned in another email about my order that the women who worked on the mats were ordered to stay in isolation boxes–where they lived. Spreading quickly in a close-knit area with poor sanitation, the virus overran the camp, and I was told the order was on hold. I kept thinking that the women had been swindled already, told tales by smugglers of a life more promising. Then they arrived at a place that provides a glimmer of hope, only to be decimated by a virus that soon would change the way we operate all over the globe. 
Months passed, and after further delays, I finally got the mat in late June. I immediately went to the site to check out information on the women whose lives had been made a bit better with each mat an eager art buyer like me made. Love Welcomes put up an infographic about the impact of a single mat, stating that from just the first 500 made, 33 additional women got employment, 294 people got access to medical and legal services, and 3 new businesses were formed to operate bus transport from the camp to Athens.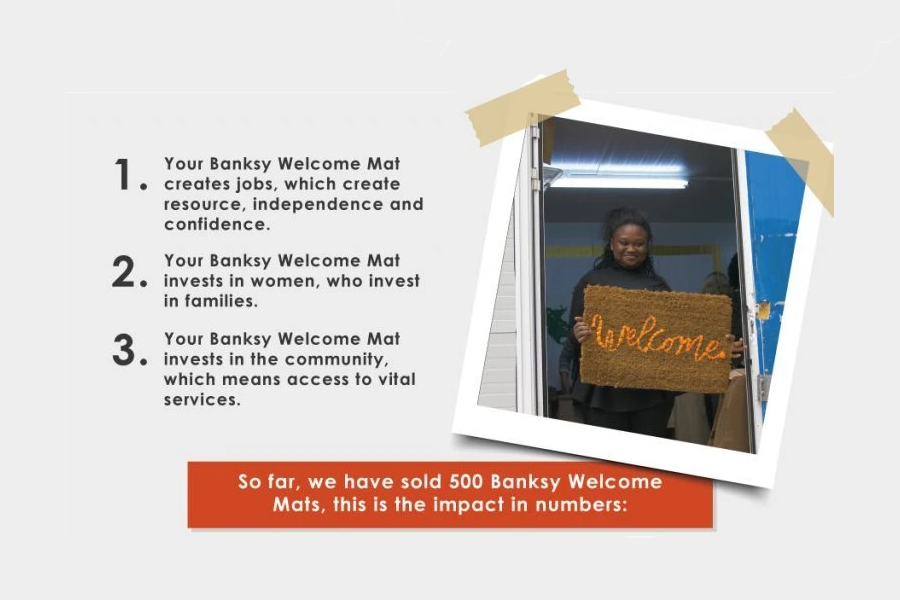 I certainly had no charitable intentions when I wrote out my essay to apply to buy a Banksy triptych. In fact, I was out to own something that would increase in value as it sat behind glass in my home. It was, and is, an item my friends will ask about and comment on– a conversation piece. But with the mythological Banksy pulling the strings somewhere in England to involve a great organization in Greece, those conversations (and this article?) will now spread awareness and maybe even funnel a few dollars to women in need.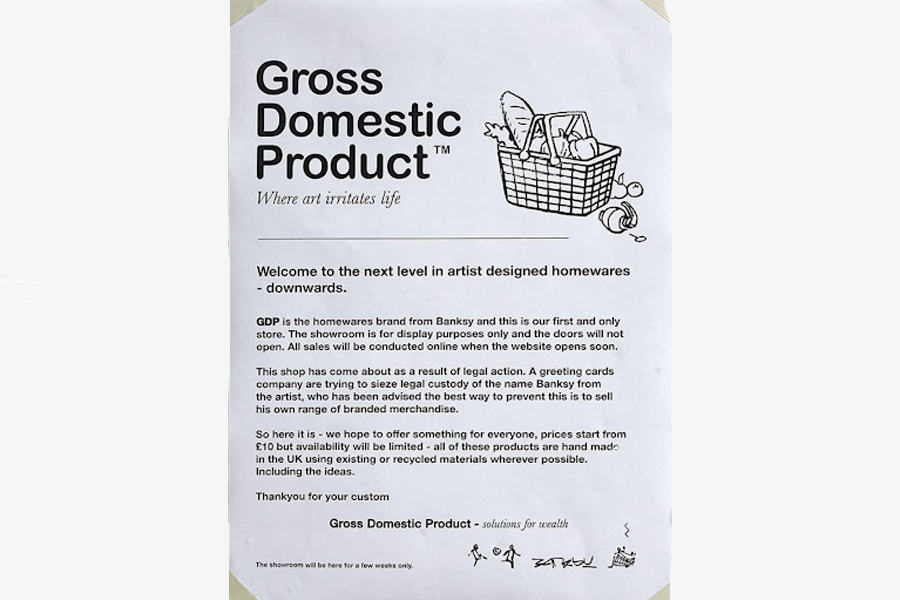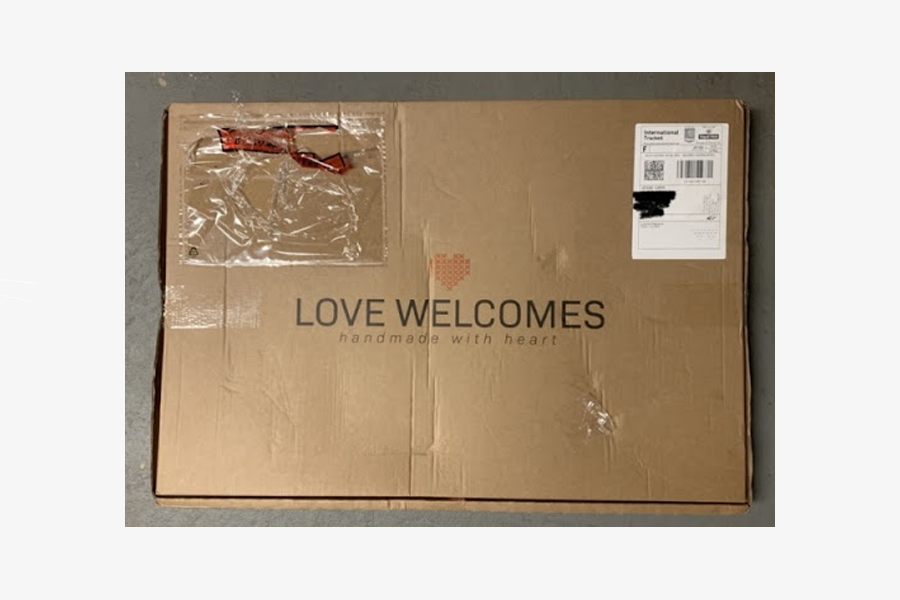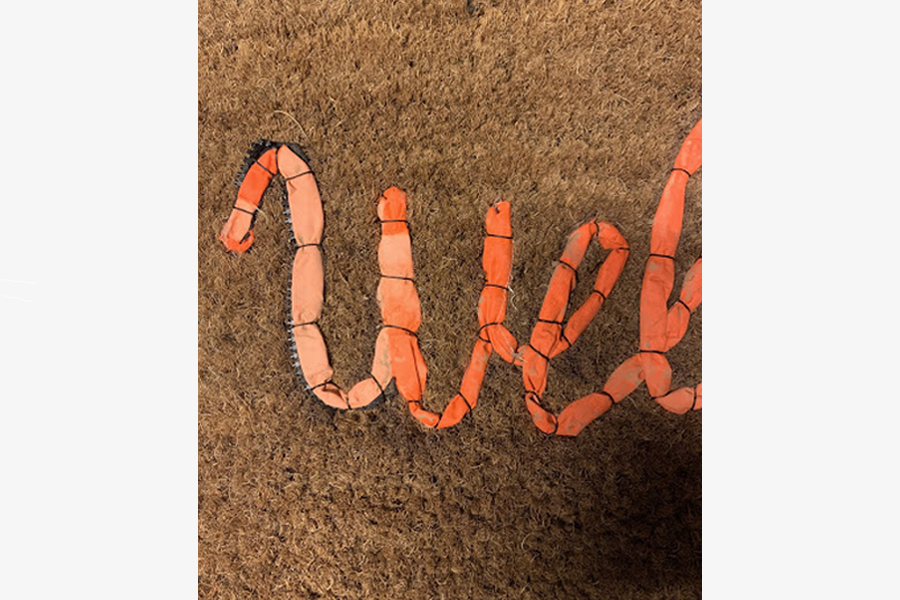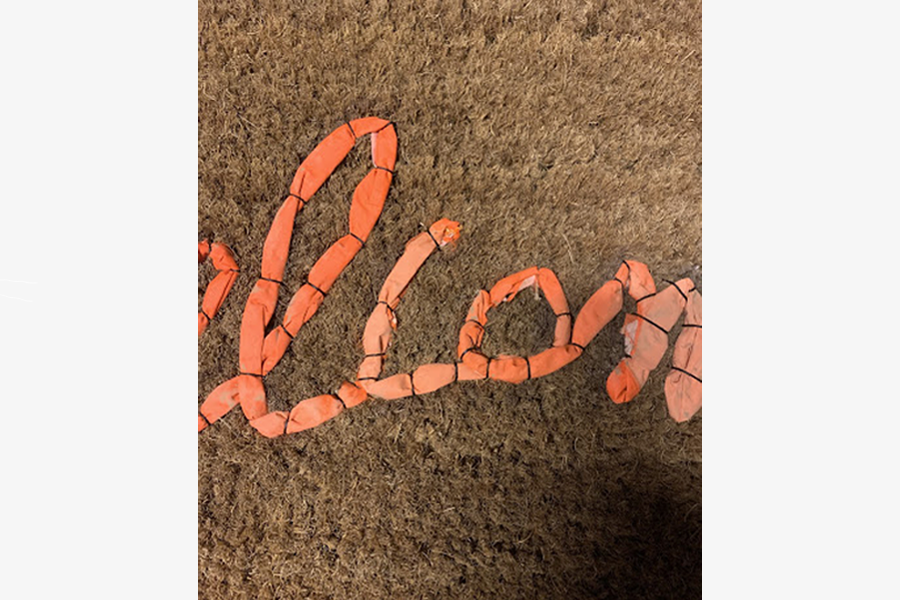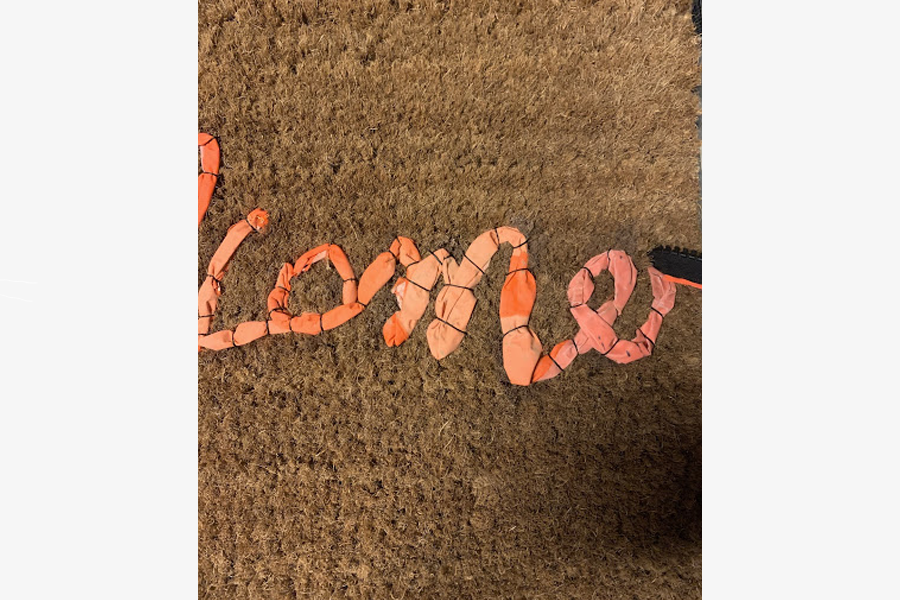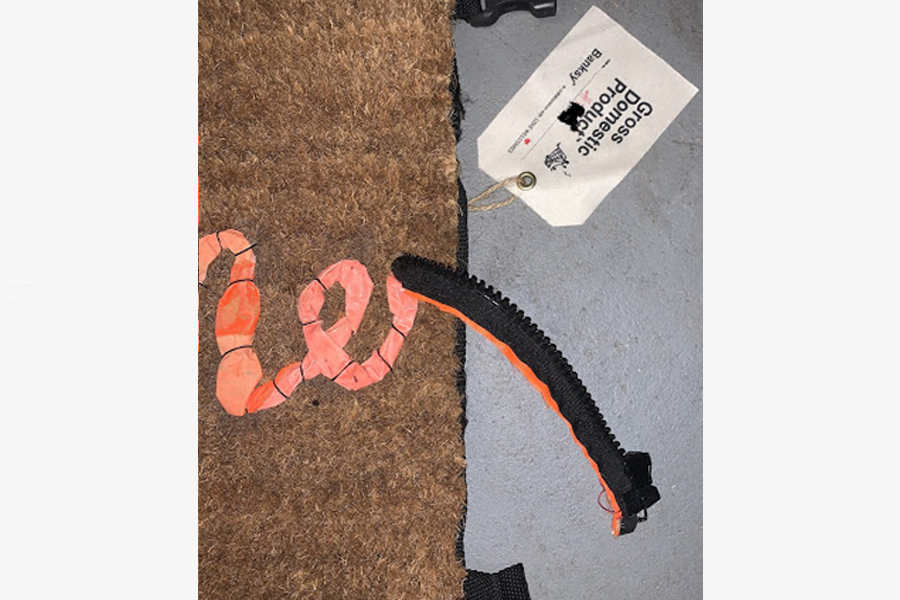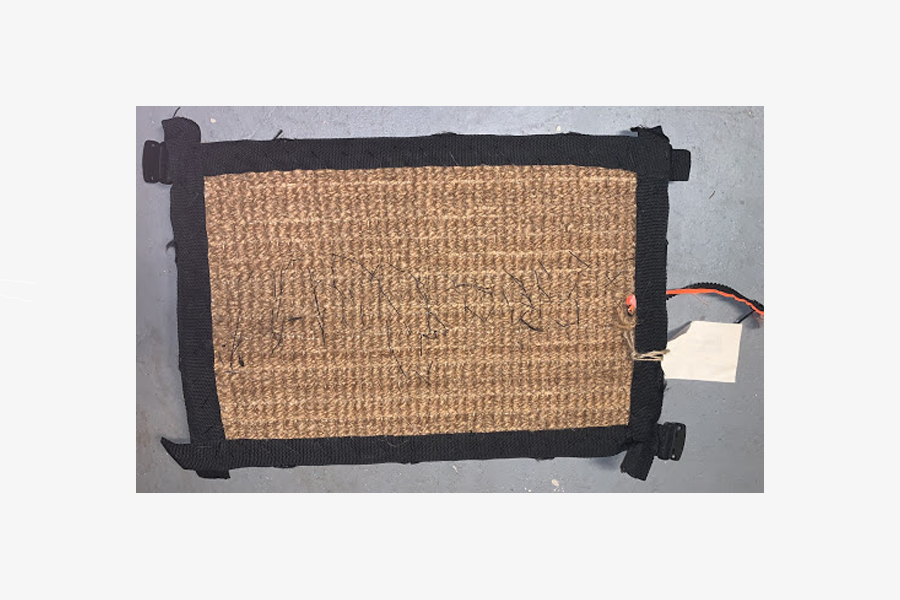 Latest posts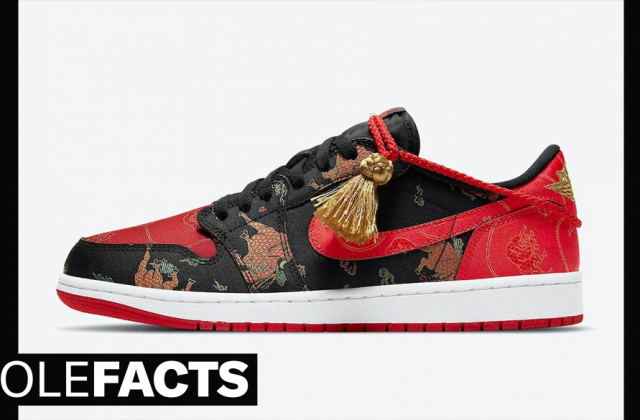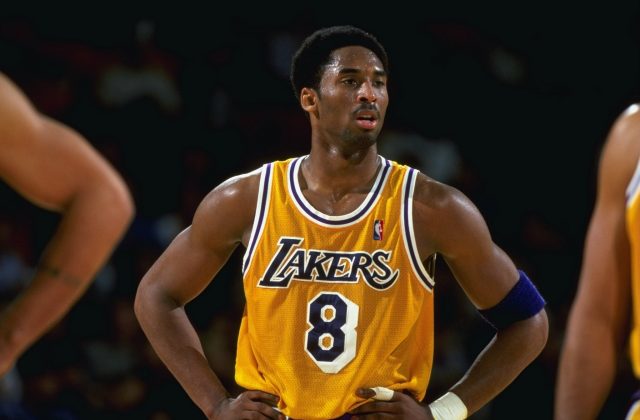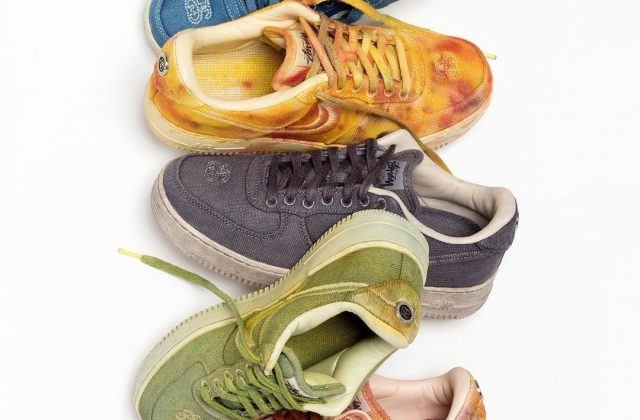 Stussy & Nike Hand Dyed AF1 Release Info
SoleSavy membership
A SoleSavy membership provides you the tools and resources you need to successfully purchase the products you want for retail.
Exclusive release information and links
Instant links to purchase shoes in your size
Access to SoleSavy Courses and Lessons
and LOTS more perks!
learn more
Stay in the loop
Sign up to receive emails about feature articles, the latest release info, and exclusive access to SoleSavy memberships.