At its core, professional wrestling is a vehicle to tell stories, and in a lot of ways so are sneakers. In wrestling, these stories are called angles, in sneakers, they're called colorways. 
What makes both mediums so enthralling is their ability to inspire and capture imaginations. Wrestling fans all have angles they've lost themselves in and sneakerheads all have shoes that have stolen their hearts.
Upon first glance sneaker and wrestling cultures appear to be polar opposites. But like Hulk Hogan and Randy Savage in '87, these mega powers have collided. 
It's impossible to turn on Monday Night Raw, Wednesday Night Dynamite, or Friday Night Smackdown/Rampage and not notice the influx of sneakers. Sneakerheads will also notice an influx in wrestling-themed colorways hitting shelves. 
As these worlds become increasingly intertwined, we wanted to take a look at some of the people that paved the way and are currently leading the charge in bringing sneakers to the squared circle.
Roman Reigns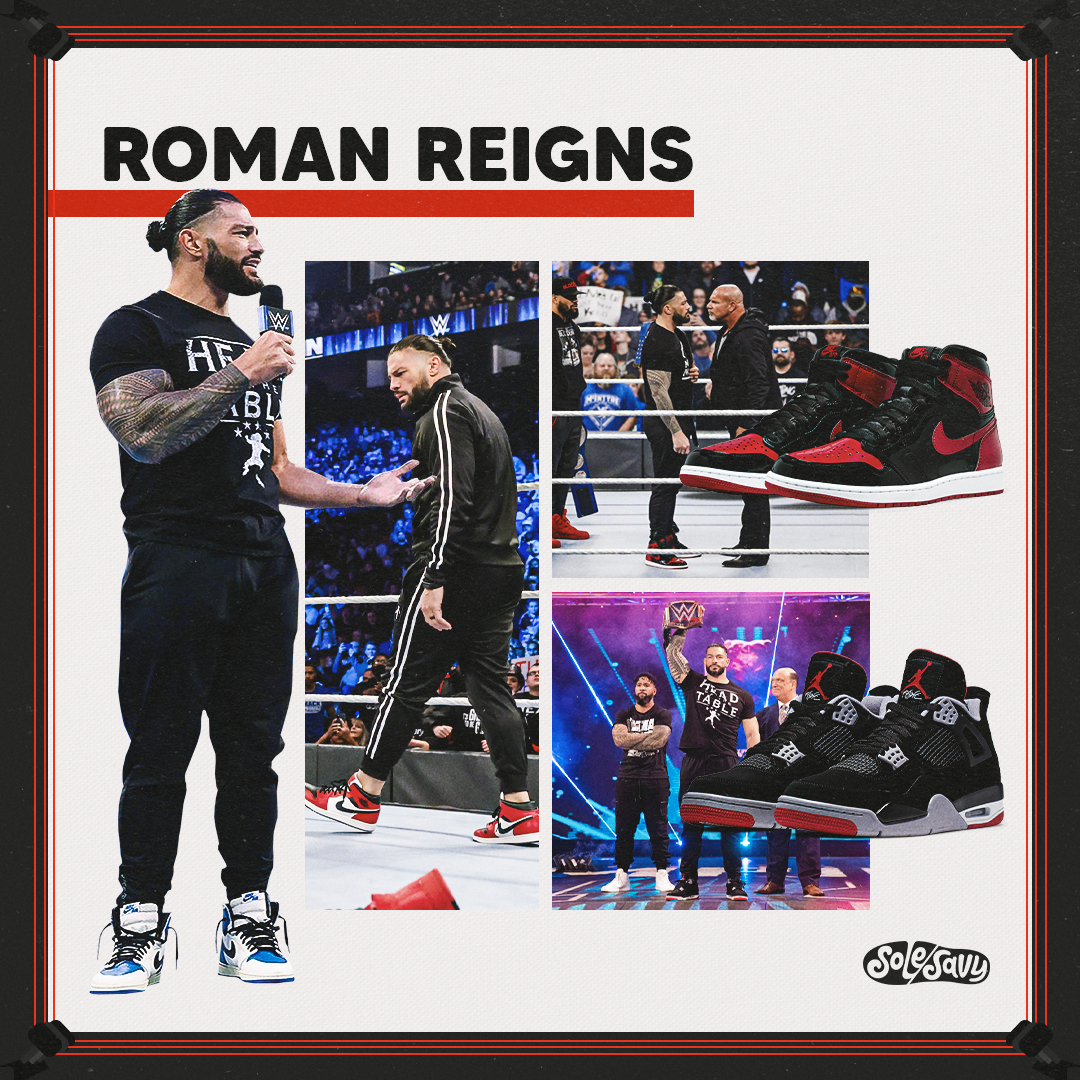 There's absolutely no better place to start than with WWE's Tribal Chief, Roman Reigns. Over the last couple of years Roman's underwent a character transformation, morphing from a babyface (wrestling term for a good guy) to a dastardly heel (wrestling term for bad guy) that'll do whatever it takes to maintain his position on the throne. 
A part of that transformation was a change to his weekly attire. Roman regularly trades in his combat vest and tactical boots for tracksuits and sneakers. Every Friday night you'll see him rocking the latest heat from Jordan Brand. The perfect complement to Roman's transformation to the Head of the Table.
Notable Wears: Air Jordan 1 High 'Patent Bred,' Air Jordan 11 'Concord,' Air Jordan 4 'Bred'
Shane McMahon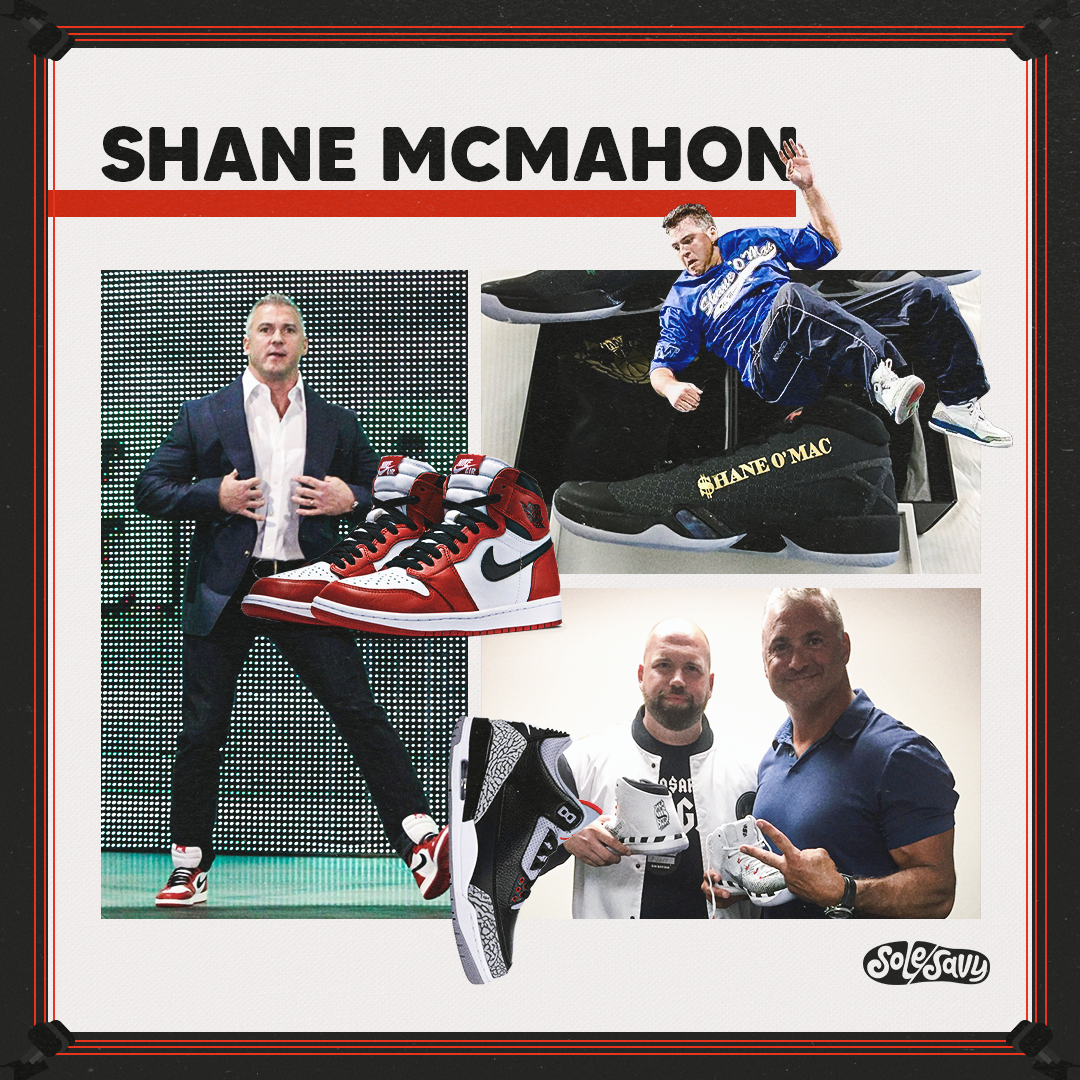 Here comes the money! If you were to ask sneakers who they think about when mentioning sneakers and wrestling, most would say Shane McMahon. The son of WWE chairman Vince McMahon, Shane has been presented as a man of privilege and status since his debut in '98. It's no surprise that his character routinely turns heads with his sneakers. 
Since the mid-'00s, whether he's wrestling or cutting a promo (a monologue or scene in wrestling) Shane will always have something on that makes you take note of his feet. 
Notable Wears: Air Jordan 3 'Black Cement/White Cement/True Blue,' Air Jordan 1 High 'Chicago,' Custom Air Jordan 30 from Jordan Brand, Custom Air Jordan 31 by Mache.
The Young Bucks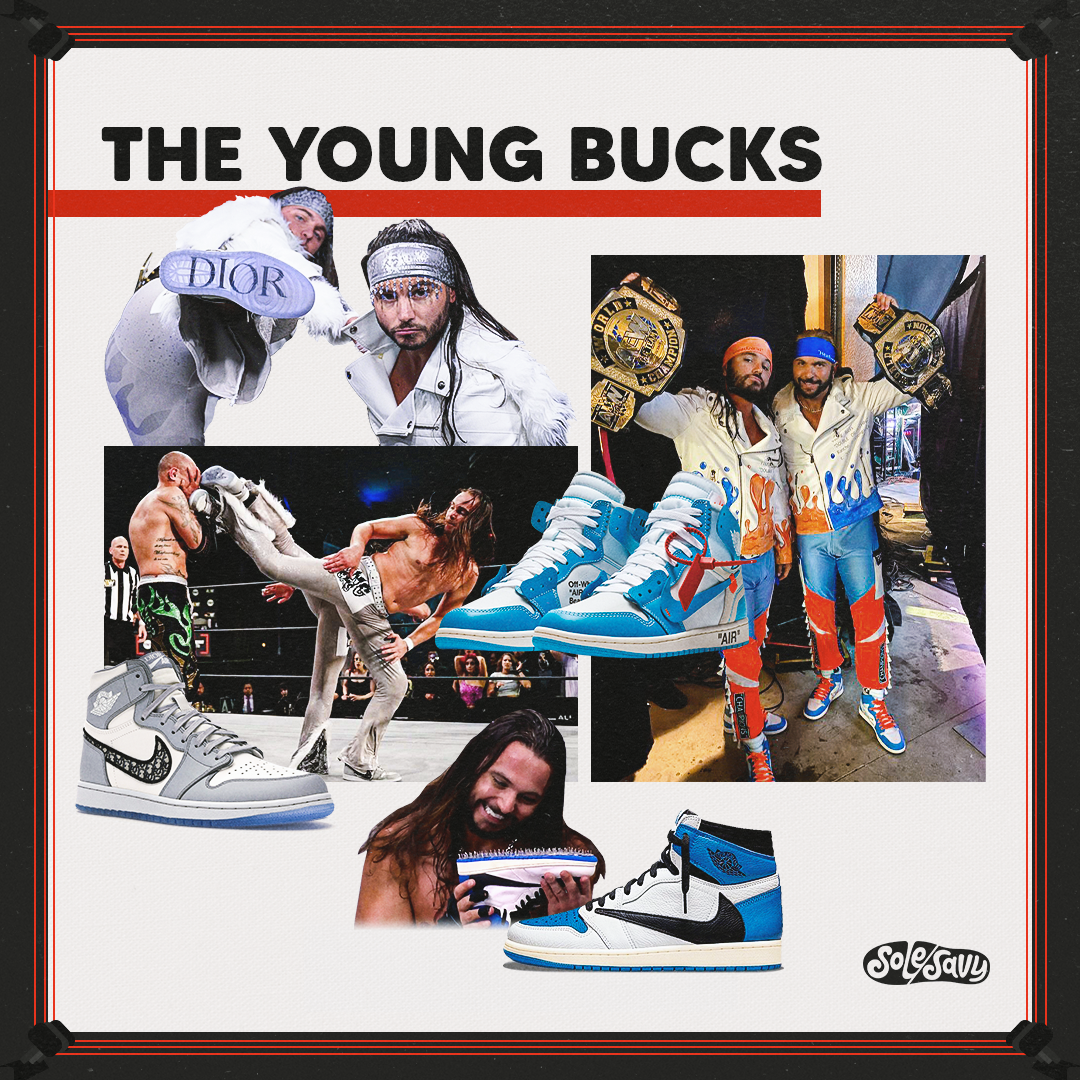 In their illustrious careers, the Young Bucks are very well known for their in-ring abilities. They routinely produce some of the most dazzling and athletic matches in wrestling. In addition to their wrestling acumen, these brothers are captivating audiences with their kicks. 
In the last couple of years, the Bucks have turned themselves into disillusioned, bratty heels. Their characters now dress without care for matching or the court of public opinion. The outfits are wild, but they're always paired with a crisp pair of sneakers. The Bucks are constantly digging into the archives busting out rare sneakers for matches and promos. Love 'em or hate 'em, you must respect their sneakers collections.
Notable Wears: Dior x Air Jordan 1 High, Fragment x Travis Scott x Air Jordan 1 High with thumbtacks on the sole, Off-White x Air Jordan 1 High 'UNC'
Sasha Banks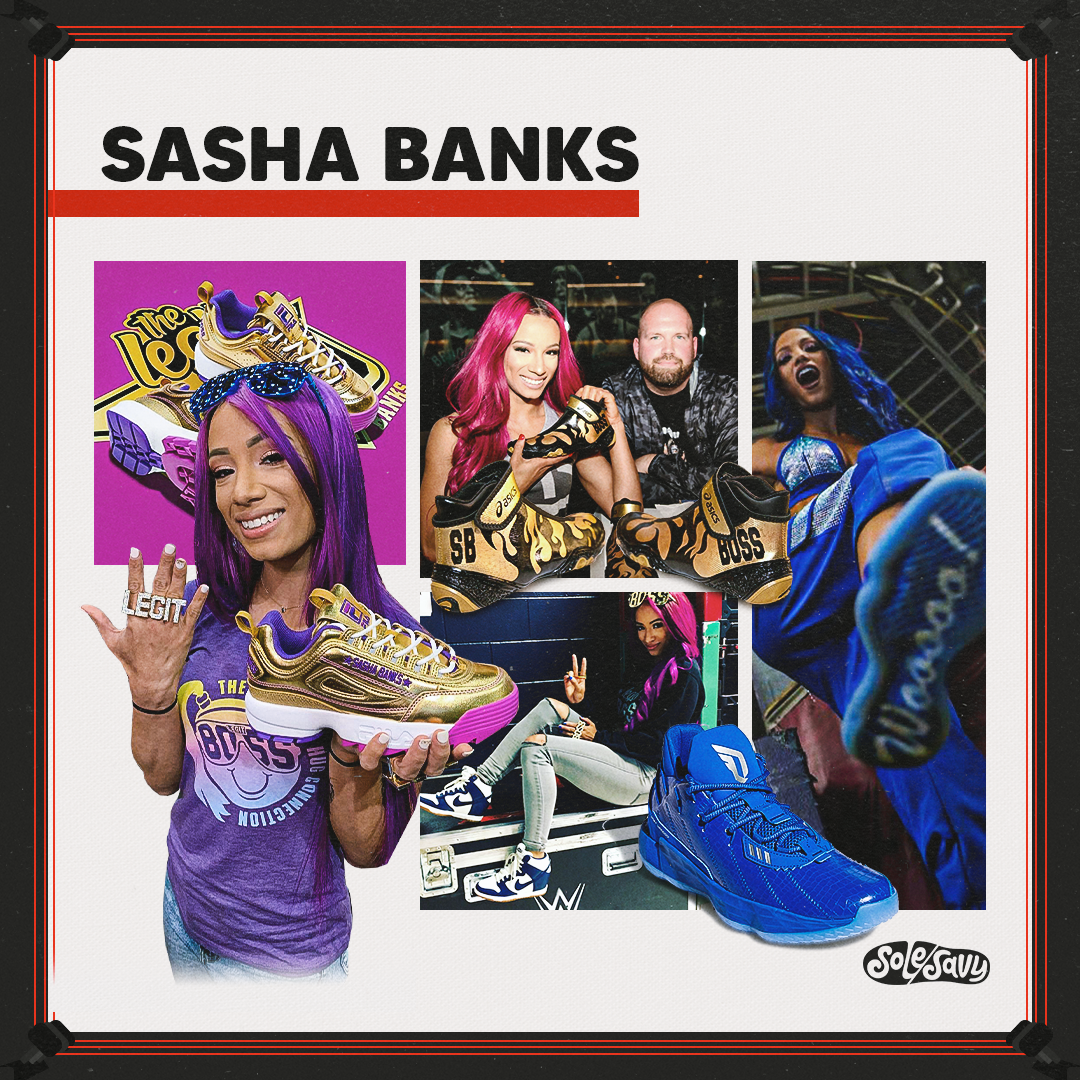 WWE's resident Boss, Sasha Banks is known for her amazing in-ring ability, her exquisite gear, and her love of sneakers. Banks' character is an imitation and adaptation of her real-life cousin, Snoop Dogg. She took note and appreciated the fact that everyone around Snoop referred to him as "boss." Thus, WWE's fiercest and baddest character was born.
Sasha doesn't always don sneakers on-screen, but if you follow her on social media you'll certainly notice she's got quite a collection. She even has her own colorway of the FILA Disruptor that dropped exclusively at Foot Locker.
Notable Wears: WWE x FILA Disruptor 'Legit Boss,' Ric Flair x adidas Dame 7 'Blue Robe,' Custom Eddie Guerrero inspired ASICS Wrestling Boots
Enzo Amore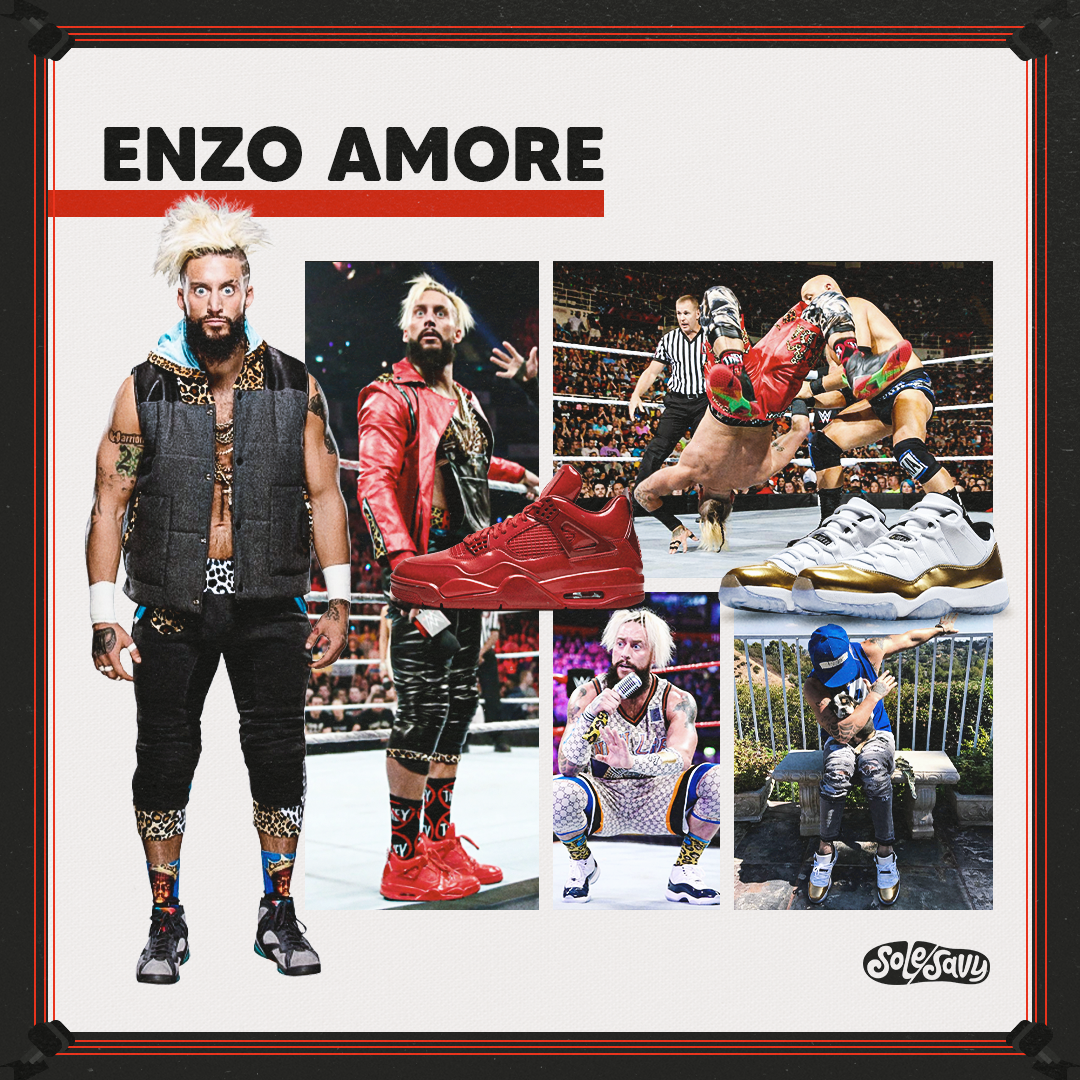 A certified G and a bonafide stud, Enzo Amore has been rocking sneakers in the ring since learning to wrestle. He broke his foot in wrestling boots on his first day of wrestling school and has been rocking sneakers ever since. 
Vociferous and braggadocious Enzo's character is all flash, you'll see (and hear) him coming from a mile away. When the stage is the brightest so are Enzo's kicks, he'd routinely save his most special kicks for the WWE's biggest shows. 
Notable Wears: Air Jordan 1 High 'Derek Jeter,' Air Jordan 11Lab4, Air Jordan 11 Low 'Closing Ceremony'
Kofi Kingston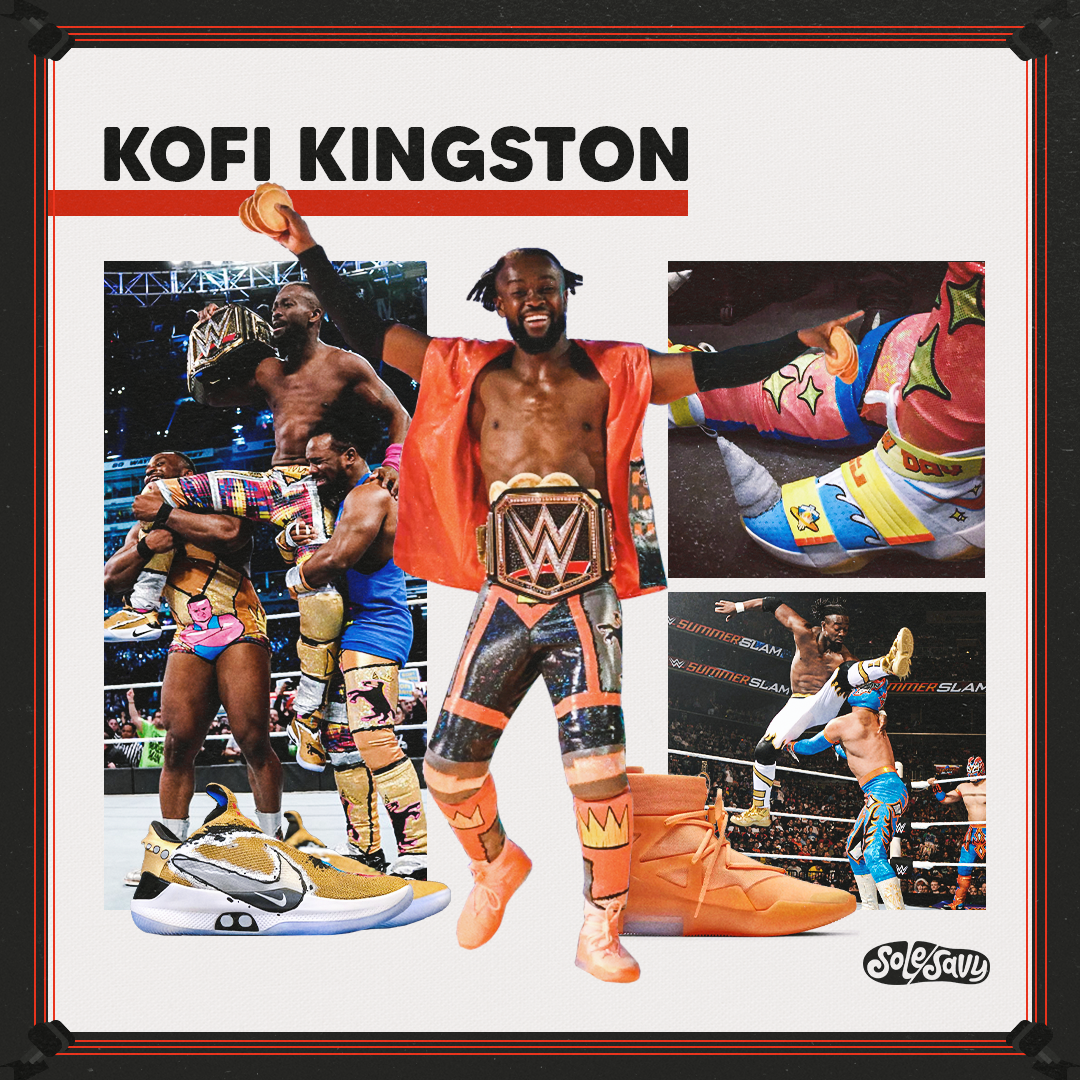 Kofi Kingston is an uplifting character. He's devoid of common crutches that often plague black characters in wrestling, he's true to himself and spreads the power of positivity. A part of being true to himself is the character featuring a love of sneakers.
When Kofi enters a ring, you'll notice his unmatched athleticism and his sneakers. His repertoire spans from performance basketball to hyped sneakers, to draw-dropping customs. In 2019 Converse took note of Kofi's sneaker love, giving him his own colorway of the Chuck Taylor Hi.
Notable Wears: Custom Nike Adapt BB by Mache, Nike Air Fear of God 1, Various Jeremy Scott x adidas Collabs
Edge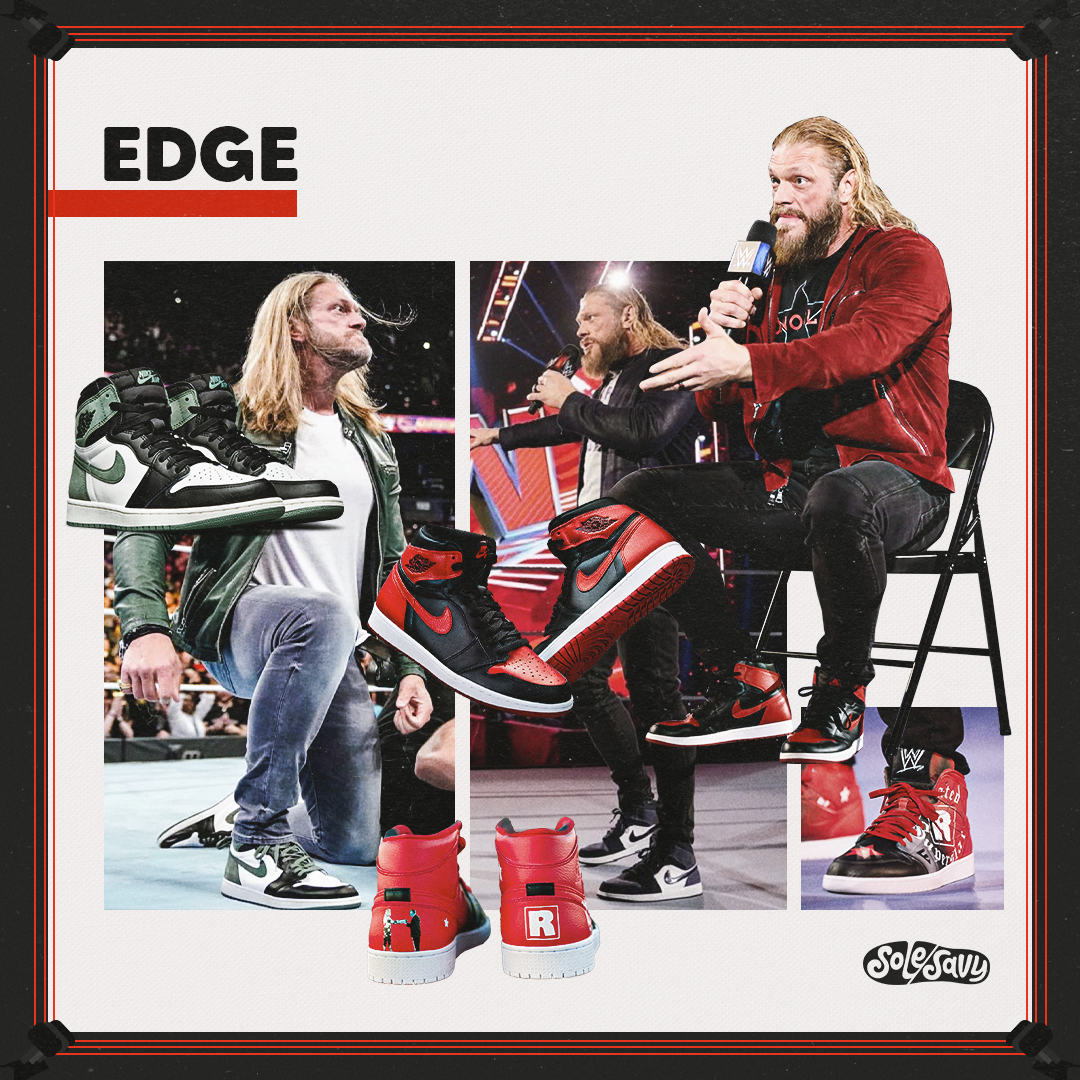 Affectionately known as the Rated R Superstar, Edge's career has been a tale of two stories. The first, written from '98-'11 (Edge was forced to retire in '11 due to spinal stenosis) where he was one of the most decorated wrestlers of all-time and WWE's ultimate opportunist, doing anything and everything to win. The second was picked up in 2020 when Edge made a shocking return to the ring. 
When he returned, Edge shocked audiences with his improved physique, never-fading wrestling skills, and his slightly changed look. During his first run, Edge was very rock and roll, often wearing boots or non-notable sneakers. Upon returning however Edge has been routinely rocking Jordan 1s. WWE's iconoclast will still do whatever it takes to win, but now he does it with heat on his feet.
Notable Wears: Air Jordan 1 High 'Clay Green,' Air Jordan 1 High 'Bred,' Air Jordan 1 High 'Camo 3M Shadow'
Dr. Britt Baker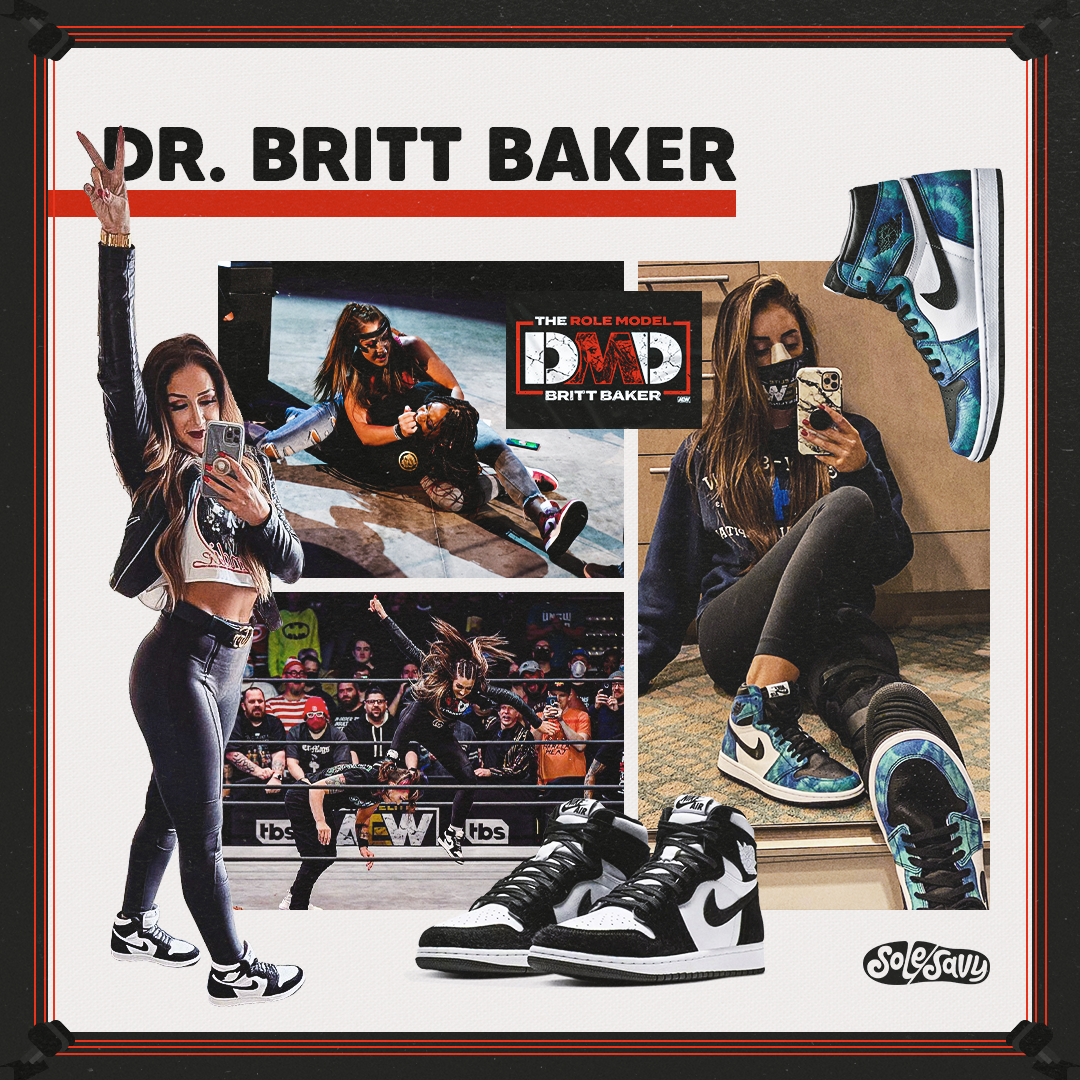 "The doctor will see you now." Britt Baker doesn't just play a doctor on TV, she's a practicing dentist in real life as well. What could be more impressive than an ass-kicking dentist? An ass-kicking dentist with a serious sneaker collection.
If you follow Baker on social media you'll notice that she's as proud of sneaker W's as she is of her wrestling championships. Not selfish with her love of sneakers, Baker gifted her boyfriend and fellow wrestler Adam Cole a sweet pair of custom Halo-themed Jordan 1s designed by Mache this past Christmas.
Notable Wears: W Air Jordan 1 High 'Twist,' W Air Jordan 1 High 'Tie-Dye,' Nike Dunk Low