"Sneakers are a reflection of who you wanna be, who you believe you are and where you come from."
In 2017, sneaker culture saw a huge turning point in "The Ten," a major collaboration between Nike and the late Virgil Abloh's Off-White brand. While most similar collabs might focus on a single model, maybe two, Nike and Abloh released 10 reworked designs from throughout Nike's history and started a trend cycle that still remains years later.
Along with the rise of Ye's industry-shifting partnership with adidas, this was a time when sneaker collecting experienced a renaissance, with more interest, enthusiasm, and information available than ever before. To celebrate and understand the growth of sneaker culture, we dropped the State of Sneakers Vol.1, with mythology and insights conducted by the team at neontaffy. Their efforts (survey design, interviews, analysis, and creation of related collateral) were paramount to the State of Sneakers 2021, one of the largest studies done on sneakers and the people who love them. 
We brought 3,458 sneaker enthusiasts, collectors, and resellers* together for a snapshot of where sneaker culture's at today: who's driving Ws, who's behind Ls, and who's on the come up. These are just a few of our key findings. For more insights, read our full State of Sneakers report.
*At SoleSavy, we are firmly against mass reselling and understand the obstacles it creates for everyday sneakerheads. In order to get a full, unbiased pulse on sneaker culture today, it was essential to collect data from everyone in the world of sneakers.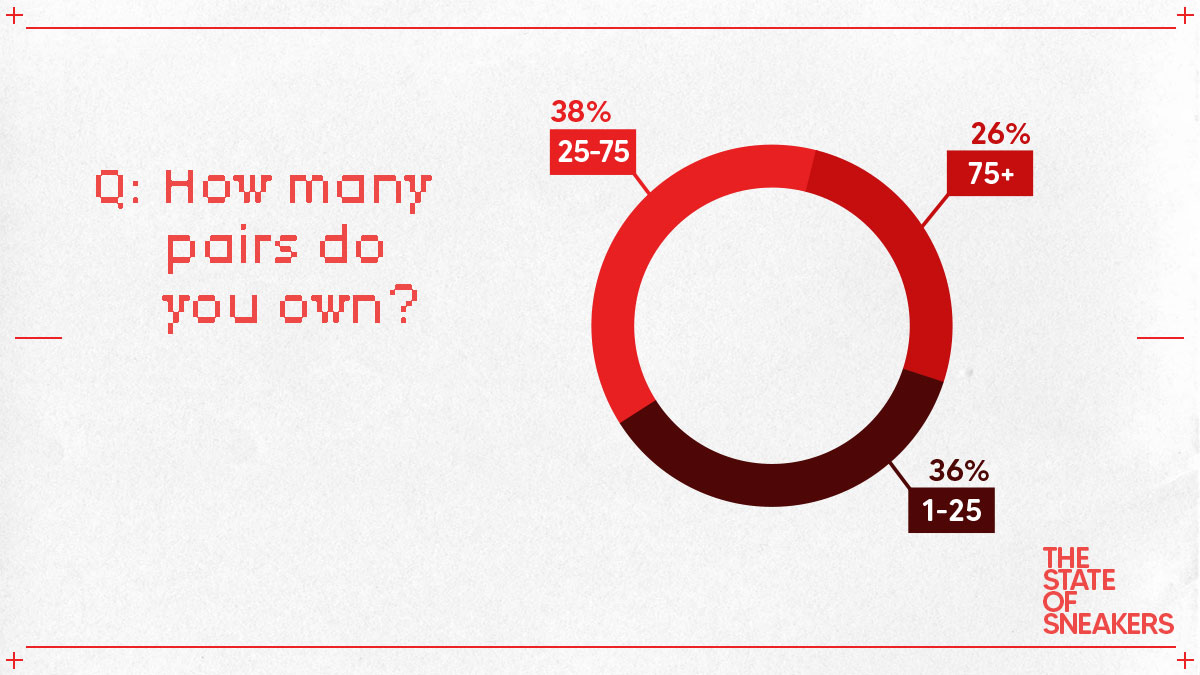 Nike (including Jordans and Converse) is the #1 sneaker brand ruling the game, netting a 90% favorability rating among respondents.

38% of sneaker enthusiasts surveyed have

25–75 pairs

. 26% have

75+ pairs.

71% of sneaker collectors are buying at least

1–4 pairs a month

, which works out to about

12–48 pairs a year

.

70% of respondents have

unworn sneakers

they just haven't gotten around to wearing yet.

$3,000

is the most cash any respondents have sunk into a pair of sneakers.

Sneaker enthusiasts spend

2–4 hours a day

on average interacting with their online community of choice.

Where sneakerheads

find community online

: 74% use Instagram, 61% use free forums like Reddit, 56% use sneaker blogs, 49% use YouTube, and 45% belong to private or paid sneaker communities.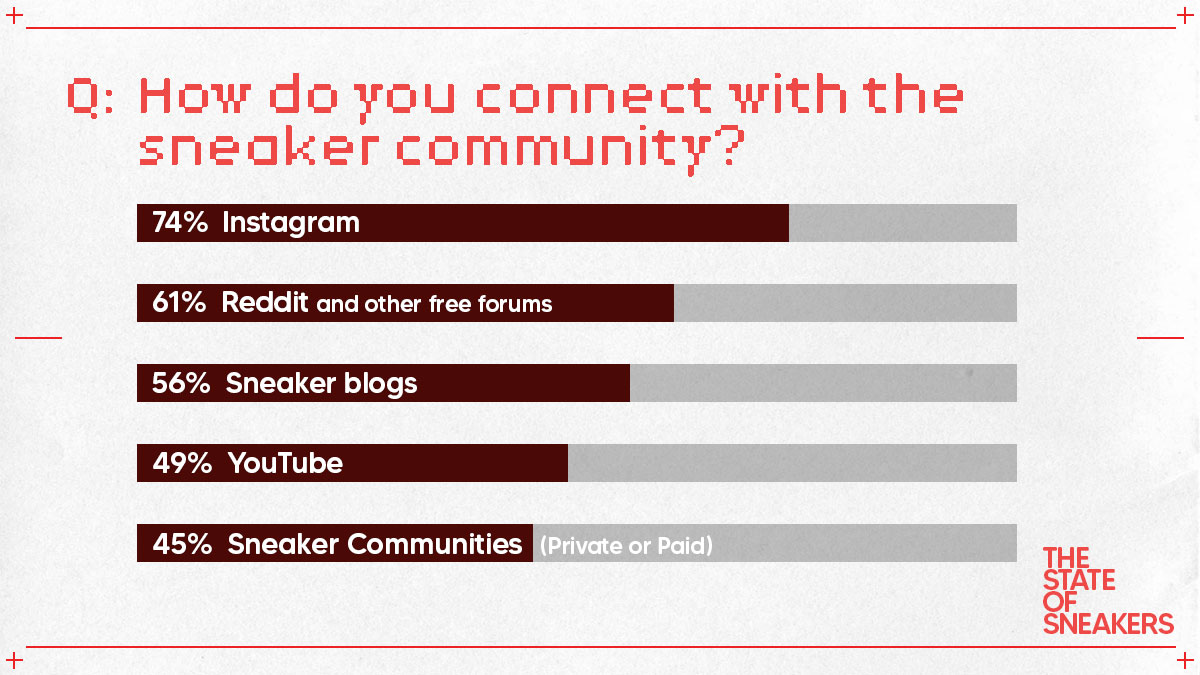 To report on the State of Sneakers, we conducted a survey of 3,458 sneaker enthusiasts, collectors, and resellers; hosted five focus groups with a total of 50 sneaker enthusiasts; completed 25 in-depth interviews; and collected over 500 hours of participant observation in various sneaker forums, subreddits and on SoleSavy.
More than half of respondents say the sneaker community has gotten stronger and more cohesive during the pandemic. Though sneakers are obviously not a necessity, the culture around them provides both a hobby and distraction for enthusiasts. Community can be a huge plus, whether it's helping each other out, or just chatting and commiserating about the state of things.
This era of sneaker fandom feeds into just why we built SoleSavy. We're here to bring sneakerheads together, and share the tools and tips you need to cop your must-haves. It's an uphill battle, but there's strength in numbers. Together we can level the playing field.
Join the SoleSavy community.
Read the full State of Sneakers Vol.1.