A lot of the time they say the sequel is never better than the original. We disagree.
Raffles 2.0 is now officially here. And the best part? It's now free for anyone with a basic SoleSavy account.
We decided to take raffle-tracking to the next level and give account holders an all-in-one app that gives everything they need when it comes to tracking a release.
Here's what's new:
Checklists
You can enter raffles from hundreds of retailers all over the globe, and keep track of your entries with a dynamic checklist. Gone are the days of scrambling through your email trying to figure out if you've received confirmation you entered. Some of the most hype releases of the year are solely released via raffle (looking at you Travis), so let us do the hard work for you.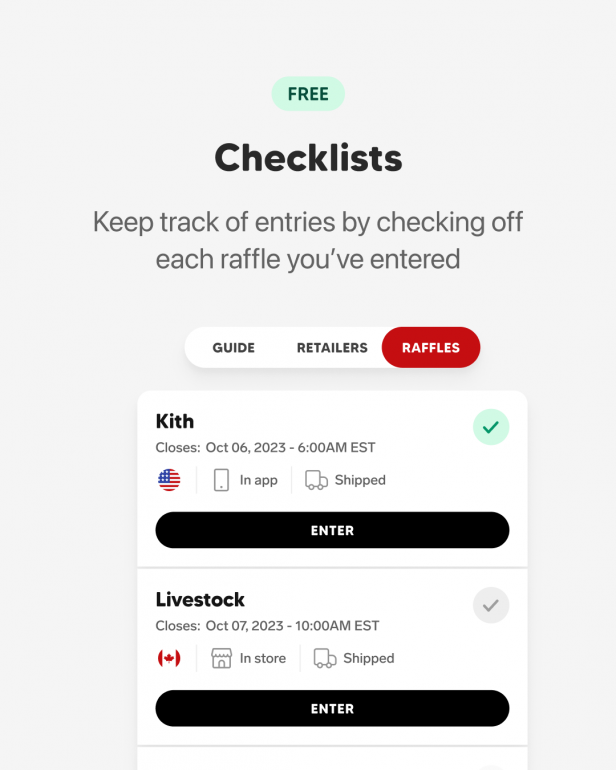 Filters
There's not many things more annoying than creating an account, filling out a raffle form, and getting to 'submit' only to find out this store is in Europe and it's for in-store pickup only. Filter through the noise to see what's relevant to you. You can filter raffles by location, type, and delivery so you only see the raffles that you're eligible to enter.
With this new update, you'll get a taste of what it's like to be a SoleSavy member and how we help you get more W's.
Stop waiting around, new raffles are being added every single day. Download the app, create your free account, and start growing your collection.