Last week we revealed the community picks for 2021 Sneaker of the Year, and now it's time to hear from our staff for the best releases. These won't be our staff's favorite sneakers. Instead, it's about the best releases, graded on fairness, bot protection, stock levels, and of course, real consumer success. It's about time we celebrate not just the sneakers that were the best works of art, but the releases that got into the hands of real people that will wear and cherish them. And there's no better group of people to ask that than the team at SoleSavy who dedicate their work to helping our members be aware of, prepare, and buy the sneakers they want for retail. Here are the 2021 Releases of the Year, as determined by the SoleSavy staff.
Honorable Mentions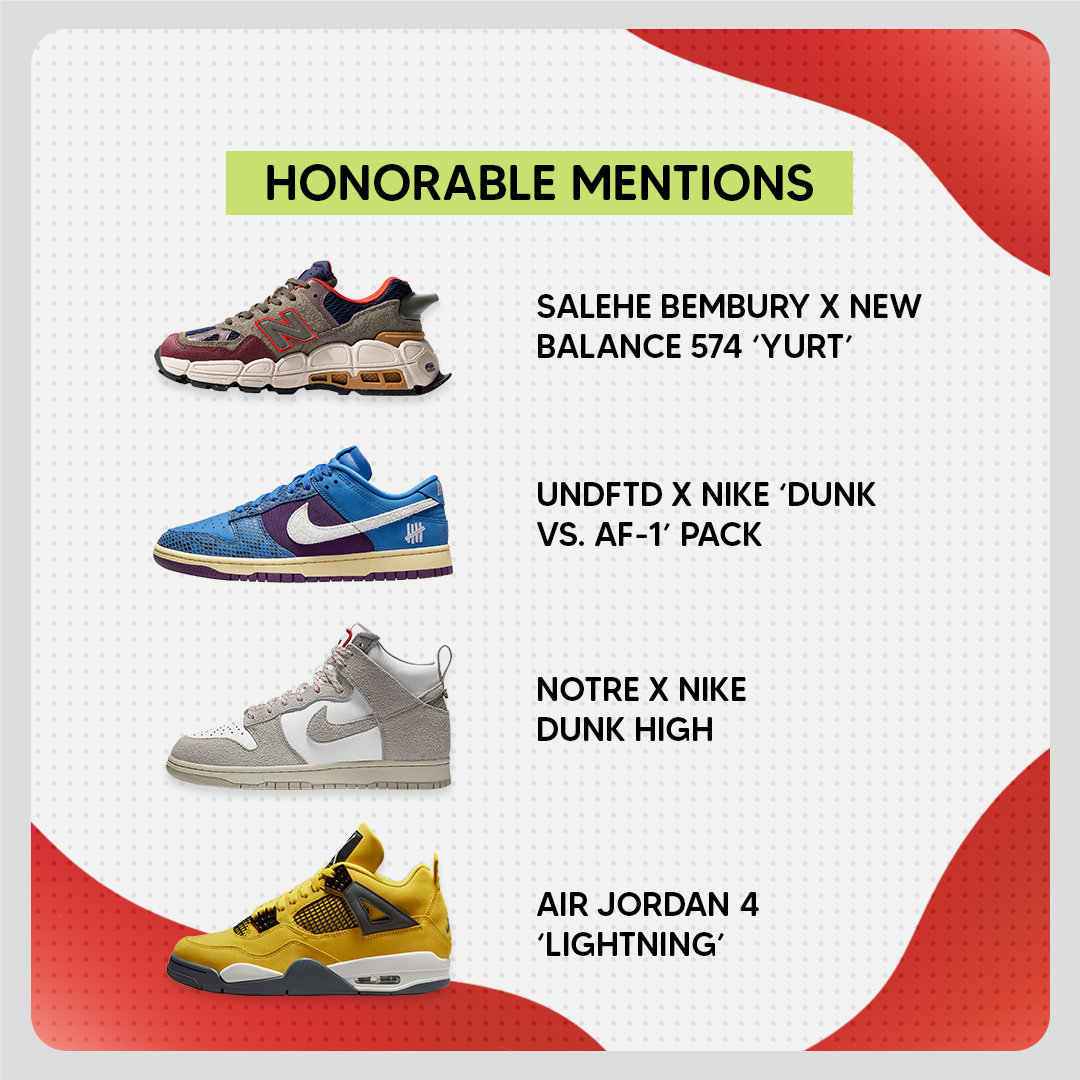 Just missing the top 10 were the Salehe Bembury x New Balance 574 'Yurt,' UNDFTD x Nike 'Dunk vs. AF-1' Pack, Notre x Nike Dunk High, and the Air Jordan 4 'Lightning.' A quartet of great releases that had great stock accessible to the masses. Not saying everyone was able to get a pair, but the manual consumer had greater success than normal with these four and we see people wearing these regularly.
10. Bodega x New Balance 990v3 'Here to Stay'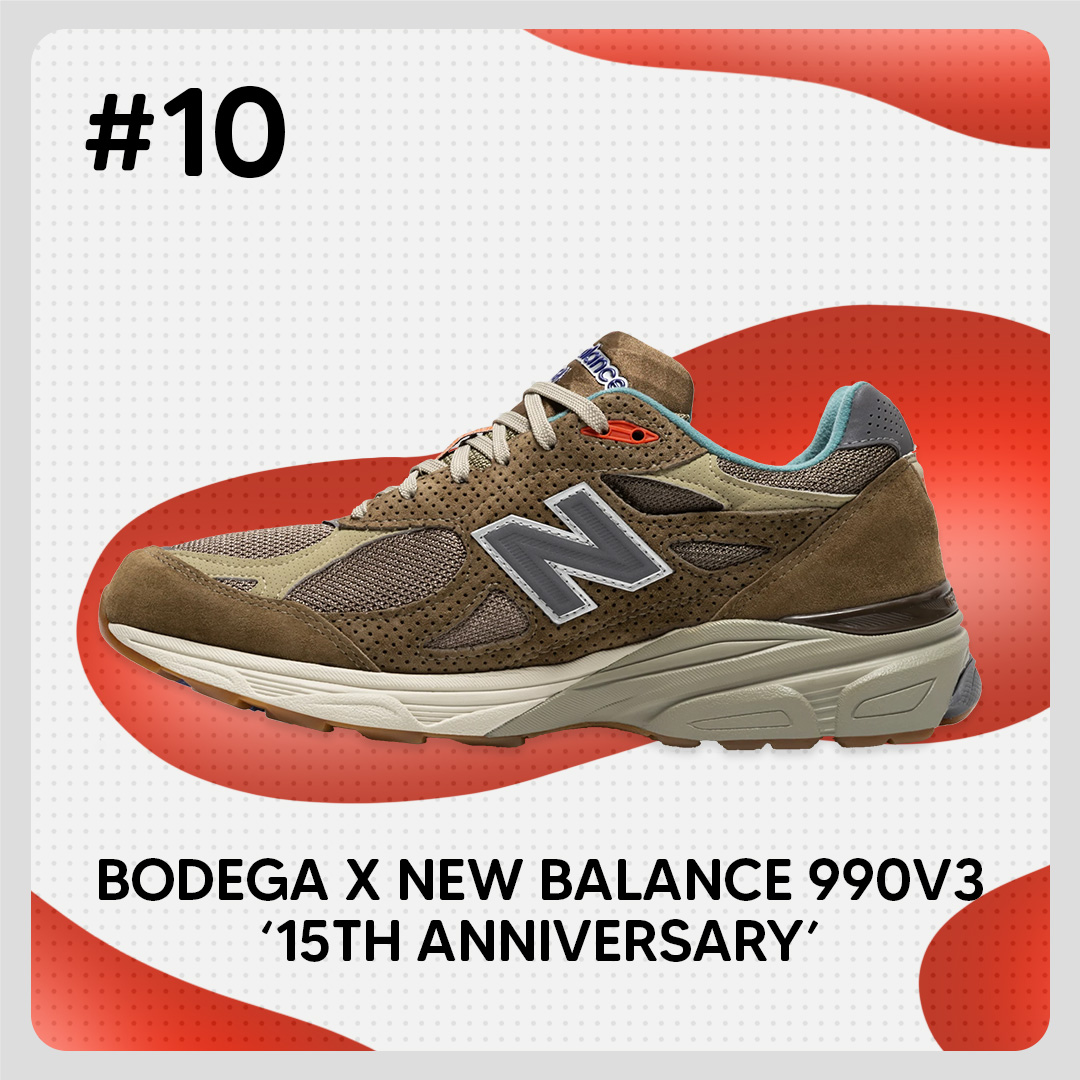 Release Date: 06/16/2021
Retail Price: $220
Style: M990BD3
Starting off our top 10 is the Bodega x New Balance 990v3 'Here to Stay.' A celebration of timelessness, this release honored the Boston-based boutique's 15-year-anniversary. As they themselves noted: "fifteen years is practically an eternity." To their credit, Bodega really made an effort to get this release into the hands of real consumers. They made use of a domain change (redirecting purchasers to a new, secret web url at drop time) and though it was a slow checkout process with a fair share of payment errors, there was also a lot of success throughout the sneaker community and within SoleSavy.
9. sacai x (Fragment, CLOT, UNDERCOVER) x Nike LD Waffle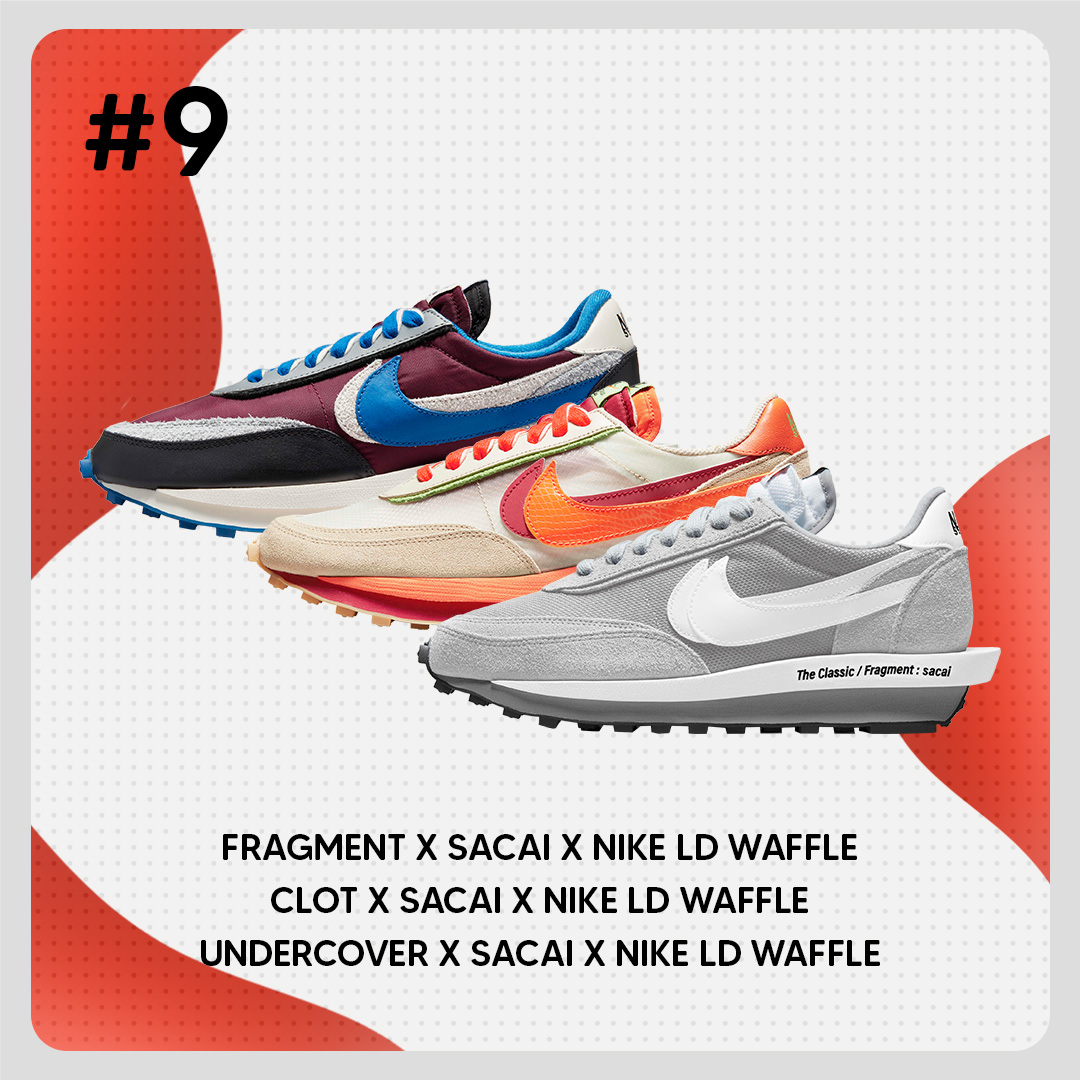 Release Date: 09/15/21 (Fragment), 09/14/21 (CLOT), 10/29/21 (UNDERCOVER)
Retail Price: $170 
Style: DH2684 (Fragment), DH1347 (CLOT), DJ3877 (UNDERCOVER)
The triple collab was all the rage this past year. That charge was led by the many offerings from sacai and Nike. The two sides pulled in multiple brands (Fragment, CLOT & UNDERCOVER) for trio collabs on 2019's sneaker of the year. Each offers a unique perspective and increasing hype for the famed silhouette. The demand was high, but it was answered with tons of releases. With the original colorways of the sacai x Nike LD Waffle well out of reach on the aftermarket, the triple collab versions were a nice consolation prize.
8. Nike Air Max 90 'Bacon'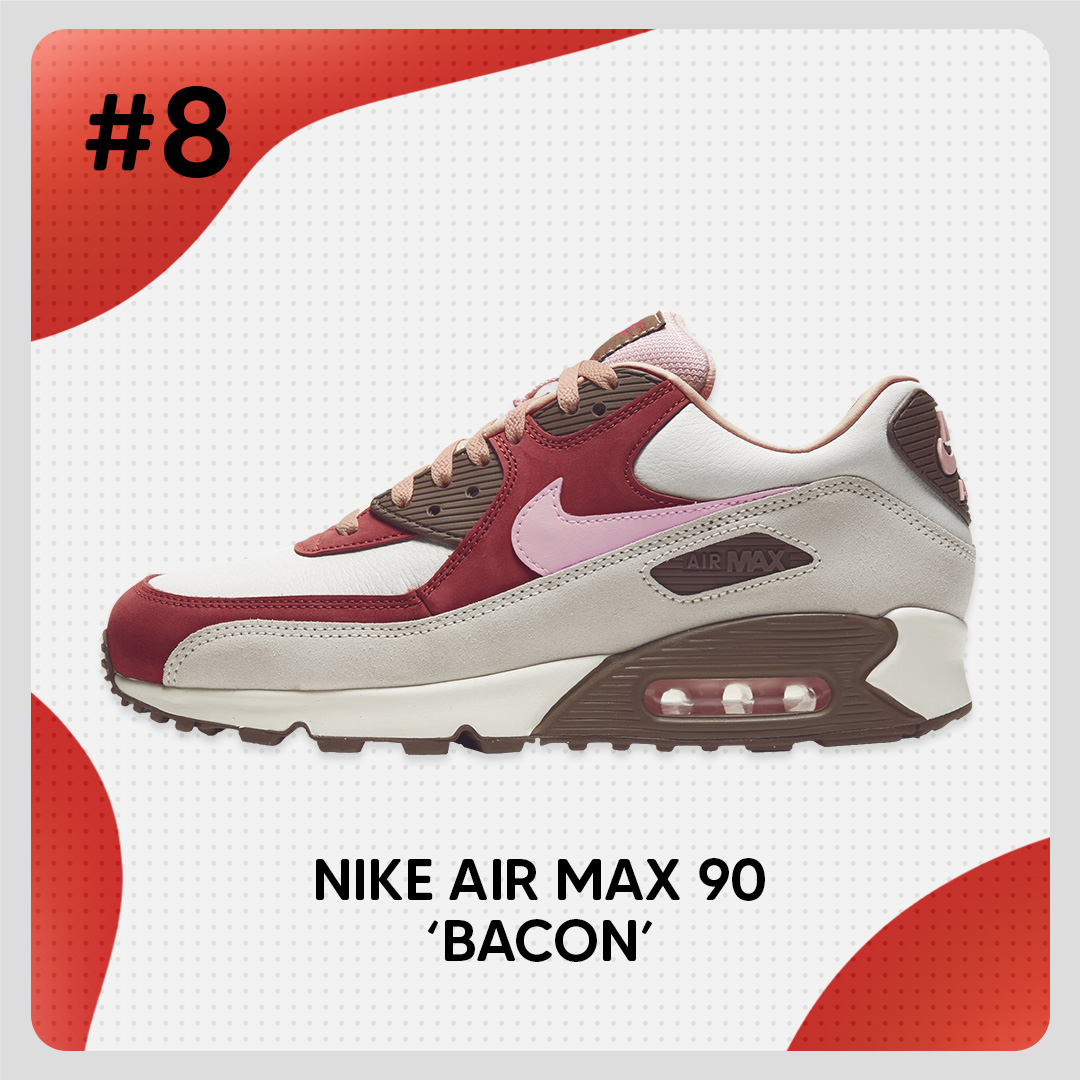 Release Date: 03/26/21
Retail Price: $140
Style: CU1816-100
After 17 years, Nike brought back the Air Max 90 'Bacon,' and even though it lacked the official Dave's Quality Meats collaboration treatment, it was still a memorable Air Max Day drop. We were blessed with waves of releases for this sneaker, giving people more than enough chances to cop. Designed to mimic the colors of bacon (from raw to cooked) and with a premium construction (suede, tumbled leather, and mesh) the Air Max 90 'Bacon' was easily one of the best releases of 2021.
7. Air Jordan 1 Low OG 'Neutral Grey'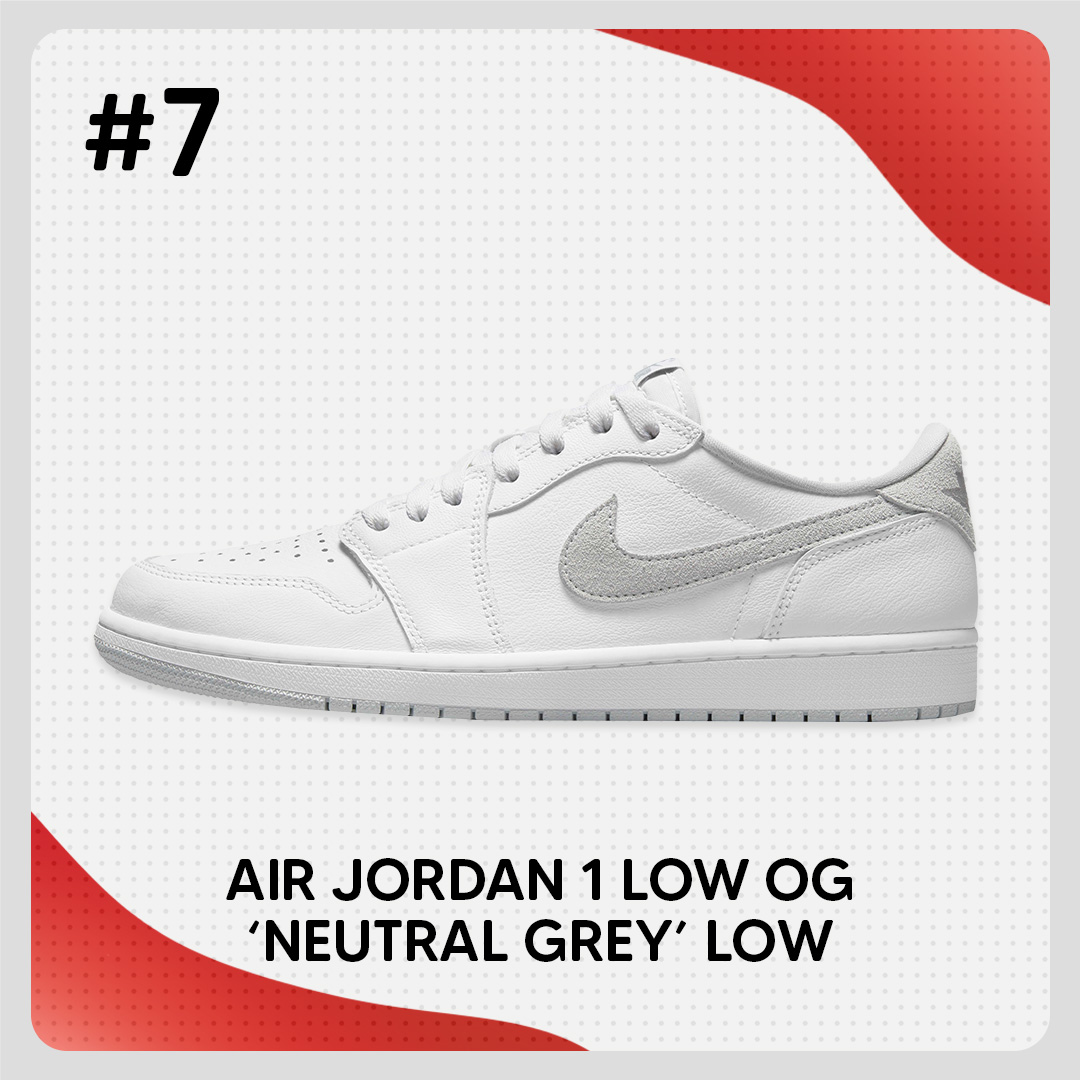 Release Date: 06/24/21
Retail Price: $130
Style: CZ0790-100
We all love our retro's, but there is just something special about an OG. This is why the masses were swooning over the Air Jordan 1 Low OG 'Neutral Grey.' The colorway first returned with a makeup true to its '85 High form and was followed up with a summer-ready Low. Highly sought after, Jordan answered the call with this release. Stock levels were high and there were several restocks for those that missed out initially. In July, we sold over 100 pairs for retail in our member store.
6. A Ma Maniere x Air Jordan 1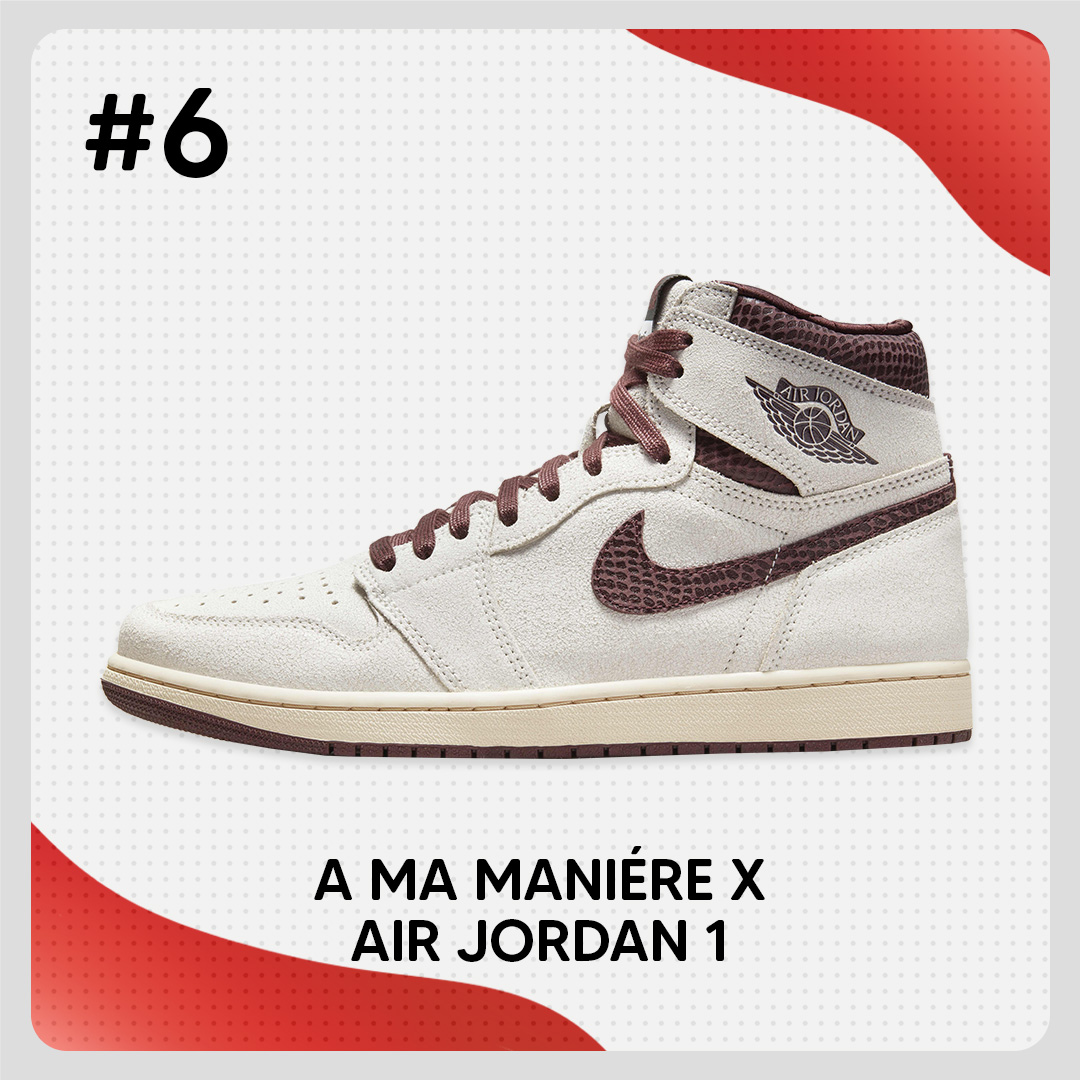 Release Date: 12/03/2021
Retail Price: $200
Style/Color:  DO7097-100
A little lower than it placed on the community-voted ranking, the A Ma Maniere x Air Jordan 1 comes in at 6th on our releases of the year list. As usual, the storytelling from James Whitner was top-notch. The sneaker spoke to daily realities that Black people across the country face and each and every detail was chosen with purpose and care. The release was handled with as much care as the shoe itself. During the in-store raffle, the AMM team was checking IDs and verifying shoe sizes of those entering to ensure nothing nefarious was happening amongst entrants. During the online release, a domain change ensured that opportunists couldn't plan an attack on the site. Our release team did ensure that members had that new domain early as part of our release guide so they could be as prepared as possible for the drop.
5. JoeFreshGoods x New Balance 990v3 'Outside Clothes'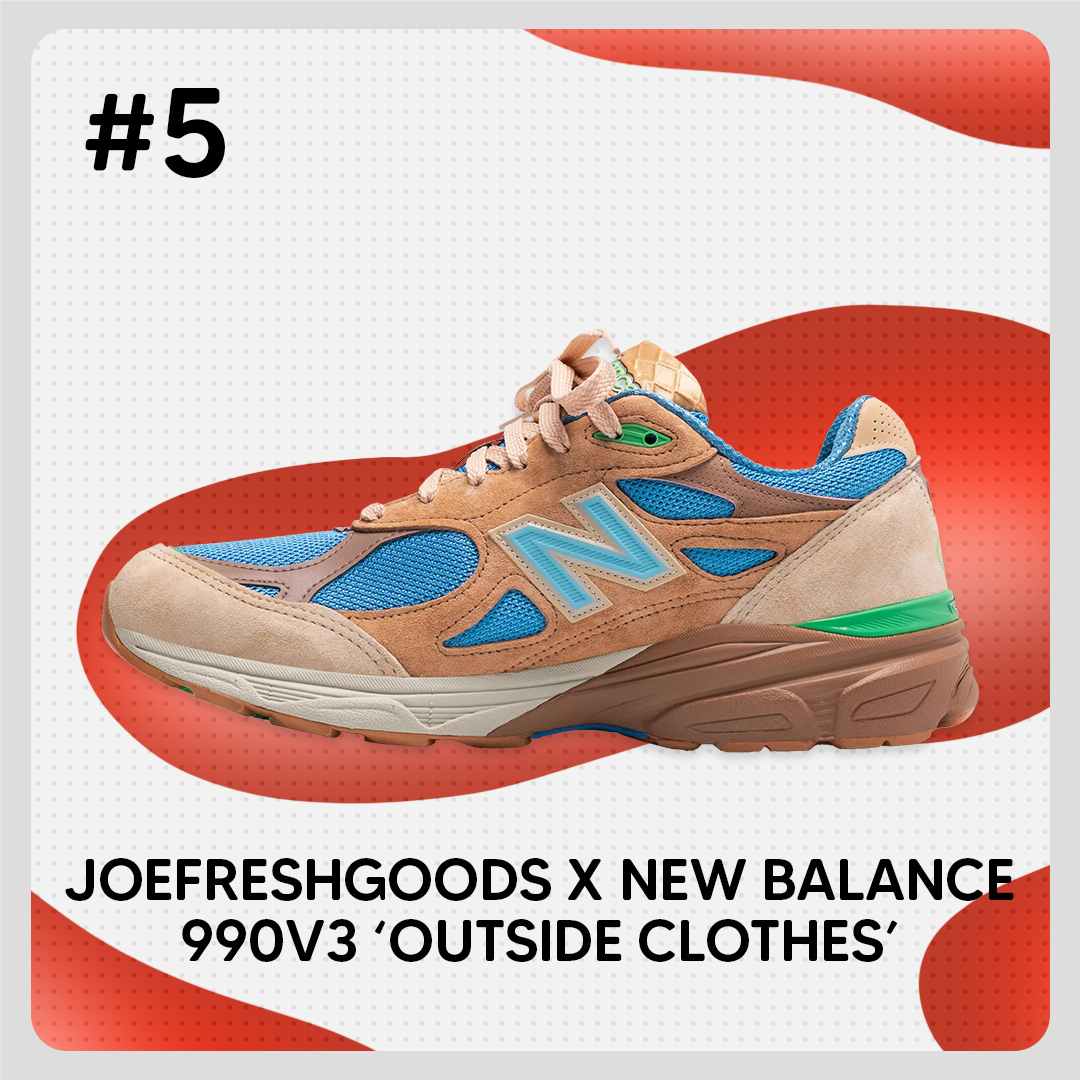 Release Date: 9/10/2021
Retail Price: $220
Style Number: M990JG3-37726
If we were to liken this release to music, it'd be like Drake's mixtape If You're Reading This It's Too Late, which he shock-dropped with no warning in 2015. Joe FreshGoods dropped the shoes on his site with no heads up or warning. Times like these are when it pays to be a SoleSavy Member, as our sneaker monitors caught the drop when no one else did. We were also the first ones to catch the follow-up Instagram release. Inspired by Joe's childhood summer days of playing with your friends, block parties, and hanging out on the porch, this shoe is a reminder of simpler times. The JoeFreshGoods x Balance 990v3 'Outside Clothes' didn't simply crack the top five because SoleSavy Members had great success copping, it's because Joe went against the norm and the move paid dividends by catching opportunists off-guard. This understanding of your consumers is what continues to set Joe Fresh Goods projects apart.
4. Social Status x Nike 'Free Lunch' Dunks – 'Strawberry Milk'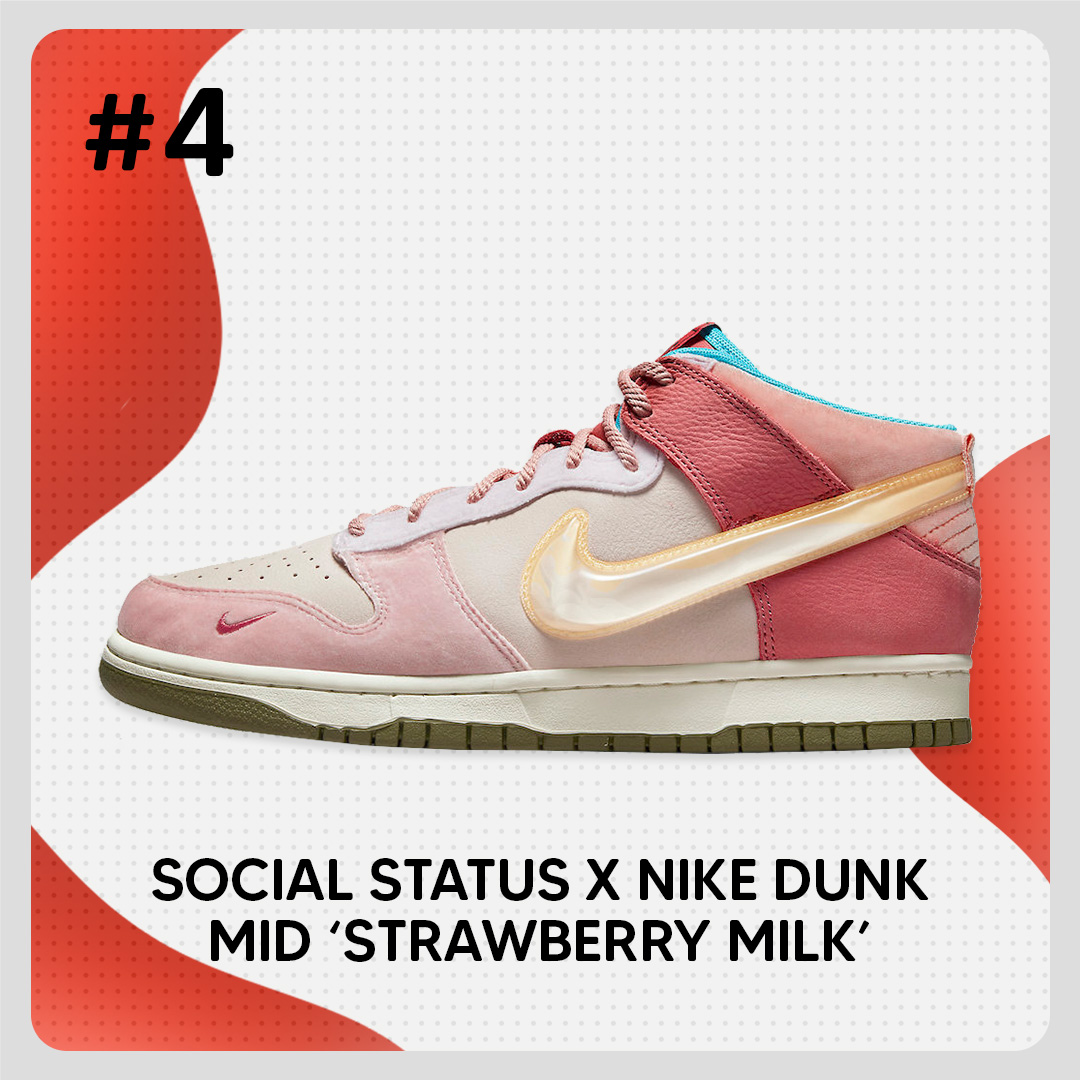 Release Date: 10/15/21
Retail Price: $130
Style: DJ1173-600
It's rare, but sometimes a sequel can match the magnitude of an original. That rare occasion occurred with the Social Status x Nike Dunk Mid 'Strawberry Milk.' Like its chocolatey predecessor, this collab is more than a sneaker, it's culture. Inspired by James Whitner's childhood experience with the summer 'free lunch' program, this release is an ode to the times he'd hear: "Yo, Free Lunch is opening. Let's go eat." That story is one that so many across the country can relate to and honestly, that's what has made all of Whitner's efforts in 2021 so good. The stories he's telling are relatable to his intended target audience. In a world where clout and flexing have taken over, he's managed to make humility shine.
3. Social Status x Nike 'Free Lunch' Dunks – 'Chocolate Milk'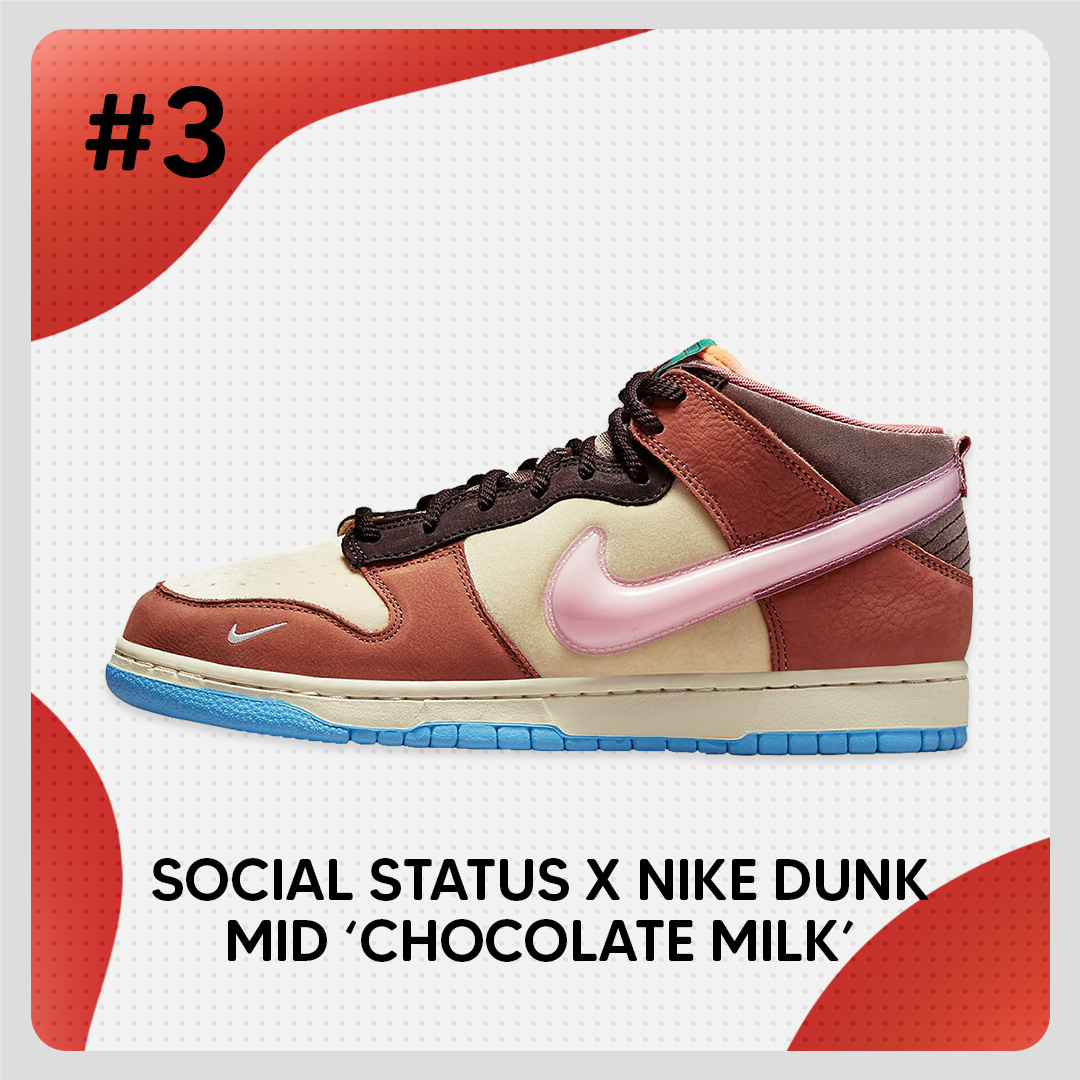 Release Date: 09/17/21
Retail Price: $130
Style: DJ1173-700
As much as we loved the sequel, we gotta pay our proper respects to the original. The Social Status x Nike Dunk Mid 'Chocolate Milk' rounds out our top three for releases of the year. We talked about the story of the shoes above, now we have to show love to how the Whitaker Group handled the release of both. Like a few other drops this year, Social Status made use of domain swaps for both launches, but more importantly, they had tremendous bot protection. Their in-store raffle was top notch as well, with the Social Status team giving free lunch boxes to kids (furthering the message behind the shoe) and giving extra goodies to those wearing the 'Chocolate Milk' Dunks entering for the 'Strawberry Milk' colorway. Manual users feasted on these releases and both Dunks have been a mainstay in our #WDYWT (what did you wear today) channels.
2. Patta x Nike Air Max 1 'Monarch'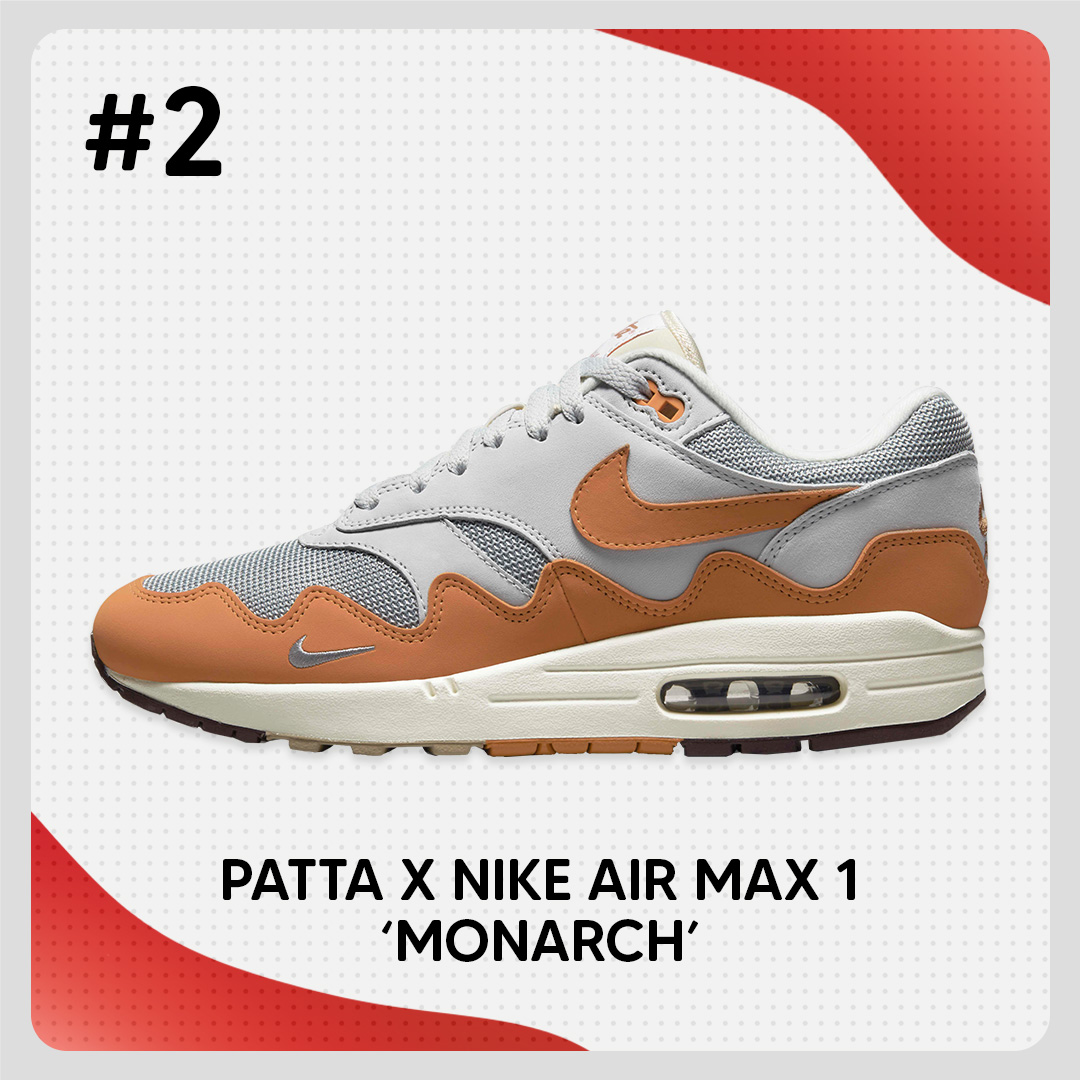 Release Date: 10/08/2021
Retail Price: $160
Style/Color: DH1348-001
The best way to describe the Patta x Nike Air Max 1 'Monarch' is disruptive. Patta took an iconic silhouette and managed to make it their own. The ripple waves and mini swooshes are beautifully unique. AM1s never went out of style but the Dutch brand definitely helped introduce the iconic model to the new age of sneakerheads who might have previously overlooked it in favor of Dunks, Air Jordan 1s, and Air Force 1s. A sneaker this sharp deserved a release to match and Patta x Nike didn't disappoint. The initial drop on Patta's site utilized a domain change (shoutout to the SoleSavy release team for the early link), along with captcha to ensure human users were copping. A tip of the cap to Patta for this release.
1. A Ma Maniere x Air Jordan 3 (Women's)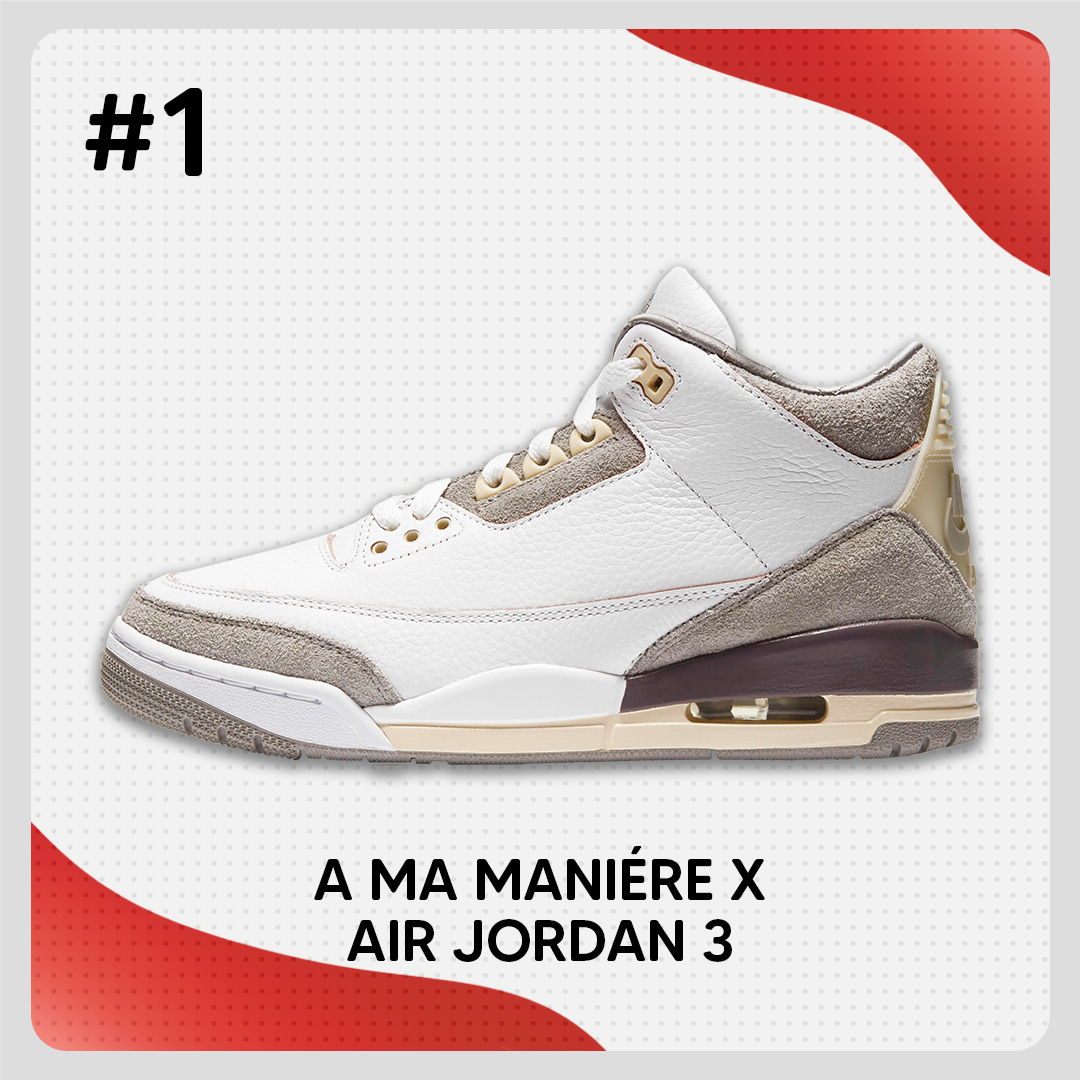 Release Date: 06/10/2021
Retail Price: $200
Style/Color: DH3434-110
From the moment images surfaced, sneaker enthusiasts were touting this as the frontrunner for sneaker of the year. Then James Whitner and team went above and beyond to ensure that the shoe got into the hands of real consumers. First and foremost, they prioritized women (who the shoe was designed for) with their in-store raffles. That process also included checking IDs at pickup and verifying consumers were getting their actual size. After their in-store raffle, they released the shoes online and instead of using their site, they changed the domain (gamechanger this past year) at purchase and utilized hCaptcha at checkout. Strong storytelling, heavy focus on the ladies, and a next-level release experience left absolutely no doubt that the A Ma Maniere x Air Jordan 3 was the best sneaker AND release of the year.
Join SoleSavy today to become part of our amazing community of sneaker enthusiasts and gain access to resources, tools, and information that'll help you get sneakers like all of the ones featured above.
Some of those tools include Drop Alerts, which were recently integrated into the SoleSavy App, and Assist our Google Chrome Extension. Drop Alerts are personalized push notifications with direct links to purchase sneakers and other items like apparel and collectibles. Assist significantly improves the speed of the checkout process when using Chrome. All of this and more are available to SoleSavy Premium members.