The year is coming to an end, and 2022 has left us with many memorable sneaker releases. Of course, the year ending means it's time for our staff's end-of-year picks!
Just like our list at the halfway point of the year, this list isn't necessarily a top ten releases of the year- where we rank the most hyped and coveted releases. Instead, this list will hit on the releases our community saw the most success with- and were deemed as fair by our staff. The only major change to our mid-year list is that we ended the list with a proper "Top Ten" rather than listing them in chronological order.
Before we get into the top ten, though, we have to cover a few honorable mentions.
It should not come to anyone's surprise that Social Status went the extra mile to deliver a great project with their Social Status x Penny 1 collaboration. Special shout-outs are in order for their post-launch 'Pay if Forward' campaign, in which you were given the opportunity to buy a pair and bless someone else with one in the process. The Rebellionare Air Jordan 1 was released exclusively through Jordan Brand NBHD boutique partners- allowing said boutiques to get super creative with how they launched the shoe. The Two18, Shelflife, and Titan 22 Air Jordan 2 collaborations rounded out the year of the Air Jordan 2 in a way that allowed three boutiques from across the world to have a special moment.
Similarly, the Kasina Air Max One collaboration gave the Korean boutique the chance to shed some light on Korean culture on what ended up as one of our community's favorite releases. Finally, the Lost and Found Air Jordan 1 rounds out our honorable mentions. That launch was not an easy one, but it was undoubtedly without the community's favorite shoe this year- and it granted us some wonderful assist stories in which members helped each other secure one of the most coveted sneakers of the year. Was there enough for everybody? No, but with some rumors saying there were as many as half a million produced, we can't say the brand didn't listen and make more of these.
Now, let's get into our staff's top ten:
10. Salehe Bembury x New Balance 990v2 "Sand be the Time"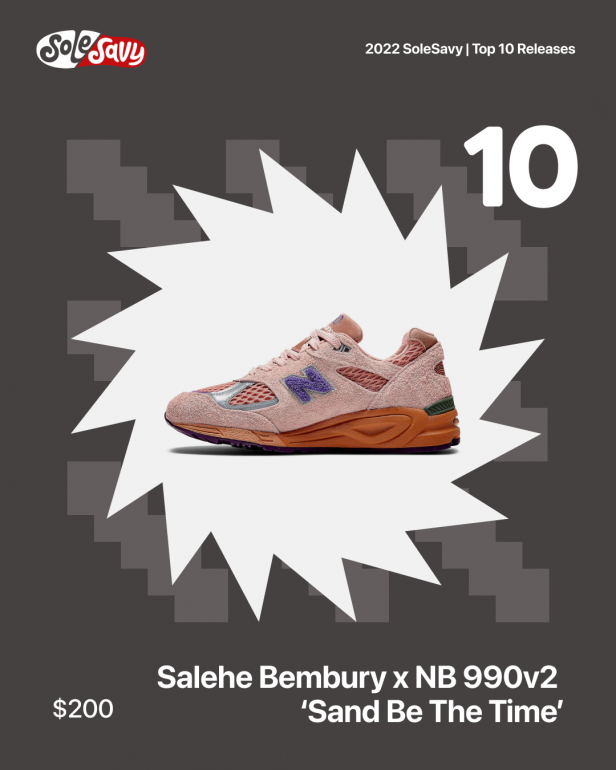 Bembury's latest New Balance sneaker came at the buzzer, but that didn't stop our community from securing the latest chapter in the already highly successful partnership between both parties. It is worth noting how much the shopping experience has improved on Bembury's site, beaspunge. The site's usage of hCaptcha bot protection has helped fans not only secure his Crocs Pollex collaborations but also the tenth entry of our Top Ten list.
9. Air Jordan One High "Taxi"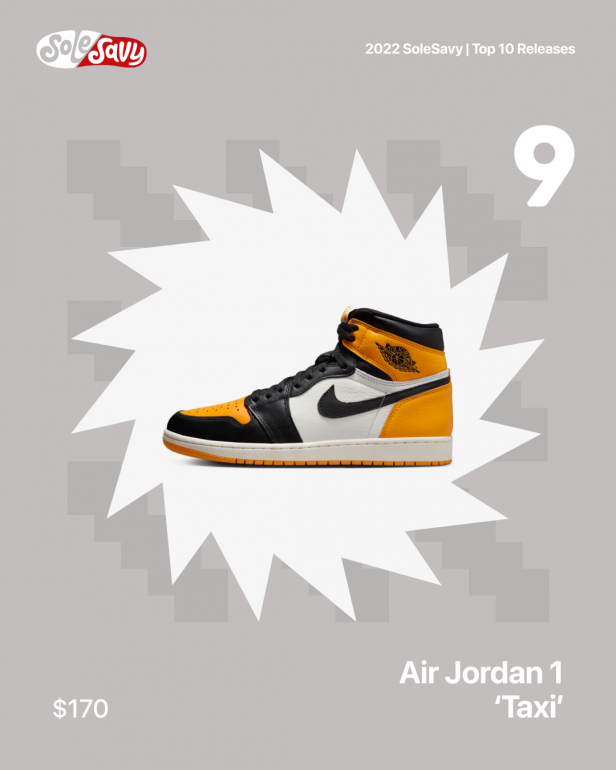 After years of samples or customs with similar color-blocking, Jordan fans were finally treated to this sneaker. Of course, color-blocking a sneaker much like the now iconic Shattered Backboard will automatically turn heads, but the taxi-yellow on the toe box allowed this sneaker to stand on its own. Pair that with the tumbled leather, and you have a hit on your hands. The best part about this sneaker, though, was how accessible it was to purchase. Jordan 1s will always move the needle, and it was so refreshing to see a pair as coveted as the Taxi be such an easy purchase for our members.
8. Patta x Nike Air Max One "White"
The Pattas "Wave" Air Max 1 collaborations have become some of the most worn sneakers within the SoleSavy community. Last year's Monarch earned second place in our top ten, so it should come as no surprise that a new Patta Air Max 1 would once again be deemed a success. This Patta Air Max 1 began as a sample paying tribute to the son of Edson Sabajo, Patta's co-founder, in the form of a 1-of-1 sample. Fast forward a year later, and fans of the already successful collaboration got one last pair in a very wearable white and silver colorway.
7. Kith x New Balance 990 Anniversary Pack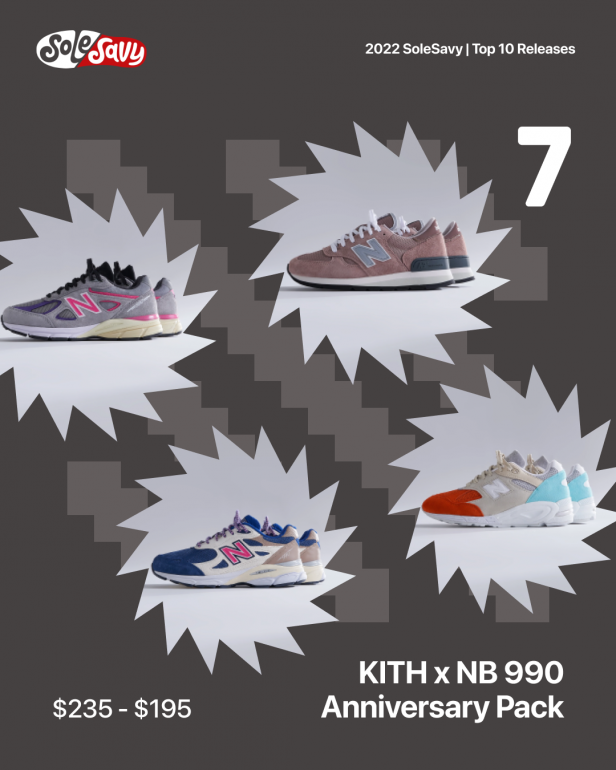 The anticipation for KITH's anniversary pack started as far back as last year, thanks to the KITH book that helped the brand celebrate its 10th anniversary. The rollout was obviously delayed, but when the shoes finally arrived, KITH hit us with a new app with a new raffle system that made the distribution of pairs fair. They then launched pairs online. The v2, v3, and v4 were released online with over 2,000 units per model. Since the launch, KITH has continued to roll out successful raffles using the system they introduced. This pack not only helped celebrate the milestones KITH has reached in the last ten years but also ushered a new direction in how they will handle releases going forward.
6. Tom Sachs x NikeCraft General Purpose Shoe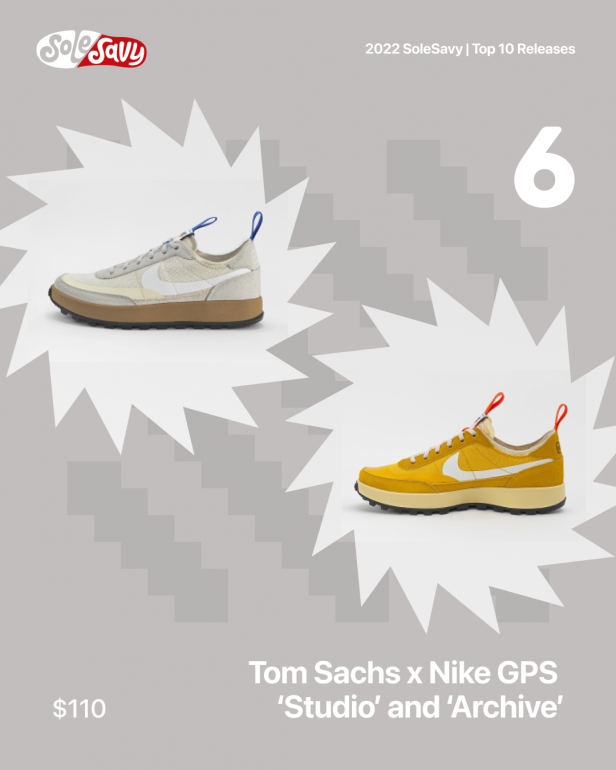 Before 2022, owning a Tom Sachs collaborative sneaker was out of the realm of possibility for most sneakerheads. The launch of the General Purpose shoe, GPS for short, quickly changed that for…practically anyone remotely into sneakers. Beginning with the very stylish Studio colorway in June, the GPS was an instant hit for its wearability. The more eye-popping Archive colorway soon followed. Each launch of a GPS release was already well stocked. But, when you add the fact that just on Sachs' site alone, the Studio colorway launched three times, while the Archive colorway launched twice, there is no denying this sneaker and the message of being an everyday shoe that it was trying to get across. That point was further emphasized when the Archive pair was released at Kohl's, further granting even more access to sneakerheads outside of big cities.
5. Air Jordan Three "Fire Red"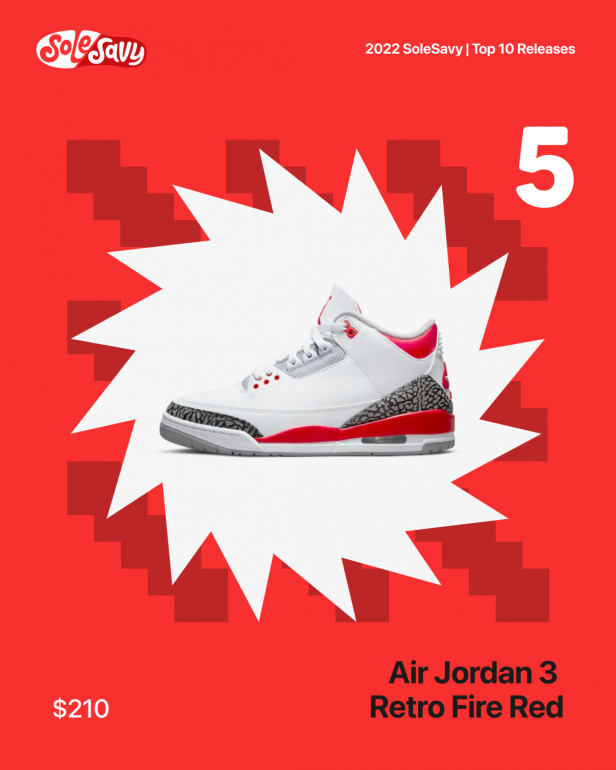 The Fire Red 3 returned for the first time since 2013. What made this retro so special, though, was that it was the first time the pair was released in OG form- meaning "Nike Air" on the heel tab, a lighter elephant print pattern, and even the original toe shape. That alone was enough to make the shoe a "must cop" for new fans and OGs alike. The shoe also ended up being one of the best-stocked Jordan releases of the year- making it very obtainable for sneakerheads interested in owning such a classic sneaker.
4. Concepts x Nike Air Max 1 "Mellow","Heavy," & "Far Out"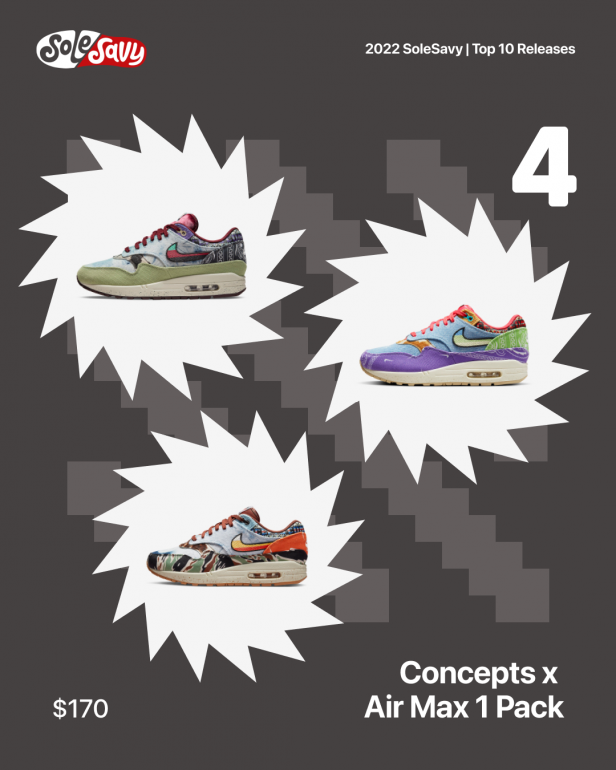 Nike and Concepts really celebrated the 35th Anniversary of the Air Max 1 in style.The material execution was impressive on its own, but the Far Out special packaging sealed its fate as one of the best releases of the year. Much like with the design of each of the sneakers from the collaboration, Concepts went the extra mile to ensure pairs from this collection went to sneakerheads. Concepts misdirected users to watch their social media accounts, used a new domain for each of the three releases, and deployed a decoy domain for the Far Out pair. The confusion around the releases and new domains made for some very fun zoom sessions in our community. As a result, plenty of manual users, especially our members, were able to purchase pairs from this collaboration.
3. JJJJound x New Balance 990v3 "Olive"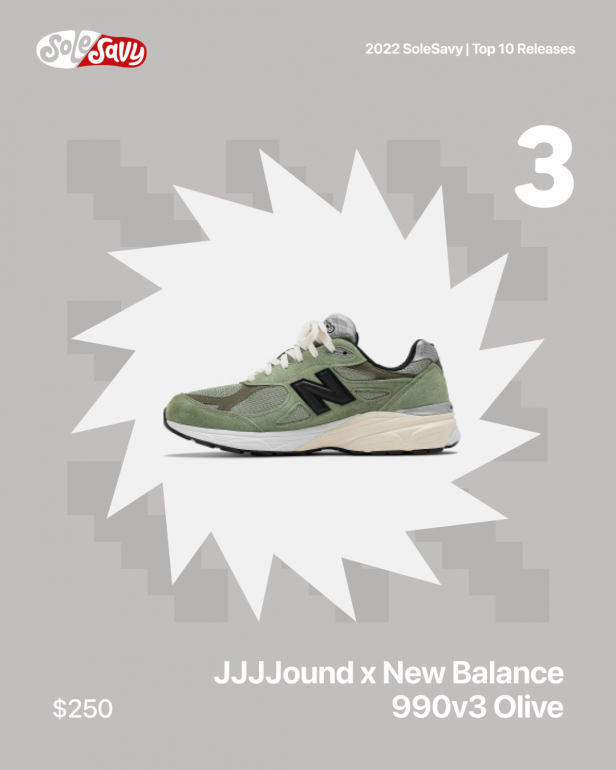 JJJJound has cemented itself amongst the most popular New Balance collaborators. This year's 990v3 in Olive was a must-cop for fans of this partnership- as it paid homage to some of the most coveted releases they have worked on in the past. JJJJound's website launch was very smooth, and the stock quantity was as close to meeting demand as these collaborations can truly get. As the year progressed, the Olive v3 stayed prominent at the forefront of sneakers worn by members and in social media sneaker shots. Which must be said is very impressive for a shoe that launched in February.
2. JoeFreshGoods x New Balance 993 "Performance Art"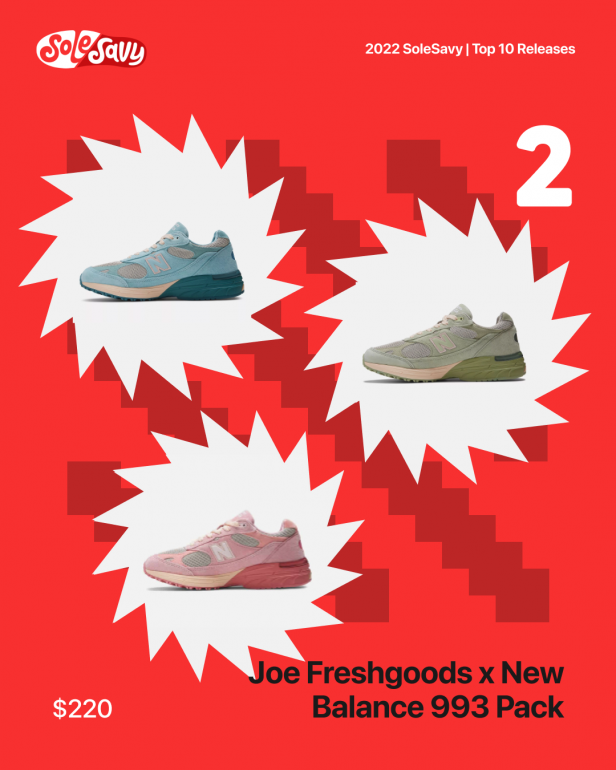 Joe and New Balance, once again, delivered a popular and authentic collaboration. It must be said this was not the only sneaker the partnership released this year (shout out to the 9060), which makes the placement of this pack that much more impressive. The pastel colorways in Artic Blue, Sage, and Powder Pink provided fans of JFG with options. Come launch day, not only did they successfully launch via Joe's IG Shop, but they also released on Joe's site in both men and women sizes. Seemingly, this collaboration was one of the highest stocked of the year, and as recently as last week, pairs were restocking via boutiques. As JFG and New Balance prepare to turn the page on their partnership, I cannot think of a better way to put a bow on this chapter.
1. A Ma Maniere x Air Jordan 4 "Violet Ore"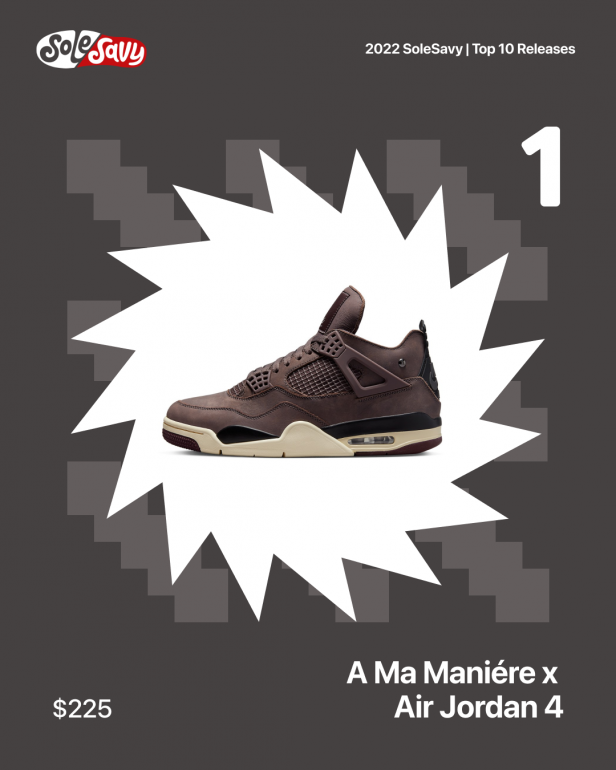 A Ma Maniere finished the year with the number one spot on our list for the second year in a row, justifiably so. There were over 550 public mentions from our members who were able to secure pairs of this sneaker. Throughout the last three years, AMM has cemented itself as the SoleSavy community's favorite boutique. So long as they keep prioritizing the regular consumer like they did when they canceled bot orders of the Violet Ores and re-released them, it will be hard to see them dethroned in the eyes of SoleSavy members. But, almost more impressive than that is how they continue to, time and time again, release thoughtful and stylish iterations of the most classic Jordan silhouettes. The message of the Violet Ores was to inspire a catalyst of change within our world- just as A Ma Maniere continues to do so in the world of sneakers.
Come for the sneakers, stay for the community.
Join SoleSavy to enjoy full membership benefits. Buy sneakers for retail with our tools and tech, shop the COLLECT marketplace app with zero fees, and join an exclusive community of sneakerheads.
Try SoleSavy's Mobile Plus Plan to unlock our mobile-only benefits like release guides, raffle lists, and Drop Alerts. Mobile Plus is a great alternative if you have less time to chase but still want to cop on the go.