On November 30th, the brash Air Jordan 1 set to arrive at retail is already a lot to take in. Sporting the beloved high top cut that connoisseurs can't get enough of and drenched in black and gold patent leather, this two-tone take on the '85 favorite feels far removed from "Banned" blocking or "Chicago" colorways.
Is it that far removed, though?
As legend has it, the Air Jordan 1's origin in black and gold goes all the way back to that of 1985. While never released at retail, patent pairs were rumored to be produced for Michael Jordan's friends and family – likely the first F&F Air Jordan ever if true – to the tune of 20 pairs.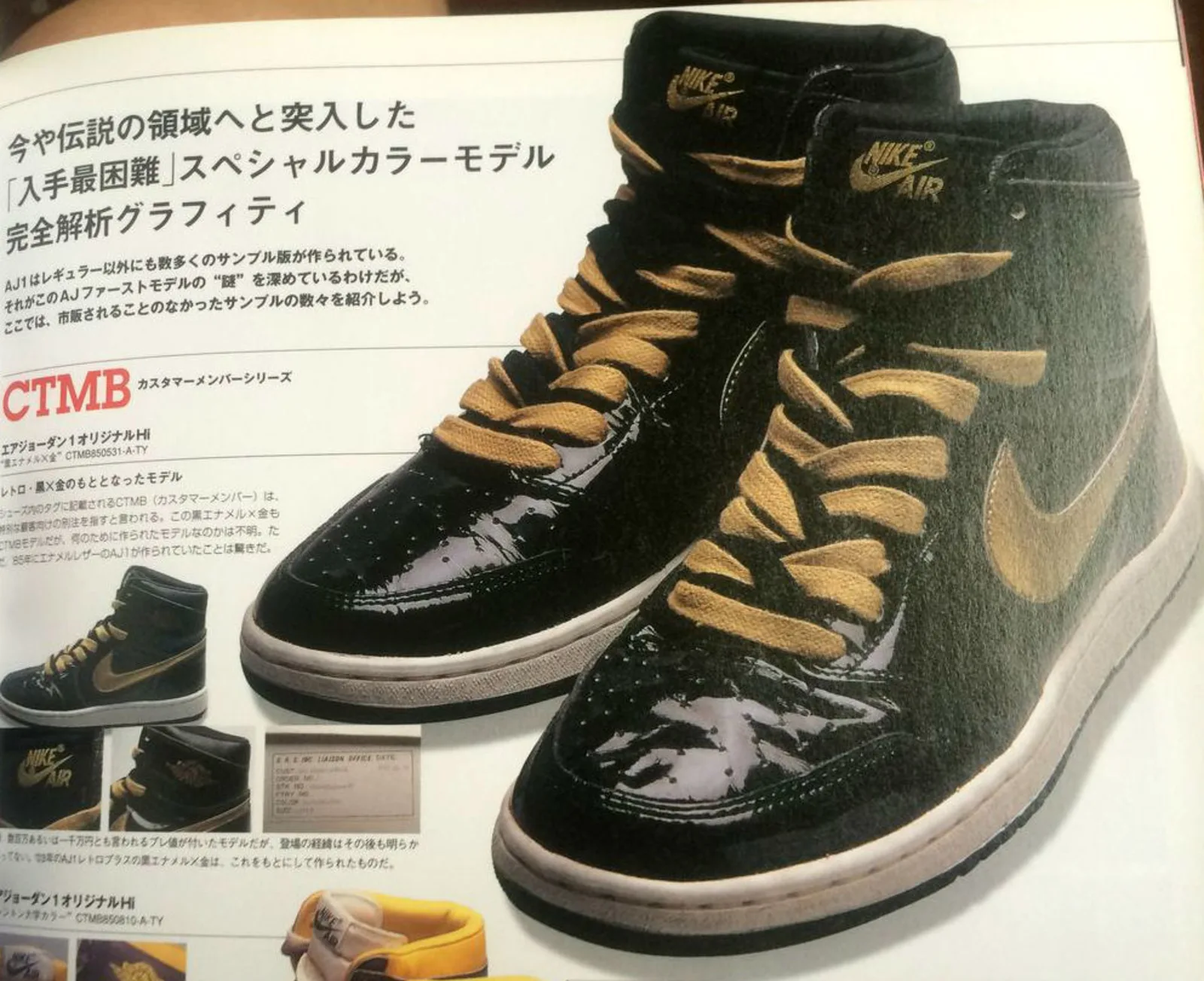 Stories suggest Michael Jordan, a man with a memory like a museum, has no recollection of this patent pair said to pop up right around/right after his rookie season. Is this a rare brain fart by the GOAT or is the pair pictured above an archival fugazi with a story just as fake?
Even after all this time, it remains unclear.
If they are in fact real, someone from MJ's inner circle must have a memory of these or even a pair. Perhaps Nike head honcho Phil Knight, Mike's mother Deloris Jordan or AJ1 designer Peter Moore still have their pair?
If anyone has a pair, it's probably Peter Moore.
In fact, he might have two pairs.
That's because the infamous Friends & Family patent leather AJ1 isn't the only Black/Gold makeup said to be made in the mid-80s.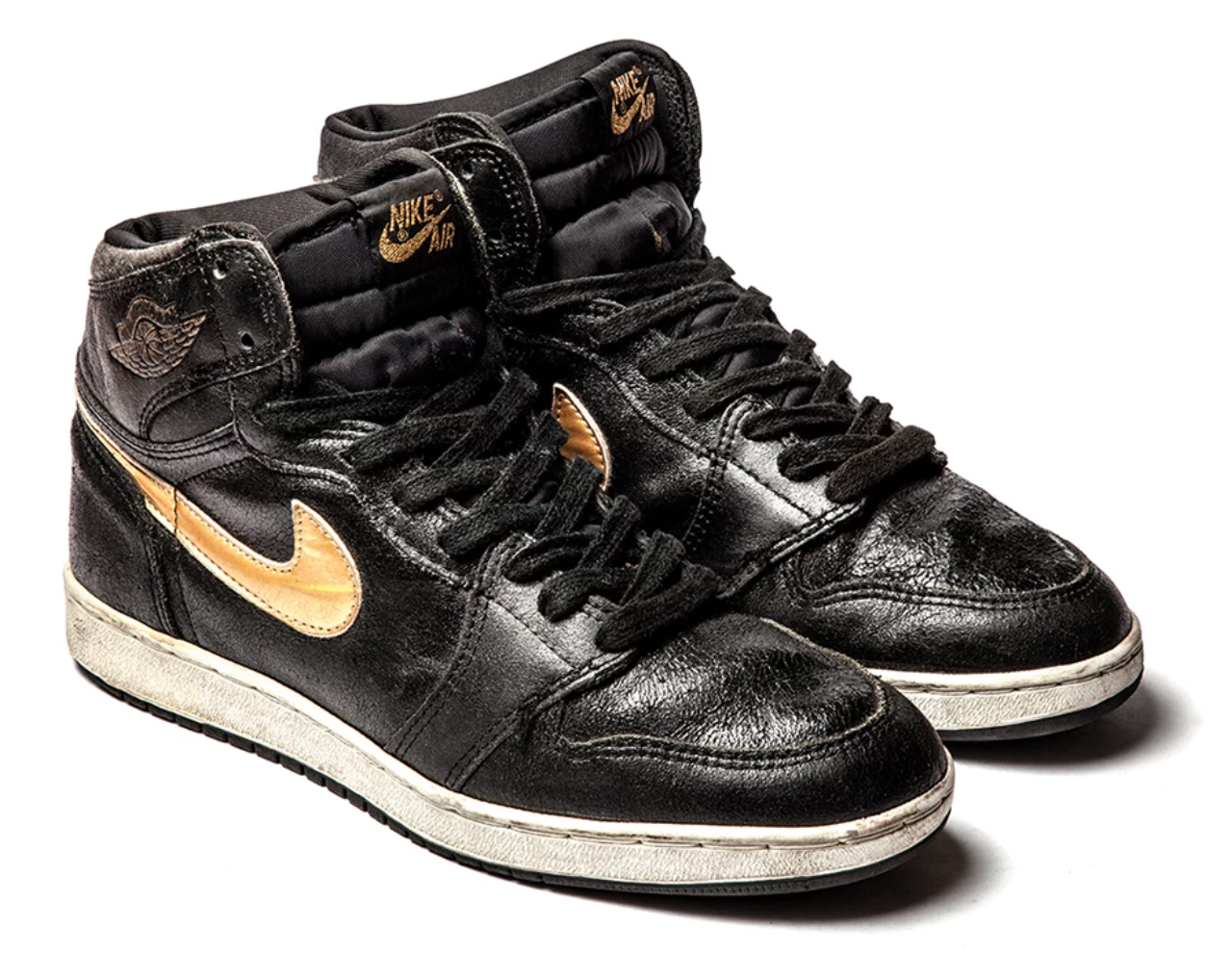 Around the time Peter Moore, Bruce Kilgore, and Nike execs assigned to the Air Jordan line were traveling to Italy to work on early iterations of the Air Jordan 2, it's said that the team sampled a pair of Black/Gold 1s made in the European country's famous factories.
Rather than rely on patent placement, these Italian made Air Jordan 1 samples sported an oiled leather upper and also carried a mid-top cut. This unreleased promotional pair surfaced in recent years on an incredibly dope deep dive feature on Sneaker Freaker and is currently listed on eBay for a whopping $184,120 USD.
According to that article, the folklore surrounding Black/Gold Air Jordan 1s was not left behind in the 1980s but actually grew in the 1990s when variant pairs were reportedly produced. As legend has it, unauthorized pairs were manufactured in a Taiwan factory in 1991 as a nod to the sought after samples. They were said to be created for a fanatic in France looking to sell shoes to a hungry Japanese market looking for both novelty and niche.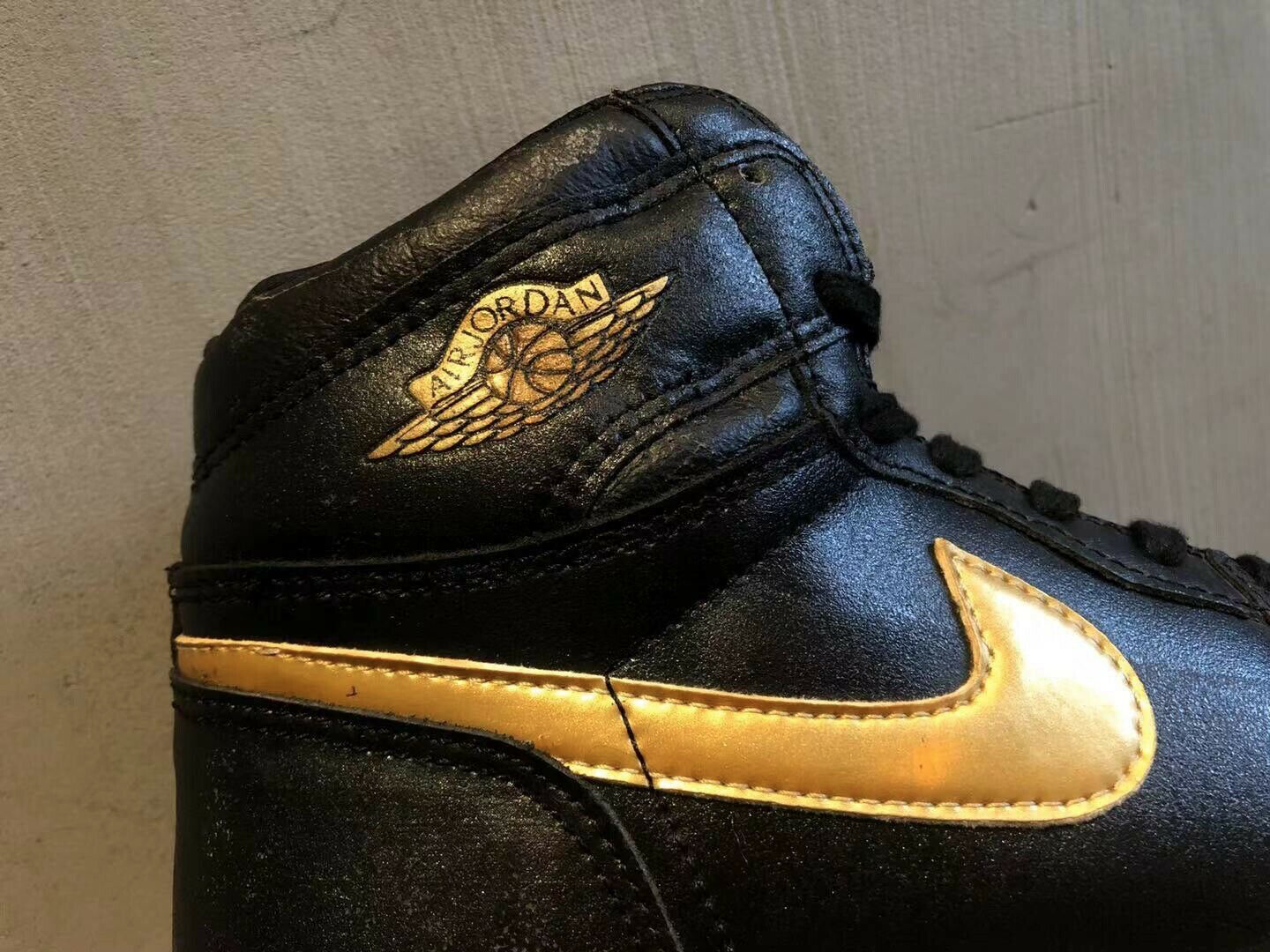 If those Taiwan takes do actually exist, they'd still prove ultra-rare even if they aren't exactly ultra-real. In effect, they'd be the footwear equivalent to a bootleg 2Pac tee from '95 rather than knock-off Off-White 1s from 2017.
Over the course of the 2000s and 2010s, black and gold have returned to the Air Jordan 1 an array of times.
In 2003, the patent leather laden Air Jordan 1s set to Saints shades served as somewhat of an homage to both OGs by combining the shine of the F&F pair with the cut of the Italian sample. Released two days before Christmas, the patent leather run of 1s in '03 was the first formal foray of mid-top AJ1s at retail with the Black/Gold colorway launching last.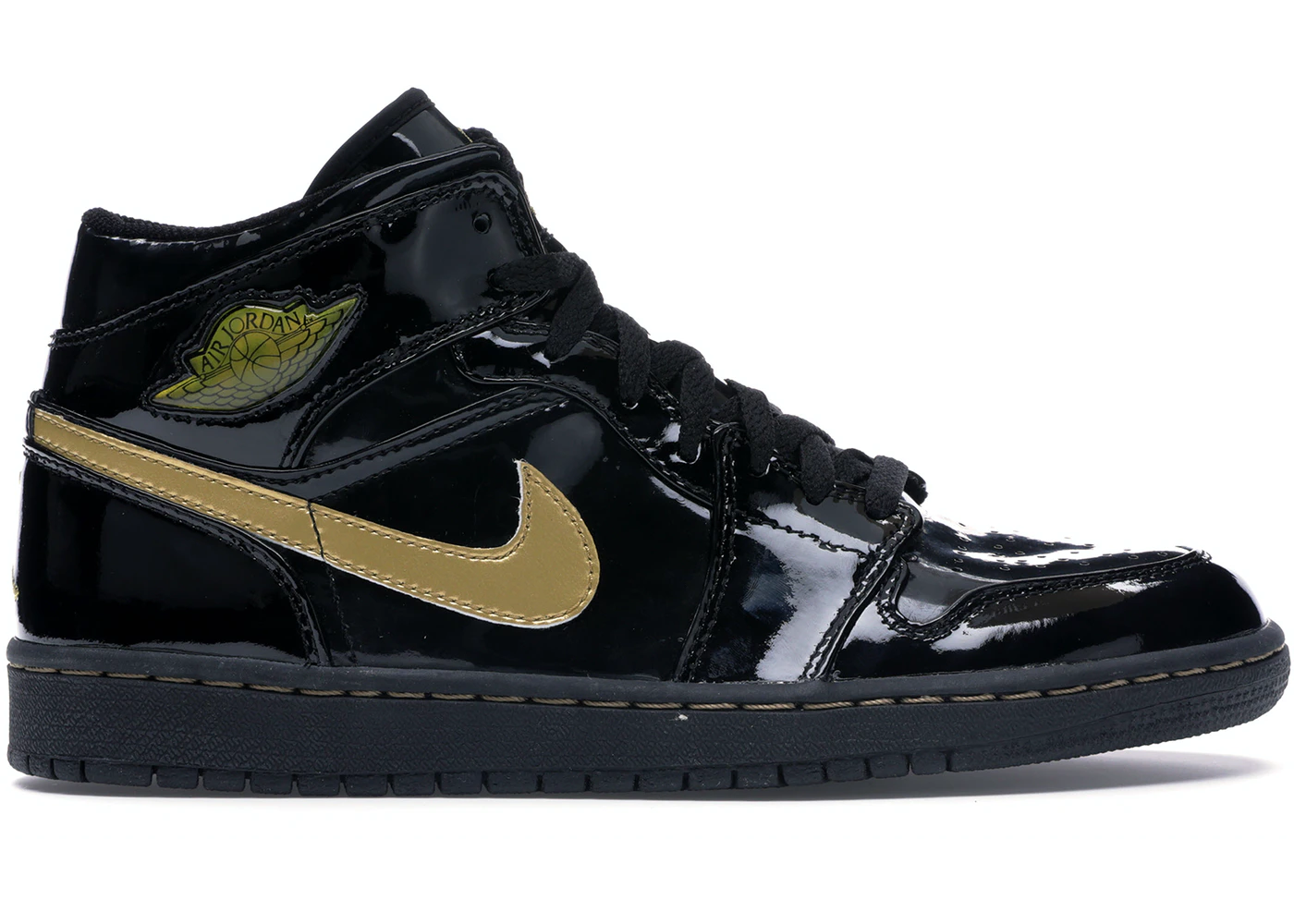 Despite a relatively warm response for this archival colorway and fever pitch around patent leather still strong, the world would have to wait another decade for a worthy follow up.
In 2013, a Black/Gold Air Jordan 1 High was almost identical to the 1 of 20 takes said to be created for Mike's closest compadres, only upping the ante with a glittery gum bottom.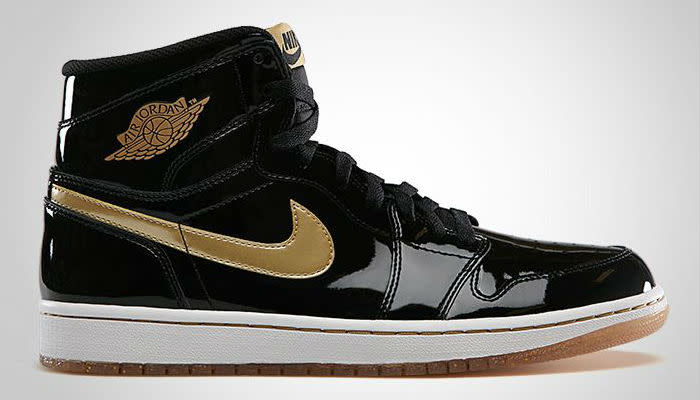 This holiday season, the Air Jordan 1 High Black/Gold is releasing in patent leather-like never before but also much like pairs from its infamous past. This glossy retro is both new and nostalgic at the same time as this premium palette adds extra gold around the ankle collar and blacks out the midsole.
In 2020, the legend surrounding Black/Gold Air Jordan 1s has grown with the explosion of sneaker culture, an appetite for storytelling, and everyone reveling in rarity. The question still remains, will we ever get a true one-to-one of the Italian produced promo pairs or MJ's forgotten friends and family exclusives? 
What we do know is we've gotten very close on many occasions.  What we still don't know is if either original ever truly existed.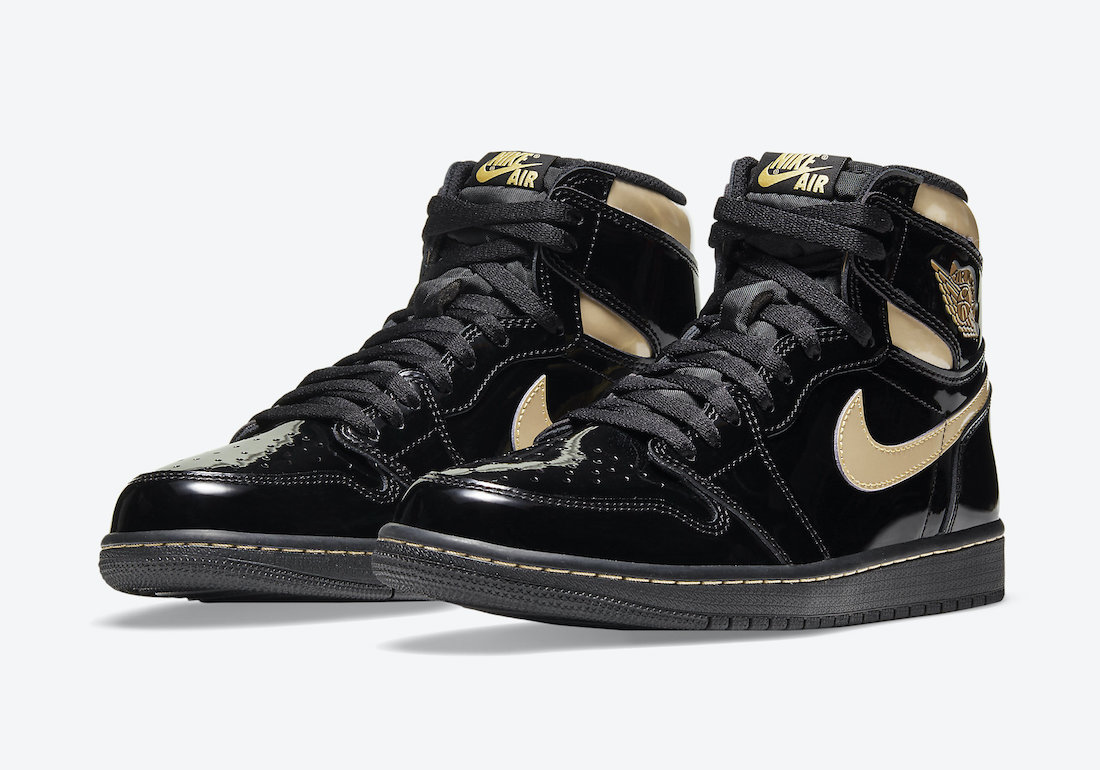 ---
Image via Sneaker Freaker
Image via Sole Collector
Image via Sneaker Freaker
Image via eBay
Image via StockX
Image via Nike
Image via Nike