At SoleSavy, we know all about how big of an undertaking creating a sneaker from the ground up can be, so we applaud all of the independent brands crafting footwear. One such brand is Stria Sport, a Chicago-based company with roots in hoops but whose reach spans various sports, including the rapidly growing game of pickleball. We sat down with Eric Porter, founder of Stria Sport, to chop it up and discuss his new sneaker brand. We touched on the challenges of crafting a sneaker on your own, the most rewarding parts, and of course, we had to talk about where it all started.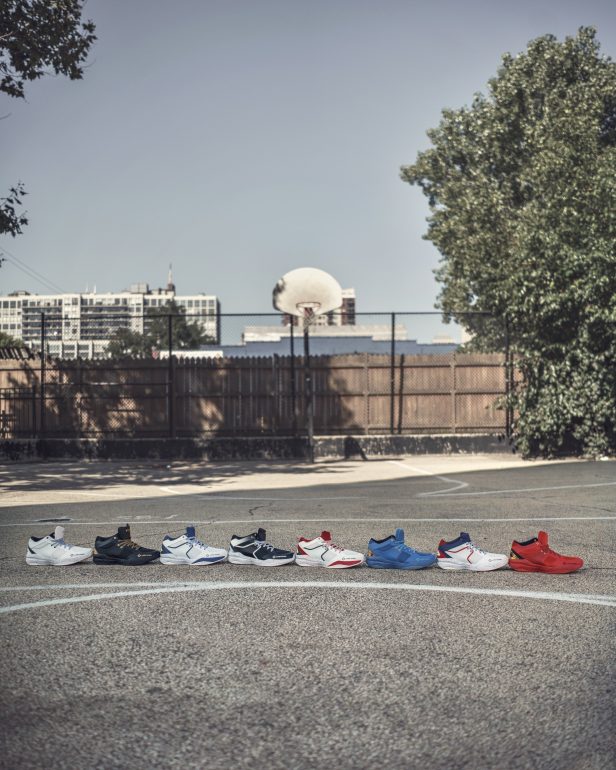 I just wanna know a little bit about your footwear journey as a kid. Like, what was the pair that got you hooked and got you started on this journey?
Been a sneakerhead my whole life. I started going to SneakerCons and all of the shoe conventions in Chicago around 2010 or 2011 when I was around 13 years old. The big thing for me was I love Jordan's obviously but in the convention setting. I was also bringing a lot of Li-Nings that weren't sold in the U.S. yet. 
My dad traveled to China, and I was bringing Li-Nings, and people were kind of dumbfounded over this brand. So that got me really into the shoe world. I loved Jordan 10s. Those were my favorites growing up. I loved "Cherry" 10s, and "Mist" 4s. Those were the shoes that I always really loved. I've been a sneakerhead my whole life, so I just appreciate all the Jordans and their stories. I think for all sneakerheads, it kind of starts with Jordan's early on.
Absolutely. Li-Ning is a very underrated brand. So props to you for putting people on the game.

It was easy because no one had them yet. And my dad back then was just bringing like six pairs back for me, and then we'd bring 'em to these conventions, and people would be like, "we saw those were in China." So we were just kind of selling them, and that started my interest in shoes, in the whole footwear industry.
I was just about to ask, what was your inspiration to start your line? Just build off the Li-Ning and how that eventually developed into your brand.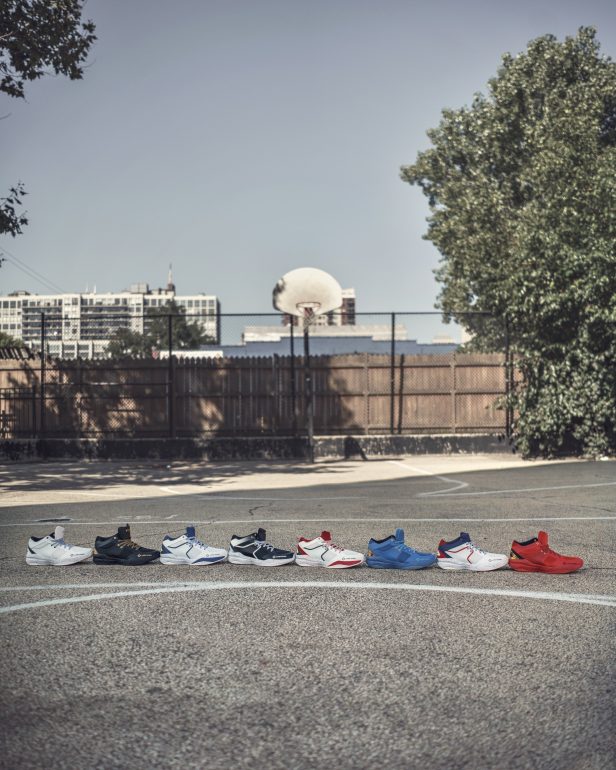 I was a basketball player my whole life. I played in high school and in college. For a guy like me, who's 5'11," unathletic, I needed all the help I could get. So I really wanted shoes that weren't heavy and I feel like as I got older, a lot of the bigger brand's shoes were on the heavier side. Once I graduated college in 2018, I was interested in creating a shoe, going back to how I felt like shoes were in 2010 and 2011. It was all based on performance, being lightweight and that was the big focus. I remember there were the AdiLite Adidas shoes that were like nine ounces. And then like the Kobes were around 10, 11 ounces.
You know, I feel like nowadays shoes aren't like that. And for me, that's what I really wanted to go back to and just create a really comfortable shoe that focused on comfort, lightweight, and traction. All about performance, not necessarily the crazy designs. We kept it simple and sleek, and that was our big focus. We also wanted to keep it at an affordable price. That was really the big inspiration for me was kind of doing it our own way, and that's where we launched about a year and a half ago.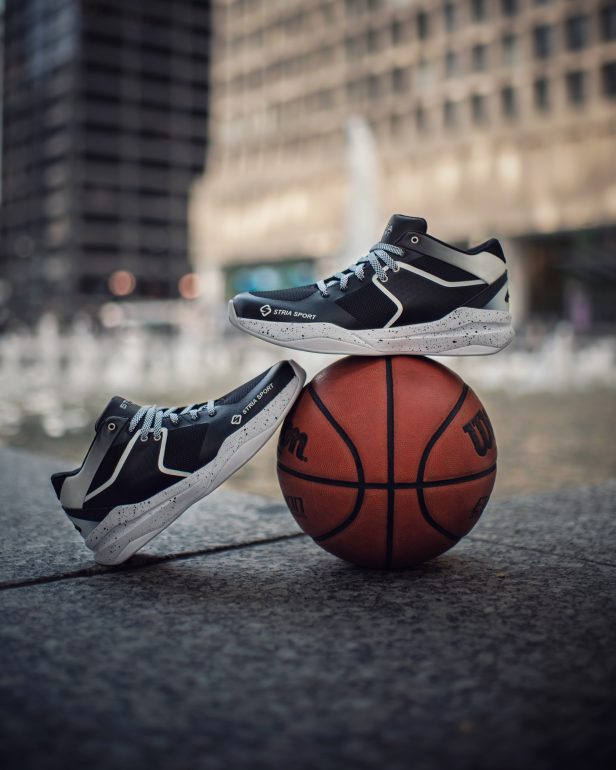 Can you dive into a little bit of the tech of the shoe? What was your process to make it so lightweight? Cause that is a crucial part, especially in a performance shoe, these days.
Our designer was a former Nike designer, so I picked his brain about his experiences with materials and all that. We went with a lighter upper but also included an ankle heel cup for ankle support. We really kept it simple. We kept it sleek with certain meshes. We didn't have loud, crazy designs. We really wanted to focus on having a lightweight shoe and knowing that we couldn't bring in all these different types of materials because that would add weight. We worked with a developer also.
The shoe took about two years to design and develop fully. We went through about 11 sample rounds and had to make tweaks to really alter the certain rubber we were using on the midsole because we really wanted a comfortable shoe where people would try on the shoe and be like, "wow." We really wanted the shock factor where it's noticeably lighter. This is noticeably more comfortable. Because this is a new brand that no one's ever heard of. You kind of have to make an impact right away.

Totally. You said you went through about 11 different samples. What did you learn from the process of designing a sneaker? What were the challenges?
Coming from someone who had zero footwear experience, my only experience was just collecting shoes as a kid. You know, you really start to focus on the details. All of that is important, obviously, then in terms of feeling the shoe and doing the wear testing, the first sample was nowhere near the level of the last sample. We had to add a lot of stuff because, again, it was a performance basketball shoe and needed to uphold the highest level of athletes. So it was really just being patient and understanding this will be a process. It doesn't just happen overnight, especially for someone in a newer brand where this is their first crack at a shoe. So it was really just being patient understanding that there's gonna be tweaks and all of that takes time and really, really honing in on the wear testing process.
Speaking more on that, what's the most rewarding part of making a sneaker? Like once you finally got that finalized design, what was the most relieving part for you?
I think a really exciting part is when you get feedback where people are like, "man, this shoe actually is great." It's like, well, we weren't looking to make a shoe that sucked. So that was always funny when people would say, "man, I really love your shoe. This is the most comfortable shoe I've ever worn." I mean, we weren't looking to just come out with a shoe just for the hell of it, but I don't think it'll ever get old when you go to a random gym, and you see someone wearing your shoe. I play a lot of pickup in Chicago still, and it happens a lot. I mean, we're in Chicago, so I think the brand is pretty strong in the Chicago basketball scene.
I go to a random gym to play pickup, and I see a guy wearing Strias and I walk up to him, and I don't tell him who I am. I',  just like, "Hey man, uh, what do you think of those shoes? He's like, 'man, I love them.' And I just ask him like, 'Hey, how'd you hear of it? What do you think of them?'" And it's always cool to just see someone you don't know wearing the shoe. You know, I mean, we're a new brand. Obviously, we're competing. It's a lot of the big dogs, but it'll never get old when you see someone you don't know wearing your shoes, supporting you, and enjoying the shoe. That's really rewarding. That's the coolest thing I have thought so far about it.
Tell us more about the brand in itself. How did you come up with the name Stria, and what was your goal when creating that first silhouette?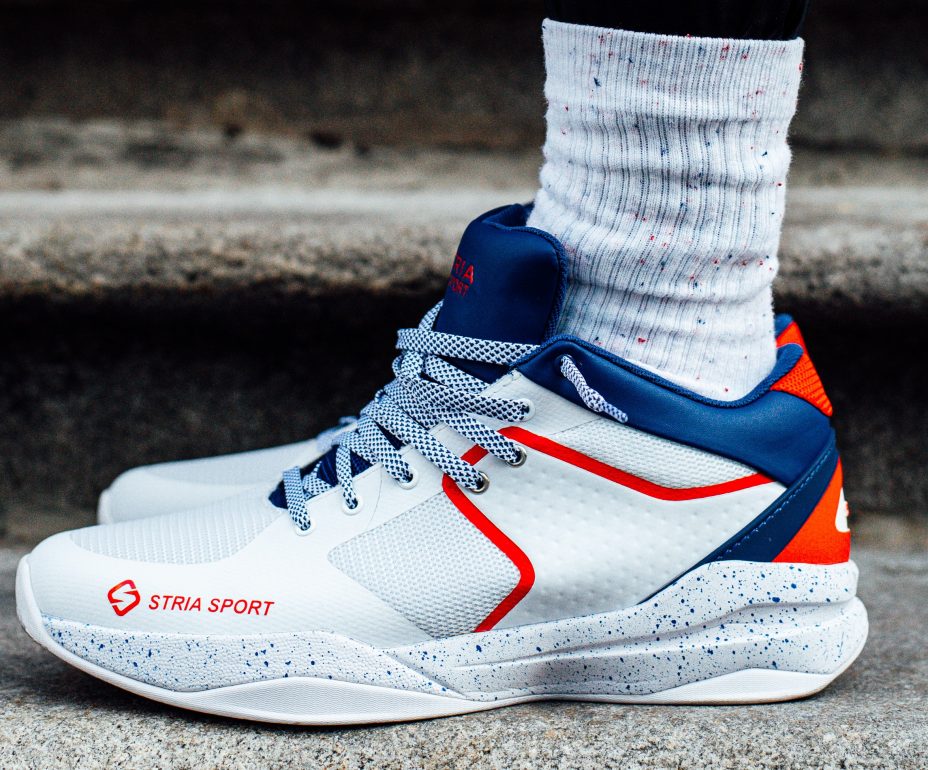 The name was actually the last thing we did. We spent about seven months designing the shoe and coming up with the colorways, and then the factory was like, "all right, we kind of need a name." Me, my dad, and a couple of my buddies who are helping me with this were just bouncing names off each other. None of it was sticking. Then randomly, someone dropped a dictionary, and the page just happened to go to the page of "industrial," which means "energy" in Latin. Industrial sounds cool. Sounds sleek, which is kind of what we want. It was just too long. And then we cut it in half to the word 'stria,' with the idea of no matter it is, whatever it is you do in life, whether it's sports business, you know, you gotta put in the right amount of energy and to us, that stuck.
But in terms of the shoe itself, you know, it's not just a basketball shoe. We designed and developed it for basketball, but we've seen our shoe work for a lot of other sports, and that's why our name is Shia Sport. It's not just for basketball use. Our shoe is very big in pickleball right now. Our shoe is a low mid-top with ankle support, and in pickleball, you need traction and ankle support. We have about nine different professional pickleball players across the US now wearing our shoes,  which is really exciting as pickleball is picking up. We had about 40 professional basketball players wearing our shoes in the past year, which is also really exciting. It shows us that, you know what, maybe we have something here as people are wearing our shoes and we're not paying them. That's been really rewarding.
I love that so much. So tell us a little bit more about the story behind the 107 series in itself and how it came to be in your story as well.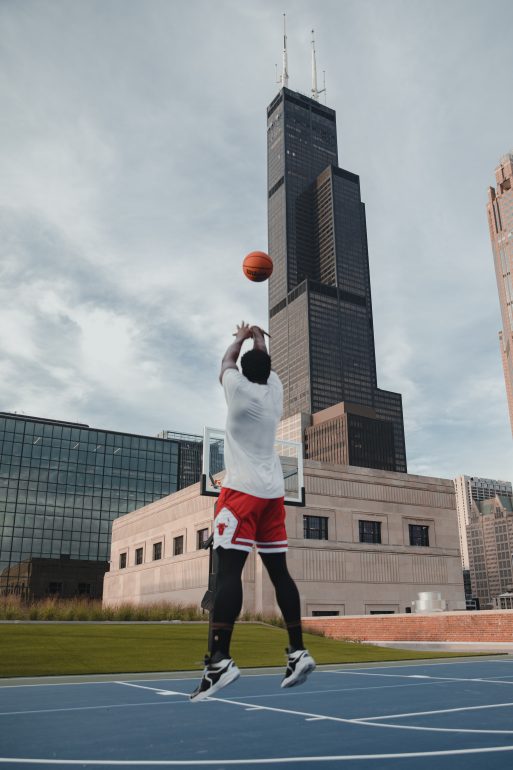 Kind of going back off what I said earlier. I played basketball. I played at Loyola, Chicago, and then at Lake Forest college, which is a small D3 school. The idea of making a shoe was always kind of just an idea that I think every kid at some point has. You didn't ever really think it's gonna happen. I was always doodling in class, all of that, but, you know, it really became an idea my senior year of college, like, "wait, what if we could actually do this?"
Then going into senior year in the summer, during a workout, I ended up making 107 three-pointers in a row. That's always a cool story; you know how basketball players and just athletes in general are. it's just an easy talking point. We thought, you know, let's name our first model, the 107 Series, after making 107 threes in a row. We've seen people always DM our Instagram or send us emails about it like, "is that real? Is that real?" And it's just an easy point for young kids who also are basketball players to kind of look up to and be like, wow, that actually happened. And just gives a story to the shoe, making it a little bit different.
So much of the sneaker game is storytelling. That's why you see certain models are more popular than others, just because of the storytelling behind them. So that's a very important factor. So far, what's been your favorite colorway that you've made?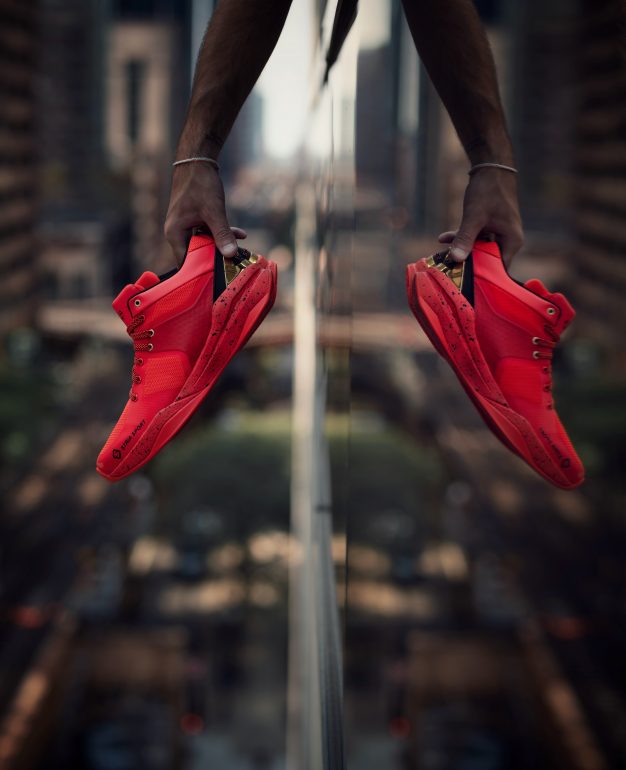 I love the all-reds. It stands out, but it's not doing too much. It's not too loud. It's the easiest shoe to notice in a gym. Our top-selling shoe so far has been the all-white pair. The Oreo colorway is the second best-selling. Pro athletes like the loud colors as well. They love the all-red. They love the all-black, and they love the all-blue. You obviously need an all-white pair because everyone needs to have a clean shoe. I like all the colorways. I don't usually wear all-black shoes, but I do like this all-black colorway. 
Where do you see Stria Sport in the future? And how do you see it expanding? As you said, you're, you're big in the pickleball space. Are there any other avenues that you're looking to explore?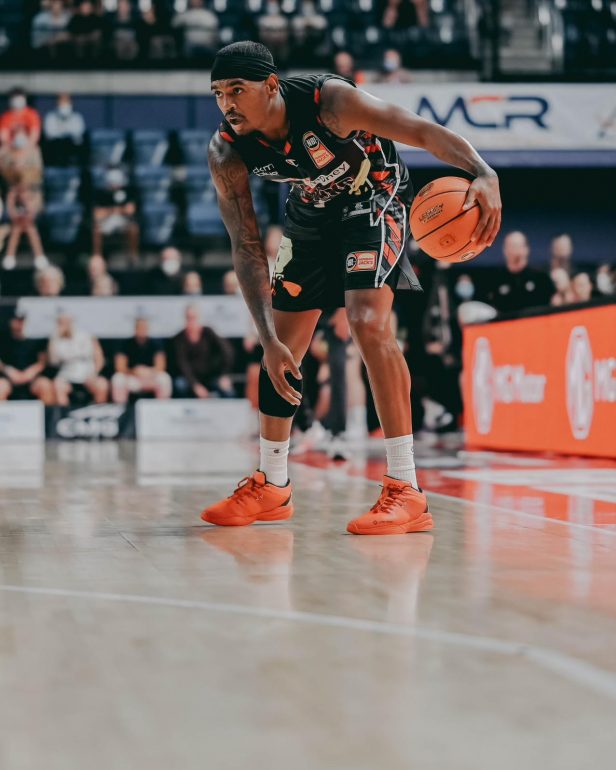 Right now, we're just eCommerce, and we're only in the United States. I think down the line, we're looking at growing overseas. Just build on what we've done so far. We launched during COVID, which is a very odd time for not just footwear, but in life in general. And we had the choice to wait until some of it calmed down. We're in a weird territory of life right now. We launched during a time when basketball wasn't even played for a couple of months. Now that things are picking up again. I think we're looking to grow and find our niche market. It's definitely basketball, pickleball, and volleyball, but we just wanna be a brand that people think of when they think of high-performance brands, and we'll see where that takes us.