"What are you listening to?" asked a voice on the front of the bus.
"Kenny Latimore," smiles Michael Jordan from all the way in the back. "It's brand new, not even out yet. He's a friend of mine."
Somewhat trivial but also telling, Michael Jordan's connection to music may be best visualized in the opening moments of the final episode of The Last Dance. Sitting by himself but in a world all his own, a jubilant Jordan jams on the back of the bus to an unreleased album from friend Kenny Lattimore.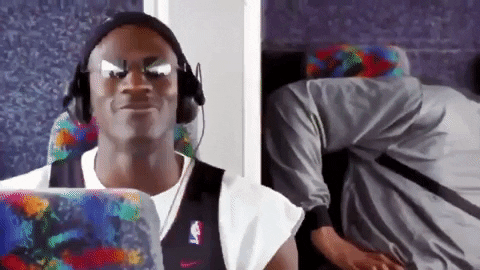 Lattimore's upcoming effort, From The Soul of Man, won't hit Tower Records for months, eventually releasing on October 20th, 1998. Nevertheless, Lattimore's latest, unreleased project is inspiring – or perhaps settling – a jittery Jordan as he arrives in Utah ahead of his last appearance in the NBA Finals that June.
When it came to R&B and jazz, Mike was #TeamEarly. Music may not have been Mike's first love, but it clearly impacted his game. Such was seen in Mike's final run with the Bulls as that season would coincide with the introduction of Brand Jordan: Michael Jordan's newly launched subsidiary under Nike that would make him CEO of his famous footwear line.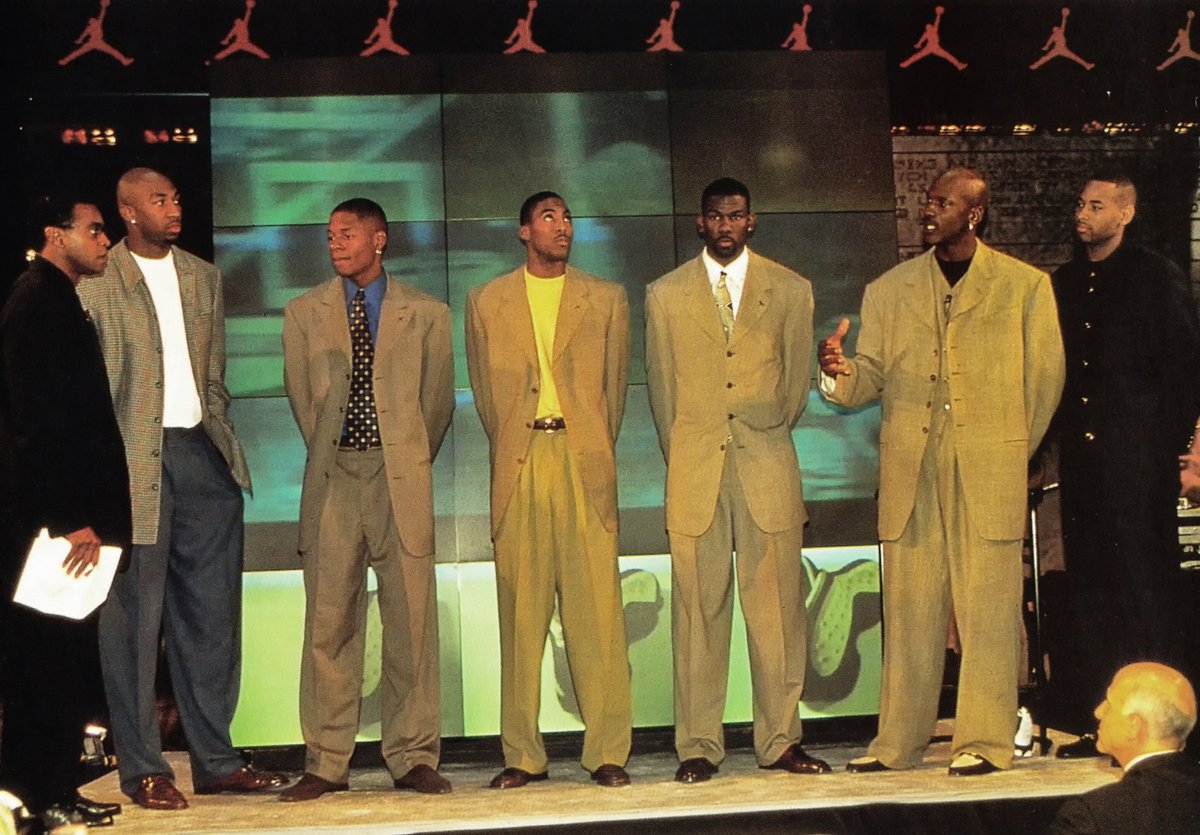 From the jump, Brand Jordan, also known as Jordan Brand, would see an explosive expansion started by signing young talent on the hardwood — all handpicked by Michael himself — and later transitioning to taking over territory on the gridiron, diamond and eventually Billboard.
The latter would be foreshadowed in the Fall of 1997 when R&B outfit BLACKStreet modeled the first season of Jordan Brand footwear and apparel on The Rosie O'Donnell Show. With Mike's musician friends now #TeamEarly on gear and essentially part of the family, the pop culture steeze of having artists – not athletes – unveil the introductory line from Jordan Brand hinted at how Mike saw the future of his image and enterprise after retiring from the game he loved.
The BLACKStreet fashion show would preview the Air Jordan 13, Jumpman Team One, and sleeveless Cincinnati shooting shirt weeks before they debuted at retail that November, timing perfectly with that of the holiday season and in conjunction with Mike's final playing days in Chicago.
Over the years of Mike's playing days in Chicago and even prior to the birth of Brand Jordan, Mike's love of R&B was clear. Throughout the '90s, pairs of Air Jordans were often seeded to the likes of Boyz II Men, Brian McKnight, Aaliyah, and others both on stage and in video. Famously, Jordan even appeared in the video for Michael Jackson's "Jam" in 1992. However, it would be the decade that followed the '90s where Jordan's booming brand would see the intersection of sport and music grow even louder.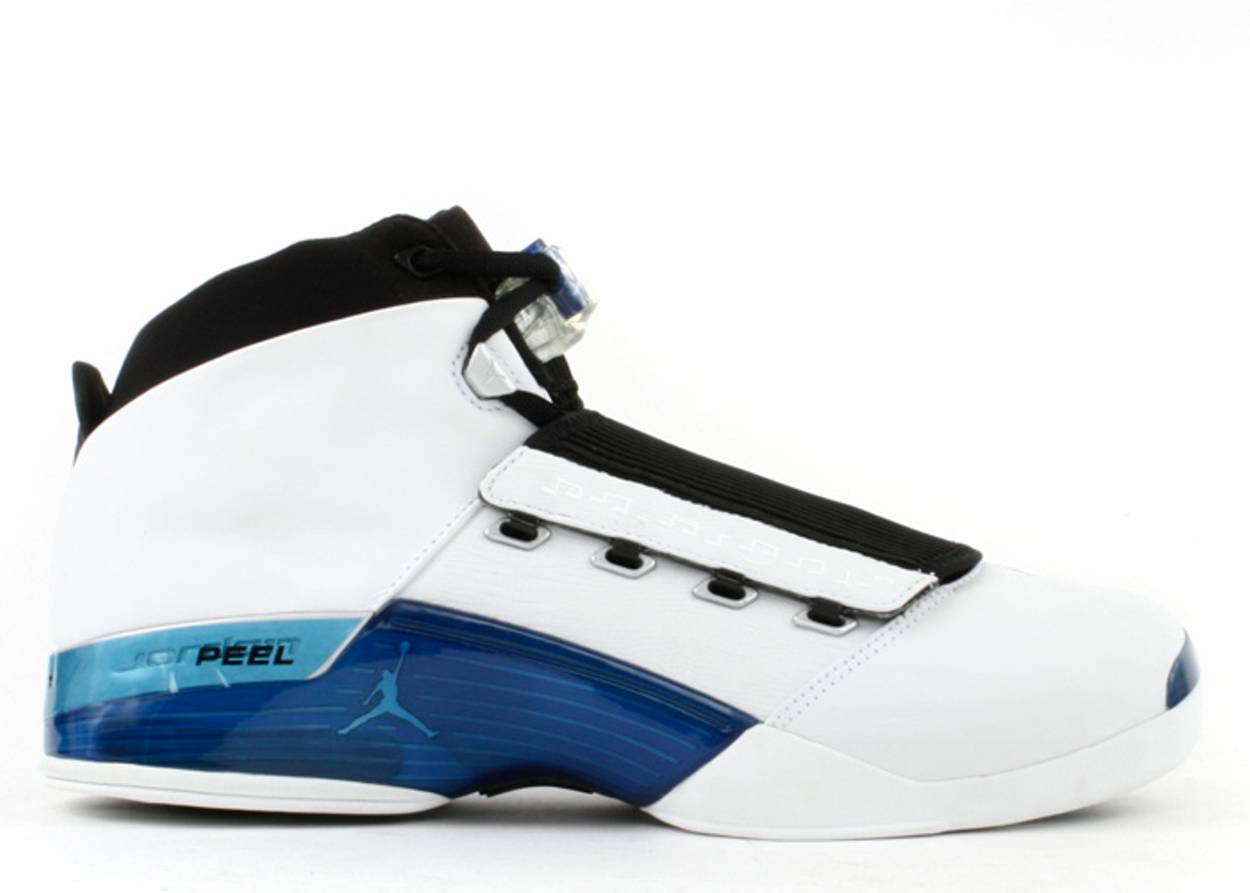 In 2001, Jordan Brand signed saxophonist Mike Phillips, making him the first musician on the company's payroll. A true muse, Phillips worked with Wilson Smith on the Air Jordan XVII, inspiring the shoe's midfoot spat jazz notes which read, 'Michael Jordan, the greatest to ever play the game.' On top of that, Phillips spread his wings by writing original music for Michael that scored events for the sneaker. These tracks saw Phillips receiving writing, producing and performance credits on the shoe's CD-ROM, all packaged in the XVII's business briefcase which showed striking similarities to what an actual jazz instrument would be toted in.
Harmony had been achieved on the Air Jordan XVII as it ushered in improvisational collaboration on a performance pair. However, the rest of the 2000s and the decades that followed would bear much more bass. Moving forward, the relationship with music and Mikes would be less about adult contemporary compositions and classy winning ways on the court but rather about rap, retros, and the rhythm of the youth.
A bridge of sorts would be Jordan Brand's "Duet to You" commercial with Darius Miles and Quentin Richardson. Promoting the AJXVII and set to Gangstarr's jazz-inspired "Now Your Mine" rap record, the Clippers cohorts represented a change in the culture for both pro hoops and that of Jordan Brand. 
In a sense, the players and the music were modernizing Mike to a new generation juiced on the swaying moves and street toughness of Allen Iverson. Yes, times had changed and Mike and his team had realized this though never compromising their ethos. From that point forward, hip hop would be in the driver's seat for not just the NBA but also JB with modern MCs stepping into the arena and endorsing Airs.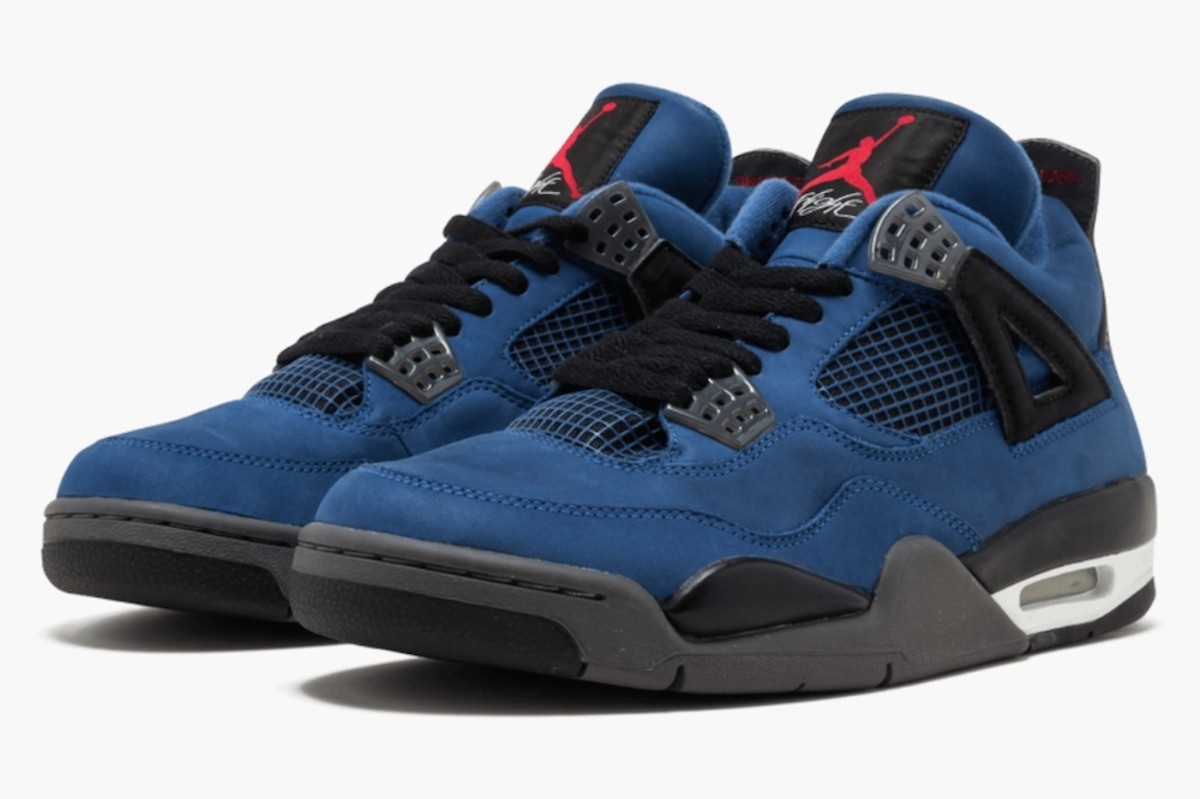 Despite hip hop long loving Jordans, the investment was not always reciprocated. Even though artists like LL Cool J, Ice T, Eazy E and Will Smith wore Air Jordans dating back to the '80s, no rapper received an actual collaboration from Mike until 2005 by way of Eminem. The celebratory "ENCORE" Air Jordan 4 was produced following the success of the album of the same name, limited to the tune of just 50 pairs. 
Through this collaboration did not release at retail, it was a major statement from a basketball brand built off performance and prestige. Co-signing a rapper, let alone one as rebellious as Eminem, added a new edge and youth to what was otherwise becoming a legacy brand.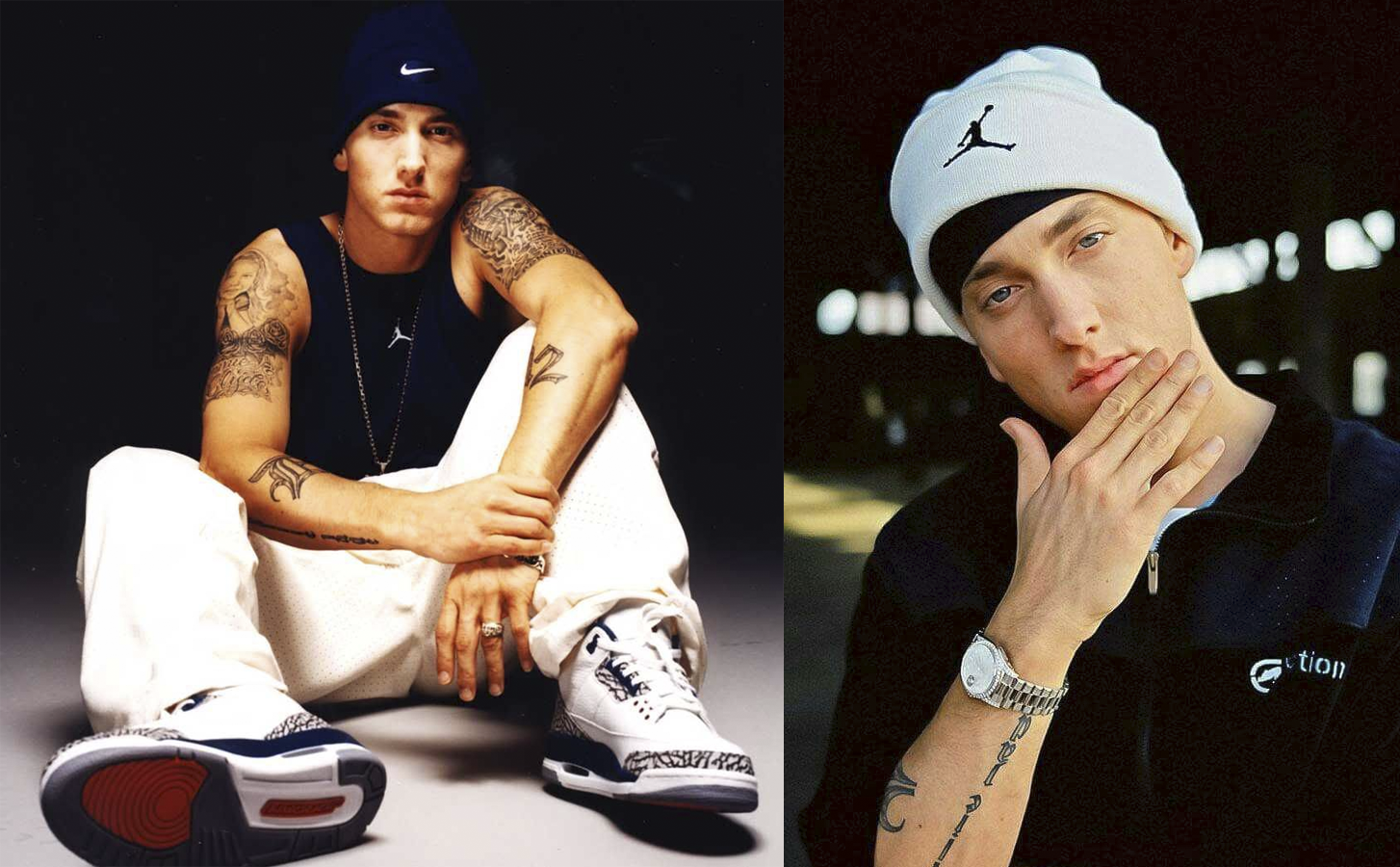 Over the course of the late 2000s, Jordan Brand would build stronger bonds with rappers ranging from noted sneakerheads like Fat Joe to a former Bulls ball boy Common. While rappers would get blessed with PEs, retros and rarities from time to time, only two hip hop collabs would reach the public that decade with 2008's Eminem x Air Jordan 2 "The Way I Am" (limited to 313 pairs) and 2009's Air Jordan 1 High Strap "A Tribe Called Quest" released in abundance. [Note: A Tribe Called Quest actually attended the original launch party for Brand Jordan in '97!] 
Though JB was getting hip to hip hop, they were still slightly late in the game in regard to retail releases with reach compared to what Reebok was doing with Jay Z and 50 Cent. Just the same, the rappers Jordan Brand did collaborate with were respectively much older than the audience they were aiming to appeal to.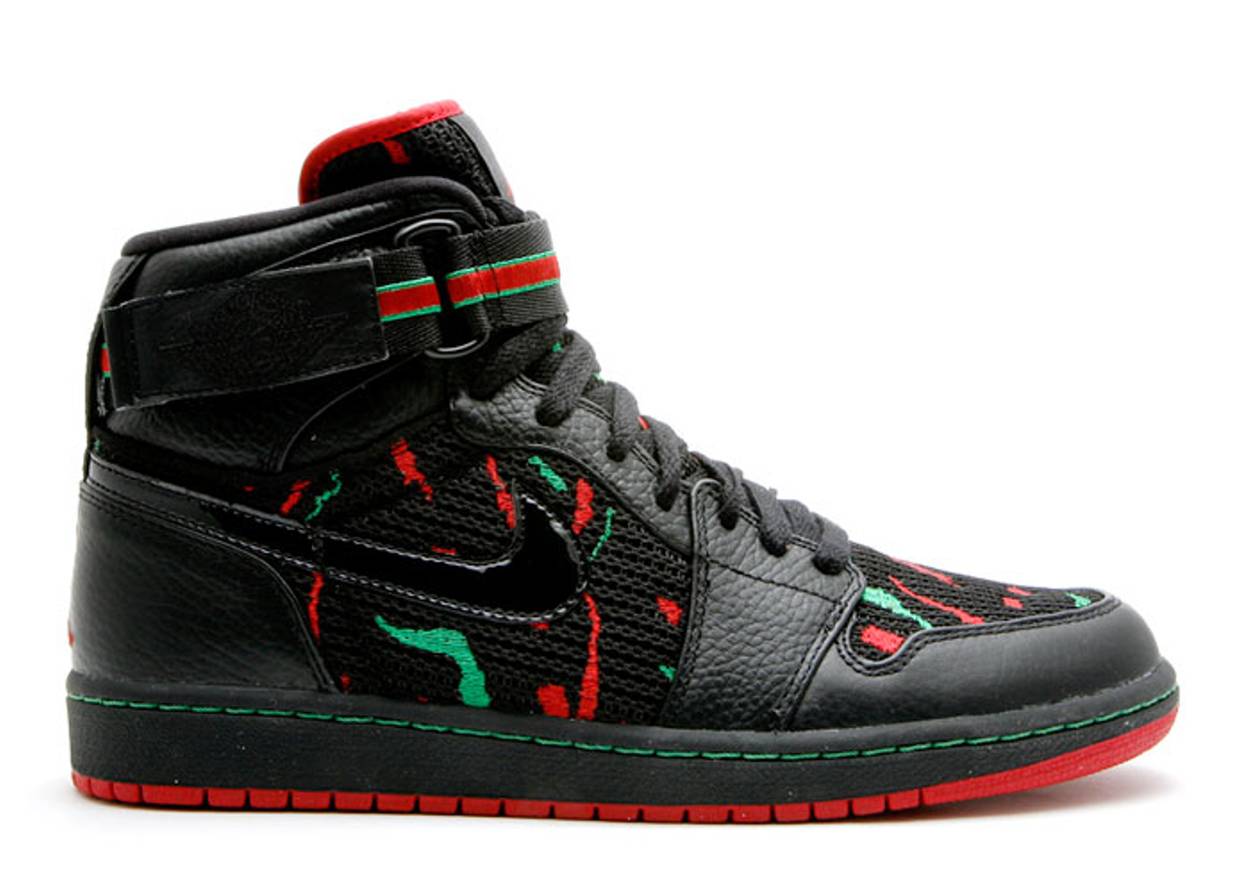 In the 2010s, that would all change.
Coming off the controversy of Kanye West's loud leap from Nike to adidas, Jordan Brand bet on Drake in 2013. For the first time since Mike Phillips in 2001, an artist had an actual apparel and footwear deal with Jordan Brand that put them on payroll regardless if Aubrey knew the exact amount. 
This high profile partnership would help modernize heritage products like the Air Jordan 8, 10, and 12 to a younger audience with OVO Flight Suits adding credence to JB's otherwise ignored clothing. At a moment where retros in OG and lifestyle tones were running out of steam, the Drake deal had Jordan Brand once again dropping chase-worthy releases.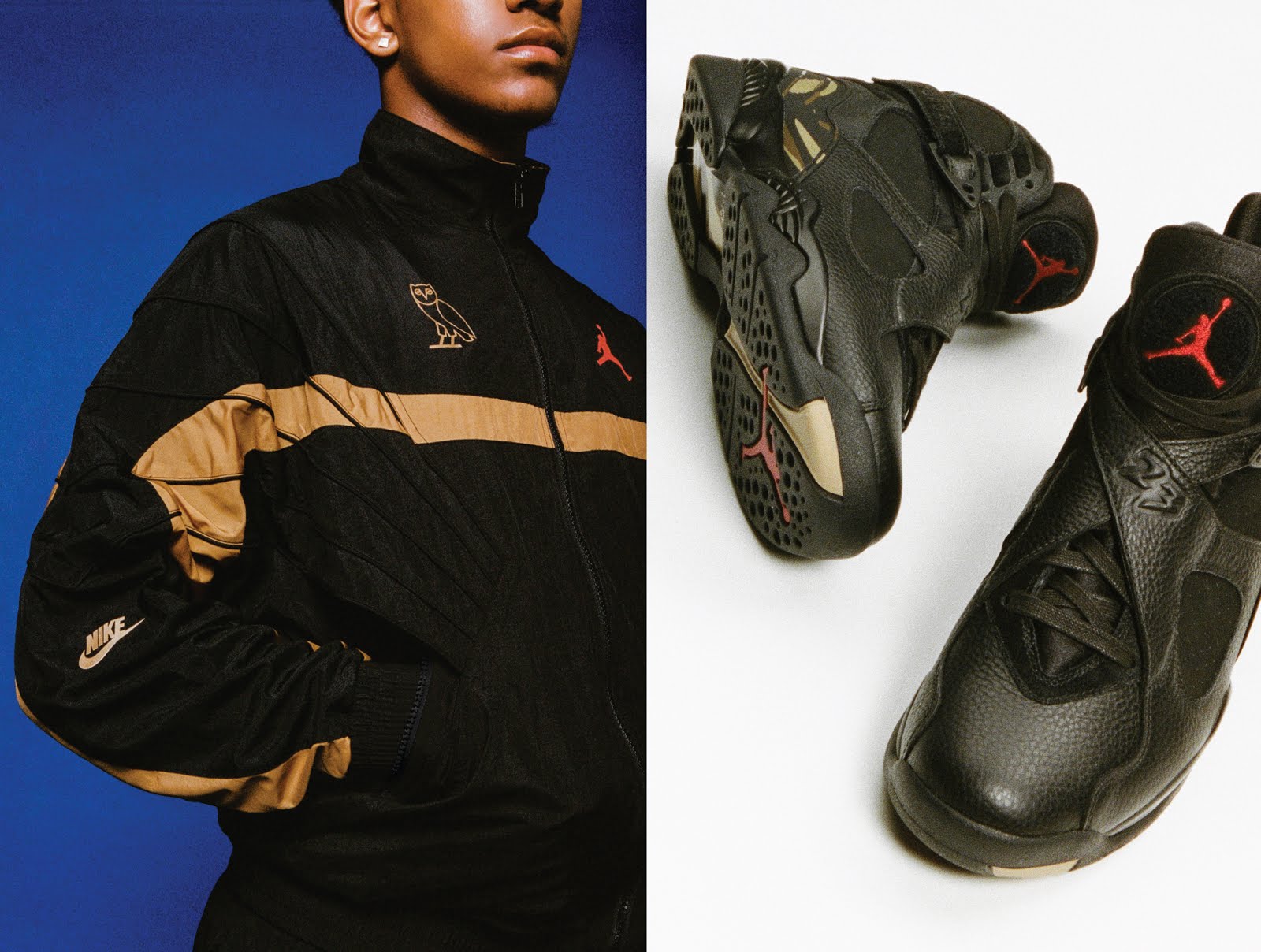 Fashion icon or not, Drake signing to Jordan Brand was a big deal. This was more than using a Mos Def record in a commercial to sell signatures, this was putting an artist on the forefront of energy products. Product buzz aside, Drake's deal attached branding to records like "Jumpman" which still see rotation at clubs and pre-game warmups. 
Like the early days of Jordan Brand, the endorsements weren't all about what was actually releasing at retail. In the 2010s, PE placement amongst artists was turning up through stage exclusives made for the Drake vs Lil Wayne and The Legends of the Summer tours. In this era, those concert kicks prove more coveted amongst kids than any colorway created for Eddie Jones, Ray Allen, or even Russell Westbrook.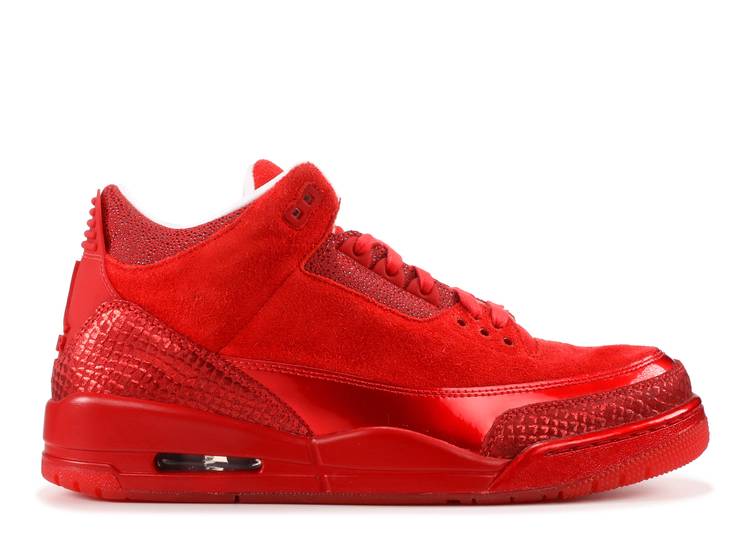 Through the 2010s, musicians like Anthony Hamilton, DJ Khaled, Macklemore, Usher, Bun B, and Shinedown's Zach Myers were all given unreleased exclusives, a privilege a decade earlier only afforded to a platinum artist with platinum blonde hair or a scoring guard with a smooth jumper. Better than that, opportunities for artists with the Jumpman were becoming bigger than just PE pairs. 
During that decade, Jordan Brand's entertainment team led by Reggie Saunders tapped talent like Nicki Minaj to perform at the Jordan Brand Classic, paired Justin Timberlake with Tinker Hatfield for a run of retail releases, and brought on cultural purveyors like Wale, Nas, and Teyana Taylor for modeling opportunities in major brand campaigns.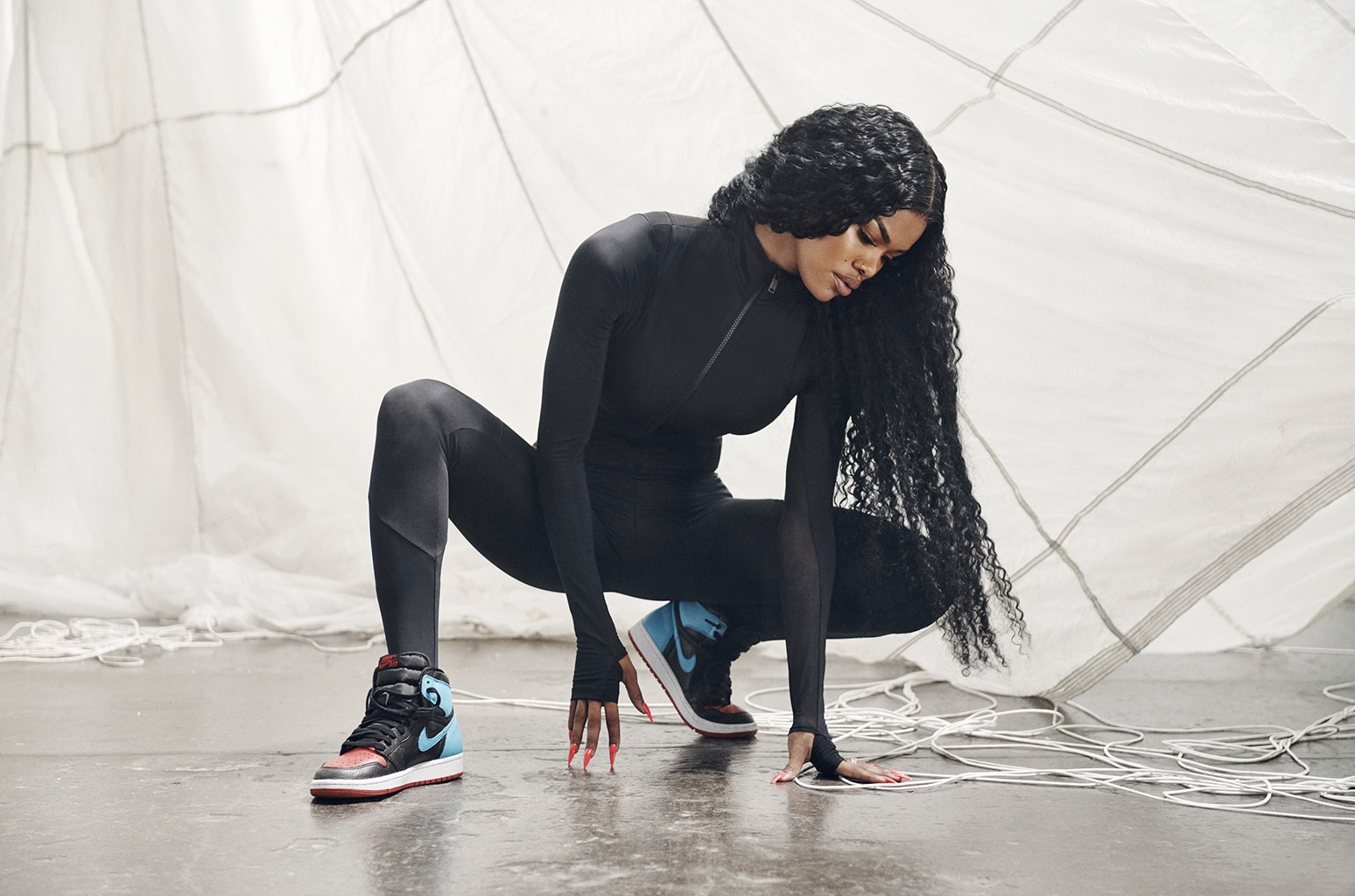 While all those efforts endured Jordan Brand in the creative landscape that evolved sportswear, it was partnering with an artist in 2017 that modernized the brand the same way D Miles and Q Rich did in 2001. 
Travis Scott, a millennial madman who possessed the same nervous energy as Jordan jamming on the bus in '98 multiplied with the same electricity as Jordan jamming on the Pistons in '89, saw JB once again evolving. By bringing in the red-hot rapper/producer/rager reigning from The Lone Star State, MJ's legacy line was able to possess a heat that's currently unmatched by any peer or player.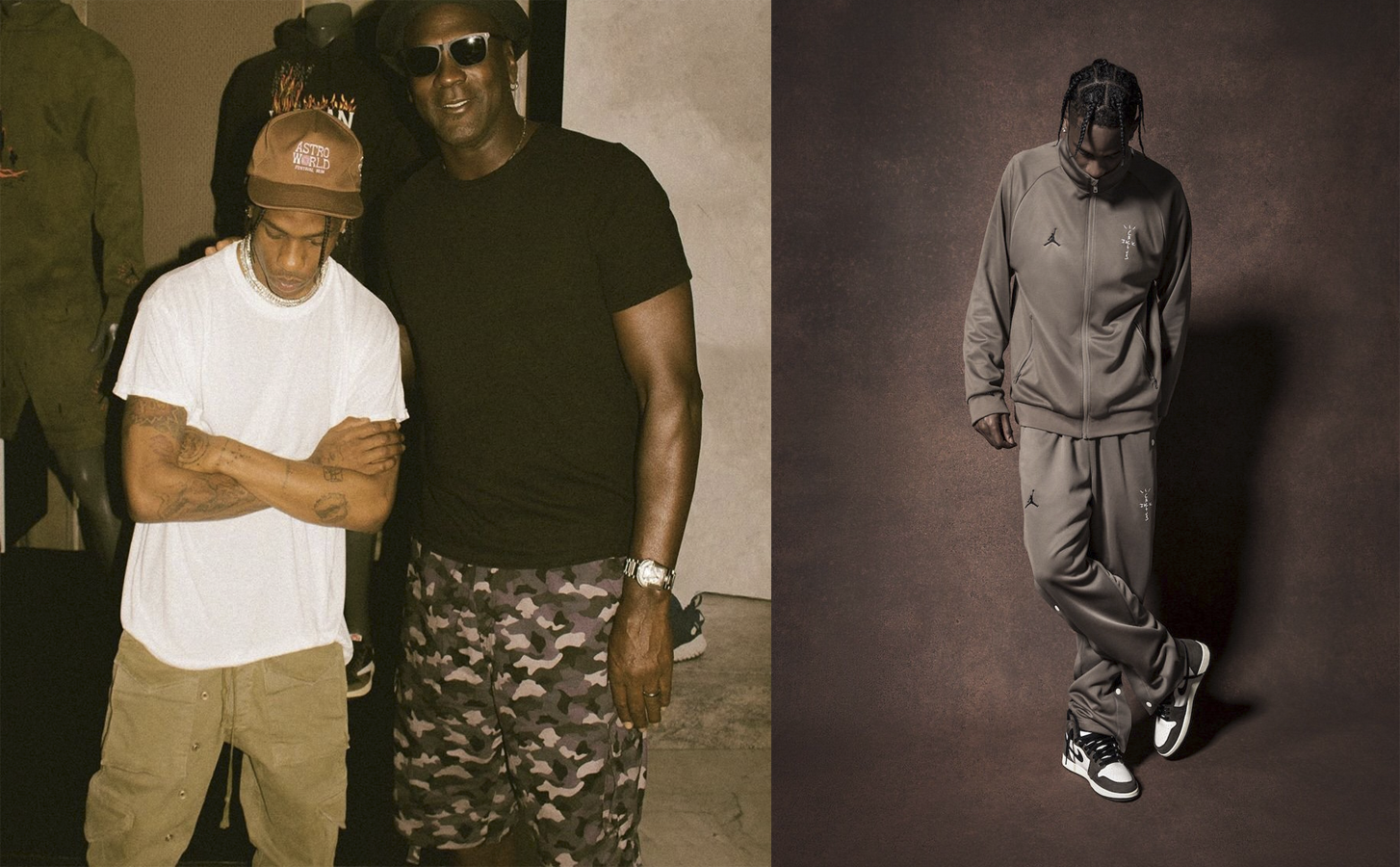 Opening the 2020s, a new member of the roster may take Jordan Brand's journey with music further than it's ever gone before. J Balvin, the reggaeton artist from Colombia, is embarking on new territory with his loud launch on the Air Jordan 1. Speaking to an entirely new audience, the Spanish singing sensation is the fourth most streamed artist in the world on Spotify – that's 26 spots ahead of Travis and even two ahead of Drake – and boasts over 45 million followers on IG – more than twice as much as Jordan Brand itself. 
While Drake mirrored MJ's top of the mountain dominance and Travis parallels the GOAT's abundant energy and mainstream marketability, J Balvin may be most like Mike when it comes to global appeal. Just as Jordan had French fans flocking to see him play in Paris in '97, J Balvin packs out arenas worldwide with his sonics and aesthetic speaking to the souls of Spanish and non-Spanish speaking fans alike.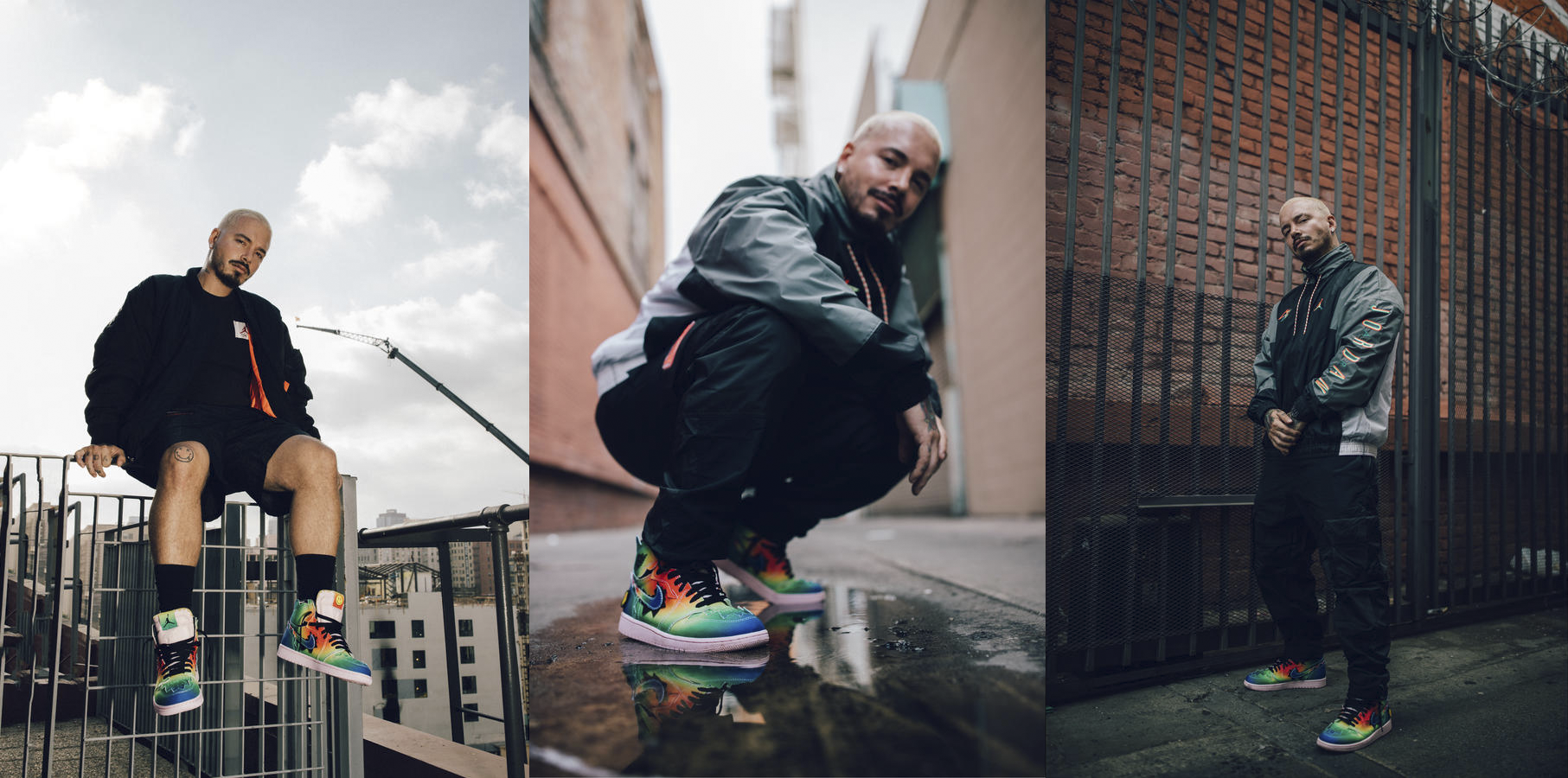 22 years after hitting The Last Shot, the man who was listening to R&B on a bus in Utah has continued to see his world view grow and his brand boom in entertainment thanks to the keen eye of Reggie Saunders. Michael Jordan, the man who has constantly challenged color and branding both on sneakers and as an endorser, has now inspired J Balvin to do the same. After meeting Mike in Paris, the Spanish singer is making an Air Jordan 1 that he deems "disruptive" and speaks to a generation that's once again grown globally. It's not jazz, it's not R&B, it's not rap and it's not even English.
But that's not important, and it never was. Why?
Because in 2020 it's not what Mike's listening to, it's what the kids are listening to. And just like Kenny Lattimore, J Balvin is a friend of Mike's.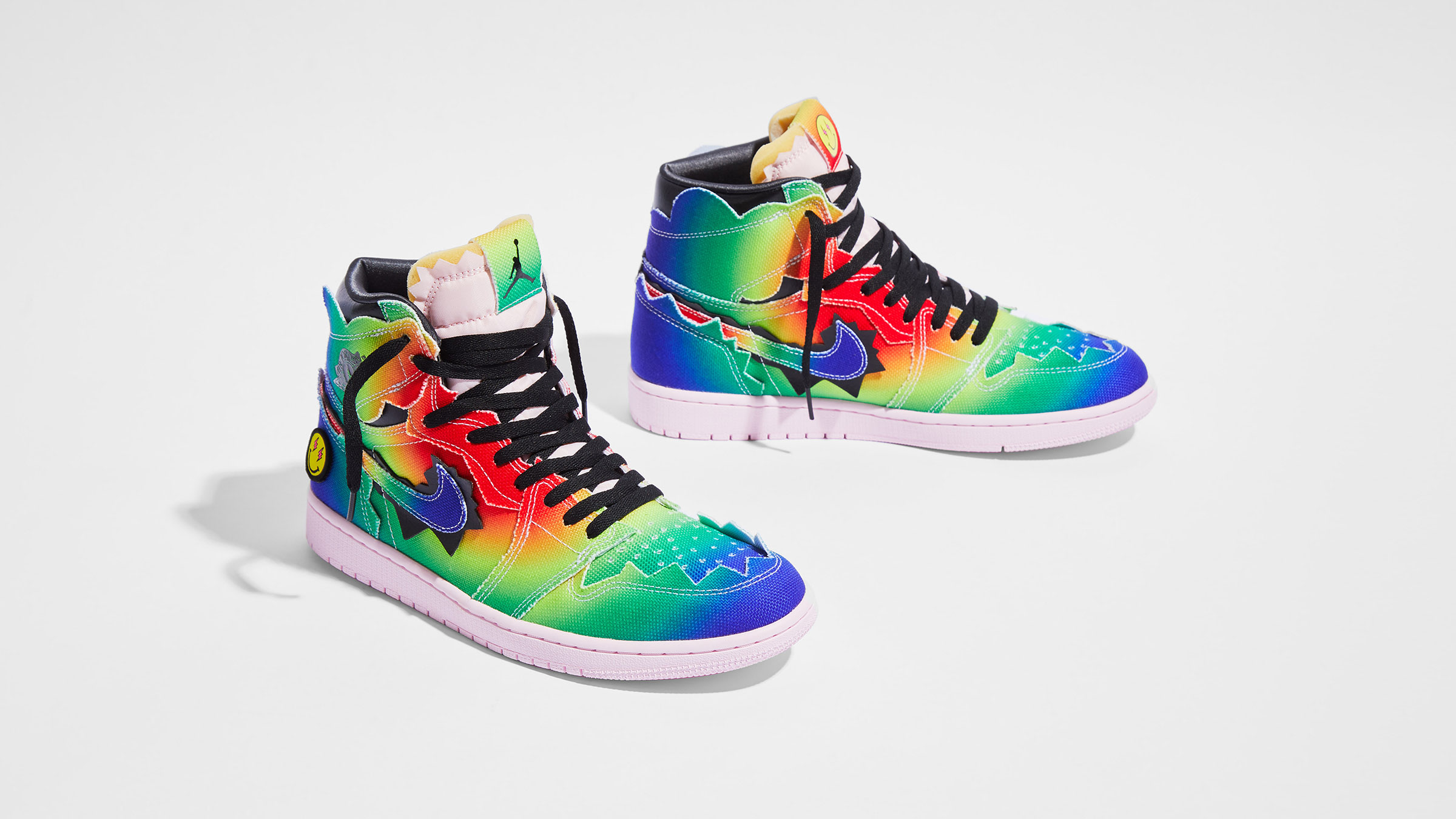 Update: Since this story was published in 2020, Jordan Brand has continued its partnerships with musicians including DJ Khaled x Air Jordan 5 "We Da Best" releases, J Balvin x Air Jordan 2 with an AJ3 on the way, Billie Eilish x Air Jordan 1 KO and AJ15, and now, Teyana Taylor's "A Rose From Harlem" Air Jordan 1 CMFT 2.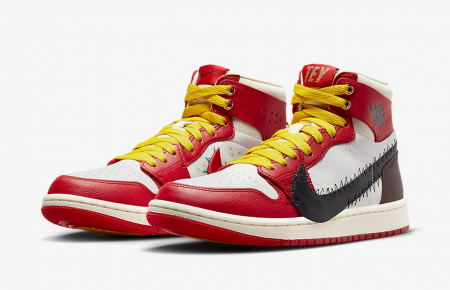 ---
Image via ESPN from "The Last Dance"
Image via OLDSKOOLBBALL
Image via Flight Club
Image via Maxim
Images via Pinterest
Image via Flight Club
Image via OVO
Image via Flight Club
Image via Nike
Images via @travisscott and Nike
Images via Nike
Image via END.