By Ian Stonebrook
________________
Kanye West changes opinions, he changes genres, and he changes shoes.
Throughout his career, Kanye West has established grooves both sonically and aesthetically, only to drastically depart from them soon after. In 2021, the movement that matters for Ye is his YEEZY brand: a billion-dollar empire built with adidas that releases some of the most progressive models in footwear co-created by industry adored disruptors.
So, what does the man with the billion-dollar brand do the first time he's seen in public in 2021? Pop up in a pair of Nike Vandals.
This isn't the first time Kanye has totally defied convention when it comes to his footwork, and it likely won't be the last. Breaking the rules, breaking trends, and breaking contracts, Kanye has popped up in completely unexpected kicks that caused fans to either adjust their wardrobe or scratch their heads. From one-off wears to cultural shifts, see the most unforeseen footwear choices.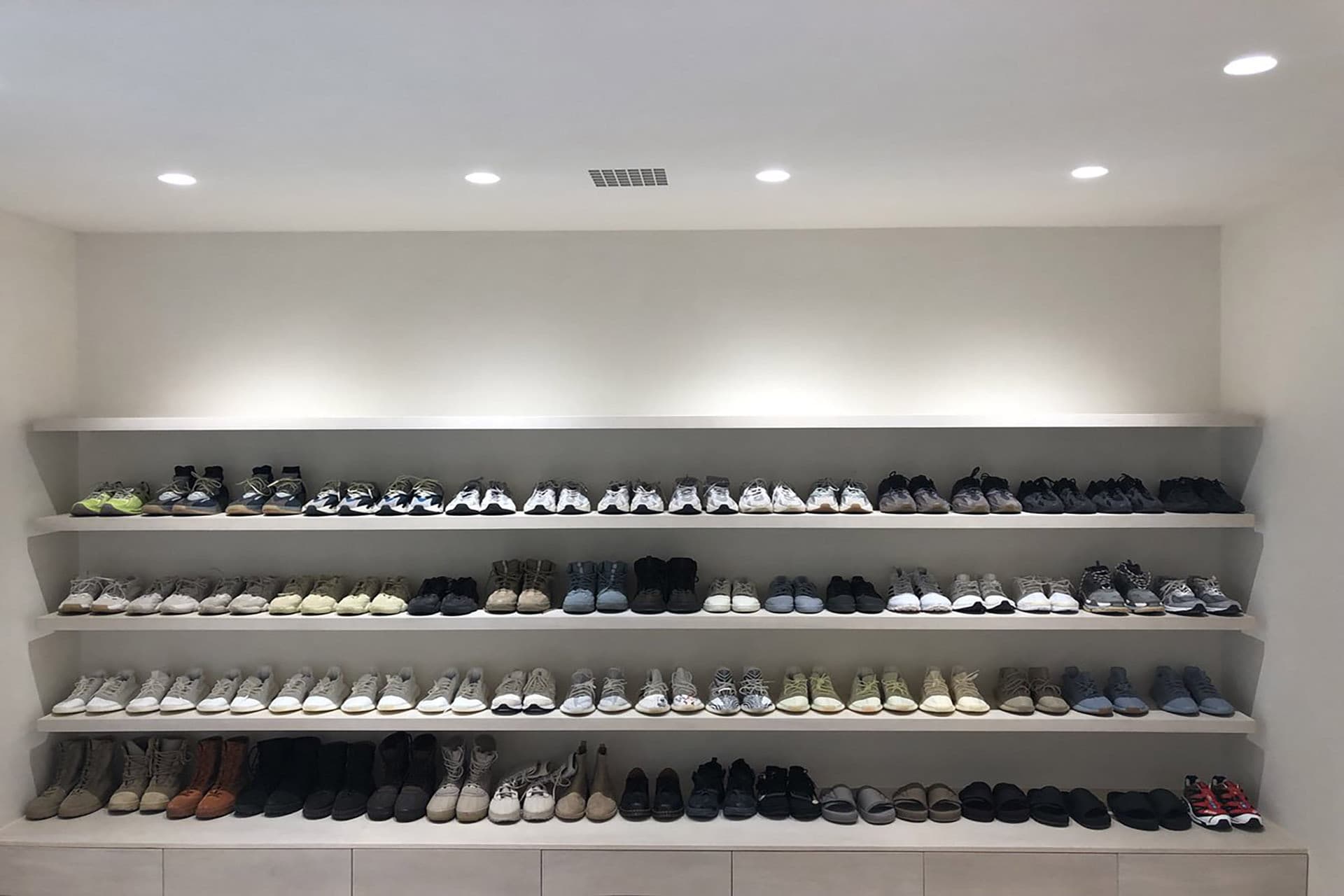 Kanye's sneaker closet in 2018, image via Kanye West
10. Nike Zoom Alphalution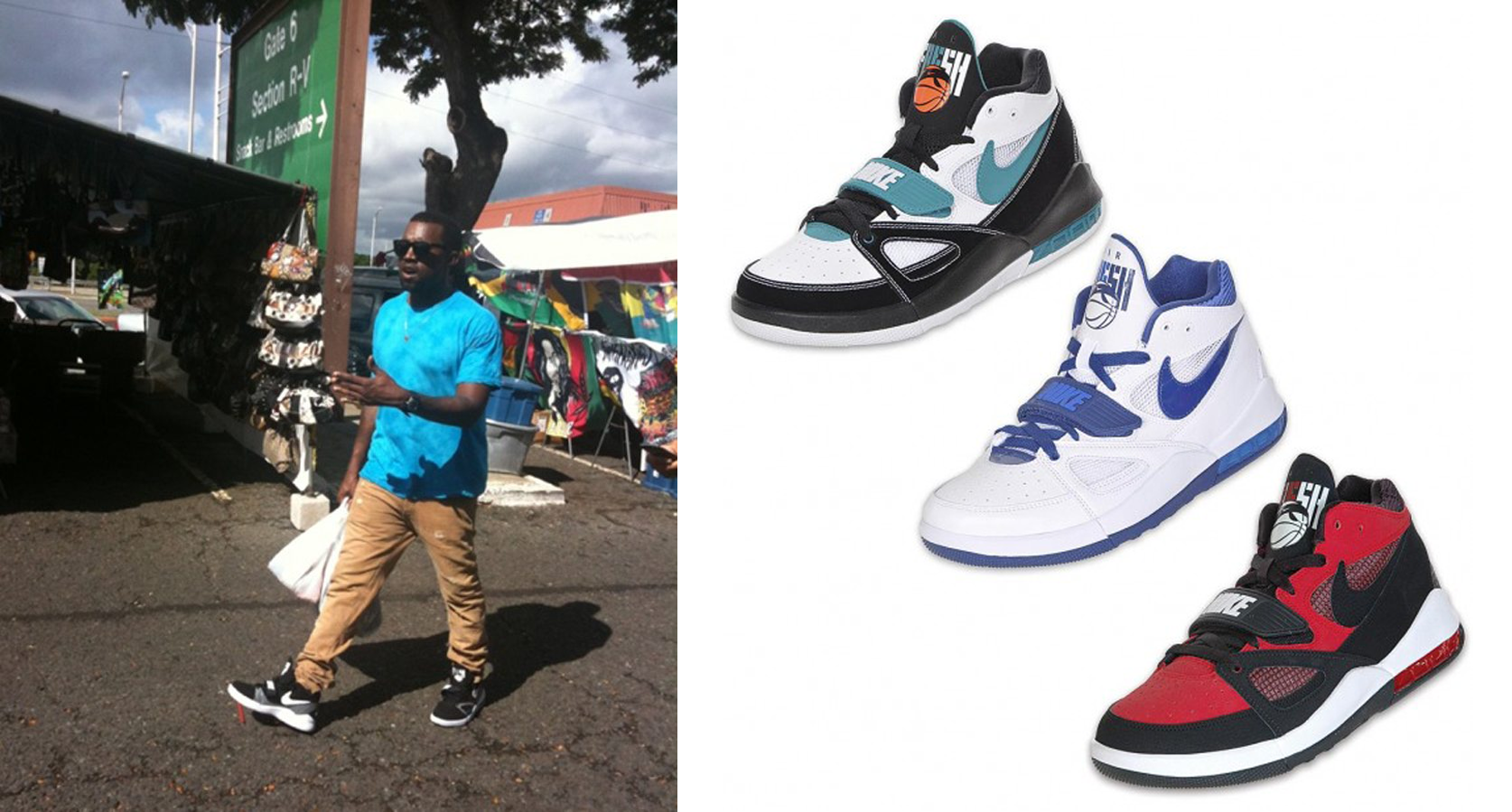 In the time between 808s & Heartbreak and My Beautiful Dark Twisted Fantasy, Kanye continued to shift sounds while returning to his rap roots. His Hawaii studio sessions would spawn seven-minute posse cuts characterized by aggressive bars, golden era production, and progressive layering.
Somehow that modernized mix of hybrid heritage seeped into his subconscious when it came to footwear. Appearing out and about in the Nike Zoom Alphalution from the Beaverton brand's basketball Refresh program, the Alphalution similarly melted '80s ethos atop new-age tech.
Built to ball, caged Zoom Air appeared in the heel, famously propelling the Nike Zoom LeBron II, Steve Nash-endorsed Nike Zoom Drive, and signature styles designed for the likes of Michael Vick and Tiger Woods. For its namesake, the Alphalution was a hybrid between the Alpha Force and Revolution from the late 1980s. From a colorway standpoint, this pair directly riffed off the carbon fiber styling seen on the Nike Zoom Flight 95.
This one-and-done wear from West was about as close as Kanye ever really got to casually wearing a performance basketball shoe. Sure, Kanye was all about hoops models from the late '80s and early '90s when it came to Air Forces, Barkleys, and Jordans. On occasion, he'd rock low cut Kobes when seen in gym clothes, but it was this modernized mall shoe that defied convention for Kanye, only never to be seen on his feet again.
9. Vans Full Cab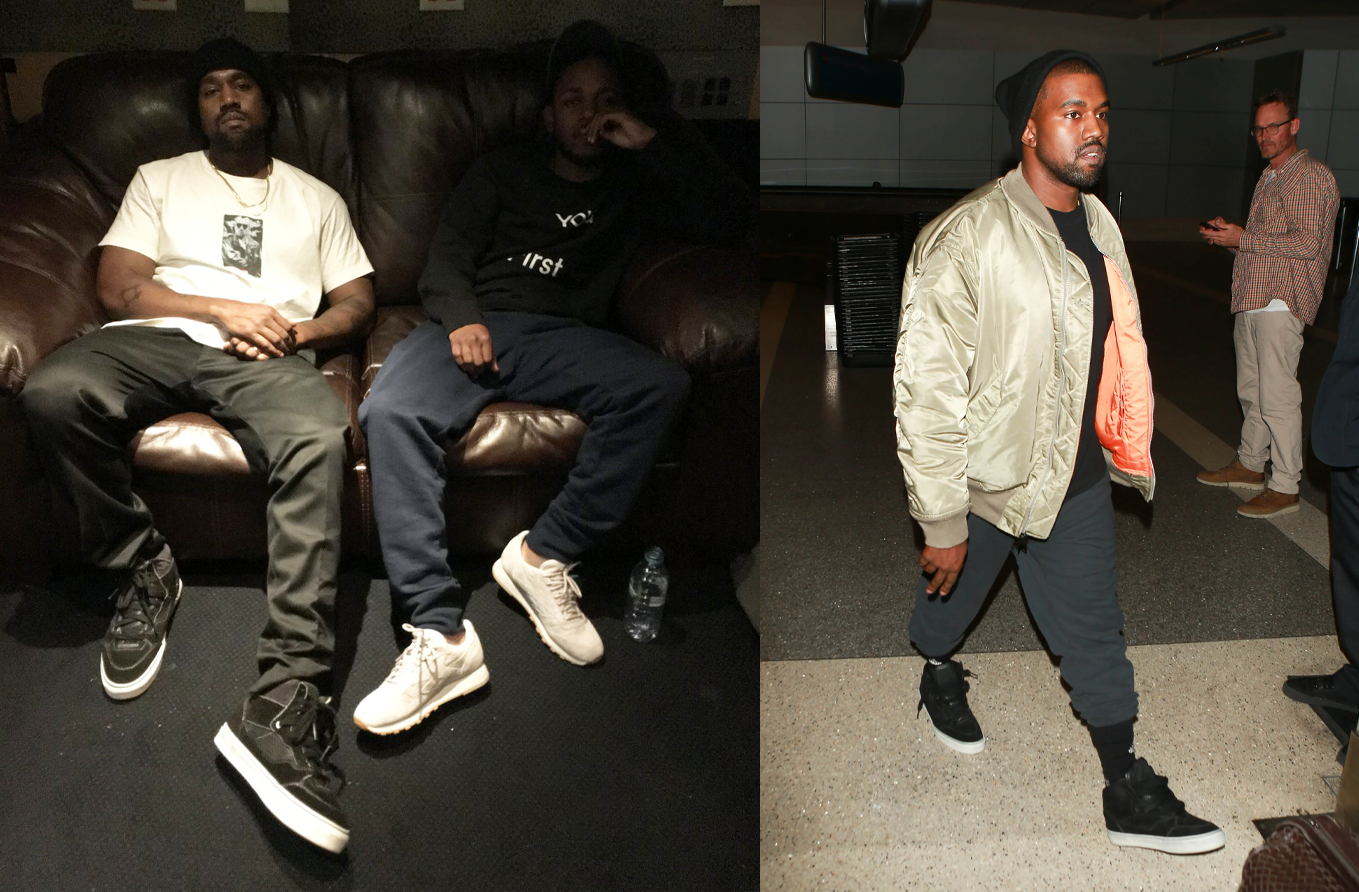 Before signing design deals with Nike, Louis Vuitton, and adidas, Vans have seen fanfare from Kanye West despite his Midwest upbringing and backboard overboard flip sports background.
Nevertheless, the Vans Authentic and Sk8-Hi were both go-to models for West for much of the mid to late 2000s. The former found its way into West's wardrobe as an understated accent piece when going dressy casual, while the latter was worn with laces low and tongues high as a way to amplify increasingly more tapered jeans.
By 2016, Kanye West was removed from Nike, no longer a footwear free agent and all in at adidas. Or so it seemed.
Just weeks after releasing "FACTS" – a victory lap diss track aimed at Nike after his first year of retail releases with adidas – Kanye popped up in the California 'competitor' in a photo with Compton's own, Kendrick Lamar. The two would release the song "No More Parties in LA" with Kanye's line "Some days I'm in my Yeezys / Some days I'm in my Vans," igniting headlines that Kanye could once again jump ship. 
Image via Vans
While those rumors were far-fetched, what remained random was the Vans model he wore: the Full Cab. Though Kanye was occasionally seen in custom Old Skools – the brand's breadwinner in the mid-2010s – West wore the 1989 Steve Caballero signature in its original form. Famously, Caballero customized his Full Cabs into mid-tops with scissors and duct tape, laying the foundation for the much more popular Half Cab. 
In 2021, Kanye is still active at adidas and rarely, if ever seen in Vans since the Full Cab sighting and line. Oddly enough, the semi non-competitor nature of Vans has allowed brand ambassadors and employees at an array of corporations the ability to get away with wearing their models both in the tunnel and at events. 
It's the influential rule-bending for Ye.
8. Air Jordan 7 "Playoffs"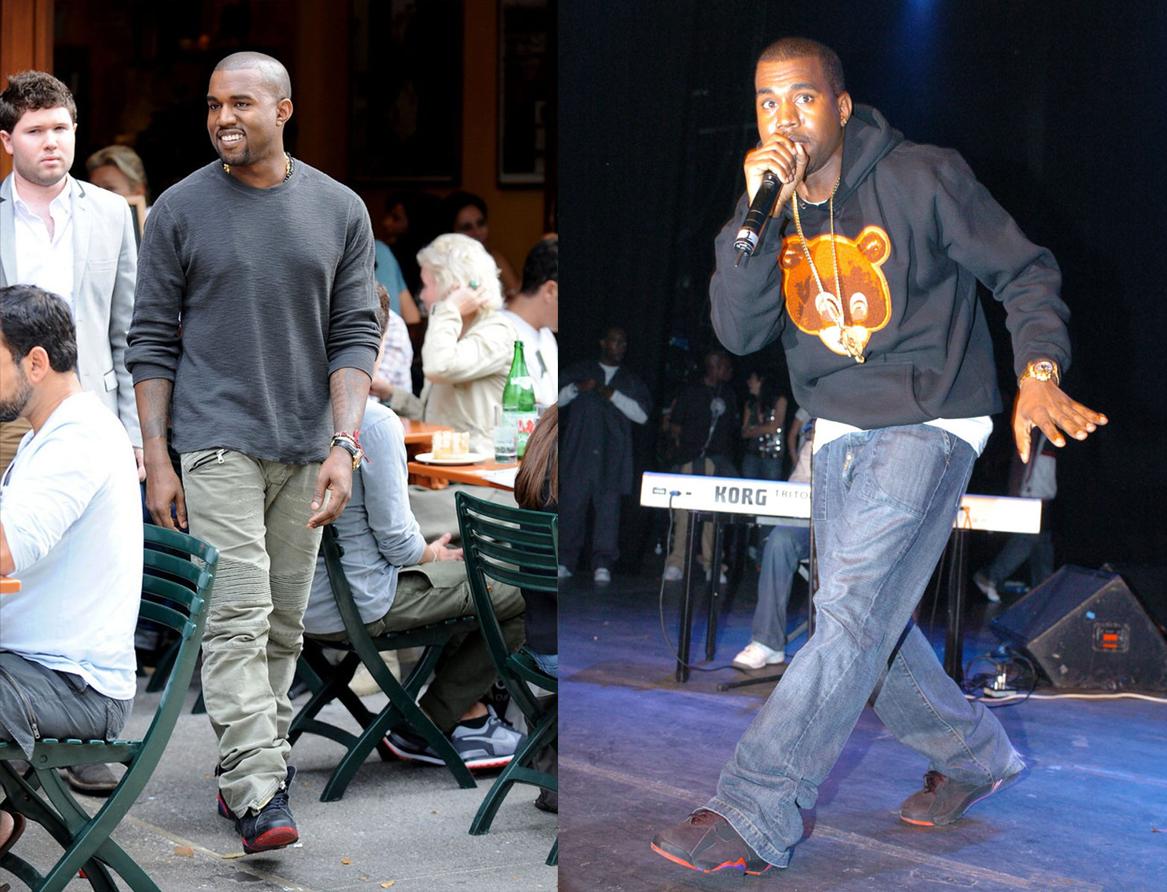 By the early 2010s, Kanye West had worn every OG Air Jordan model 1 through 8 with either regularity or variety throughout his career. In the days between the Nike Air Yeezy 1 arrival and Nike Air Yeezy 2 launch, Air Jordan 1s and Air Jordan 6s would rise to the top of his rotation with recent releases of both models – and the occasional '01 AJ1 – seeing traction while on stage or the runway.
In October of 2011, Kanye appeared at Bar Pitti in NYC for lunch, not in the Air Jordan 1 or Air Jordan 6, but rather the sum of their numbers: the Air Jordan 7. Not that weird, right? On the surface, no, but if you dig deeper, it's one of the more random wears ever by Kanye.
As Day 1 fans know, the "Playoffs" or "Raptor" 7s were the go-to sneaker for Kanye West during his College Dropout days, rocking the second ring sneaker in the music video for "All Falls Down" and on the road when promoting his first album. The 1992 model received the retro treatment fittingly in 2002, often outfitting West in the public eye through 2004 only to be shelved for Bapestas, Vans, and designer sneakers while rolling out Late Registration.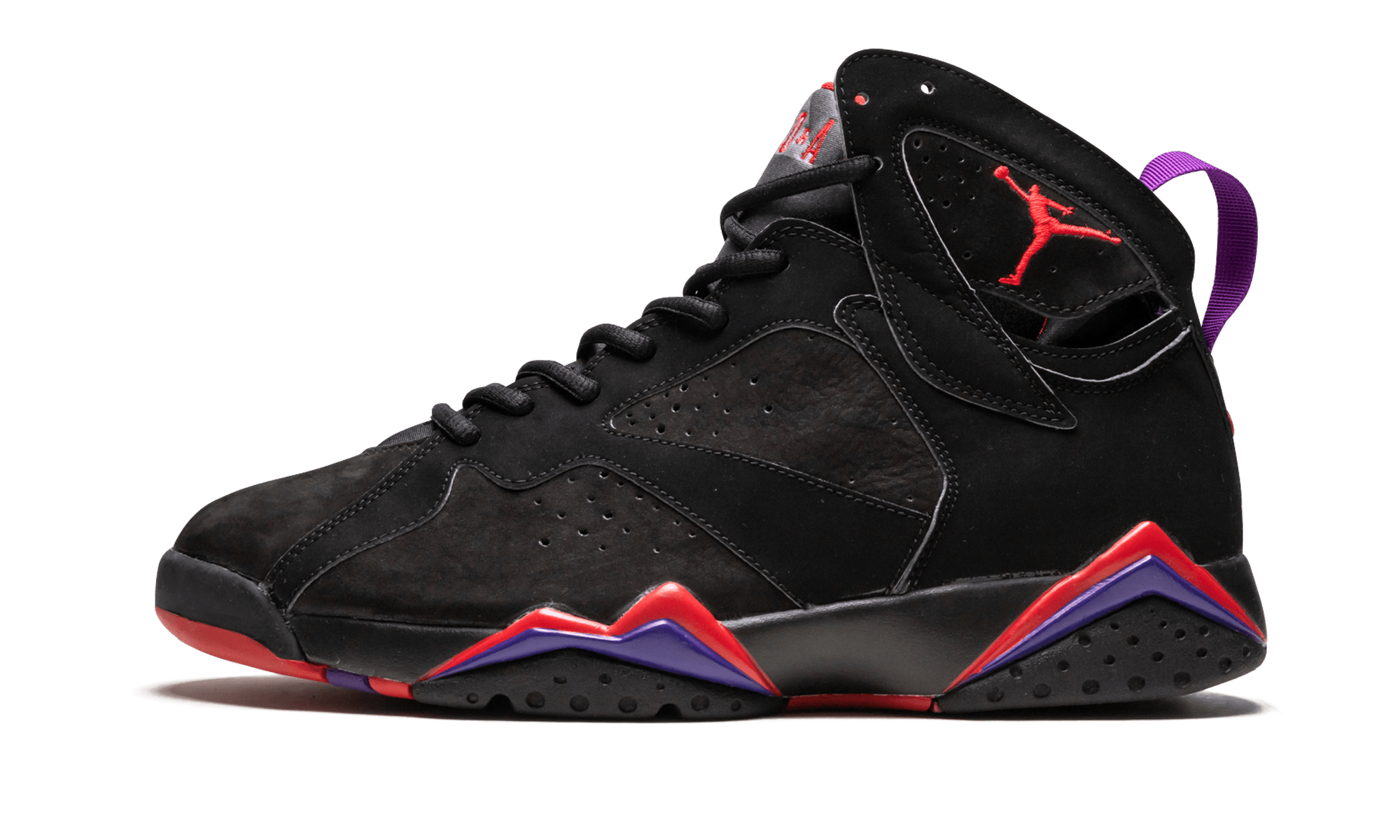 Image via Flight Club
So, did a man who moved to Los Angeles, interned in Rome, and recorded in Hawaii over the course of almost a decade retain a nine-year-old pair of retros from his first album rollout? More realistically, did he keep the original pair tucked away in his New York apartment, or scoop up a pair from Flight Club in 2011 to wear once to an Italian lunch? Perhaps his protege Big Sean slid him a pair from his personal stash? The world will never know.
7. Creative Recreation Turino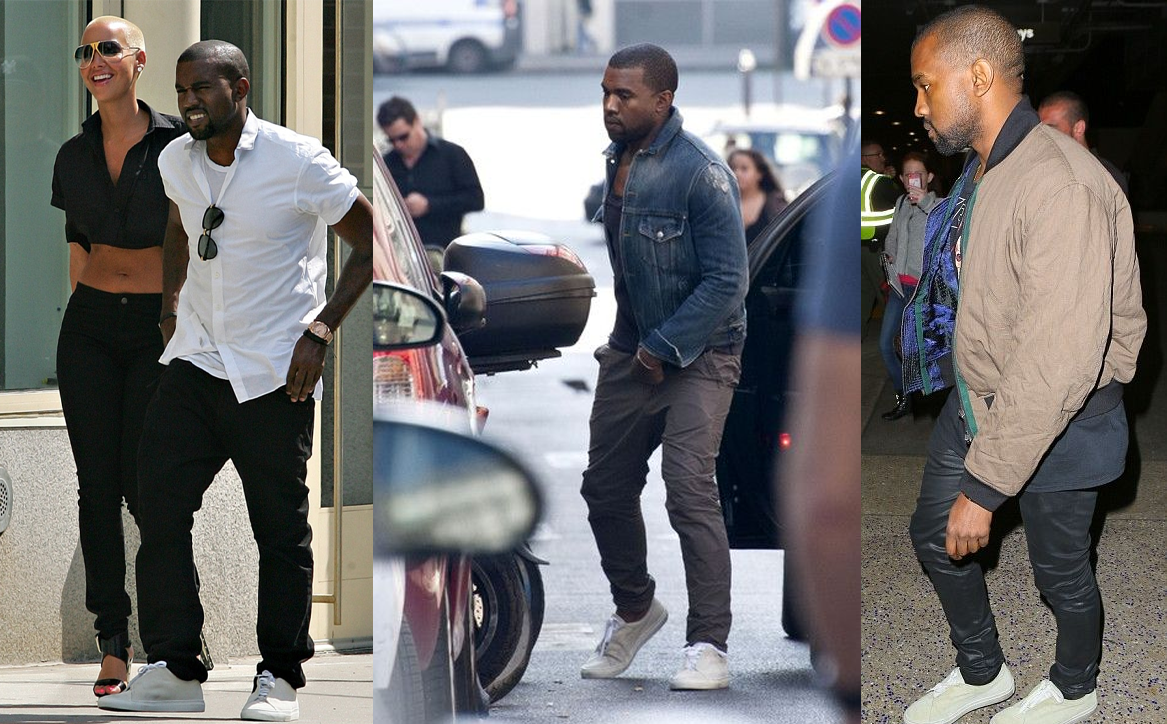 For sneakerheads of a certain age, Creative Recreation resonates as a moment in time when lifestyle footwear could sway easily from Karmaloop to Kohl's. Best known for stacking a forefoot strap on any and every generic build, the brand went lux and left on 2009's Turino.
To some surprise, Kanye West loved it.
Worn by West with some regularity from 2009 to 2011, the clean cream-colored kicks were a fixture for the multihyphenate, whether at Cannes Festival or on breezy beach vacations. Wearing the shoes with tailored suits or muted menswear, the Turino was a modern middle ground between Vans Authentics, adidas Stan Smiths, and actual dress shoes.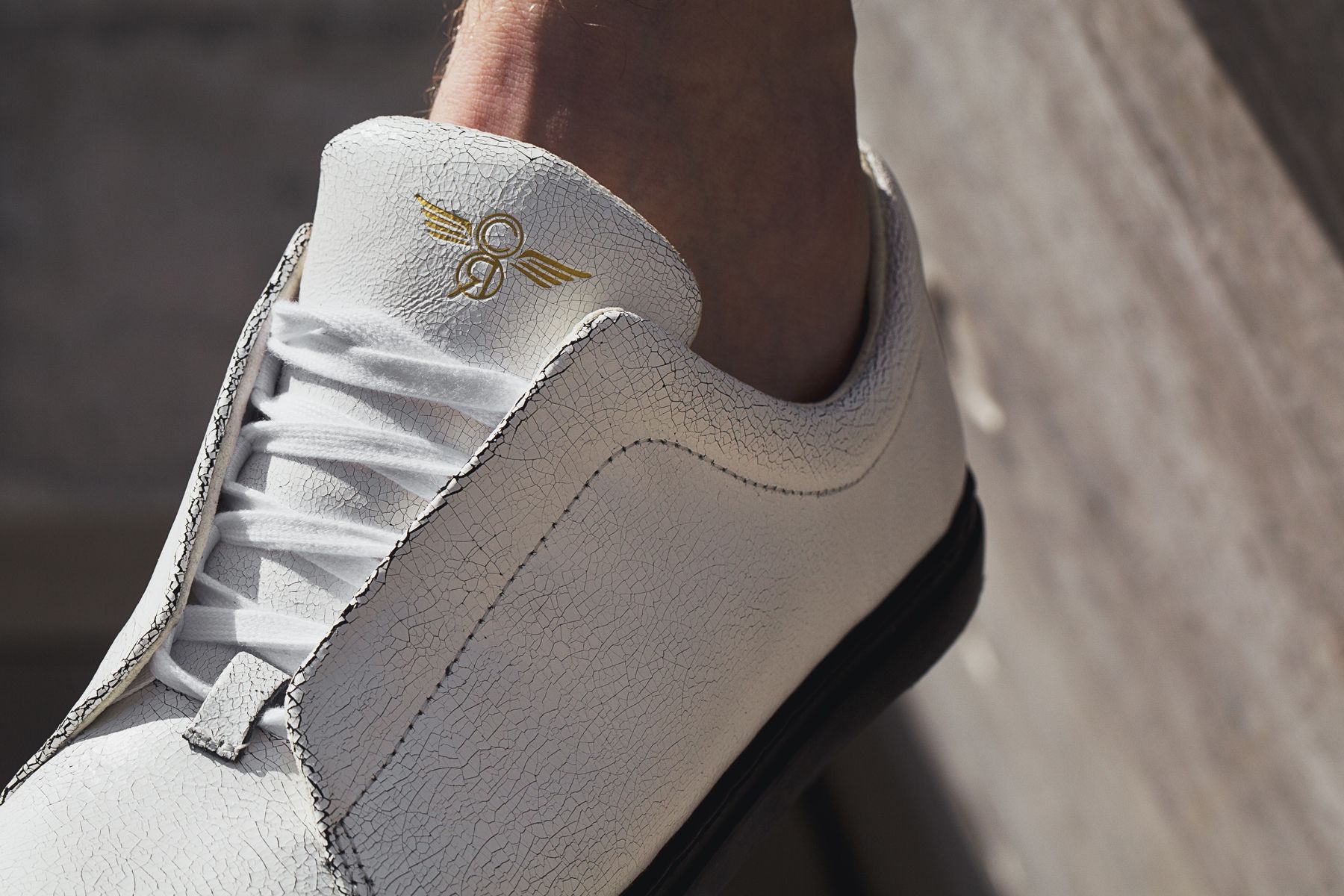 Image via Hypebeast
In hindsight, Kanye's love for the Turino makes more sense than less. Aside from being an understated accessory to dress code-friendly outfits, the Turino tongue packs a similar design ethos to the Maison Margiela Future later favored by West during the Yeezus Tour.
6. adidas Yeezy Scuba Sample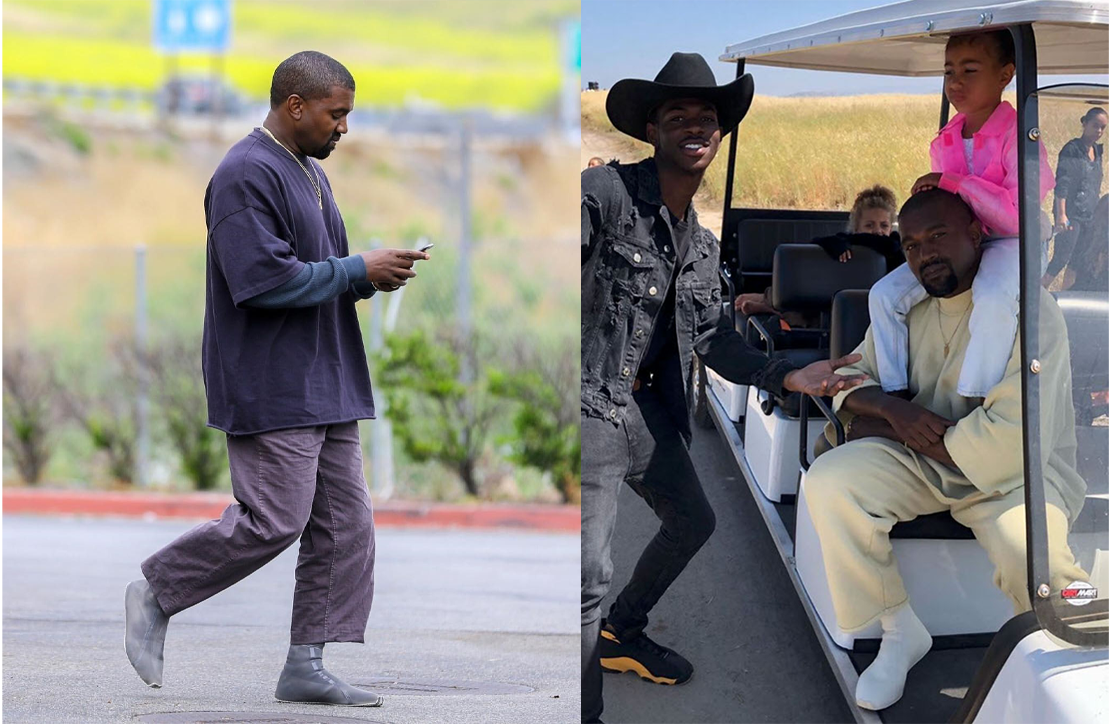 The adidas Yeezy line has been all about reimagining the most significant trends in footwear in a manner that forces the consumer to rethink opinions. Case in point, the 750 reimagined the Ugg boot, the 350 ran off the Nike Roshe, the Foam RNNR called on the Croc, and the 700 series reimagined the dad shoe.
All of those passed the test when taking on snow, street, sand, and sod, but what happened when Kanye wanted to get wet?
Diving into new depths, the adidas Yeezy Scuba was wild even by Kanye indexing. Unlike anything under the Yeezy umbrella and not even akin to anything on the market, the sleek underwater shoes appeared in sample form on the feet of West and his daughter North.
Over time, the market has taken to Yeezy oddities like the Foam RNNR, 500, and 450. If released, could the Scuba catch? That remains to be seen, but the world was still caught off guard when they saw Kanye in these sea sneakers.
5. Under Armour Forge 96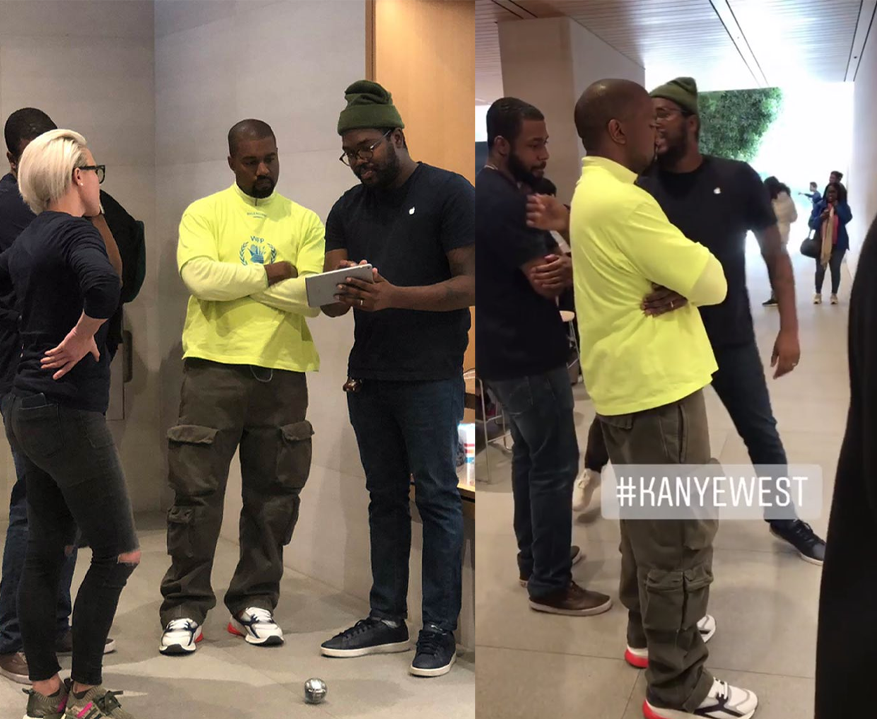 In the late 2010s, Kanye West was under contract with adidas but occasionally seen in the competition. When wearing Vans, it often read as a subliminal to slight frustration with his sponsor but nothing serious. When seen with Salomon or hopping around in Hoka, it felt more like market research of new approaches and new tech.
So, what did it mean when Kanye arrived at an Apple store in the Under Armour Forge 96?
We're still not sure. The Forge 96 served as the Baltimore brand's retro running meets dad shoe design introduced in 2018 but meant to look like it was made in 1996. Because of all this, it made little to no sense when Kanye wore it though we're not mad at it.
A good shoe by most measures, the Forge didn't offer any heightened ideas or new technology when it came to market research like the designer dad shoes, combat boots, or trail runners he'd occasionally wear test.
Like other models on this list, it proved a one-and-done wear for Kanye. The question still remains as to why. Perhaps while shopping in Chicago for a new iPad, he stopped at the UA store on Michigan Avenue to research the competition and picked up a pair of Forges? Stranger things have happened.
4. Nike Flyknit Trainer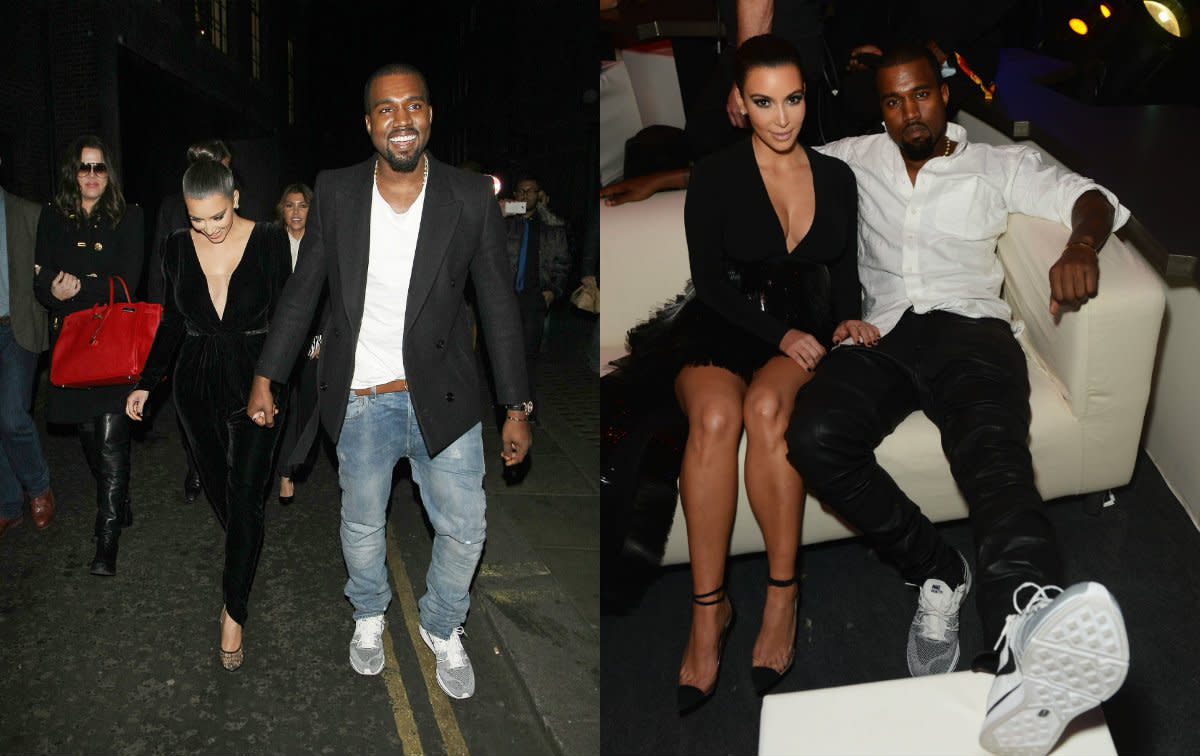 When it came to innovation and intent, the Nike Flyknit Trainer and Flyknit Racer were models of epic proportions for the Beaverton brand as the 2012 London Summer Olympics approached. The featherweight models made to be worn in competition and on the medal stand by the world's greatest athletes ushered in a new aesthetic made to cut time and environmental impact, all while leaving leather uppers in the dust.
While wear from Allyson Felix, Kevin Durant, and other Olympians was in the plans, casual endorsement from Kanye West was likely not. A man known to hoop in Lunarswifts and rap in Ralph Lauren, Kanye has always ignored genre norms and often set trends because of it. Some style switch-ups stick, others don't, but rocking the Flyknit Trainers with menswear made the whole sneaker world turn upside down.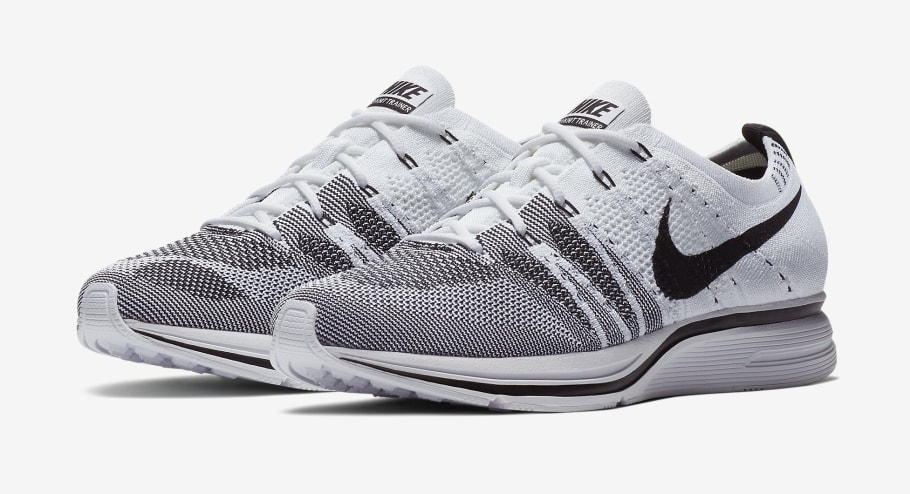 Image via Nike
Consider this: from a culture standpoint, performance running was dead in the water when it came to casual crossover. Pioneers like Pharrell made Lunarracers pop with denim, and certain 'heads took a liking to the Air Max 2009 but generally speaking, no one was chasing any models made to be worn for an actual race. This was particularly true for Kanye. Though he always loved retro Air Max models, performance running was never his speed save the Zoom Miler in "The Workout Plan" video where he was masquerading as a personal trainer. 
Rocking Flyknit favorites on date night with the paparazzi snapping away was as random as it got considering his rotation of retros, Visvims, and Balenciagas at the time. Now it's the norm and a moment in his history and that of Nike. 
Years later, he would stylize another breakthrough tech in Boost. Imagine if he decided to rock Joyride or ZigTech…
3. Nike Vandal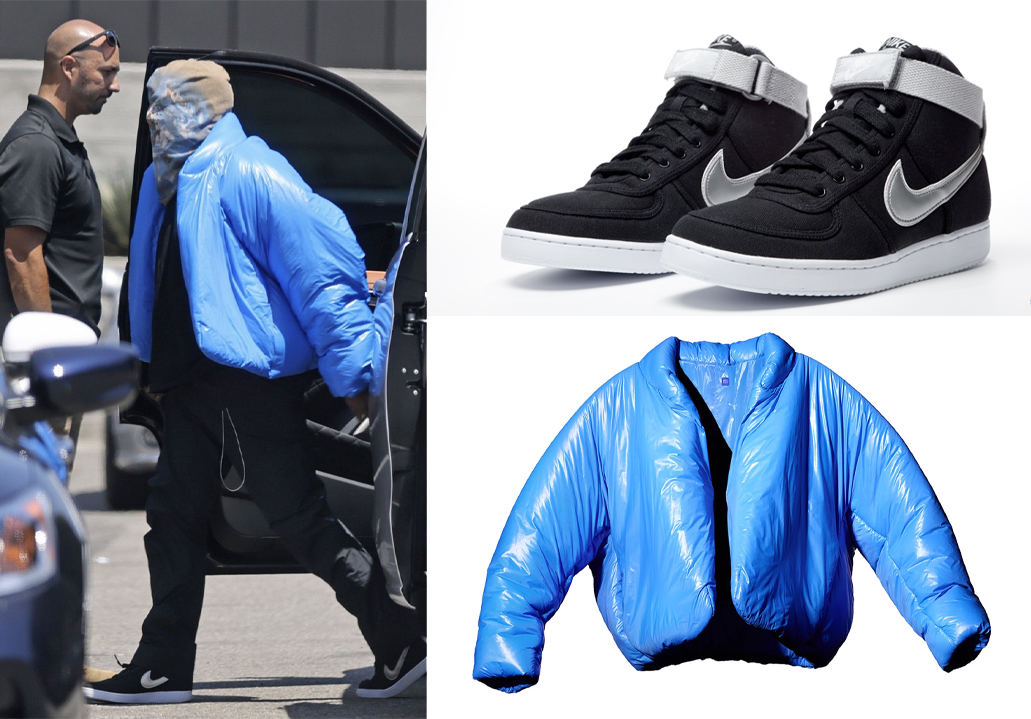 Out of the public for months following a controversial run for the presidency and very public breakup, Kanye West was seen for the first time in what felt like forever in ominous fashion.
Wearing a facemask that reads more Yeezus-era Maison Margiela than pandemic precautions, the artist stepped out of a car in California with Christ on his face, a ballooning blue YZY GAP jacket on his back, and Nikes on his feet.
Wait, what?
While the adidas ambassador has often gone rogue, rocking Vans, Karhu, and his previous Swoosh signature since signing with The Three Stripes, appearing in the NikeLab Vandal High Supreme in public in 2021 was particularly shocking considering all the collateral context. 
The 2015 retro release is not an accessible grab-and-go purchase for anyone — let alone a man who makes shoes for a living — nor does it carry the same hip-hop cache as random vault pulls from Ye like Clarks Wallabees, Timberland 6" Boots or other homages to the golden age. 
Conversely, this particular pair is more tied to The Terminator film starring Arnold Schwarzenegger and a promo PE from 1984. Maybe a run for governor of California is next?
Conspiracy theories aside, the silver Swoosh on the sidewall makes the Vandal a walking billboard for Nike and an odd signal for attention. When considering West's catalog of working for adidas, corporate branding barely even surfaces sans the striping on the 700 series. 
When evaluating the Vandal, this pair is fascinating considering Kanye's adidas affiliation and that this retro release is completely devoid of any tangible takeaways for market research. That would include curiosity-driven tech like the Nike ISPA Road Warrior publicly complimented by Kanye or a new category cache Kanye could be looking to conquer.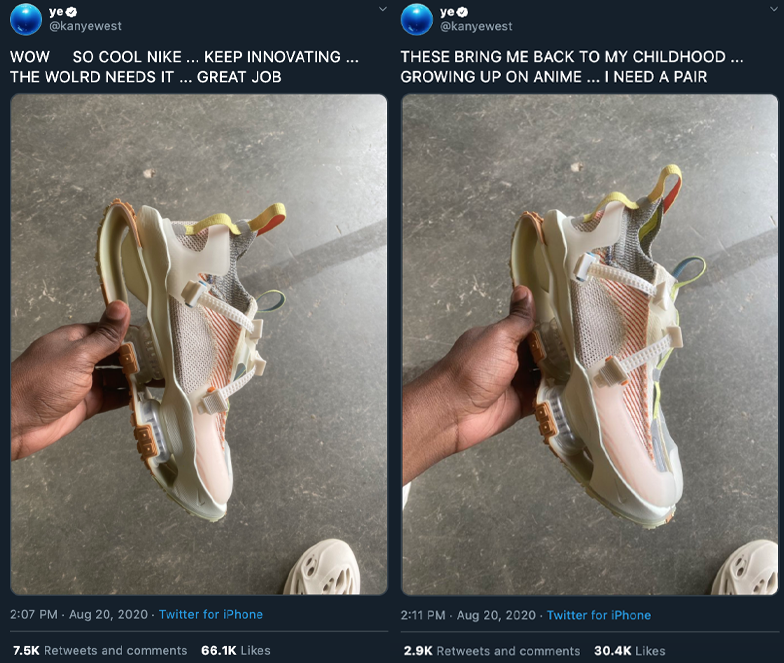 Because of all this, Kanye randomly appearing in a pair of six-year-old Vandals seems more like a statement to add 'sizzle' around his reemergence and create conversation. As of 2018, they weren't a part of his multibrand collection/moodboard, but as for now, they are in his rotation.
2. Ato Matsumoto Cowhide Boot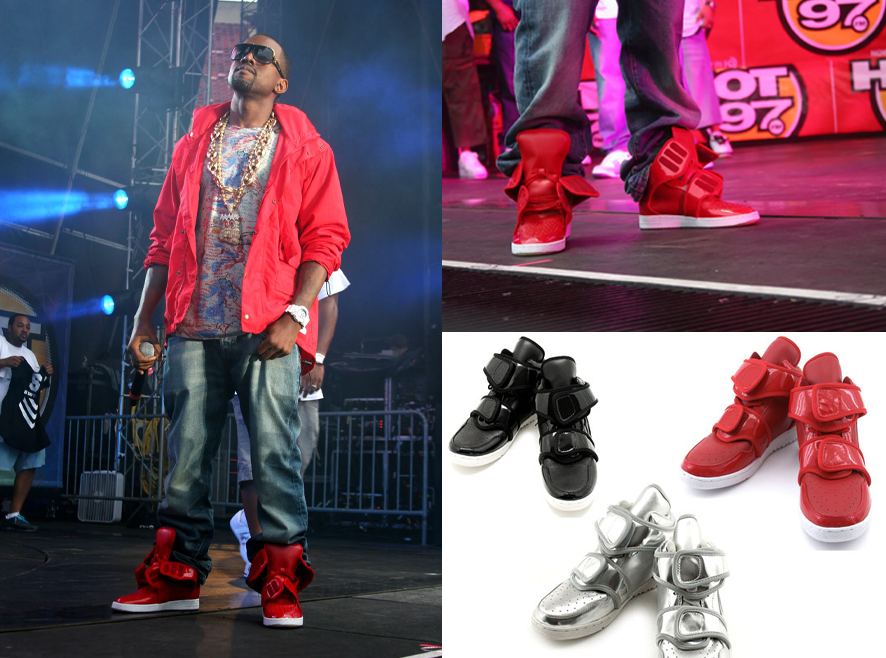 In the heat of 2007, Kanye West was reaching the pinnacle of pop culture status similar to the ASTROWORLD ascent seen by Travis Scott in recent years. Already owning accolades in rap and eyeing a resume on the runway, the rapper/producer was preparing to release his third album, Graduation, while growing rumors surrounding a Nike collaboration began to swell. 
The rising phoenix that was Kanye West took to the infamous Summer Jam stage to perform smashes off his upcoming album and have a beat battle with Swizz Beatz years before Verzuz was coined. While Swizz arrived on stage in a wheelchair and hospital gown – likely an homage to Kurt Cobain way before Kid Cudi's Off-White dress tribute on SNL – all eyes were on Kanye West and his feet.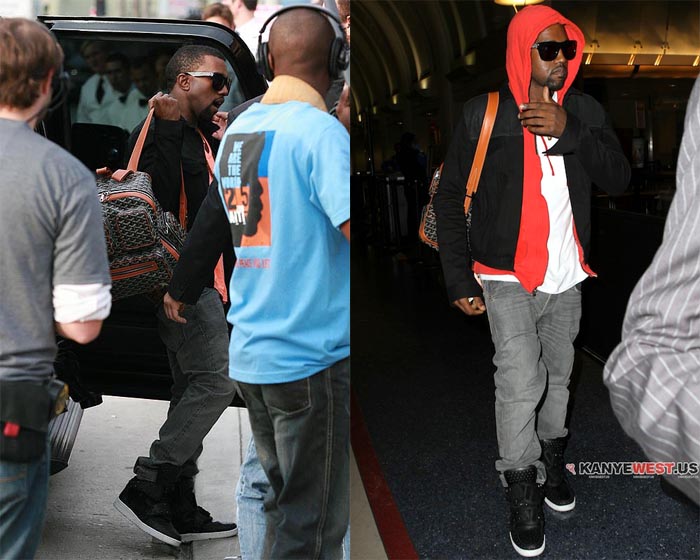 Appearing like a Nike Dunk clad in candy red patent leather coating and enlarged velcro straps fit for a moon landing, the mystery shoes were soon said on message boards to be the upcoming Kanye West Nikes. With no word from the Swoosh and fans still salivating over every Kanye co-sign from white Shutter Shades to pink G-Shocks to grey Dior denim, Kanye wore an all-white pair of the strapped sneakers in a Complex spread, not even name-checking the model but saying "Wouldn't you like to know."
Soon it would be discovered that these were not Kanye's unconfirmed Nike collaboration but rather the Ato Matsumoto Cowhide Boots. The Japanese sneakers were not only impossible to secure in the US, they did not pack the backhand buzz of designer drops from Raf Simons, Pierre Hardy, Marc Jacobs, or Jeremy Scott. Just the same, they weren't akin to fashion friends like Taz Arnold or NIGO. 
To this day, the Ato Matsumoto Cowhide Boots mark the moment that Kanye West collided not just fashion worlds but hemispheres, diving headfirst into new looks that weren't just streetwear but actual international pop art.
1. Jordan Spizike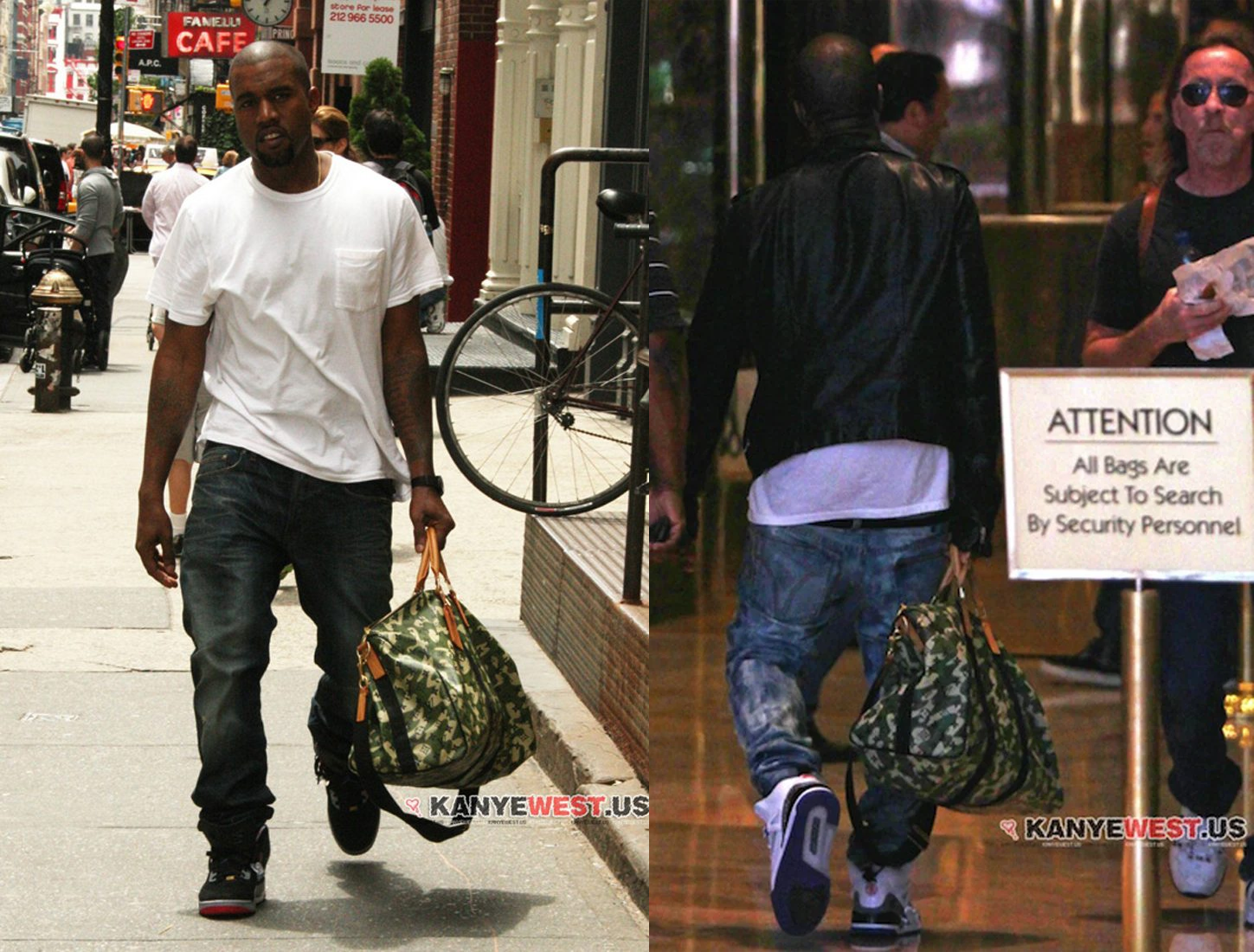 Kanye West is quick to call himself a snob when it comes to taste level but equally pleased to piss off purists. When closing out the '00s and beginning the '10s, he was as likely to loop a James Brown sample as he was to sing with autotune.
While this is true for his music it remains just as present in the context of fashion. When the world was stuck on throwback jerseys and all-white Air Force 1s, Kanye was rocking Ralph Lauren sweaters with archival Air Maxes. In the same era, OG Lo Lifes would dismiss his role in popularizing Polo while close-minded peers would persecute him for wearing pink. On the footwear tip, Kanye would play a role in repopularizing and repurposing retro Jordans while still showing love for polarized Fusions on his Universe City blog. 
When the world zigged, Kanye zagged. This proved particularly true at the 2009 MTV VMAs when Kanye showed up in biker gear and Timberland boots, quickly leaving behind prep favorites, loud streetwear, and retro sneakers he was known for. In that same moment, he'd leave the public eye behind.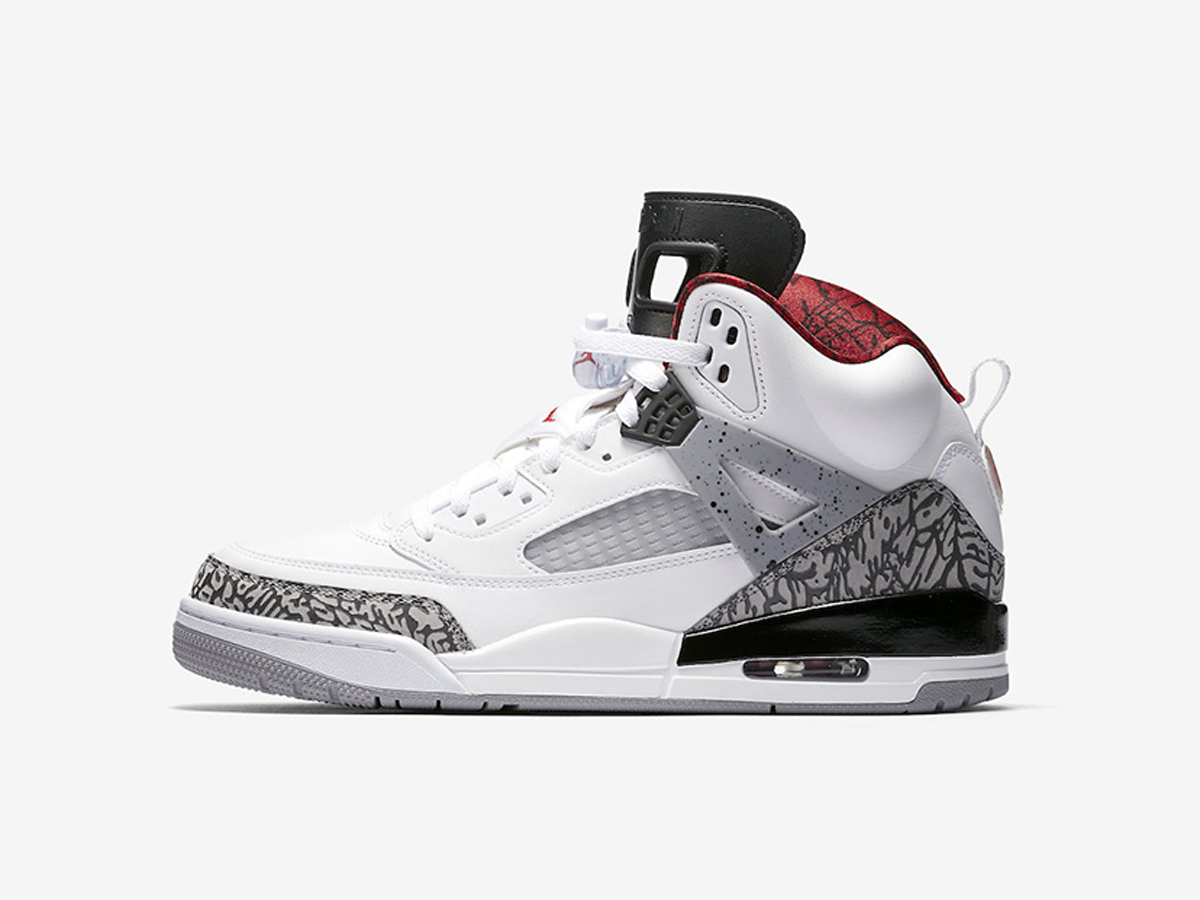 Image via Nike
Why was that? What Kanye wore at the 2009 VMAs was slightly shocking, what he did was infamous. Interrupting Taylor Swift in defense of artistry, Kanye the pop star went into exile as he and creative collaborator Virgil Abloh fled from the US to study fashion and escape scrutiny. For almost an entire calendar year Kanye West would not be seen and seldom heard from. Then in the spring of 2010, a refreshed and refocused West would appear in the streets of SoHo with a Murakami x Louis Vuitton bag full of tracks meant for his comeback album and Jordan Spizikes on his feet. 
American media's public enemy #1 was back on US soil. Kanye loyalists rejoiced, but also scratched their heads as the Jordan Spizike had a lower approval rating among sneakerheads than Kanye had among country music fans. Unlike other models on this list, the wear wasn't even a one-off as Kanye later appeared at a Stay in School fundraiser concert in Chicago, rocking the same silo in "Grape" with the black leather and distressed denim that'd soon become signature. 
In the months that followed, Kanye would win over critics by dropping arguably his best album ever and strengthen his core fan base even more. The Spizike wouldn't remain in West's rotation any longer, but it'd no longer live in the dunce seat once occupied by hybrid Jordans.