SoleSavy is honored to once again return as the presenting sponsor of Doernbecher Freestyle XIX for 2023.
OHSU Doernbecher Children's Hospital has partnered with Nike since 2004, creating life-changing memories and unforgettable sneakers. Since 2004, Doernbecher Freestyle has collaborated with more than 100 patient designers and hundreds of Nike employee volunteers to make each patient's design dreams come to life.
Every collection has been auctioned and sold, with the Swoosh donating 100% of the retail profits to help raise more than $33 million for the children's hospital. The one–of–a–kind collaboration between OHSU Doernbecher and Nike has helped to cover the cost of care for families in need, expand pioneering research that benefits kids worldwide, and support specialized care unavailable anywhere else in the region.
Collection Information
On Friday, October 27, 2023 six young patient designers will reveal their personally designed Nike sneakers.  This year's theme is I'mPOSSIBLE. 
These highly sought-after collections represent each patient designer's medical journey, interests, and relationships with loved ones and healthcare providers. Importantly, the collections also provide a unique opportunity for each child to give back to the hospital that helped save their lives.
Chris, Garrett, Hailey, Hugo, Macey and Sydney have taken inspiration from their own extraordinary lives to create this year's Doernbecher Freestyle Collection. 
The Cortez, Dunk High, Air Jordan 3, Air Max 1 '86, ACG Mountain Fly, and FlyEase take center stage. Take a closer look at each pair below, and learn more about the creative OHSU patients behind each pair.
Hometown: Portland, Oregon
Diagnosis: Juvenile idiopathic arthritis
Fun fact #1: Her favorite sport is swimming.
Fun fact #2: Her hero is Ruth Bader Ginsburg, and she hopes to be a lawyer when she grows up.
Fun fact #3: Her favorite hobby is drawing and her most prized possession is her sketchbook.
Sydney Little's interpretation of the Nike Cortez is special. Sydney's vibrant shoe is a walking masterpiece filled with her hand-drawn artwork and features fun, interchangeable elements so you can wear it your way. The hibiscus flower represents the Hawaiian leis her team wears, while the brilliant sunset print inside the shoe is an exact replica of a painting Sydney created. Other pieces in her collection are emblazoned with the words Keep Swimming as a reminder to keep going when life throws you a challenge.
Speaking of Keep Swimming, even though she just started high school, she's already thinking about college and following her dream of becoming a Division 1 swimmer. When asked what she'd like to study she replied, "Honestly, I'm not sure yet, I just want to do something where I can make a difference." Sydney is off to a good start.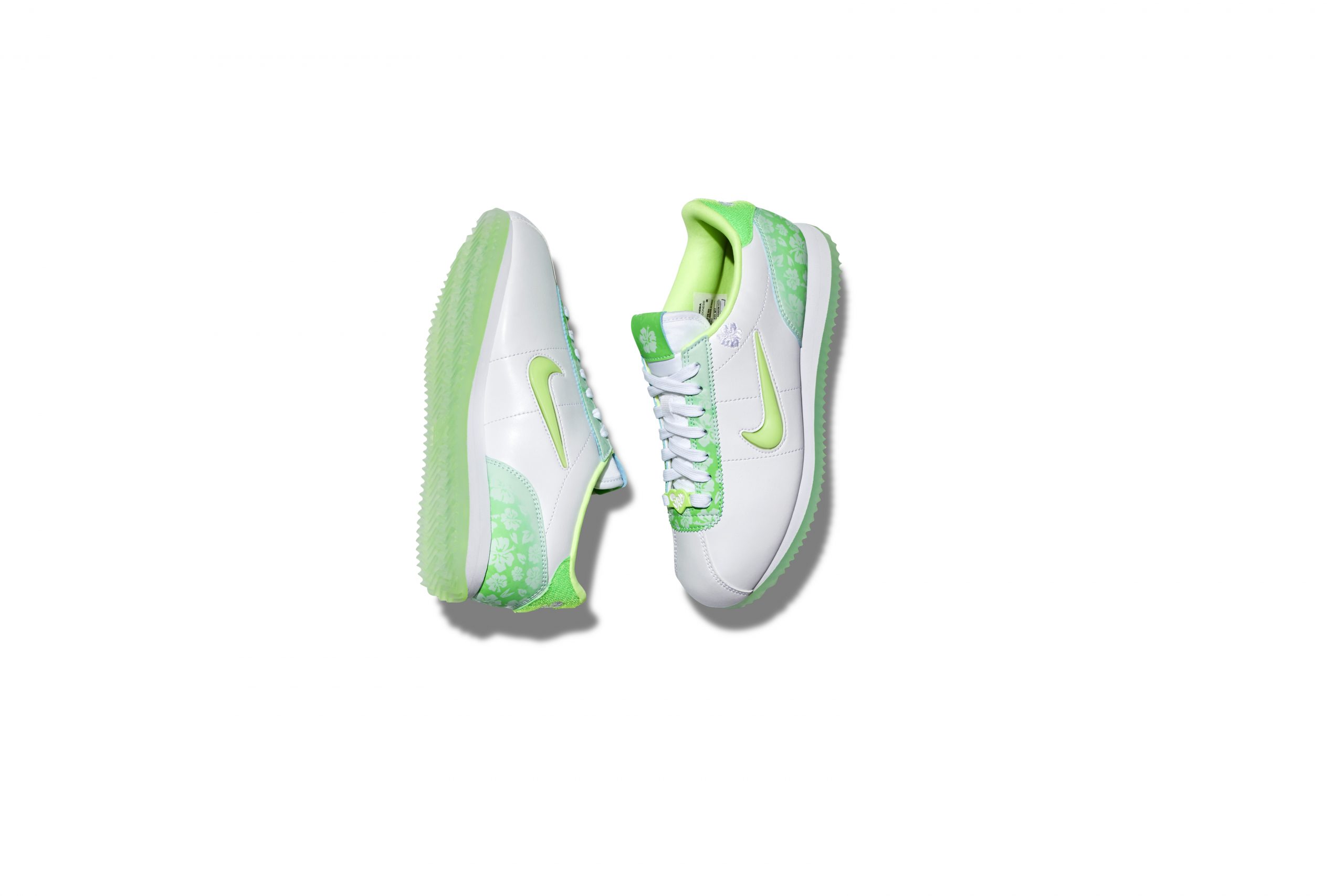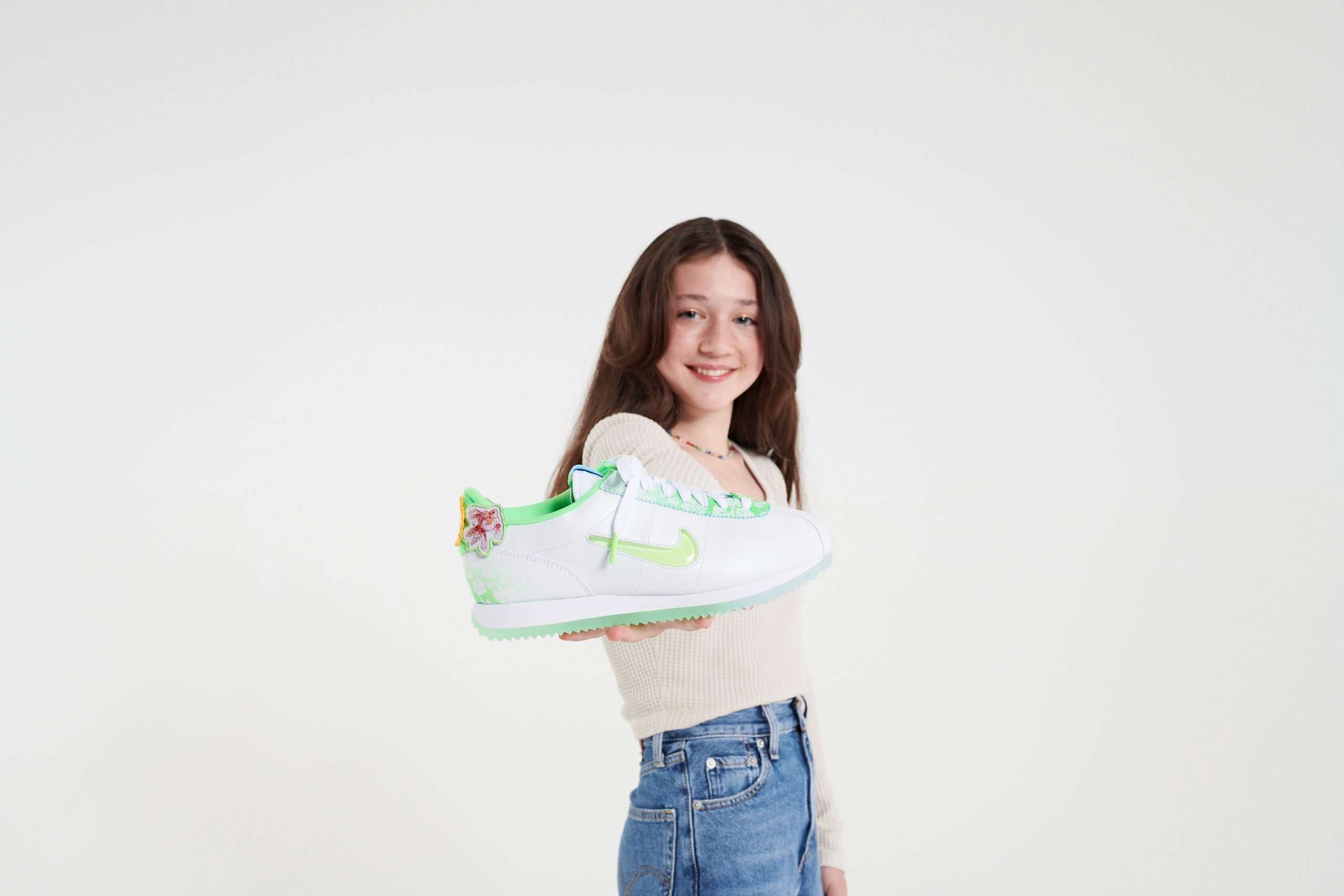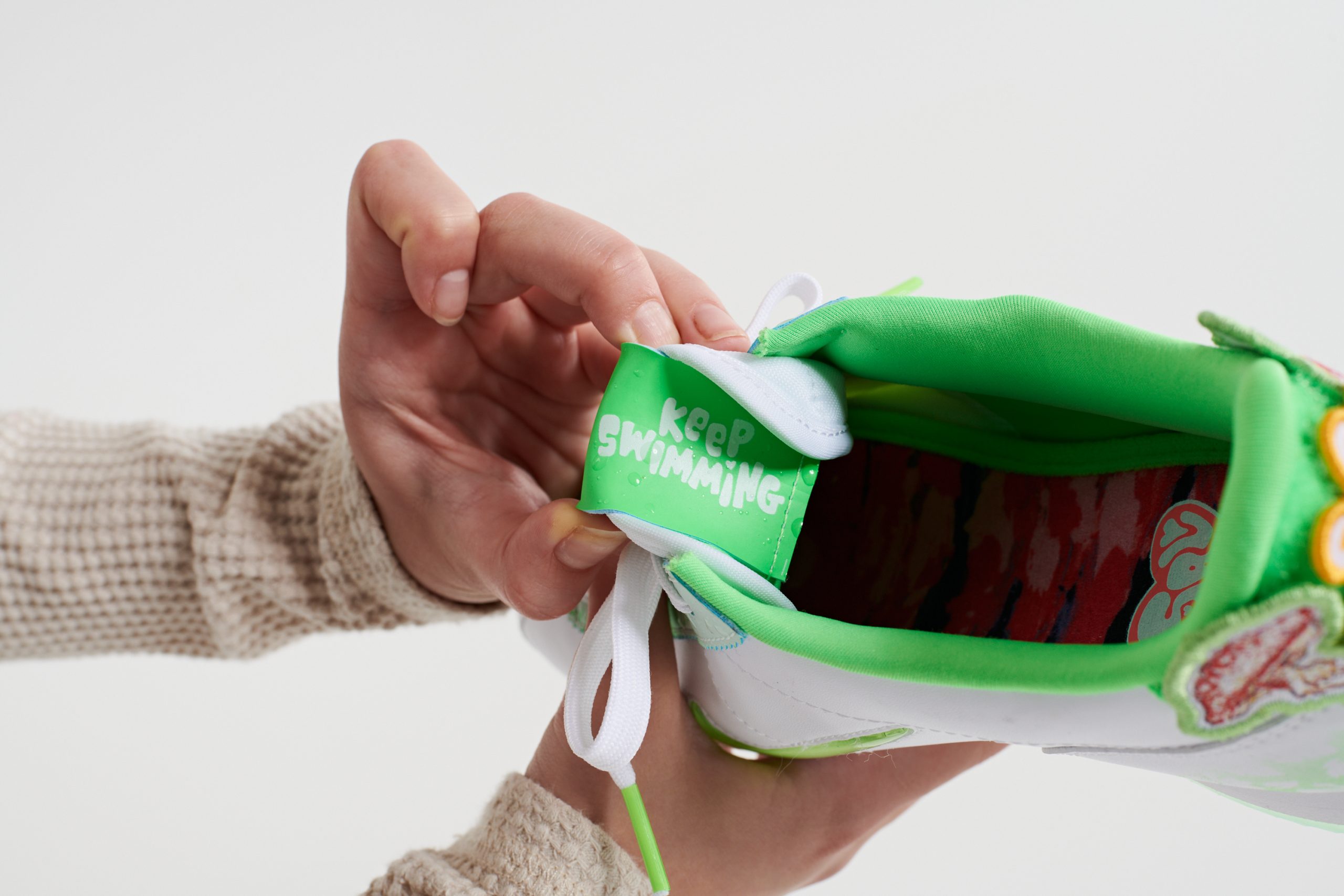 Hometown: Yacolt, Washington
Diagnosis: Brain tumor, narcolepsy
Fun fact #1: Her favorite color is pink.
Fun fact #2: Her perfect day would include sleeping in and baking.
Fun fact #3: Her favorite subjects in school are art and American Sign Language, or ASL — she hopes to be an ASL interpreter when she grows up.
Macey's take on the Nike Dunk High is sweet. Literally.
Her positivity is evident throughout her flower-powered shoe, with the all-over print drawn by Macey herself. The lateral heel sports a grey ribbon symbol on the upper to celebrate her status as a brain cancer survivor. On the midsole, you'll find the phrase that guides Macey in everything she does: SHE BELIEVED SHE COULD, SO SHE DID. "It speaks to the strength and courage that we all have inside" she explained.
As if you needed any more reason to buy a pair of her Nike Dunk Highs, Macey decided to sweeten the deal: Inside, you'll find the recipe to those (soon-to-be) world-famous chocolate chip cookies.
Macey chooses to focus on the silver linings in her life. "I get to go to cancer camp every year, and having a handicapped parking permit is pretty nice," she joked. "You have to take the wins where you can find them!"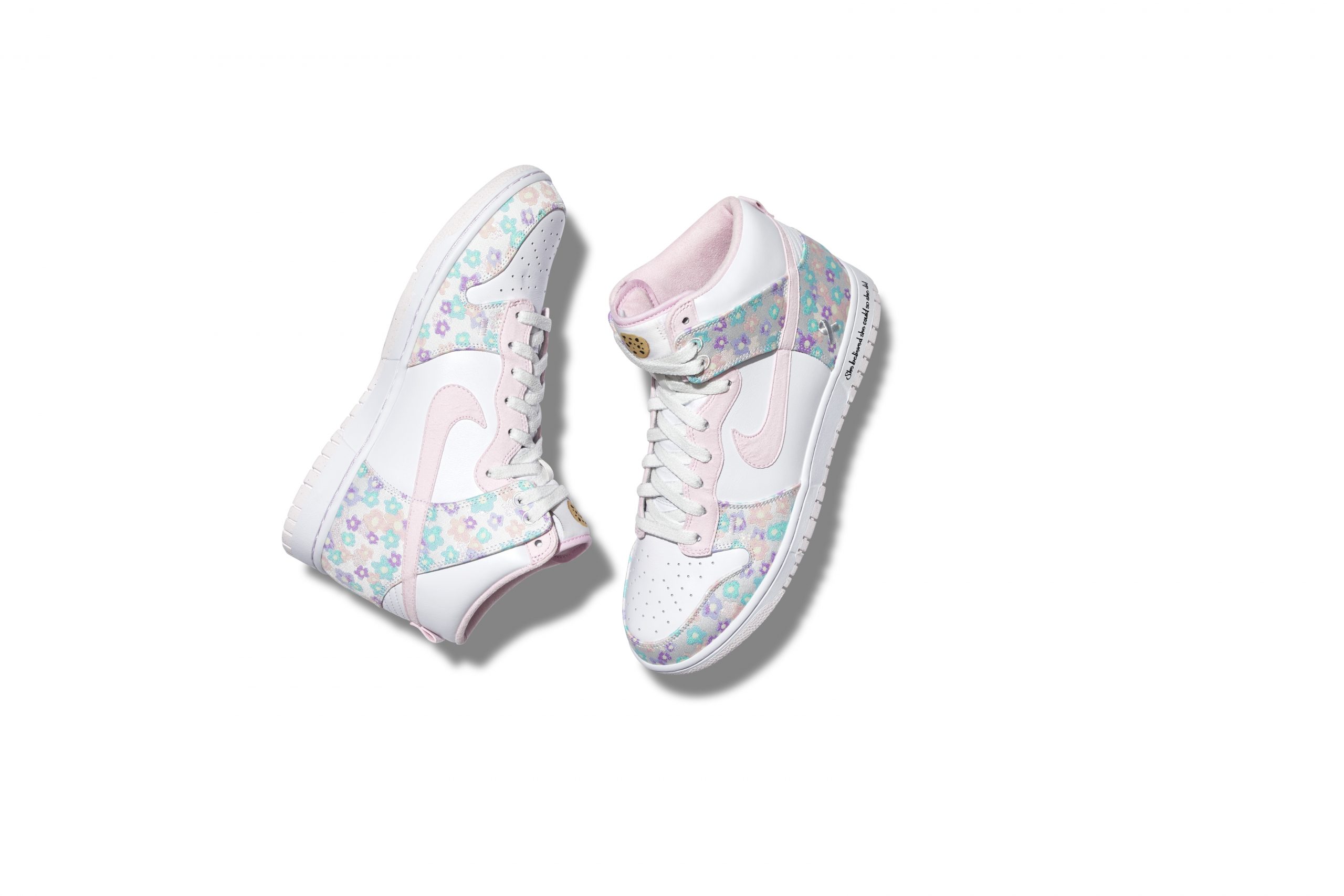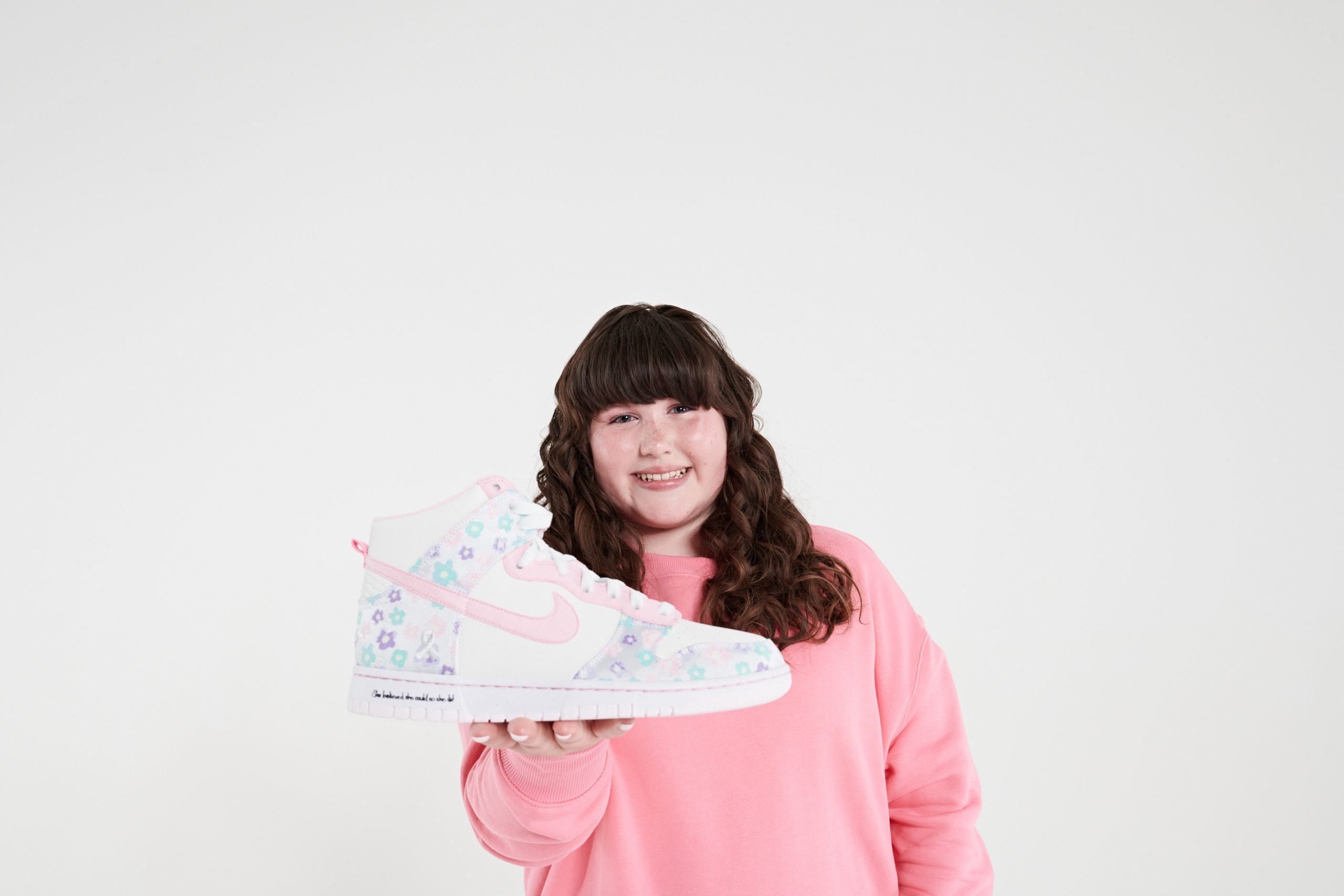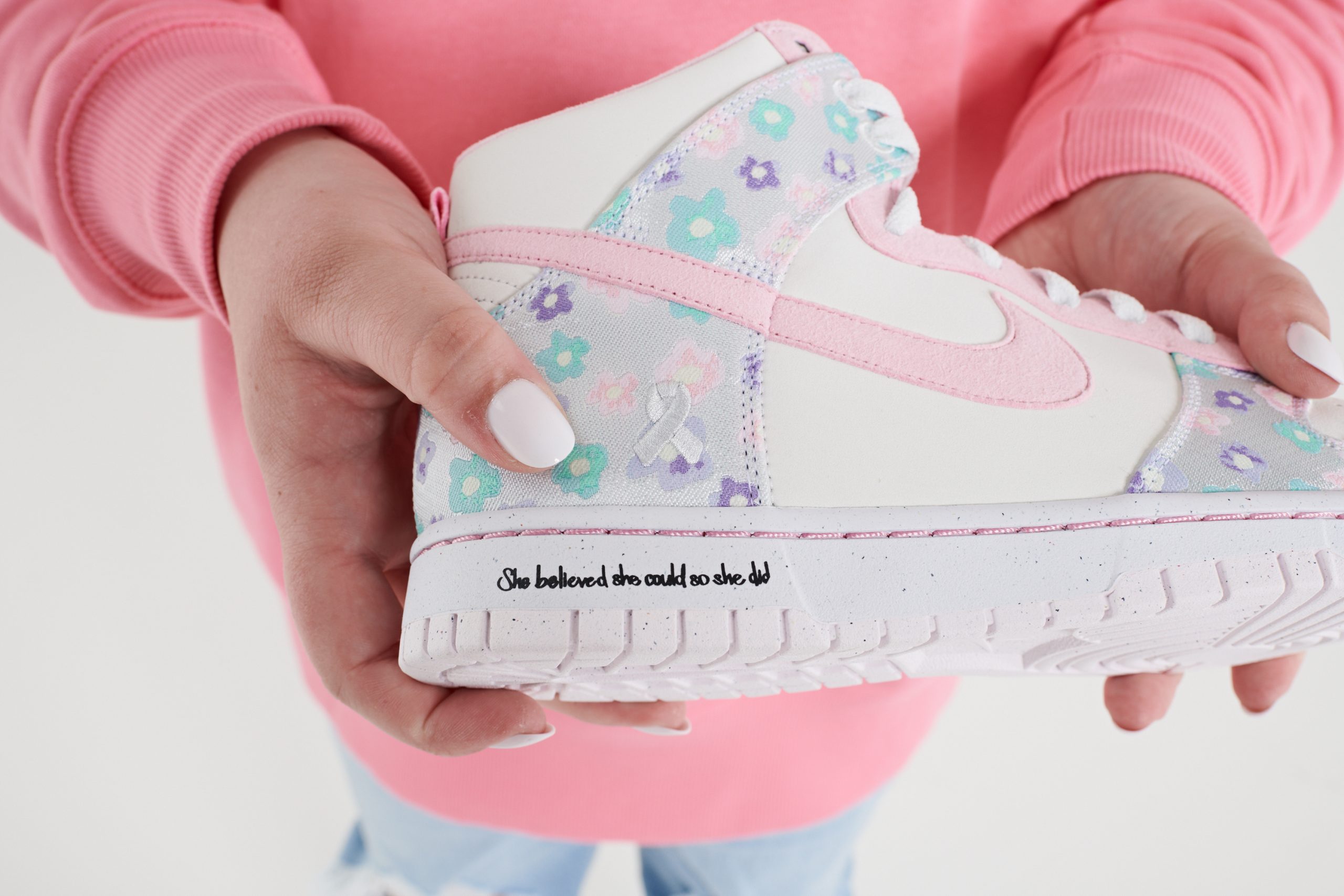 Hometown: Clackamas, Oregon
Diagnosis: Congenital cyanotic heart disease
Fun fact #1: Her favorite sport is gymnastics.
Fun fact #2: When she grows up, she hopes to be a nurse.
Fun fact #3: Her perfect day would be spent playing with her friends.
Hailey always shows up to Doernbecher with a smile on her face — and a style game that's on point. "The first time I met her, she was rocking pink Chuck Taylors and a leopard faux fur coat," recalled Doernbecher social worker Katie Lee, LCSW.
Hailey's keen fashion sense was put to good use on her Air Max 1 '86. She went with a bright pink palette to represent her impressive doll collection and gold accents to match her sparkly personality. For those who love to accessorize, the detachable gold chain can be worn as a bracelet and comes with mix-and-match charms featuring some of Hailey's favorite things, like
painting, rainbows and ice cream.
To honor her medical journey, Hailey also added an anatomical logo that's a replica of her one- of-a-kind heart. Meanwhile, hand-drawn hearts are scattered across the upper — and even the eyelets are heart-shaped. "I wanted to raise awareness for the other kids like me that have special hearts," she explained.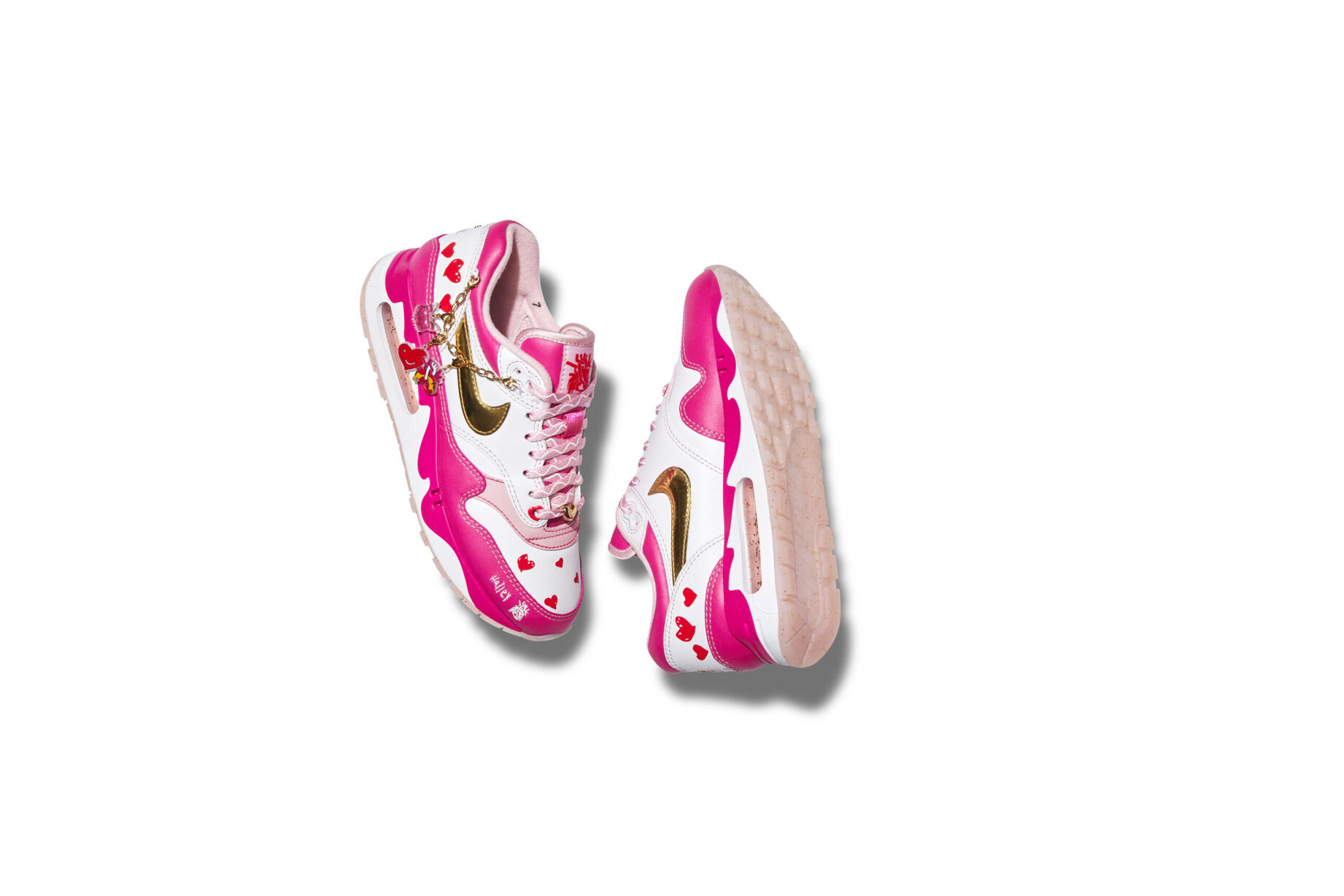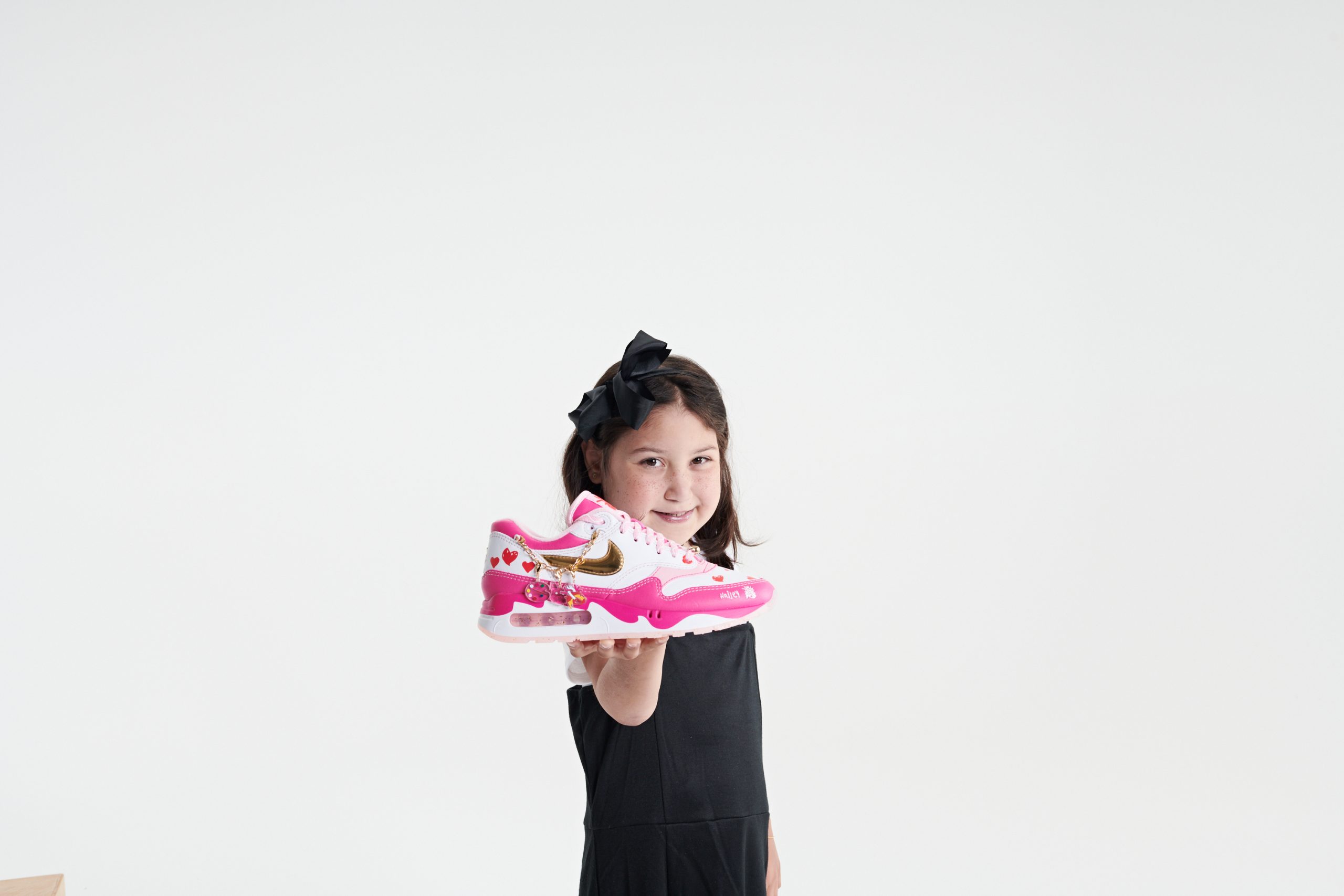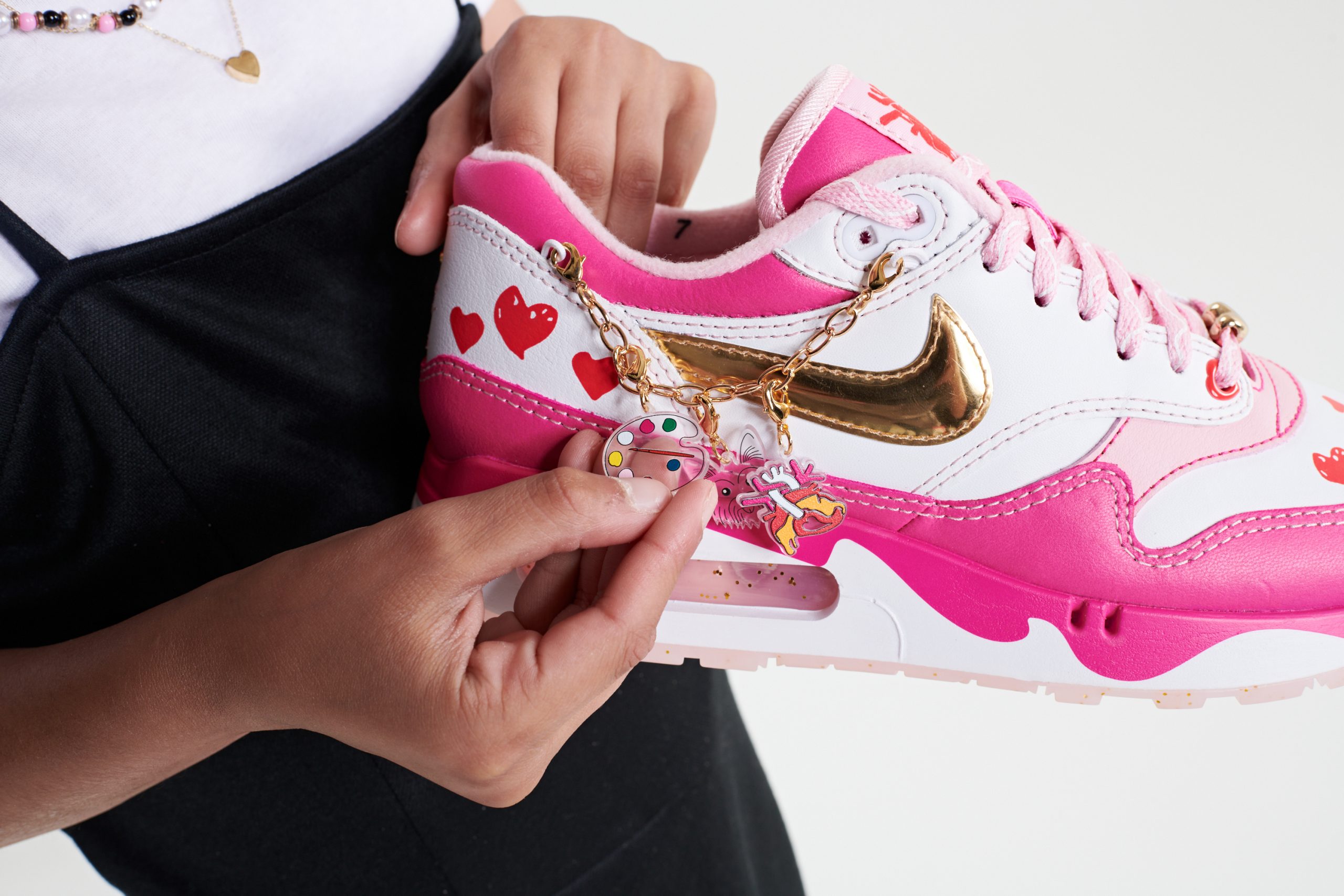 Hometown: Hermiston, Oregon
Diagnosis: Klippel-Trenaunay syndrome
Fun fact #1: His favorite sports are football and basketball.
Fun fact #2: When he grows up, he dreams of owning his own barber shop.
Fun fact #3: His favorite food is Chinese food — specifically pork fried rice and General Tso's chicken.
The Air Jordan 3 by Hugo is different, and being different is awesome.
Over the years, Hugo has learned to embrace his uniqueness and designed a shoe that encourages others to do the same. On the outsole, you'll find words to live by: It's okay to be different. (Incidentally, Hugo's dad Ricardo has a tattoo of the same phrase in Hugo's handwriting.)
As for those colorful drips of green and blue, those are a nod to Hugo's nickname, "Juice," as well as a shout-out to his favorite team, the Seattle Seahawks. And because Hugo loves to bring
the bling, his custom logo hang tag (that is interchangeable as a pendent) is plated with 24- carat gold.
Hugo hopes that his shoe will inspire people to accept and value the uniqueness of others. And to the kids who struggle with bullying, he shared a powerful bit of advice: "Just be strong and hold your head high," he said. "Everyone is different, and being different is awesome."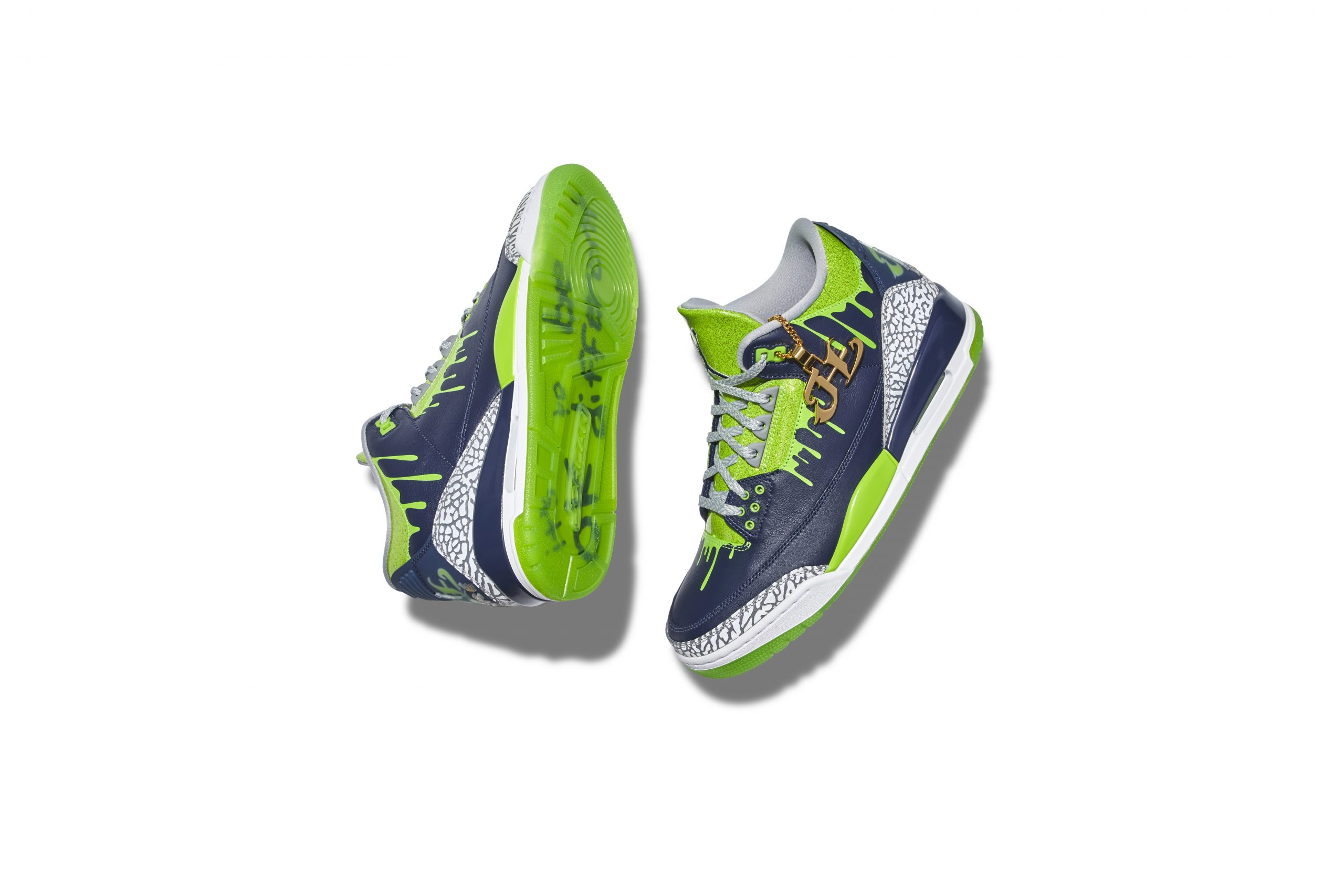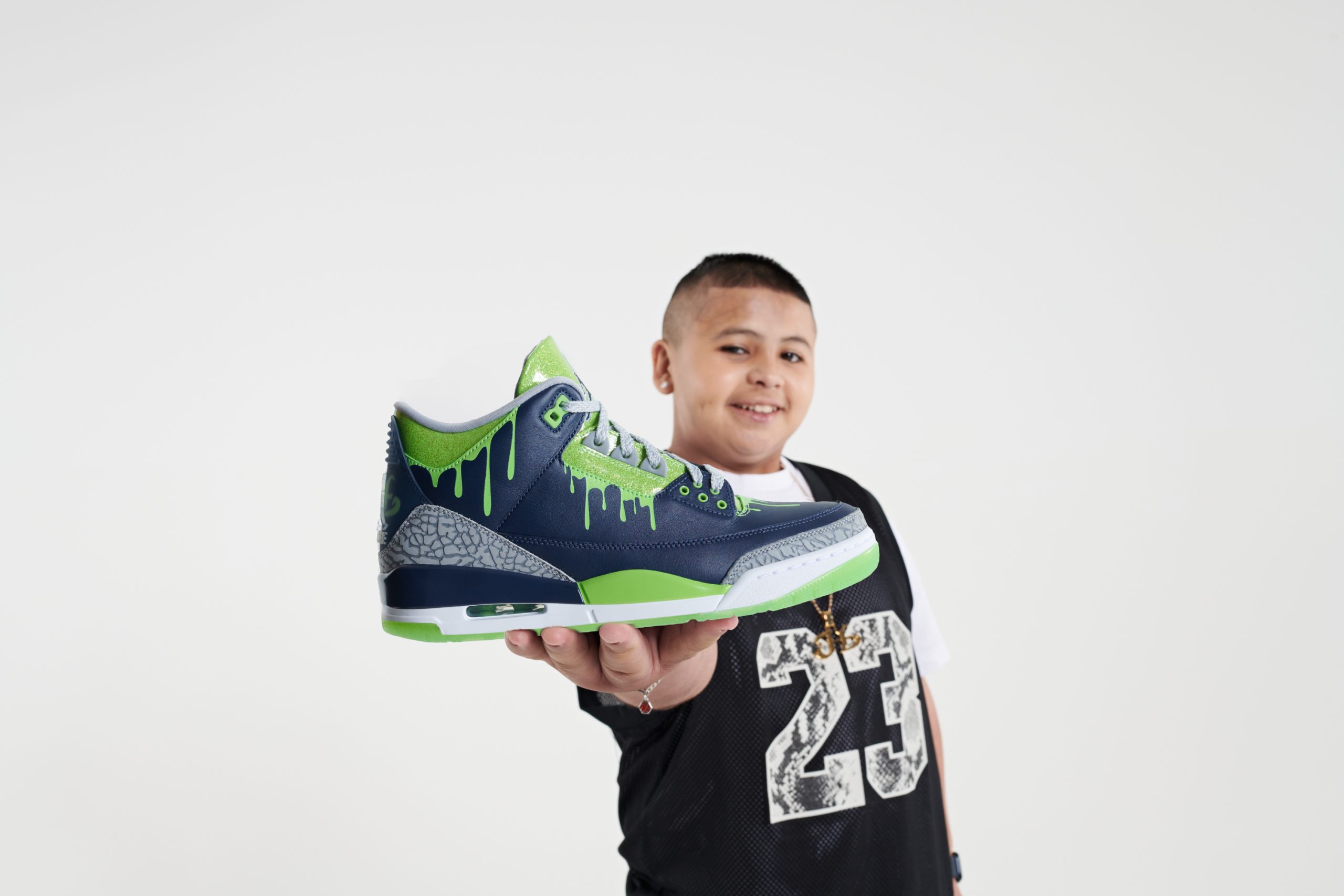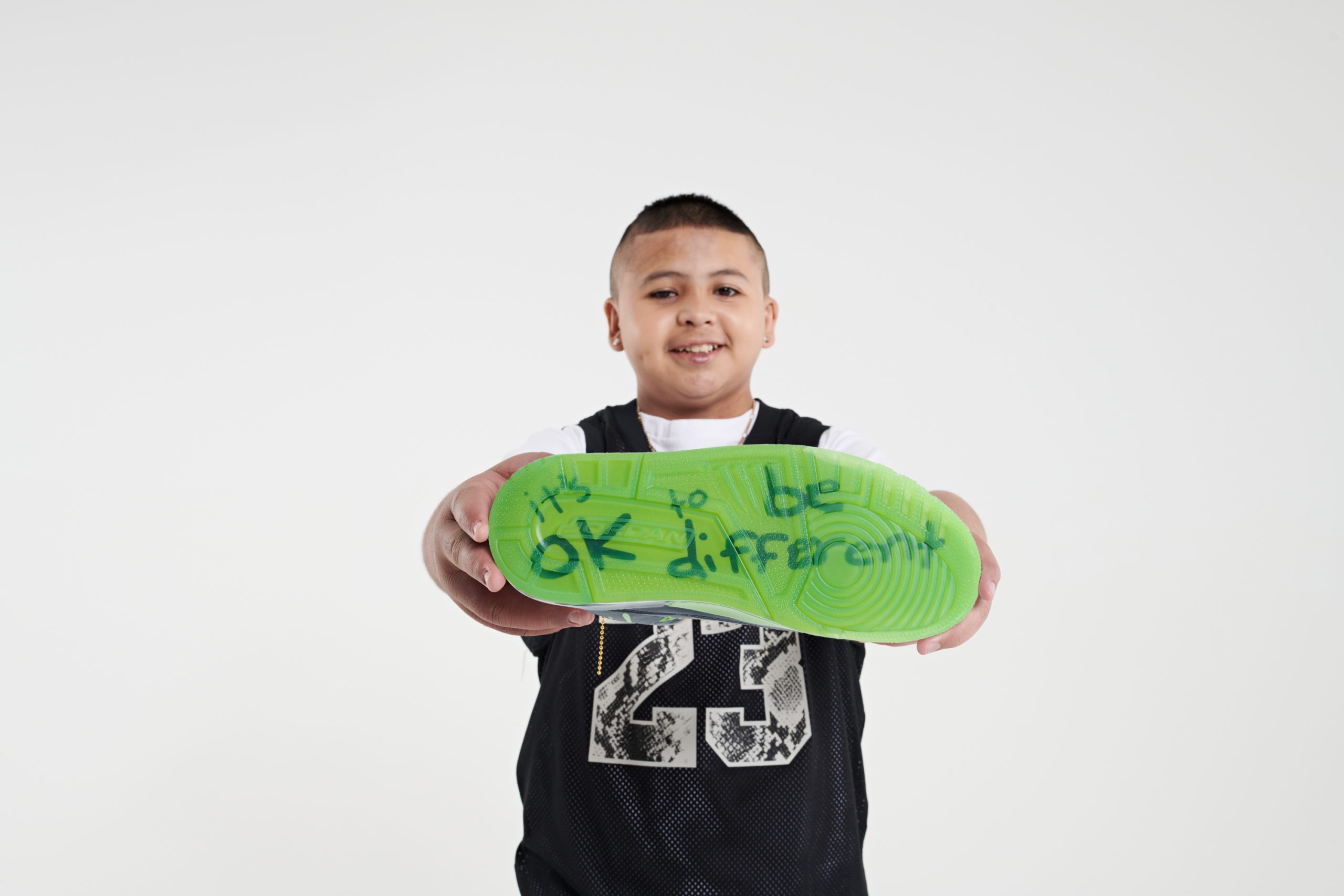 Hometown: Winston, Oregon
Diagnosis: Traumatic accident
Fun fact #1: His favorite sport is football.
Fun fact #2: His favorite hobby is woodworking.
Fun fact #3: His perfect day would be spent at the beach with his family.
Chris' Nike Go FlyEase reflects his love of Japanese culture and features a kimono-inspired wrapdesign and a cool graphic of Mt. Fuji on the tongue. Be sure to check out the inside, where you'll find a friendly panda hanging out with Chris on the beach.
As for the phrase Smarter than you think on the sockliner, that's a nod to his passion for math. "I'm already doing algebra at the 11th grade level," he said proudly.
As he continues to recover, Chris relies on his faith and his family to help him get through the toughest days. He's also profoundly grateful for the medical team that helped save his life. "My doctors and nurses were so great," he said. "They made it possible for me to go home to my family and go back to school. I can't thank them enough."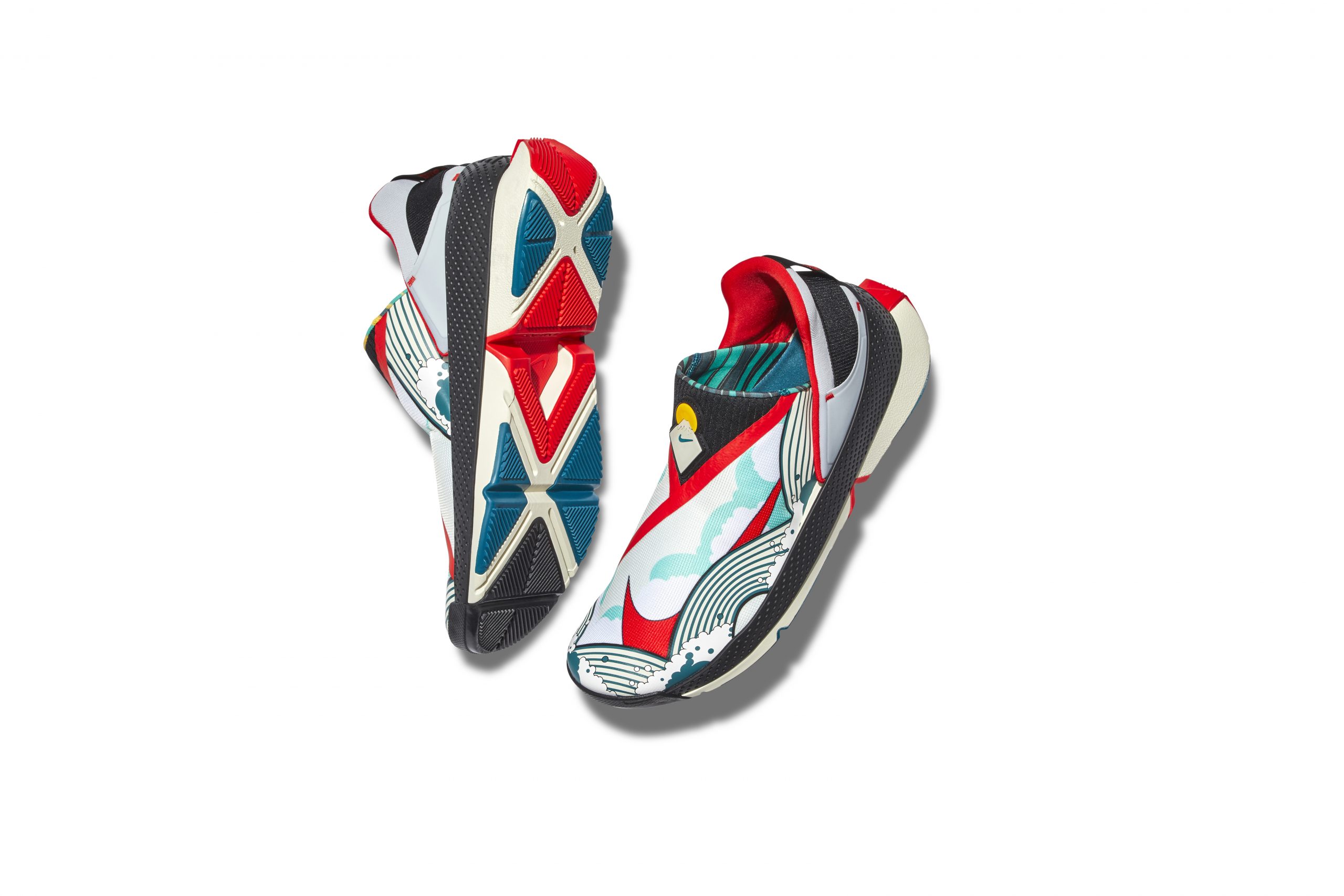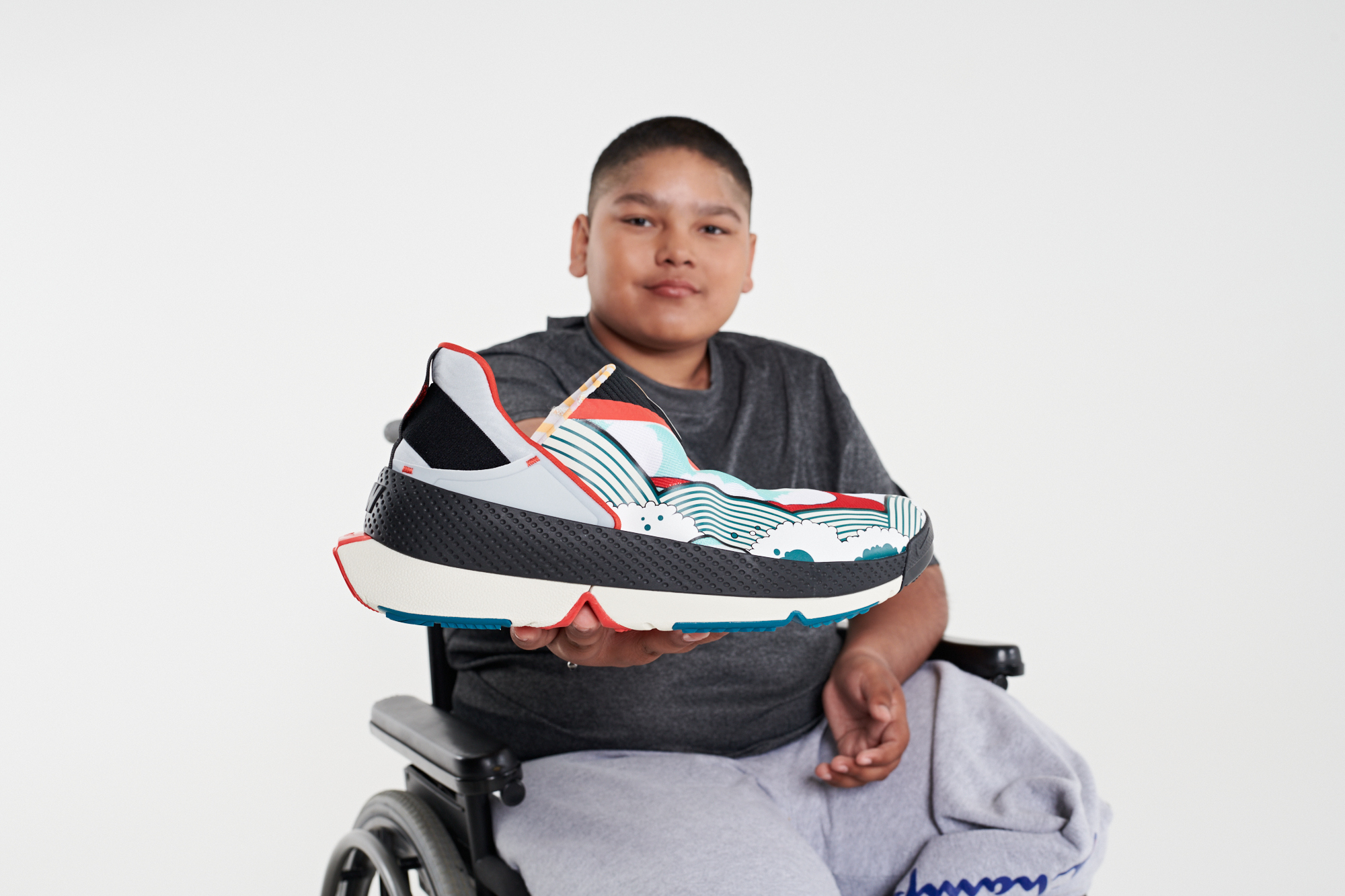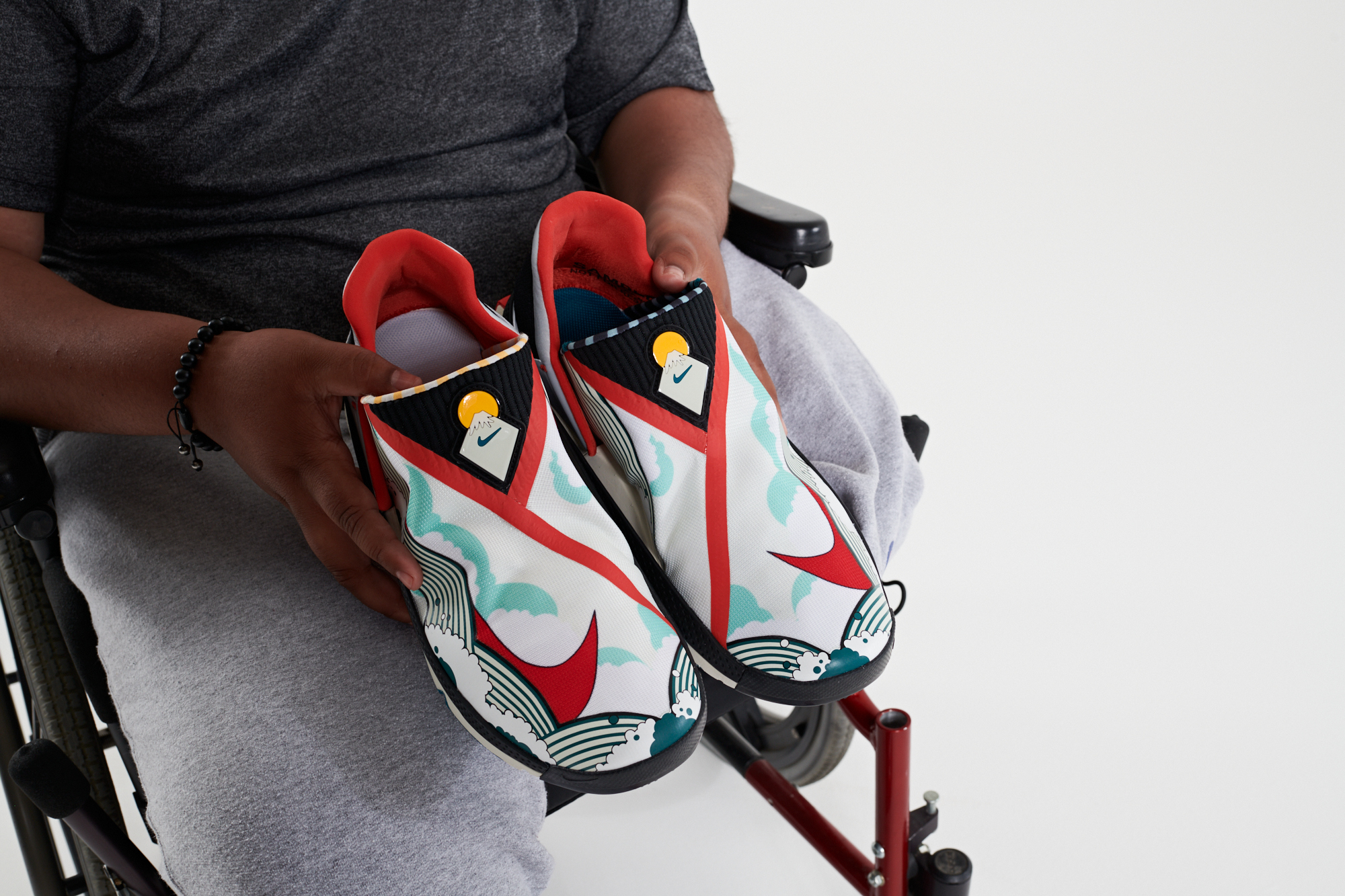 Hometown: Yamhill, Oregon
Diagnosis: Extreme prematurity
Fun fact #1: He loves playing board games like chess.
Fun fact #2: He collects hats.
Fun fact #3: His favorite subject in school is science, and he hopes to be a scientist when he grows up.
Garrett's outdoorsy shoe is an ode to the Pacific Northwest, with a silhouette of Mt. Hood rising up behind the tree line and a waterfall cascading down the tongue. (He even added realistic mud splatters so you never have to worry about getting it dirty!)
For Garrett, the most meaningful feature is the purple butterfly that flits about not just on his shoe, but the other items in his collection as well. It represents his twin brother, Cooper, who passed away after a few days in the NICU. "The purple butterfly is placed on the incubator to show that the baby was part of a multiple pregnancy and sadly not all the babies survived," explained Jenni. "Garrett really wanted to do something to honor his brother." 
Garrett hopes you'll take his shoe on lots of adventures and wants you to know how much he enjoyed designing it for you. "I worked really hard on it because the more it sells, the more kids it will help," he said.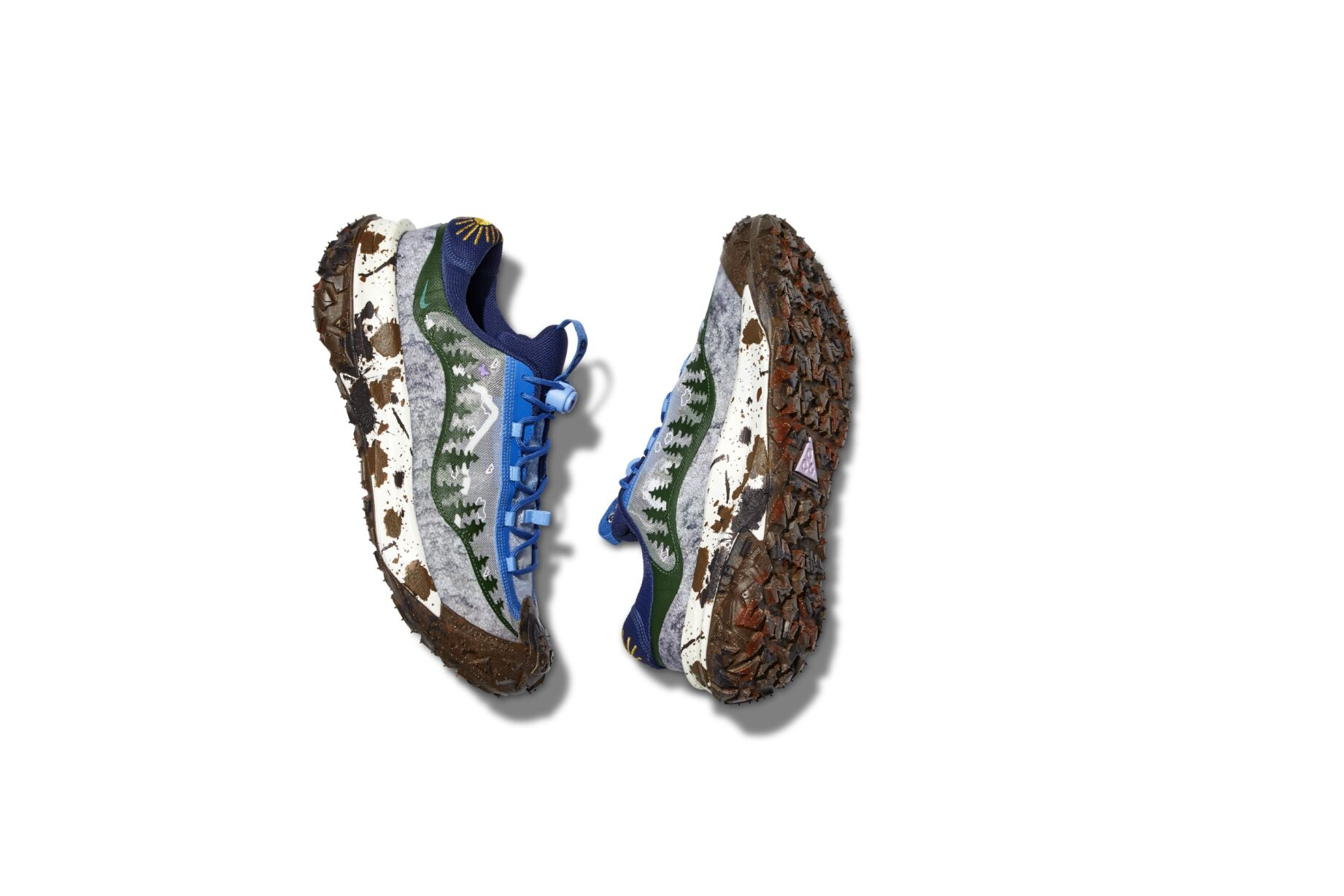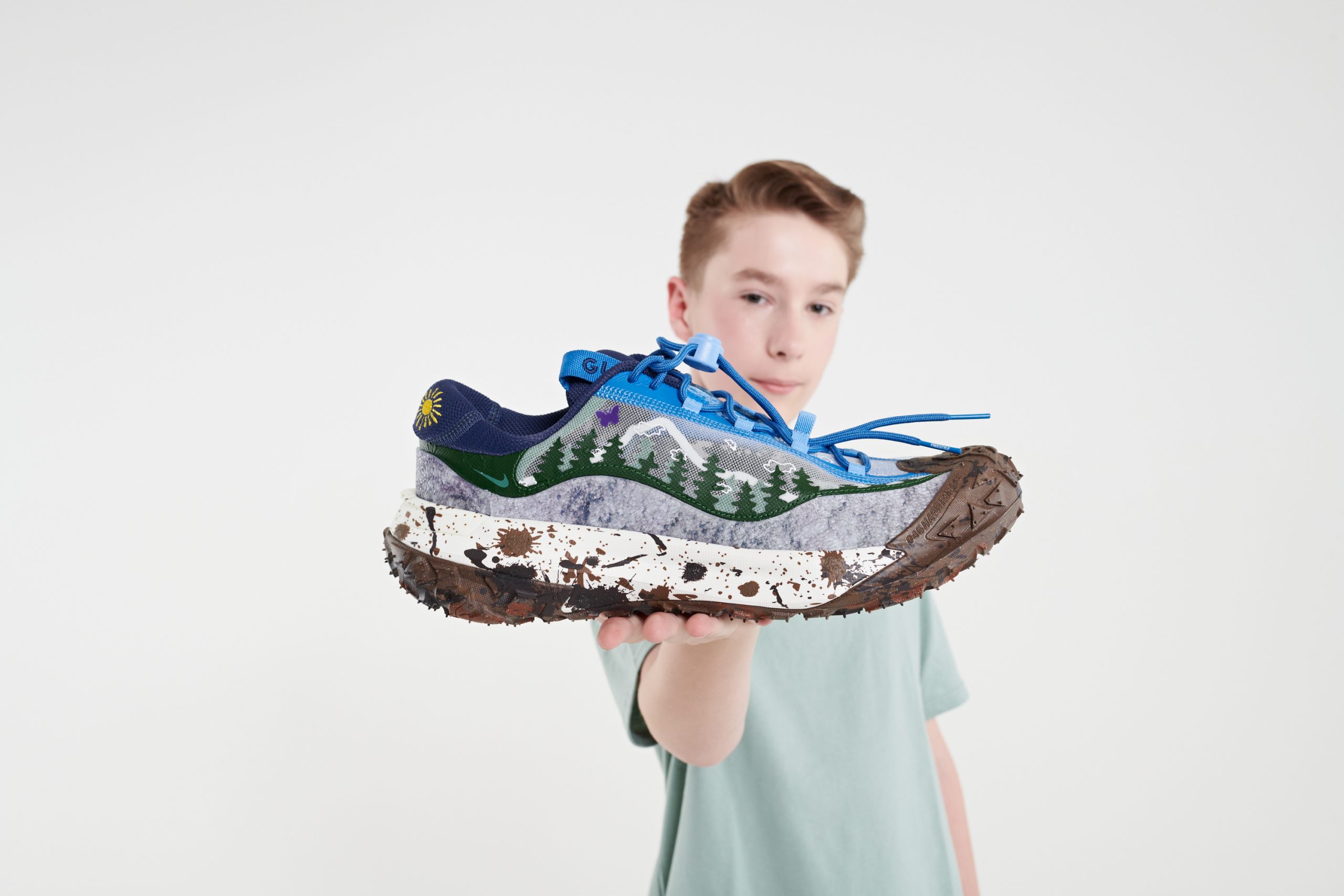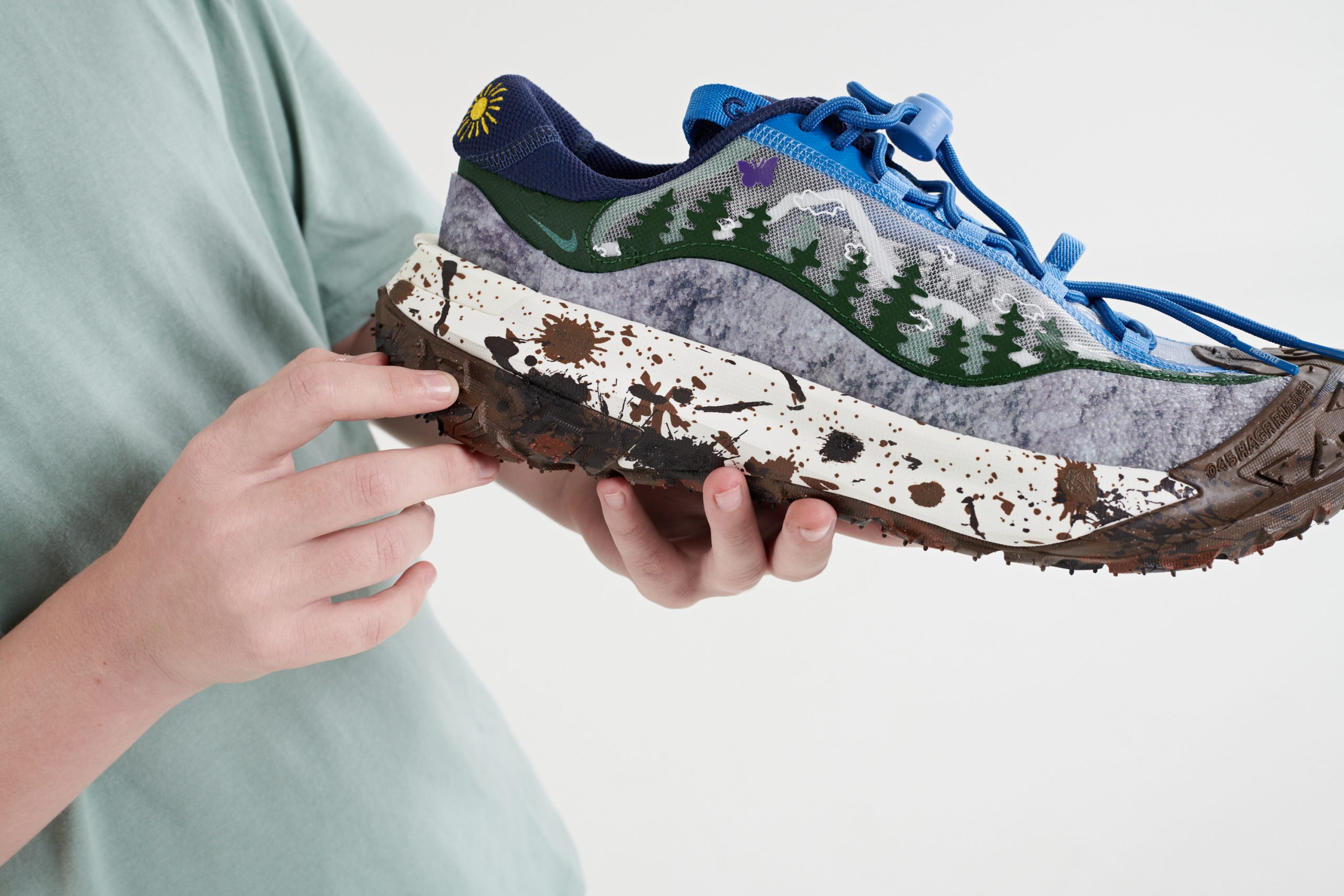 Nike Cortez (FZ3020-919)
Nike Air Max 1 '86 (FZ3021-919)
Nike Dunk High (FZ3026-919)
Nike Go FlyEase (FZ3028-919)
Air Jordan 3 Retro (FZ3030-919)
Nike ACG Mountain Fly 2 Low (FZ3024-919)