It was the early 2010s, and designer fashion was sweeping the world of hip-hop, quickly taking NBA tunnel fashion and sneaker culture with it. 
Needle pushers like Kanye West were trading in their Dead Serious full-zips and Air Jordan 8s for Givenchy sweaters and Balenciaga Arenas. Even young upstarts like A$AP Rocky regarded pieces from Rick Owens and Raf Simons with a reverence that made bright graphic tees and sought-after LeBrons seem juvenile at best and basic at worst.
While art's elite was running to the runway, counter-culture movements were going on right beneath the surface.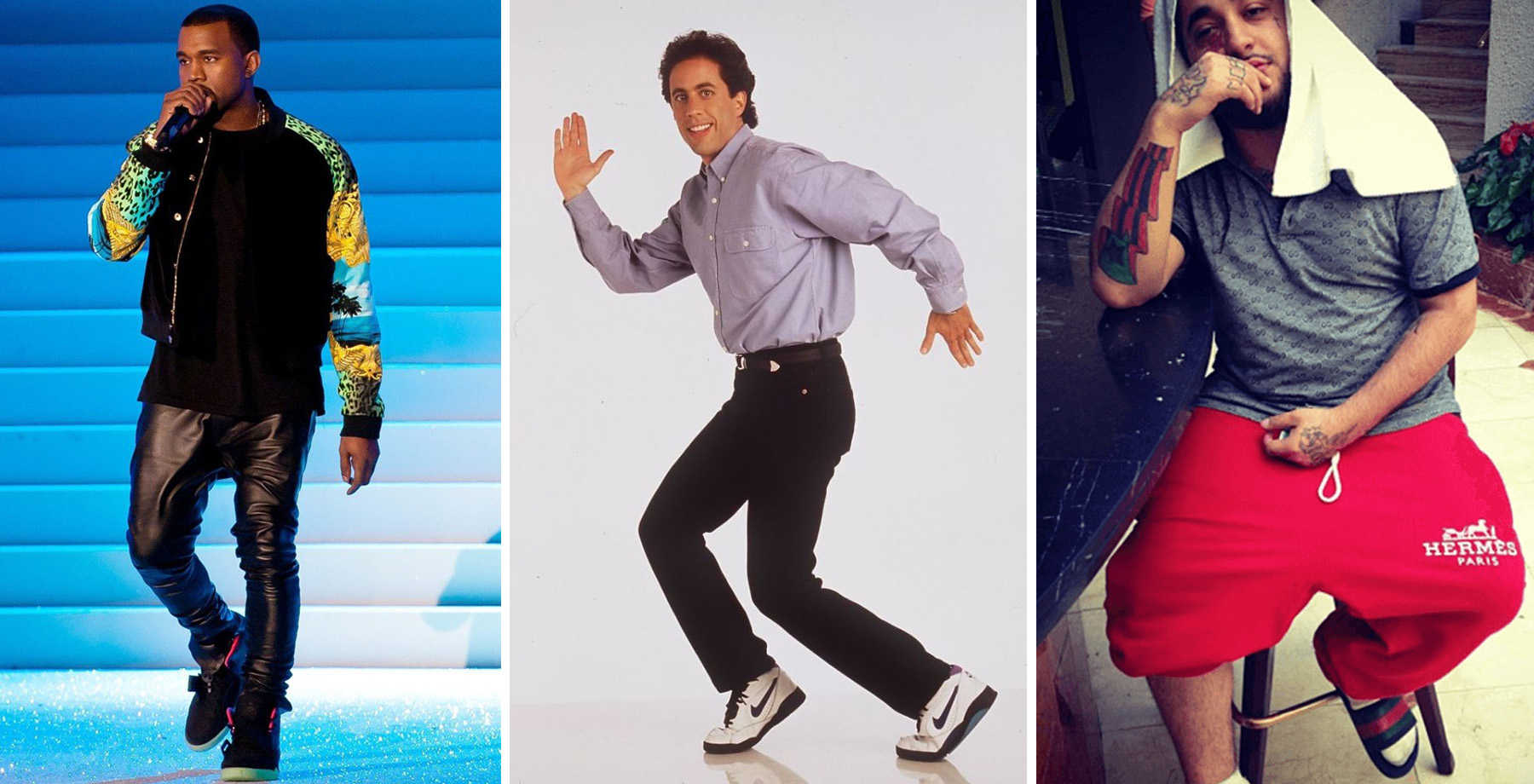 Kanye West dipped in designer, Jerry Seinfeld for Normcore, and A$AP Yams, the ultimate Cozy Boy
For fans not feeling flashy leather pants and loud Birds of Paradise prints, there was normcore: an inherently bland approach to fashion inspired by sitcom stars like Jerry Seinfeld and Tim Allen. Dad shoes and mom jeans were paired with oxford shirts and Sports Illustrated crewnecks, ripping high fashion at its core. 
Not into appearing mundanely polished or like the father of four? Well, Rocky's right-hand man A$AP Yams had something better: cozy. Led by robes, sweatpants, and sandals with socks, Yamborghini's passion for fashion leaned into looking like you just woke up or were all about the snooze button. Fitted fashion could wait because who needs to look like they're heading to the Met Gala when they'd rather be grabbing a bacon, egg, and cheese?
Throughout this web of early 2010s fashion, the boundaries of sneaker culture were widely stretched. If Kanye was jogging in Lanvin why couldn't a collector cop a pair of logoless Balenciaga Arenas? If bandwagoners suddenly loved Foamposites 15 years after they came out, why not put on a pair of Monarchs just to show you were above it? And lastly, if the bubbles on Air Max 95 retros were shrinking every year, why not rock Adilettes slides that are actually soft?
Over the course of the 2010s, no longer did being a sneakerhead mean you had to sport a Swoosh, Jumpman, or stripes on your feet. The rules for fashion were no longer defined by Census answers as they were in the 2000s, opening the world for more diverse wardrobes and more fluid rotations. Everything was up for interpretation as long as you styled it right.
Well, everything but one thing.
Crocs.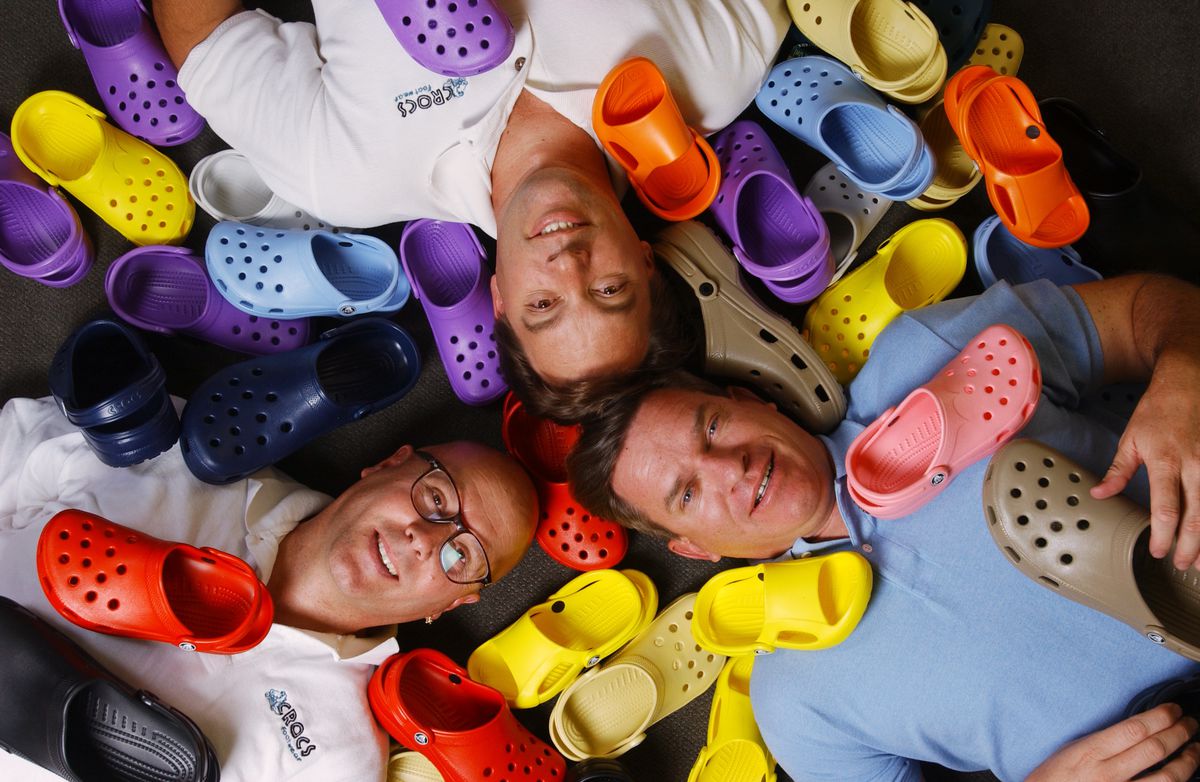 Crocs founding team (Image via Racked/Getty Images)
Founded in 2002 and based in Colorado, the foam-injected footwear was the aesthetic equivalent of an A&R that plays electric guitar. Beloved by the suburbs and devoid of story or cool cache, the Crocs Classic Clog was an Old Navy Tech Vest for your feet that had no chance of swimming in a sea of boutique branded GEL-Lyte IIIs and Air Yeezy 2s.
While sneakerheads weren't checking on Crocs for much of the 2000s and early 2010s, sneaker brands certainly were. In 2012, Nike introduced the Roshe Run: a minimalist model built off a one-piece EVA foam outsole. Creating the category of modern lifestyle running – essentially a non-retro release meant to be worn casually though shaped like something you could move in – the Roshe Run absolutely swept the suburbs and even crossed over to sneaker culture. 
Nike Roshe Run sketches (Image via Hypebeast)
At $70, the Roshe Run was half the price of a pair of retros and twice as comfortable. Soon, brands like adidas leveraged Boost cushioning and Kanye cosigns to create the UltraBoost, NMD, and Yeezy 350 as a weapon against the Roshe. While the shape-shifting and rebranding worked in regard to lane, the secret sauce was left out: pricepoint.
As the Roshe Run, NMD, and 350 became as pedestrian as the shoes it replaced, the comfort associated with each style was still craved. 
Because of these accessible entries into the evolved world of sneaker culture, a legion of kids considered the Roshe with the same affinity as an original Air Jordan or Air Max. Comfort was king and not wanting to wear a pair of soft shoes simply made you a hard ass. By the late 2010s, the cozy movement was here to stay and the boundaries associated with fashion were disintegrating with each year.
Christopher Kane x Crocs at Fashion Week (Image via British Vogue)
Was it perhaps time for sneakerheads to embrace Crocs?
Whether they wanted to or not, the formulaic footwear company was going to make a play at the booming worlds of streetwear and sneaker culture. In 2016, designer Christopher Kane shocked fans at London Fashion Week by unveiling a high-fashion Crocs collab. Months later in 2017, they were available at retail and garnering press from legacy media. 
If runway fashion was on the Crocs wave, would sneaker culture also jump in?
Early signs suggested yes in 2018. When speaking with ALIFE GM Treis Hill for Nice Kicks that year, the OG in New York City's streetwear and sneaker space dropped a bomb on me:
"We are launching a project with Crocs," Hill revealed. "I'm super excited about it. Everything about the project ties back to who Alife is. It's completely unique and left-field."
In the words of normcore purveyor Tim "The Tool Man" Taylor: AEUHHHH?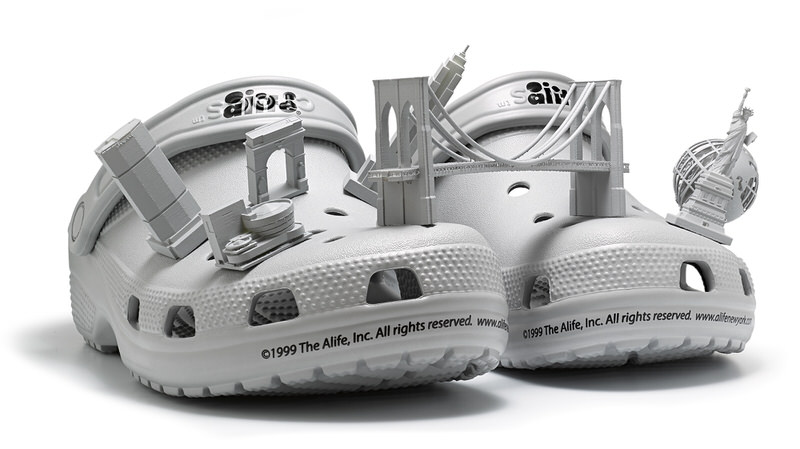 ALIFE x Crocs Dmitri Clog (via Nice Kicks)
"We wanted to do something disruptive," continued Hill. "What can we do that's different and left? The Crocs idea happened because the industry is stale. A lot of following and people afraid to take a chance on being different. We never were afraid to take a chance, we do what we like and do it to the extreme. Most everyone in our space would not be seen dead in Crocs. It was a statement that Alife will do things that may not be cool to the masses and may be controversial, but we will have fun doing it and be proud of the final product."
With the co-sign of a seminal sneaker boutique known for toughness and taste, one had to wonder: if Crocs can be cool in New York City, why can't they be everywhere else? 
In 2019, Crocs had swept the country from East to West, releasing at ComplexCon in Long Beach via collaboration through Japan-based artist and international icon Takashi Murakami. 
The next year, streetwear brands like Carrots, Pleasures, and Market would try their hand at Crocs, as would artists like Bad Bunny, Justin Bieber, and Post Malone. 
With starting prices beginning between $35 and $75, it was as if the Roshe Run happened all over again, this time undercutting the Yeezy Boost 350 and powered by collaboration.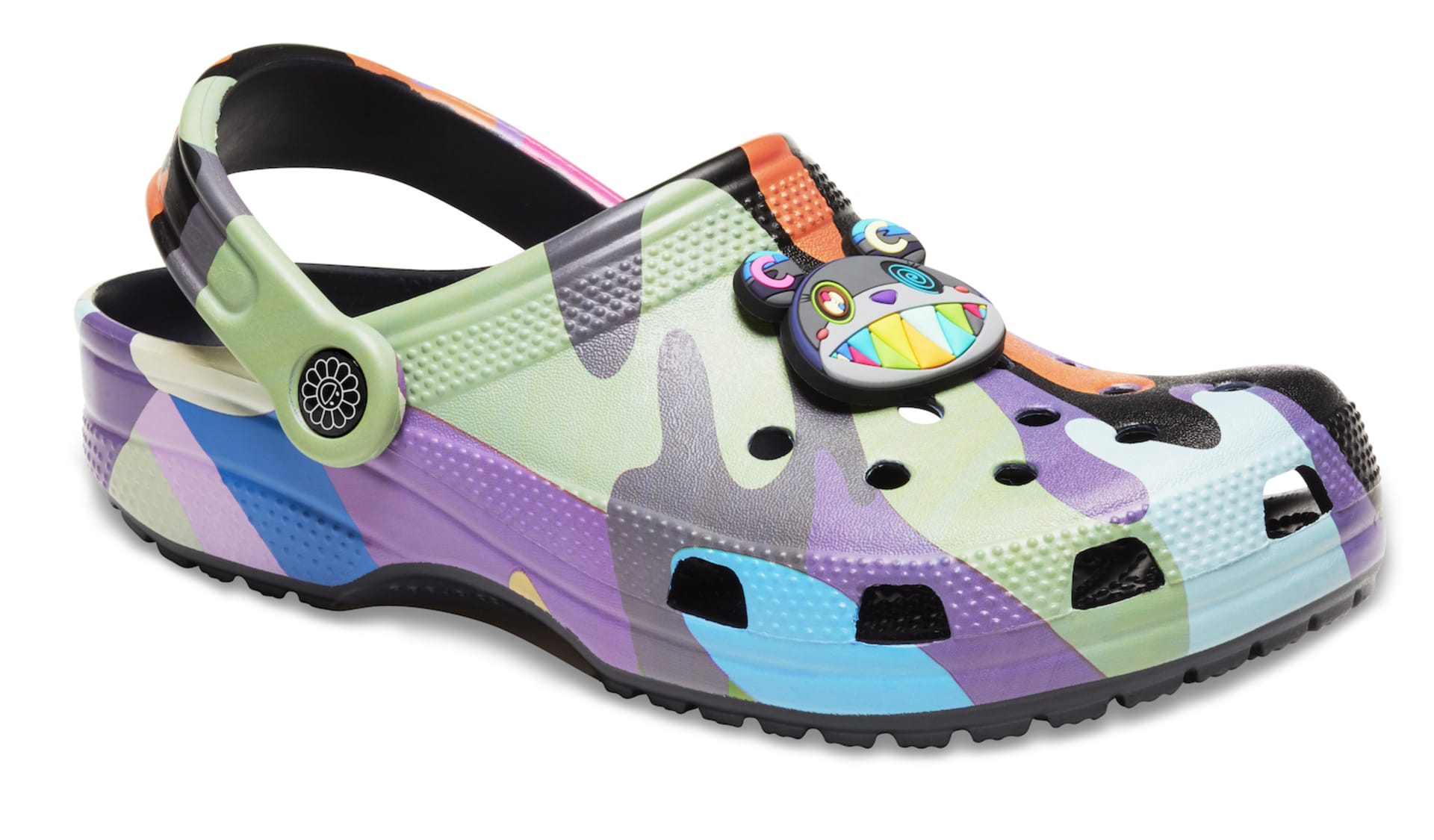 Takashi Murakami x Crocs Classic Clog (Image via Complex)
If 2020 was already in the works to be the breakout year for Crocs based on their business plan, unforeseen occurrences also assisted. 
The COVID-19 pandemic effectively placed sneakerheads around the world at home, only stepping out of the house to run errands. No longer was flexing at the office, bar, mall, or school an option. Rather, going to get groceries or working from home made Crocs only make more sense.
This shift in lifestyle made Crocs more reasonable and wearable for all doubters, once again opening the lane. By 2021, the brands and influencers positioned as the antithesis of Crocs were suddenly official collaborators or in-the-field endorsers.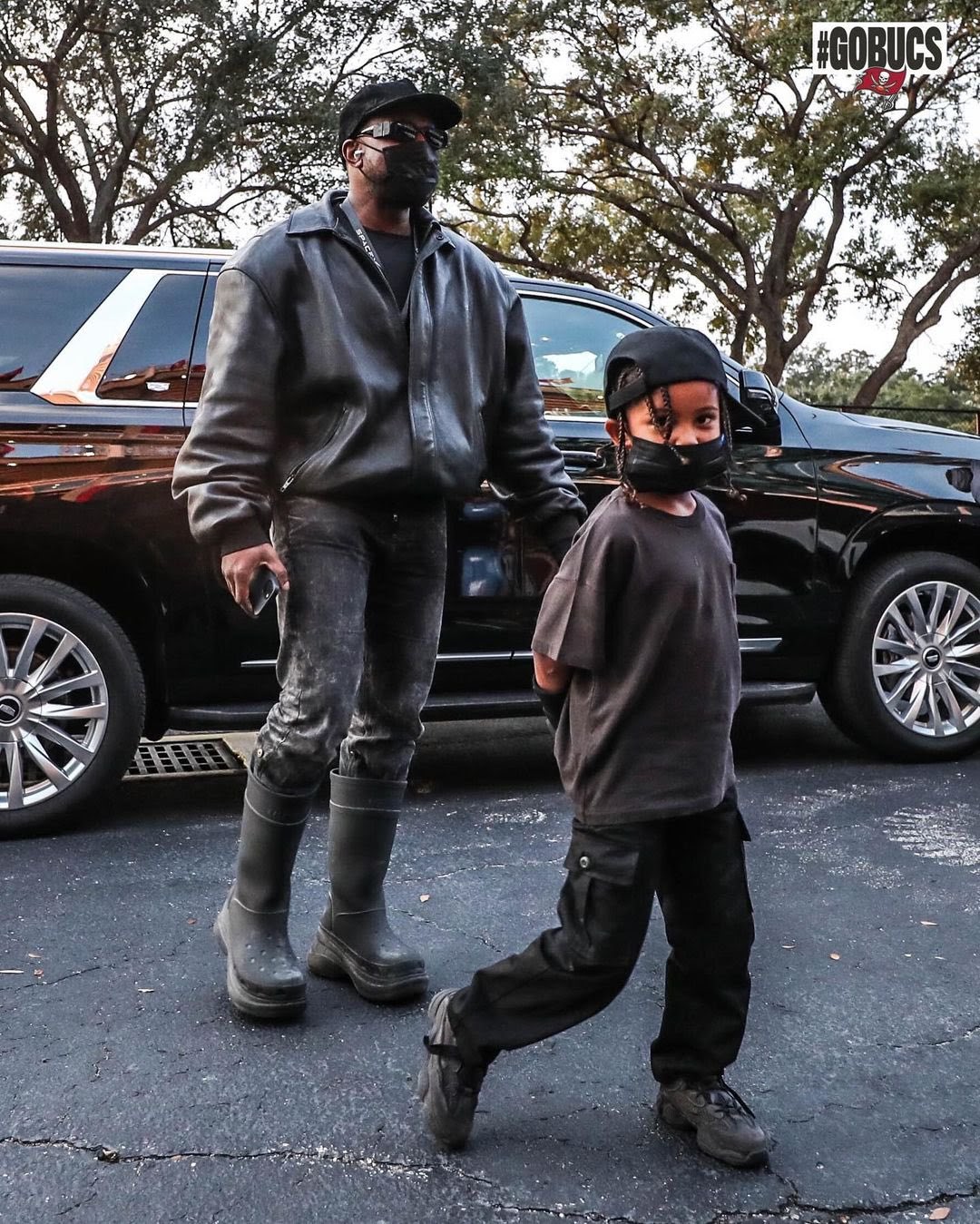 Kanye West in the Balenciaga x Crocs Rubber Rain Boot (via Go Bucs)
Heading into the holiday season of 2021, Crocs have come full circle. The foam-injected clogs are no longer the outlier, they are the standard.
Kanye West has recreated the once scoffed at shoe in his own image by way of the Foam RNNR while menswear movements of runway and normcore have met in the middle by way of Mule Boyz. Famously, Salehe Bembury may have the project of the year by way of his collaboration with Crocs. 
As someone who resisted Crocs for years – despite early adapters like my Uncle Duane and friend Trayvonne Edwards rocking them with style and grace – I too have flipped. Grabbing my first pair this fall, I can honestly say that the furry tie-dye Croc Clog has been worn on every grocery run and trip to hoops since they arrived.
Are Crocs forever? Few things are. But for now, we applaud the Colorado company that's made footwear more fun, comfortable and affordable. 
There's no reason to hate on that.